Toombs County: Expanding And Growing
Agriculture, healthcare and manufacturing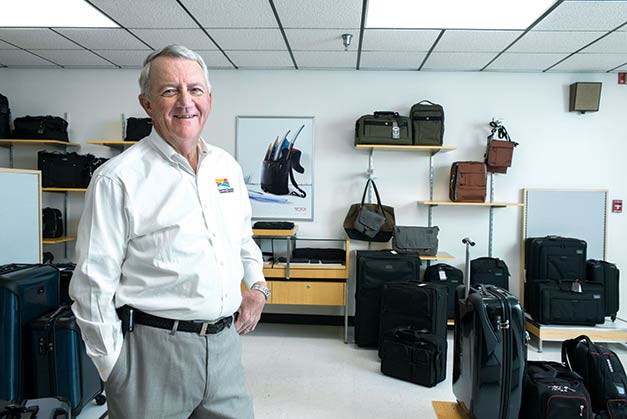 Whence the Vidalia onion? That's the question, and there seems to be a consensus that the famed local onion was not an indigenous vegetable, but one brought to Toombs County, where a combination of favorable climate and soil turned an ordinary onion into a potent part of the local economy.
Few people were closer to the birth of the Vidalia onion than Mose Coleman Jr., whose father is widely believed to have been one of the first, if not the first farmer in Toombs County to successfully grow a Vidalia onion, a point the junior Coleman is not prepared to promote. "There are a lot of wild stories going around about that," says Coleman, a retired electrical engineer and custodian of one version of the Vidalia onion story.
"He was a vegetable farmer, growing radishes, cabbages and carrots and looking for something to make some money. Onions had not been grown much around here then; I think it was the late '20s when he started experimenting with the onions. He ordered Crystal Wax Bermuda onions. That onion was sweet and that's what he wanted, and that was also pretty close to what they have now. There was no such thing as a Vidalia onion back then."
The senior Coleman planted the Bermuda onions, which grew up with a sweeter taste to become more popular than any other onion in the region. The Mose Coleman onion was a great seller, and soon local lore had christened him the man who discovered the plant.
"That's what they claim and they believe it, and I guess I do, too," says his son.
By the middle of the 20th century, the Vidalia onion had put down roots in kitchens and on menus across the South. Ultimately the vegetable's name became a protected marketing tool, legally applicable only to onions grown in a 20-county region around Vidalia. Today, about 100 farmers are registered to grow and sell Vidalias on about 12,000 acres in that region. Data provided by the Vidalia Onion Committee, a marketing group, estimate the crop has a $350-million economic impact on the region.
Under Construction
On a pleasant weekday morning, construction workers are climbing on and working around a new building rising from a site just outside the office of Alan Kent, the president and CEO of Meadows Regional Medical Center and one of a group of leaders in Toombs County who finds a tough economy the perfect time to expand, grow, branch out and launch new products, new product lines and new services.
The medical center is itself sitting on a new (2011) $85-million hospital campus, and the building going up outside his window is the new $4-million cancer center. Other additions are planned and expected to begin going up, all in an atmosphere of "We have to build it because they are coming," that began, according to Kent, in 2000. "That's when we started aggressively recruiting extraordinarily qualified physicians to this community," Kent says.
"Then, of course, we had to invest in technology, equipment and staff to support them, so we added more and more specialty medicine to turn this from a general medical-surgical community hospital into what's truly more of a regional medical center." The hospital has two 160-slice CT scanners, and Kent believes his was the only hospital in the state with such a pair when it opened two years ago. "We have an MRI scanner that is so sophisticated, it allows you to do non-contrast imag-ing," Kent says. "We get patients from Savannah, Hilton Head and other cities that doctors refer here for that particular type of imaging."
Kent describes these investments in buildings, equipment and staffing as a means of staying current in medical care to attract more patients. Just a few weeks before, a rural South Georgia hospital closed its doors due to the high cost of indigent care, so that subject is also on his mind.
"We do a tremendous amount of indigent care here, at the charge level [of] about $1 million a month in free care, and we do another million a month in bad debt, where people won't or can't pay their bills. There is tremendous pressure here, but with our community's support we've been able to offset that by becoming more of a regional draw," he says. "One of the reasons small hospitals struggle is that there just is not enough patients to keep the hospital busy and keep the doctors busy, so it's a downward spiral."
Kent says the growth of the region's manufacturing sector has helped soften the impact of indigent care and bad debts by bringing more insured patients into local healthcare facilities. "Manufacturing has grown through expansion or the arrival of new manufacturing, and that has certainly been a help to us," he says. "You know, it's almost as if you are in a growth spiral or you're in a death spiral." Today Meadows employs about 935, with an annual payroll of more than $45 million.
More Expansion
Chris Fickes is standing outside the U.S. Pet Nutrition building in the Corporate Center at U.S. 1 in Lyons, where a string of office trailers lines the wall of the facility, a testimony of sorts to the crowded conditions at this site where the company makes pet foods. To local economic developers, U.S. Pet appears to be in a permanent state of expansion due to overcrowding, and Fickes is pleased to learn his company will be shifting personnel to a variety of locations in yet another expansion move.
"All of those trailer offices will go into that building over there," Fickes says, pointing to a huge building nearby. "It'll be nice to have a home and get everybody situated and ready to go. You know, when we opened we had a couple dozen folks here, and today we're over 200. So it's a real success story for the city and the county and, obviously, the business."
The company has 30,000 square feet at the Corporate Center, with another 15,000 square feet across town. "That 15,000 will go away in May, and we'll add this 100,000 square feet down there at the new spec building."
The shuffling of employees and the addition of floor space will bring U.S. Pet to a total of 130,0000 square feet of manufacturing and office space, with another 10,000 square feet for research and development being carved out of a nearby empty school building.
Fickes attributes his company's growth to a number of things. "The pet food industry continues to grow and is now $420 billion a year in sales," he says. "Animals have gone from being the outside pet to the inside pet to a companion animal, and now to a member of the family. As we continue to treat them better, there's a greater demand for us to produce better products. We use a lot of fruits and vegetables, and production continues to ramp up."
U.S. Pet's neighbor is sister company Chicken of the Sea (COS), both belonging to parent company Thai Union Frozen Products, an Asian corporation with American headquarters in San Diego. The tuna canning company is another Toombs County company enjoying steady growth. "We go over about a million cans a day," says Larry Hartley, a COS buyer. "Sales were good during the recession; tuna's pretty affordable, and when a recession hits you look for stuff you can get by with. Tuna has good protein and is good for you."
Chicken of the Sea's raw product comes into the Port of Savannah from the South Pacific.
The company has 215 permanent employees, with another 150 temporary workers who come aboard when needed, then are allowed to bid on the permanent jobs as they become available. Thai Union has ensured the availability of future expansion space by leasing 333 acres in the Corporate Center.
In The Bag
Over at Giro Pack Inc. (pronounced GAR-oh), workmen are installing an extrusion system to produce the mesh bags that hold agricultural products like oranges and onions. The company also produces the colorful labels that go on them, as well as the machines to load the labeled bags.
"Business for us has been really good," says Sandon Wright, plant manager for Giro, a subsidiary of a family-owned Barcelona-based company. "For the last five years we've had pretty good growth, averaging 25 to 30 percent over the five years."
The $4-million expansion at Giro will add some 34 new employees in 2013, while doubling the plant's floor space to 50,000 square feet, with plans to add another 25,000 square feet at the end of the year. Wright says the ease of access to Georgia's ports played a role in the decision by Giro to put a plant in Toombs County. "When we got here, the chamber and the locals helped Giro make the decision that they wanted to stay here," Wright says.
Last fall, when Vidalia's TUMI Luggage seemed to be about to pack its bags and head to the Western U.S., taking about 190 jobs, the Toombs County Development Authority came up with an offer the company couldn't refuse: Stay in Vidalia and expand. "We worked a deal with them so they could build this additional 75,000 square feet of distribution center space and stay in town," says Bill Mitchell, executive director of the authority and president of the Toombs-Montgomery Chamber of Commerce.
The deal included a development authority grant of $500,000 over five years, for which TUMI agreed to keep yearly employment at 200 and invest $1.75 million for the expansion of the company's Vidalia distribution center.
Local governments have assisted local companies in several expansion projects, according to Lyons Mayor Willis NeSmith Jr. "We just spent some time out at our industrial park, where we're looking to help Chicken of the Sea and U.S. Pet with some sewer and water improvements," NeSmith says. "They're busting at the seams out there and are expanding. That park is part of Lyons, and to me it's a good piece of our heart."
Like Mayor NeSmith, Toombs County Commission Chair-man Blake Tillery sees economic development as a big part of his job. "Working together is one reason why we were able to sell three speculative buildings in 10 years," he says. "And it's why we're building on average a new spec building in Toombs County every two-and-a-half years, and we're filling it up, too. That's unheard of in a county our size."
Robust Growth
Toombs County has been growing by about 1,000 people a year for the past five years to the present count of 27,300, but that growth is about to accelerate and give the county a population of more than 32,000 by 2020, according to the State Office of Planning and Budget.
The robust growth in Toombs County's manufacturing sector has generated a new education program designed to keep the worker pipeline to the area's factories filled. A four-county high school partnership with local industries and South-eastern Technical College (STC) in Lyons has created the Certified Manufacturing Specialist (CMS) Program, allowing high school students to jointly enroll at STC and attend the Southeastern Early College and Career Academy (SECCA). "We're trying to produce a trained workforce for manufacturing," says Cathy Mitchell, president of Southeastern Tech. "And we do have a lot of manufacturing here. What we'd like to do is at least expose the kids to manufacturing."
STC board member and factory owner Andy Kimbell wants more kids interested in manufacturing so that his future need for workers can be met. "The first thing we have to do is generate excitement about manufacturing," says Kimbell, owner of Truax Veneer, a plywood manufacturing company located in Lyons. "That way we get people who have talent coming into our field. That benefits me as a manufacturer, and we can get those skill sets for the future."
The program was launched in earnest this year with high school students viewing a video on the attractions of a career in manufacturing, a sector where starting salaries, with benefits, are much higher than the retail and food service jobs that provide the most common entry-level positions for high school-age workers. "Manufacturers here are real excited about it because they know we need a deeper bench," Kimbell says. "We've got jobs set up for these kids, and they know that once they finish their junior year they can take summer internships with companies and take apprenticeships to learn the trade and the skills we need right now – and in the future."
Community Snapshot
Local Leaders
Bill Mitchell
President
Toombs-Montgomery County
Chamber of Commerce
912.537.4466
billmitchell@toombschamber.com
Blake Tillery
Chairman
Toombs County Commission
912.537.3030
btillery@tommyjsmith.com
Willis NeSmith Jr.
Mayor of Lyons
912.293.0399
mayoroflyons@nctv.com
Population (2010)
County, 27,297; Lyons (county seat), 4,169; Santa Claus, 165; Vidalia, 10,473
Per Capita Income (2009)
County, $29,246
Georgia, $34,129
Unemployment (December 2012)
County, 10.7 percent
Georgia, 8.8 percent
Top Employers
Meadows Regional Medical Center, Trane, Savannah Luggage, Dot Foods, U.S. Pet Nutrition
Sources
Toombs-Montgomery Chamber of Commerce and Development Authority, Georgia Department of Labor, U.S. Census Bureau