Solutions & Partnerships
Georgia's technical college system is building on good relationships with the university system and the business community to boost enrollments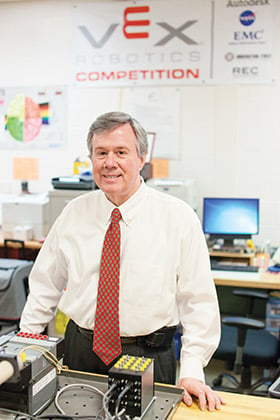 There was a time when rising enrollments at Georgia's tech-nical colleges were as predictable as azaleas in the spring, climbing annually by double digits.
But the onset of a fading economy in 2007 led to across-the-board budget cuts and other austerity measures, including significant changes made to the state's HOPE Scholarship Program in 2011. A hike in the required minimum grade point average (GPA) from 2.0 to 3.0 meant many students lost their HOPE eligibility and forced 9,000 of them out of Technical College System schools.
The technical colleges saw their enrollments decline rapidly, with 25,000 fewer students signing up for classes in 2012 than the year before. An improvement in the economy also contributed to the declining enrollment as more students left the classroom for the workplace.
"A lot of things drove the decline in enrollment," says Ron Jackson, commissioner of the Technical College System of Georgia (TCSG). "One of them was the change from the quarter system to longer semesters and a little bit higher tuition. But we were able to survive that." Jackson says tuition shortfalls and gaps for students were met by measures like loan programs. "A lot of scholarship programs implemented by our college foundations also helped."
Despite the impact of tough economic times, technical college leaders are optimistic about the future. (At press time, the Georgia House had passed a measure to change the GPA eligibility for HOPE grants to 2.0; the Senate had yet to vote.)
Austerity measures are beginning to soften as Georgia's economic developers land projects that are creating more high-paying jobs, with the state's technical colleges installing innovative training programs to create the workers needed for those jobs.
From Athens to Valdosta, and across Middle Georgia through the Atlanta suburbs, technical colleges are forging alliances with local schools, businesses, industries and each other. They are generating millions in shared grant dollars, and at the same time dramatically changing the shape of education in the state.
Finding Partners
There is an understandable weariness in Ron Jackson's voice these days. For the past several years, Jackson has been patching up holes in an ever more porous state budget. The most common remedy for Jackson's budget tightening efforts has been the merger, the act of combining technical colleges that share a bit of common ground in their service areas.
As the new year was beginning, Jackson was in the midst of what he believed would be the final merger. "I hope it will be the last one," he says. "But budget constraints being what they are, I can't guarantee that. Every one I've done recently I said was the last one, and I proved myself wrong every time." Jackson says he expects a budget reduction from state funding of about $27 million, with perhaps a little help from some nimble creativity in the management of a few sources over which he has some measure of control.
"We've increased our tuition, and that'll help us a little bit," Jackson says, but he is also relying on what he believes to be the greatest strength of the technical college system: relationships and partnerships.
"Our relationship with business is so intricately entwined that it really is the power of our system and how we deliver what we deliver," Jackson says. "Our partnership with the University System is new and growing to where we have articulation agreements for 27 of the core courses that a student might take while enrolled in any of our programs. A student can transfer those to any University System college. We're going to sign an agreement with all the private colleges in Georgia to allow the transfer of credits in those same 27 courses."
Individual technical colleges have partnerships with their local school systems and client businesses that hire them to perform customized training for their workers.
Jackson says the TCSG also counts as partners the members of their advisiory committees and local boards, as well as the volunteers who serve on their foundations. The advisory committees, for instance, can bring ideas for new training programs to their local college and, in many cases, the ideas become part of the curriculum in six weeks or less. "All of that is a synergy that we get from those partnerships that keeps us on the cutting edge of supporting businesses in Geor-gia," Jackson says. "Most of our colleges now are a size where they are at least economically viable, as long as we don't continue to have resource challenges."
Georgia's 24 post-merger technical colleges have access to their own resources, from the companies for which they provide certain training courses and from federal, state, private and local grants.
Big Numbers
Athens Technical College is in line to be among the largest beneficiaries of recent federal grants, thanks to a 2012 $13.6-million grant from the U.S. Department of Labor. The school is the lead technical college in a three-college partnership with the Caterpillar company in training programs for the heavy equipment manufacturer and will receive a $9.6-million portion of the grant.
"That is believed to be the largest such federal grant ever received by the technical college system," says Flora Tydings, president of Athens Tech. "It is certainly the largest such grant ever received by Athens Tech. Training is under way at a new Quick Start Training Center on the Athens Tech campus."
Caterpillar has begun hiring for administrative positions, with 30 employees on the payroll, a modest beginning for what is expected to be 1,400 workers on board when the initial training period has been completed and the first products are coming off the line – by the end of this year.
"We do have a lot of training [yet] to do," Tydings says. "We've made a 10-year commitment to Caterpillar for the training center." Nearby Madison County is expected to be a rich source for workers, a fact that stimulated a $3.65-million grant for a career academy to serve future workforce needs of Caterpillar, according to Tydings.
Tydings and her Athens Tech team were just pausing to take a breath in August 2012 after launching the Caterpillar training when word came that California-based Baxter Inter-national Inc. planned to invest more than $1 billion in new facilities across several counties not far from the Caterpillar site near Athens, giving Athens Tech another training partner.
"Baxter was a little bit longer project," Tydings says, "but it really moved along when the commissioner of the technical colleges and the chancellor of the University System flew out to California to meet with the Baxter execs."
The Baxter plant site, which will eventually employ 1,500 in the production of bio-pharmaceuticals and plasma, will include a warehouse and distribution center, in addition to lab technicians and administrative personnel. "We have about 33 companies in the Athens area that we've been supplying lab techs, so this is an area we've been accustomed to training in for quite some time," Tydings says. "Both these projects [together] are huge, definitely right there with Kia. These two companies will change the workforce of Northeast Georgia once they reach full staffing." They are already changing the nature of high school education.
Career Academies
In the mix of training partners for Athens Tech, including Caterpillar and Baxter, is the Madison County School District, beneficiary of the $3.65 million to jumpstart a career academy in a partnership with Athens Tech to train future Caterpillar employees. The regional career academy also counts as partners the school systems of Clarke and Elbert counties. Such partnerships mark a trend in education and workforce training operating in tandem for high school students.
There are 27 career academies across Georgia in partnership with technical colleges serving 28,000 students last year, with those figures representing 35 local school districts, according to Mark Whitlock, CEO of the Central Educational Center (CEC) in Newnan, a charter college and career academy that is itself a partnership with local businesses, Coweta County School System and West Georgia Technical College.
"We began with the idea we needed to respond to the new needs of business and industry in the area," Whitlock says of the 13-year-old CEC, which has become a popular first stop for Georgia counties seeking advice from the nonprofit on starting a career academy. "Those needs centered around greater use of automation, greater use of technology, less supervision and more global customers."
Business and industry executives were asking the CEC if a way could be found to get high school students on track to possessing the technical skills at an age younger than 27, 27 being the average age of technical college enrollees. "Georgia businesses were saying, 'We'd like younger people to have that level of maturity with technical skills,'" Whitlock says.
That led high schools to offer high levels of technical programs for students being ushered into dual enrollment programs with the technical colleges, enabling them to be both high school students and enrollees at the technical schools. "We had 206 young people [in Coweta County last year], and most of them earned at least one technical college certificate before they graduated from high school," Whitlock says. "That means they're on their way to the possibility of an associate degree with the technical college at some point, and certainly at an age far less than 27."
Merging Resources
Middle Georgia Technical College in Warner Robins is merging with Central Georgia Technical College, with its main campus in Macon in what TCSG Commissioner Jackson is hoping will be the last marriage of its kind in the state. "This merger creates an 11-county service area that is 40 percent larger than the landmass of Delaware," says Ivan Allen, president of Central Georgia Technical College, the name of the newly merged institution. "That area will have over a half-million people. What the merger will do is give this college more resources and a greater capability to meet the needs of Robins Air Force Base, as well as the needs of defense contractors who service Robins."
One of those contractors is Northrop Grumman, a longtime contractor with the base. "We have a long history with them for aircraft maintenance and avionics training on Robins, where we've offered over 16,000 hours in training per year," Allen says. Interest in the well-being of the base is intense in this part of the state, due in part to the 23,000 workers there who take home in excess of $1 billion in pay each year.
"Warner Robins Air Force Base is critically important to the economy of Georgia and Middle Georgia, and that college merger now is also kind of synergistic because the University System is also merging Middle Georgia College and Macon State College," says Jack-son. "The governor has recommended in his [2014] budget a new [$10-million] military training center to be shared jointly between the university system and the technical college system. That would centralize our military affairs outreach, not only for Warner Robins, but also for the state in general."
The center would provide training and educational opportunities for the military and their families, as well as veterans coming back from war zones and seeking to re-enter the workforce, according to Jackson.
For Jackson, the Air Force base is just one example of a new spirit of cooperation between the technical colleges and the university campuses.
"The chancellor of the university system and I are very much in concert with the governor on closer working relationships," Jackson says. "Our two boards are working together now in ways they've never worked before."
Health Focus
Dr. Ray Perren is president of Wire-grass Georgia Technical College, one of the products of a merger, and an institution that has partnered with Valdosta State University and South Georgia Medical Center to produce sorely needed nurses and other healthcare professionals for his college's South Georgia region and the rest of the state. Perren is optimistic when discussing the future prospects for his campus and its students.
"About 40 percent of our student body is in one of these healthcare programs, and right now we have about 4,000 students," Perren says. "There is a great demand for these healthcare professionals, and the projections for the future say that trend will continue on, fueled by an aging baby boomer population and the growth in popularity of the South Georgia area as a retirement destination."
Perren has noticed growth in the number of enrollees who already have a bachelor's degree. "We still do have some people who are coming to cross-train. Of the number of people coming to Wiregrass to get an associate degree or diploma in a specific field, and who hold bachelor's degrees or higher, healthcare would be among the most popular choices," he adds. "Economists are telling us that 80 percent of the jobs that will be created over the next 10 to 15 years will demand something be-yond high school, but not necessarily require a four-year degree."
As pleased as he is by the partnerships and new working relationships with university system schools, Commissioner Jackson is very clear about the role of the technical colleges. "We don't want to be transfer institutions. We still want to be workforce development driven," he says. "Our enrollment went down last year, from 195,000 to 170,000. I believe it will be up by the end of this year."
Training Powerhouse
Three years ago, Terry Elam, president of Augusta Technical College, received an offer he couldn't refuse, to do something he'd never done before.
"We were approached by Southern Nuclear [a division of the Southern Company], along with several other major nuclear plant owners in the Southeast, including Duke Power, about a nuclear technology program to train operators for the new nuclear reactors being built in South Carolina and, of course, at Plant Vogtle," he recalls.
"We saw it as a challenge because, obviously, it was something we had never done before." In fact, Augusta Tech already had some assets in place that would fit nicely into a program designed to teach and train operators at the nuclear plant. After all, Plant Vogtle is only 30 miles from the school's campus, and Augusta Tech was already teaching some basic courses necessary to the nuclear operator class. "At the same time, Southern Nuclear was setting up its own training facility in the Augusta area to train workers for reactors 3 and 4 now under construction," Elam says.
"They actually moved on campus, which really fostered a great relationship because they were doing some partnerships with other companies, and we were able to take advantage of the training done by those other companies."
Faster than an atom in flight, Augusta Tech became a nuclear power in Georgia's technical college system. A curriculum was developed to create nuclear operators who, after they finished their coursework with a two-year associate degree, could walk straight into jobs and starting salaries of $50,000 a year, according to Elam.
The class of 2011 had 40 students, with about 23 of those hired by Plant Vogtle. "The next year we took 60 students, the group that is in school now, and we're about to take our third class," Elam says. "There's an internship at the plant, and one of the unique things about it is that at the first two classes they allowed their employees, [who are] subject-matter experts, to come to our classes, co-teach, observe the students and help them through the program." Southern Nuc-lear has also chipped in with books and scholarships.
"It's a great partnership," Elam says. "It's been an academically challenging major for our students, but the outcome for jobs has been really good and the pay is way above the norm." – Ed Lightsey