Savannah: Still Soaring
Industry and visitors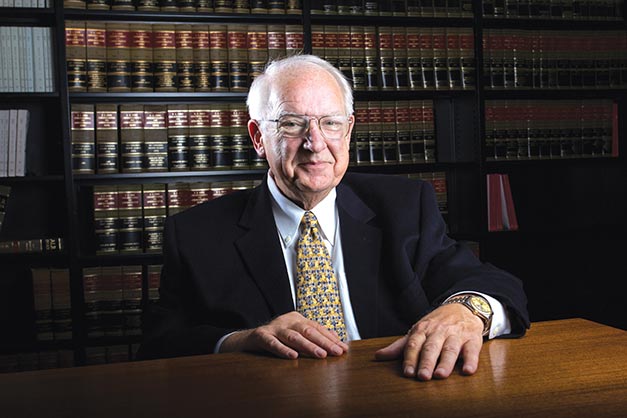 Back in April 2008, Savannah's Gulfstream Aerospace Corporation began taking orders for its new – and highly touted – G650 jet, a 16-passenger marvel of modern engineering that had buyers elbowing each other out of the way in the clamor to be among the first to own the $65-million plane. The $6.5-million security deposits were arriving in Gulfstream bank accounts faster than takeoffs and landings at Hartsfield-Jackson Atlanta International, and back orders were in a holding pattern once forecast to last perhaps 10 years before being filled.
The first of the G650s took their new owners to 41,000 feet, and reports back to earth from those new owners indicated the 650 was on a wildly successful course, carrying the 8,406 earthbound employees and contractors on a fist-pumping ride of their own.
On the day Time magazine's January 21, 2013, issue hit the newsstands with a two-page laudatory profile of the G650, Gulfstream's president, Larry Flynn, had his own take on the excitement. "Why would you not be excited?" Flynn asks. "We're on a pretty good roll. We have in excess of 200 orders on the 650 at $65 million each, a good chunk of our backlog. That's about $12 or 13 billion, and our total backlog is about $16 billion."
The rest of that's due to another high-flyer rolled out at the same time, the G280, a $25-million, 10-passenger product that has met with across-the-board customer satisfaction. "They're elated with their airplanes," says Flynn, referring to new owners of both the 280 and the 650. "The calls I'm getting from customers are just fantastic. Both airplanes are performing just like we wanted them to. They're setting world records in speed and distance."
Flynn says Gulfstream's customer base has changed over the past 10 years. "In general terms, they are business people. They may have a privately held company or a publicly held company, and they have in the last 10 years shifted to more international customers, so our backlog is about half international and about half domestic, and that's a big change in the last decade. They're in the countries you'd think they'd be in: Middle East countries. China's been the big story, and it goes a few years back. Probably the big surge in China was 2010-2011 for ordering airplanes."
Gulfstream's future plans reach out "a couple of decades," Flynn says. To help map that future, Gulfstream's Research and Development staff of more than 1,000 is busy on the drawing boards, so to speak. The 650 came from a paperless design process, using a virtual high-tech world to shape the airplanes. Gulfstream's recent successes stem in part from ambitious moves in the company's workforce development, according to Flynn. "We've added a significant number of people, and they're all quality jobs," he says. "Go back to 2006 when we made the big announcement we were going to invest $400 million across Gulfstream, not just in Savannah, but mostly in Savannah, and add 1,500 jobs over seven years. We actually did it in three-and-a-half [years]. Then in 2010, we announced $500 million additional investment in facilities and a thousand new jobs over a seven-year timeframe. We've spent, I think, only $175 million so far, but we've added 1,700 people in the last two years."
All the job growth was capped by the January announcement of 100 additional new jobs at another facility, the company's Information Technology Center of Excellence in Savannah.
Port Investment
It is lunchtime, and the tourists and snowbirds are dining at tables along the Savannah Riverfront when a small boat appears around a bend in the river on its way from the Atlantic Ocean to the Port of Savannah. It takes a few minutes for the tourists to realize the object on the eastern horizon that is steadily growing in size cannot adequately be described as a boat. It is the Zim Tarragona, a ship with a deck the size of a football field stacked high with containerized cargo, among the 2.98 million TEUs (twenty-foot equivalent units) that last year passed through the Port of Savannah, the fourth busiest container port in America.
Waiting for the huge ships at the Port of Savannah are more than 100 78-foot-tall rubber-tire gantry cranes (RTGs) that roll around the yard adjacent to vessel berths. These muscular behemoths can lift loads up to 56 tons from the ships calling on the port like they were matchboxes.
Continuous investment in such portside infrastructure has vaulted the port into the single largest container terminal in North America, with the promise of more growth for the future. The scheduled arrival of the even larger cargo vessels known as the post-Panamax ships, which are longer, wider, deeper and capable of carrying far more tonnage, hints at even more activity.
Those cargo carriers will require deeper waters at the port, as well as an overhaul on the waterway through the Panama Canal, a job expected to be finished by 2015. Delays in the dredging at the Port of Savannah created by environmental concerns have put the completion of that job as many as two years behind the opening of the new and improved Panama Canal.
"Our customers know we weren't going to have our project completed before or at the same time as the [canal] locks were going to be operational, so we're going to trail it a year or two," says Curtis Foltz, executive director of the Georgia Ports Authority (GPA), owner and manager of the port.
"From the Corps [of Engineers] perspective, they have all the permits they need, so the corps has recommended the project to Congress and the administration and they continue with all the engineering and land acquisition."
Deepening the Savannah River from 42 to 47 feet to accommodate the larger modern ships has been discussed, planned and even, in a fashion, begun, and most experts believe the project will be carried out; yet until the last bucket of mud has been removed from the riverbed the threat of a lawsuit or court order hangs in the air like a fog.
"Now that the federal government is fully behind the project [and] from the federal government's eyes they have all the approval they need, and any concerns by the cooperating agencies have been satisfied, and the Corps has come out publicly in all their documents and said that any of the environmental impacts will and can be mitigated as part of the project, we expect, with all the hard work that's been done at the state level, with Gov. Deal being very supportive and with [Atlanta] Mayor Reed being extremely supportive, to have significant funding for the project in the President's FY 14 budget," Foltz says.
With 352,000 port-related jobs radiating to every corner of the state and $66.9 billion in annual sales generated by Georgia's deepwater ports, there are plenty of reasons for widespread interest in the well-being of the Port of Savannah. "We are a profitable business," Foltz says. "We are expected to pay our own way, so we have to make a profit to service the debt when we buy equipment." That includes the 123 RTGs either onsite or on order at $2 million each. Fortunately, the port has continued to grow in volume as its key customers see their economies expanding.
"About 70 percent of everything we do is business going to or coming from Asia," Foltz says. "China continues to be very strong and very important for us. Southeast Asia is picking up; think about Singapore, Taiwan, Vietnam and Thailand being strong. Generally, I'd say the Middle East is still strong and Brazil is heating up." The arrival of the post-Panamax ships will require continued infrastructure upgrades in order to serve the countries whose flag they fly, according to Foltz.
"Over the next 10 years we anticipate spending over $1 billion on infrastructure," he says. "That includes continuing to modernize with rubber-tire gantry cranes. One of the things we're excited about is the conversion of the rubber-tire cranes we have in the yard to the more environmentally friendly all-electric [cranes].
History Focus
Joe Marinelli and Dr. Stan Deaton are sharing a bench with a visitor in Savannah's Chippewa Square, and the three are looking at history from different perspectives. Marinelli is the president of Visit Savannah, the tourism arm of the Savannah Area Chamber of Commerce, while Deaton is the senior historian at the Georgia Historical Society's Savan-nah headquarters.
For Marinelli, Savannah's history is a respected marketable commodity producing $1.9 billion annually from the 12.1 million tourists who deposit that money in the shops, restaurants and historic attractions to which visitors flock. "History permeates everything here," says Marinelli, "Our Chamber of Commerce has something over 2,200 different companies with memberships. Of that number, 900 are companies or businesses focused on tourism."
Deaton, the historian, finds it impossible to put a figure on the value of Savannah's history, but is certain there is a value in its intellectual capital. "I think you get people who come here looking for the fun that is Savannah," says Deaton. "Places like River Street, and walking through the squares. What people find when they come here is not Colonial Williamsburg, but I don't think they are looking for that. Savannah is a vibrant city, and what I've always loved about this city is the people. People here don't live in the past – the past lives in them."
Mike Powers invests in history here by buying downtown historic buildings that have fallen on hard times. A retiree from the upper Midwest, Powers often came to Savannah on business, enjoyed the climate here and went into retirement in Savannah, or something like retirement, with a little work thrown in to keep the cobwebs out of his head.
"We were fortunate that we could live anywhere we chose, and we chose to move here," recalls Powers. That was 15 years ago, and Powers and wife, Norma, quickly blended into local society. Powers has served on the board of the Savannah College of Art and Design (SCAD) for 14 years, and he founded Powers Property Investments, which he now runs with his son. "The equity markets were a little too volatile for me, so this is the way I decided to invest for my future," says Powers, relaxing on a park bench after lunch with fellow retirees and friends at a nearby restaurant.
Powers rehabbed two properties totaling 11,000 square feet in the city's National Historic Landmark District, where he and his wife also live. The SCAD board member has a ready market for his apartments, where rents range from $2,100 to $2,600 a month. "It's all about population density," Powers says. "The city has about a third of the population density it had a hundred years ago. To some degree we can correct that, depending on where the property is. Where this property is [there] was a totally vacant, dilapidated two houses that are joined together, and there was no one here."
Now there are six three-bedroom and four-bedroom apartments, perfect for students or young professionals. "SCAD has 10,000 students now in Savannah," he says. "When you go from 100 students 30 years ago to 10,000 now, that has a dramatic impact on housing here."
Addressing Growth
Projections by the Governor's Office of Planning and Budget are forecasting more than 104,000 new residents for Savannah's Metropolitan Statistical Area over the next dozen years, with most of that growth occurring outside the port city's boundaries and even into the distant suburban counties. That growth, and the continuously rising SCAD enrollments, are raising concerns about the ability of future shoppers and workers in outlying areas to get to and from the downtown area. Some of that concern will be alleviated by the Joe Murray Rivers Jr. Intermodal Transit Center, a transfer station for cabs and buses expected to be open by this summer, with connections to other municipalities, according to Al Scott, chairman of the Chatham County Commission.
"Those municipalities include Gar-den City, Thunderbolt, Port Wentworth and eventually Pooler," Scott says. "Pooler is the fastest-growing city in the county. Now on the horizon we're seeing more construction of a commercial nature in the Pooler area, such as outlet malls and other retailers. We need the means of getting people to work there. And that's an area where you see manufacturers like Gulfstream who would also like to have the transportation network to cut down on congestion in their area."
Like a passionate sports fan at the big game, Trip Tollison has grown hoarse cheering on his team of businesses and industries. "One exciting piece on the manufacturing side was watching the Gulfstream numbers beat everybody's expectations," says Tollison, interim president and CEO of the Savannah Economic Development Authority (SEDA). "And we're getting more and more people talking with us about putting facilities here to supply Gulfstream. We're really tracking the harbor deepening project."
While it seems every sector of the local economy remains strong, there are important economic engines attracting concerns, Tollison says. "We're also tracking the troop movements related to the 3rd Infantry Division," he says. "We're expecting to see some sort of impact on [Fort] Stewart and Hunter [Field]. We won't know what this is going to look like until the President releases his budget. That is so important community-wide. Their an-nual economic impact on our region is $5.2 billion, and that's a big deal for us." The two military installations survived the 2005 Defense Base Closure and Realignment Commission (BRAC) process in good shape, but the experience is always nerve wracking for counties hosting military facilities.
To nurture startups and global business entrepreneurs, SEDA has taken the lead in providing assistance vital to such young companies, Tollison says. "We are now part of the World Trade Center network, a global network of 320 different World Trade Center offices in a hundred different countries," he says.
"It is a subsidiary of SEDA, but it has a separate board and separate operating agreement. That allows us to work on our international business strategy with a wonderful network, at the same time working with our companies here that want to export products or services." The authority also launched SEDA Innovations last year, an initiative to provide assistance for technology entrepreneurs in getting their products or ideas ready for capital investment. And two $100-million mixed-use projects have been announced for opposite ends of River Street along the Savannah River. "In all, things are picking up," says Tollison, with just the trace of a smile.
Community Snapshot
Local Leaders
Al Scott
Chairman
Chatham County Commission
912.652.7878
alscott@chathamcounty.org
Trip Tollison
Interim President & CEO
Savannah Economic Development Authority
912.447.8450
ttollison@seda.org
Edna Jackson
Mayor
City of Savannah
912.651.6444
ejackson@savannahga.gov
Population (2010)
County, 265,871; Savannah (county seat), 136,286; Bloomingdale, 2,731; Garden City, 8,778; Port Wentworth, 5,359; Thunderbolt, 2,668; Tybee Island, 2,990; Vernonburg, 122
Per Capita Income (2009)
County, $40,178
Georgia, $34,129
Unemployment (December 2012)
County, 8.4 percent
Georgia, 8.8 percent
Top Five Manufacturers
Gulfstream, International Paper, JCB North America, Imperial Sugar Co., Brasseler USA, Inc.
Sources
Savannah Economic Development Authority, Georgia Department of Labor, U.S. Census Bureau