Meriwether County: History With A Future
Manufacturing and tourism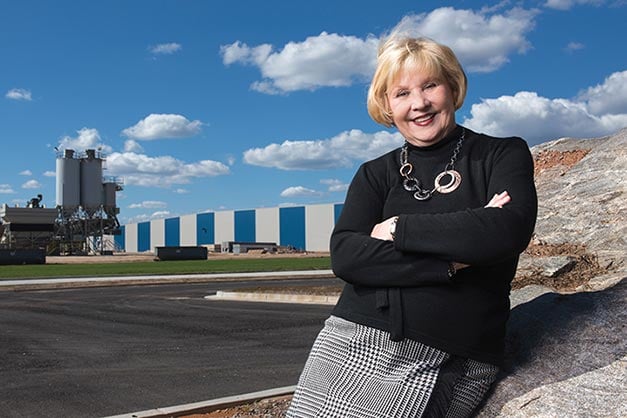 The very qualities that attracted people – including a great president – to Meriwether County have also stymied its development. First, there's its vast size: more than 500 square miles of mostly rural land in West Central Georgia. Towns here are small and quaint.
Meriwether, says Jane Fryer, "is probably the largest [un-developed] land mass of any county." Fryer is executive director of the Meriwether County Industrial Development Authority (IDA). "It's made up of a lot of little towns, and they're all spread out. There's nothing concentrated together, but there is plenty of land out there."
It was the rural land – and the springs beneath it – that first drew President Franklin D. Roosevelt here in the 1920s and kept him coming back until his death in 1945.
While FDR remains very much a presence here, locals are looking more toward the future than the past these days. The goal now is creating an environment that can attract business and industry and provide a reason for people to be more than just visitors.
Those reasons have been taking shape in the form of new industry and a revitalized small-town life.
Meriwether scored a double victory recently when Korean auto supplier Mando Corp. decided to open first one, then a second facility in the county's new industrial site near Luthersville. The company had initially selected the site for its third U.S. manufacturing operation in 2011. After investing $200 million in a facility that created more than 400 jobs, the company announced that it would be seeking a site for a new casting operation. This facility would build electric pow-er steering gears and electronic stability control modules for automakers General Motors and Kia.
After another round of site selection visits, the company decided in December the best location was right across the street from its last operation. It is now investing another $80 million to build a 317,000-square-foot facility to complement the activities of its current plant.
Once both facilities are in full operation, the company will be the county's largest employer with an anticipated 1,000 jobs by 2020.
Kia Boost
This boost to Meriwether's manufacturing base is a direct result of the Kia economic juggernaut a county away in West Point. That South Korean automaker has brought a host of suppliers who have been busy finding the best locations that would allow them to ship parts quickly and efficiently to the assembly lines.
The attraction of the Meriwether Industrial Park, which sits on the Troup County border, was its proximity to Interstate 85.
"We're a little bit closer to Atlanta, so that was a draw for them," says Fryer.
After its recruiting success, the IDA is now faced with the unexpected prospect of what to do with a shrinking amount of available land at its industrial parks. To open up more space for other businesses, the agency is looking at a 1,200-acre site abutting the present park.
"You get off the interstate, and you're right there at the property," says Fryer. "We have utilities here. You just need to extend them across the street."
Winning a company like Mando and the jobs that come with it presents challenges these days. If you want an employer, you have to also be ready to offer incentives, says Fryer.
"With Korean suppliers, you'd better give them land or they won't be coming," she explains. "The county donated the land for the project, as everybody else has, along with some phase-in of their real estate and personal property taxes over a period of time. They get the same incentives that everybody else gets around the state, but our job tax credit is $4,000 [per worker] here compared to $3,000 in Troup."
She adds that most of these companies arrive here with thin margins, thanks to Kia's frugal spending. Yet if they want to continue winning contracts with the company, they have to play ball – just as localities such as Meriwether do.
"It's true [the suppliers] are hard to deal with and they negotiate hard, but the majority of them don't have the funds to do what Kia is demanding they do," says Fryer. "It's been good for this economy. If we had not had Kia and all the suppliers, this area would really be hurting."
Trained Workers
Of course it takes more than free land and incentives to lure an advanced manufacturing firm. It also requires a trained workforce. The county was quick to win designation as a Work Ready Community a few years ago. Now it's working with the local school system and West Georgia Technical College – which has a campus in Greenville – to bring additional training to young people.
"We're attempting to establish a career pathway under the state school system for advanced manufacturing," says Carolyn McKinley, executive direc-tor of the Meriwether County Chamber of Commerce.
The county is modeling a program after the Carroll County School Sys-tem's cooperative 12 for Life. An initiative supported by Southwire Corp., the Carroll County program encourages students to stay in school and graduate by providing both in-class training and on-the-job experiences.
Along with trained workers, Meri-wether officials know they need a modern infrastructure to attract business. Although transportation dollars are scarce, the county has been advocating for an exit off I-85 in the northern part of the county that would allow direct access to the new industrial park. Currently, the only exits are in Troup and Coweta. Local officials would also like to see the start of an east-west corridor that would connect Macon to LaGrange and run through the county.
Infrastructure also means more than just roads. The chamber is leading a multi-county effort to win funding to build a broadband network. Owing to the vast expanse of rural land that makes up this sprawling county, high-speed Internet service can be hard to come by. A fiber-optic network would go a long way toward providing high-tech companies with the service they need, as well as giving a boost to education and local citizens, according to McKinley.
"We're probably three-fourths of the way with the feasibility portion [of a study] and are preparing to submit major grants for funding to put in fiber," she says.
All of these components will make the county more attractive, not only to industries like Mando, but to smaller companies, entrepreneurs and hopefully stores and restaurants. By broadening the tax base, the county will be able to rely less on residential.
Sprucing Up
Along with more industry has also come a revitalization of the small towns that give Meriwether much of its appeal. Historic buildings are being renovated and given new life, while one-of-a-kind shops and restaurants are adding color and vitality to town squares.
Greenville, the county seat, has been sprucing up its downtown. The collection of low-rise historic buildings fronting the town square is getting work and new tenants.
"We've got a resurgence going," says Sally Estes, who serves as Greenville's Better Hometown director.
Recently, the c. 1903 domed courthouse that sits in the center of the square got a new coat of paint and some cosmetic work thanks to Mando. The company sent crews that were working on its own facility as a way of saying thanks for the hospitality shown by locals, according to Estes.
The work follows a streetscape project that added pavers and lights to the area.
"Being the county seat, we want to be able to present an attractive face when people come into our county," she explains. "That's the reason we've been pushing these projects. The county seat is the first thing that people come to if they're interested in doing something in our county."
New businesses are also starting to fill up several of the buildings that line the downtown square. Identifying just the right stores that will attract both locals and out-of-towners has been an issue of concern. Like many other small towns, Greenville enlisted the aid of a consultant to tell them that retail specialty shops would be best suited for the job.
Good examples of these types of businesses are the Greenville Café and The Print Shop Gallery, which occupy two buildings on the east side of the square. The Café is one of only two eating establishments in the county with evening hours, while its neighbor has been spotlighting a variety of local and regional artists.
The campaign to reinvigorate the town is spearheaded by Linda Wilburn. The former Atlanta resident fell in love with the town on a vacation trip and decided to move here full time. She and her husband ended up purchasing several downtown buildings from the local family that owned them.
After renovating spaces for the new restaurant and store, she turned her attention to rehabbing structures on the west side. A former law office building from the early 1900s and a 1950s-era grocery store were completed recently. The biggest project has been the old Hill Brothers Building, a former mercantile store built in 1913 and the only two-story structure in town.
Plans call for building out four loft apartments on the second floor coupled with one or two retail spaces on the first.
"We plan to do an intensive search for retailers who will attract people from Atlanta, Columbus and other areas for the specialty shopping," she says.
To the southeast, the town of Woodbury has discovered its own secret of downtown retail success. Several antiques stores have sprung up along the main road through town, providing an attraction for shoppers from near and far.
The town is still feeling the effects of the loss of the nearby Nabisco Brands plant that once employed almost 900 people. In recent years, many of the storefronts had been shuttered as the town began to wither.
That changed with the opening of the antiques malls, says Woodbury City Council Member Vicky Matthews. She and her husband, both natives, had recently moved back and bought one of the town's older homes. They soon followed up by buying a downtown building and opening their own small business there.
"People have started taking notice and moving in," says Matthews. "We reactivated the Downtown Development Authority and tried to find a way as a group to make things better and be able to preserve what we have here."
Coming Back
In the south, Manchester was once the center of jobs and industry for the region. Named after the English city and incorporated in 1909, the city prospered for decades after Fuller Callaway decided to build a cotton mill along the rail line. That is, until the mills closed and the folly of being a one-industry town became all too clear.
These days Manchester is struggling to keep businesses here, concedes Jennifer Meares, president of the Manchester Development Authority.
"We are glad for the ones we do have," she says. "I think they are successful."
Keeping true to its name, the town has gone after industry, but of the more technologically advanced kind. There's AngioDynamics, which makes port systems, electrosurgical devices and needle sets at a facility in the local industrial park.
Manchester was among the first cities to win a Kia supplier when G&S Metal Consultants expanded its first Southeastern facility. The company, headquartered in Indiana, supplies the auto industry with primary-grade recycled aluminum. A Sherwin-Williams plant is also busy making thermal plastic markings for highways.
It's been eight years since Goody Products, which once employed 1,000 workers, closed its plant. Not only have all those jobs not been replaced, but the city is still seeking new uses for the sprawling 350,000-square-foot building it once occupied. In recent months, two smaller companies have expressed interest in locating their operations there.
"It has been a really slow recovery to try to turn that piece of property around," she says.
There are also plans for turning the old cotton mill into a center for special events such as the annual Railroad Days. Meanwhile, the city demolished the back part of the building that had been gutted by fire.
Historic Home
One industry that is still going strong in Meriwether is tourism – a legacy of FDR. Each year more than 100,000 people trek to Warm Springs to visit the Little White House, making it the state's most popular historic site.
The former president still casts a long shadow in Warm Springs. The main road into town takes you past the Roosevelt Warm Springs Institute, a rehabilitation center founded by FDR in 1927. Turn at the traffic signal and you're at the entrance to the state park that was once his home.
What strikes most visitors is how a small and simple bungalow became the favorite retreat of the leader of the free world. The one-story home includes many of the original furnishings, including the chair in which the president was sitting when he died from a sudden stroke.
To give visitors a better idea of his legacy, the state added an 11,000-square-foot museum that now serves as the main entrance to the site. Here, a wide variety of artifacts include one of Roosevelt's hand-operated cars, the wheelchair and leg braces he used after he was stricken with polio and a wall display of canes that he received over the years. There's even one of the stagecoaches that made regular stops in Warm Springs more than a century ago.
The jumping-off point for visiting Warm Springs is the welcome center that occupies a replica of the original depot. It was at this spot that Roosevelt first arrived by train on his way to try out the spring-fed waters that he hoped would cure him.
Sabra McCullar, director of Meriwether County Tourism, tells the story of how Roosevelt got the city's name changed.
"He and the mayor of the town went to Atlanta and got the legislature to change the name of the town to Warm Springs from Bullochville," she says. "The name came from the Warm Springs Resort that stood on the opposite side of the street."
Community Snapshot
Local Leaders
Jane Fryer
Executive Director
Meriwether County Industrial Development Authority
706.672.3467
janefryer@windstream.net
Sabra McCullar
Director
Meriwether County Tourism
706.655.3322
warmspringsga@windstream.net
Carolyn McKinley
Executive Director
Meriwether County Chamber of Commerce
706.655.2558
meriwetherchamber@windstream.net
Population (2012)
Meriwether County, 21,992; Manchester, 4,230; Woodbury, 961; Greenville, 876; Luthersville, 874; Warm Springs, 425; Gay, 89; Lone Oak, 92
Per Capita Income (2011)
Meriwether County, $25,255
Georgia, $32,095
Unemployment (December 2012)
Meriwether County, 10.2 percent
Georgia, 8.8 percent
Top Employers
Georgia-Pacific, Dongwon Autopart Technology, Warm Springs Medical Center, AngioDynamics, Custom Truck & Body Works
Sources
Meriwether County Development Authority, Georgia Department of Labor, U.S. Census Bureau