Valdosta | Lowndes County: Building On Strength
Healthcare, education and entrepreneurs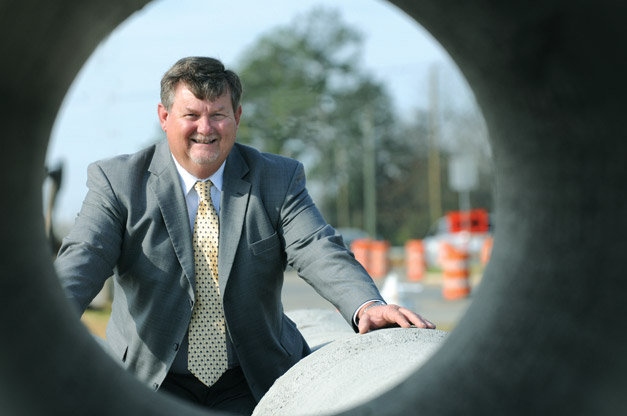 Normally a soft-spoken man, Bill Forbes finds himself having to raise his voice a few decibels to be heard over the sounds of construction coming at him from all sides as he stands at the entrance to Valdosta's South Georgia Medical Center (SGMC). In fact, Forbes, chief planning officer for SGMC, appreciates the construction noise and the view of sky-high cranes where workmen climb around on the skeletons of two buildings slowly taking more substantial shapes across the street from each other.
For Forbes, this is progress in stereo, and the construction represents the promise of dramatically improved healthcare for an entire region, as well as the production of generations of healthcare professionals who can make sure that promise is realized.
"That," says Forbes, pointing to the building taking shape on his left, "is [to be] the Dasher Memorial Heart Center, where there will be three catheter heart labs and outpatient services on the first floor, and then 96 rooms on the additional floors – and it [will] contain five floors of 130,000 square feet of space."
The new SGMC hospital building turnkey cost is $67 million and is expected to open in July.
Just across the street on the North Campus of Valdosta State University (VSU) rises the 140,000-square-foot Health Sciences and Business Administration building responsible for 1,190 jobs and a $56-million economic impact during the construction phase of the project. The building will house the facilities needed to teach nurses to meet a severe local and regional shortage. Those nursing students will take their clinical training at MCSG, just a short walk across the street. The VSU building has long been planned, but the timeframe was shaken by the vagaries of a troubled economy.
When the building opens in January 2014, it will provide a nurse-generating effort unlike anything else in South Georgia, says VSU's new president, Dr. William McKinney. "There'll be nothing like it south of the gnat line," McKinney says, while admitting he has worked hard to embrace the culture – and language – of the region. "Just because we had a recession didn't mean the demand for public healthcare professionals went away. That demand is still there and not going away anytime soon."
McKinney says the presence of the North Campus teaching facility will allow the university to expand its nursing curricula to meet other healthcare needs in South Georgia. "VSU is taking steps to offer a doctorate in nursing," he says, which will help provide the nursing teachers who will soon be needed to produce the nursing graduates.
"Original plans called for a pharmacy school in that building, and there continues to be a strong demand for highly qualified pharmacists," he says.
Economic developers here have an intense interest in the progress of VSU. "Just a few years ago there were probably eight to 12 [building] projects going on at one time, and just that [alone] was contributing a couple hundred million dollars to the local economy," says Dr. Cindy Tori, professor of economics at VSU's Langdale College of Business Administration, who also tracks the regional economy.
"Moody Air Force Base had a 2011 economic impact of just under $400 million, with VSU's total in 2011 at around $451 million." No one here is saying such numbers keep their community immune from recessions, but they could provide a degree of insulation. It is evident that something is contributing to a countywide population growth, with some attractive numbers in the rural municipalities.
According to the U.S. Census Bureau, Valdosta's population grew by 24.7 percent since the 2000 census, with Lowndes County's Hahira growing by 68.3 percent; Lake Park growing by 33.5 percent; Remerton by 32.5 percent and Dasher by 9.4 percent.
Growing Strong
"We've been recognized as one of the fastest-growing rural MSAs (Metropolitan Statistical Areas) in Georgia, says Andrea Schruijer (pronounced "shryer"), executive director of the Valdosta-Lowndes County Industrial Authority. She says retail site selectors pay attention to such things. "We had [outdoors recreation retailer] Gander Mountain, with the largest gun section in the region, that opened in August; Academy Sports opened in Sep-tember. A second Publix is ex-pected to open in the first quarter of 2013, along with a Drury Inn and Olive Garden restaurant. I think the site selectors have taken a look at the demographics and how Valdosta fits in with the MSA and the pull that we have," Schruijer says. "Interstate 75 is huge with them."
It's also huge with The Home Depot, whose Lake Park distribution center completed a $2-million expansion at its property just off I-75 in south Lowndes County. She has no doubts that Lowndes County's $2 billion in annual retail sales is considered by the retail site selectors in choosing a community for new or expanding operations.
Last May, Valdosta high-tech manufacturer Steeda announced it was transferring all of its engineering and manufacturing machinery, 50 tons of it valued at $3.5 million, from a Florida location to its existing Valdosta facility, an exciting event for any community. "Such a move is the highest complement an existing industry can make to our workforce, culture and business environment," says Schruijer.
Lowndes County is projected by the State Office of Planning and Budget to reach a population of 156,600 by 2030, a jump from the present population of 110,000 and a forecast sure to demand new infrastructure, says Lowndes County Commission Chairman Bill Slaughter. "We've seen our population grow, even in economic downturns," Slaughter says. "Even in the hard times we've seen our economy and population grow. We've got to take the initiative and make the effort to move forward with our infrastructure growth because when this economy comes around, it's going to be too late for thinking about infrastructure."
Entrepreneurship
As early as 1995, several technology-related startups began springing up in Valdosta, often with little notice and seemingly at random. But there is nothing unnoticed or random about the modern entrepreneurs of Valdosta, says Myrna Ballard, president of the Valdosta-Lowndes County Chamber of Commerce.
"Entrepreneurship is a well-planned economic development strategy that began as early as 2003 here," Ballard says. "Valdosta was Georgia's first Entrepreneur-Friendly Community. And that was part of a very well-planned effort to practice economic gardening, an intriguing idea we picked up from Littleton, Colorado." The idea is to identify would-be entrepreneurs who have the potential to start a business that can "leap forward, rather than grow incrementally or organically," Ballard says. "The economic gardening program helps our entrepreneurs get the resources and the nurturing they need in a pro-business environment where they are virtually set up to succeed," she adds.
One thing every entrepreneur needs is startup capital, a need met in Valdosta by the award of $15,000 to the entrepreneur submitting the best business plan in the chamber's annual business plan competition. It's a competition that can be as fierce as the run toward a state football championship in this football-passionate community.
"We write a check, and what they do with it is up to them," Ballard says. "But they have to assure [us] their new business is going to hire college and university graduates, and they have to assure us the business they start will be in Lowndes County."
The 2008 winner, Azalea Health Innovations, used the $15,000 prize to leverage a $100,000 line of credit and soared. Beginning with three principals, the Valdosta-based IT healthcare company now has 40 employees, with offices in Savannah and Macon and an annual growth rate of 66 percent, according to CEO Baha Zeidan. "That's because the IT healthcare industry is in an uptick mode," Zeidan says. "We've been lucky to start the company at the right time, with all the government incentives and initiatives to push physicians to go to all-electronic health records, rather than to continue doing things on paper."
Paul Nichols was one of four entrepreneurs to start Nexxtep Technology Services, Inc., a technology consulting and management firm begun in 2002 by native sons with roots in Valdosta, where they intend to grow.
"We don't have any plans to move," says Nichols, President of Nexxtep. "I'm a South Georgia boy and will die a South Georgia boy."
Nexxtep, which specializes in full-service technology consulting for small and mid-sized companies, has found comfortable niches to occupy. "Generally, we work inside the companies that don't need a full-time person," Nichols says. "We have two or three companies where we are the technology department and have people in that company 40 hours a week." The company serves clients throughout South Georgia and Florida and in Chicago.
Jason Bellflowers launched his Valdosta company in the bedroom of his home in 1995 at the age of 17, with little more than $100 and a wealth of chutzpah. A computer tinkerer for as long as he can remember, Bellflower worked as an intern in a Thomasville store while he was trying to be taken seriously as a computer repairman.
"But there was nobody willing to hire a 17 year old, so I just decided to start my own company, Virtual World Technologies, and maybe create my own job and maybe some jobs for others," recalls Bellflowers, who is CEO of the company. "At the age of 18, I decided to approach the Lowndes County Board of Education to see if they would give me the opportunity to bid on their school contracts, because they were buying computers for the kids in the classroom."
He surprised himself by getting the contract to build a couple of dozen computers, then 150 and then 300, ultimately getting contracts for 6,000 computers for Lowndes County High School, the school from which he graduated. His company moved to a small office and now occupies a 3,000-square-foot building, with 10 employees, including his best friend from high school.
Now 34 and married with children, Bellflowers has tinkered with his business model to fit the changing nature of his business. But he remains steadfast in his plans to stay in Valdosta. "I could have gone to another city, perhaps another state, and maybe made more money," he says. "But the benefits I can see to staying here and raising the children in South Georgia really make the difference for me."
Downtown Boosters
Valdosta entrepreneur Clinton Beeland is more specific about his plans to stay put. Sitting in his office in what was once a department store in downtown Valdosta, Beeland says he plans to keep his company, CJB Industries Inc., in the downtown area, though his company has grown enough to require two other locations inside the city limits. He and his wife, Jeana, like the feel of working downtown and have taken pride in restoring their mid-20th-century building.
CJB began in 1997 as a producer of agriculture chemicals, which the company does now on a contract basis. The company has grown to 85 employees, with further growth anticipated thanks to changes in the marketplace, he says. "In the chemical industry as a whole, there is a heightened focus on sustainability and a change in what those processes and products are," Beeland says. "We make things that have been around for a long time, but we also have a patented product we did some years ago that actually reduces the use of a fungicide, in this case, that could be applied to any given area by about half [and still be just as effective]." Beeland predicts the rising demand for biotechnology products will continue and will add to his company's growth.
Beeland is part of a growing business demographic centered on entrepreneurs who like having their businesses downtown.
Another is Azalea Health's Zeidan. "For a software company, we were able to recruit the world's best developers, believe it or not – and bring them to Valdosta at a cost of less than Atlanta," Zeidan says. "We're developing the world's best electronic health records right here in Valdosta at a lot less cost than if we were in Atlanta, L.A., or in the Silicon Valley."
Such praise brings a smile to Valdosta Mayor John Gayle, who also notes more improvements in the downtown area are getting notice. "We have retailers looking to build new structures downtown for retail space and apartments," Gayle says. "The big infrastructure improvement downtown is the overpass over Hill Avenue. We've had a problem with trains coming through going east and west and stopping traffic on Hill Avenue, which is also U.S. [Highway] 84, and the new overpass should eliminate that."
Community Snapshot
Local Leaders
Myrna Ballard
President
Valdosta-Lowndes County Chamber of Commerce
229.247.8100
mballard@valdostachamber.com
Andrea Schruijer
Executive Director
Valdosta-Lowndes County
Industrial Authority
229.259.9972
aschruijer@industrialauthority.com
Bill Slaughter
Chairman
Lowndes County Board of Commissioners
229.244.1200
bswaller@bs.net
Population (2010)
County, 109,734; Valdosta (county seat), 43,724; Dasher, 912; Hahira, 2,737; Lake Park, 73; Remerton, 1,123
Per Capita Income (2009)
County, $29,834, Georgia, $34,129
Unemployment (November 2012)
County, 8.3 percent, Georgia, 8.5 percent
Top Employers
Moody Air Force Base, South, Georgia Medical Center, Lowndes County School System,, Valdosta State University, Valdosta City School System
Sources
Valdosta-Lowndes County Chamber of Commerce, Valdosta-Lowndes County Industrial Authority, Georgia Department of Labor, U.S. Census Bureau