The Welcome Mat Is Out
In Southeast Georgia, cultural and heritage tourism is on the rise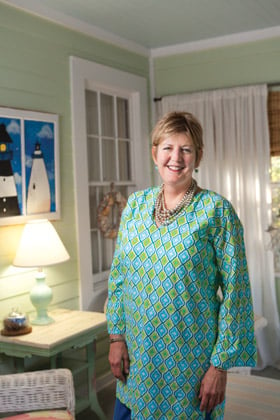 On Tybee Island, an offshore suburb of Sav-annah, tourism entrepreneur Diane Kaufman manages 50 rental properties, historic cottages and houses built between the early 1900s and the 1950s. When she finished counting the 2012 receipts from her company, Mermaid Cottages, Kaufman was smiling.
The summer rentals stayed full, she says. "We're busiest from early March to early October." But then the holidays of fall and winter saw high demand for her historic lodgings. "And we have the snowbirds coming in during January and February," Kaufman says. No condos or resort rooms for Kaufman's guests. "Probably 99 percent of my homes are small cottages that have been restored or they are historic older homes," Kaufman adds. "We're not all things to all people. We fill a niche, a very small niche."
The history element in Georgia's modern tourism is pronounced and growing, especially in Southeast Georgia where so much of the state's early history was made, according to tourism professionals and economic developers.
"Cultural and heritage travel is one of the fastest-growing segments in tourism," says Kevin Langston, deputy commissioner for the tourism division at the Georgia Department of Economic Development. The state's coastal region could well be tagged "The Gold Coast" for its contributions to the tourism bottom line for the southeast part of the state. Tourist spending on the coast totaled about $1.7 billion in 2011, according to Langston. "And the total number of jobs created was about 17,300," he says. "That is a lot of jobs, and the tourist spending generated about $67 million in tax revenues."
"Our biggest draw is our history, which goes back to the same time period as Savannah," says Rick Lott, executive director of the Effingham County Chamber of Commerce.
"They were founded in 1733, and we were founded in 1734. The Effingham County community of New Ebenezer has a historic church from those early days, and there is a museum that attracts the descendents of the Salzburgers, some 300 of whom were part of an exodus of persecuted Christians driven from the Salzburg, a region of what became Austria.
"If you are a Salzburger descendent, this is where you want to plug in, because you can go to the books and trace your family history," Lott says. "This is also home to Georgia's first constitutional governor, John Adams Treutlen, and there was Revolutionary War activity at the church and Revolutionary War redoubts in the woods of the area. Even though the church is in place and the history goes back so far, we're just now taking baby steps toward attracting tourists."
But that task may be easier because of the proximity of a major interstate highway, he says. "We're already seeing people coming in from I-95," Lott says. "We think we're getting hundreds to thousands of tourists coming off I-95 right now. Our main strategy is to work with the folks coming through going to Savannah and get those folks to take that 20-minute drive north from Savannah to Effingham County and see some things they might not be able to see in Savannah."
Gold Standard
Savannah has long been established as the gold standard for the use of history to generate tourism, but the city's chief marketer sees his market ever changing and his city doing the same. "I think our product is constantly changing," says Joe Marinelli, president of Visit Savannah, the marketing arm of the Savannah Area Chamber.
"To a large degree we appeal to that cultural and heritage traveler, somebody that is interested in coming here for the history; coming here for the architecture; somebody coming here for the stories behind the downtown squares, the cemeteries and so forth." Those visitors will continue to roll into Savannah, Marinelli says, but other visitors may have a different visit in mind. "That is changing," Marinelli says. "Savannah has positioned itself as one of America's Top 10 visitors' destinations. Savannah always ranks at the top with New York, Boston, San Francisco and also our friends to the north in Charleston. To [continue to] do that, our product has to evolve."
The cultural and heritage travelers will continue to find Savannah a draw, Marinelli says and adds, "But so do the romantics. We're a perfect getaway destination for them. And so do the people who want to park their car and walk through this city, where we have 22 different squares. And someone may want to come to Savannah and go over to Tybee Island and do some kayaking. And there is the Civil War experience, with Sherman's March to the Sea ending in Savannah; 2014 will be a big year for our part of the state as it relates to the Civil War. Yet all our indicators suggest 2012 will [have been] our strongest economic year, the best ever for tourism."
Savannah leaders are looking at putting a new multi-use baseball stadium downtown to serve as home to the Savannah Sand Gnats, the local minor league baseball club. And more people could be coming ashore to see what Savannah has to offer.
"There are studies under way right now on the Savannah riverfront, and those studies could lead to Savannah becoming Georgia's homeport for cruising," Marinelli says, referring to discussions about landing the big cruise ships that have long plied the Caribbean. It's easy to see how tourism is the foremost economic developer for Georgia's oldest city, says Marinelli.
"Tourism jobs in the Savannah area total about 21,000," Marinelli says.
Golden Isles
About 78 miles down I-95 south of Savannah is another vibrant port town, Brunswick, and the long-prosperous Golden Isles, four islands that have lured visitors to their shores since the 16th century. Given the value of tourism to the Glynn County economy, its chief tourism promoter is celebrating an upward trend in recent visitor numbers. "Tourism is our No. 1 industry here," says Scott McQuade, president and CEO of the Golden Isles Con-vention and Visitors Bureau.
"We see approximately 1.8 million to two million visitors a year that produce an estimated impact of $850 million a year into our local economy. I can tell you tourism is back here in the Golden Isles," McQuade says. "What we saw in the last year is a seven percent increase in overnight lodging ac-commodations and a 14 percent in-crease from two years ago. We saw a very strong fall."
McQuade says he has seen "positive signs of growth" for the past two years now. "With that comes, I think, additional energy and investment," he says. "We are seeing some properties change hands, and we're seeing some reinvestment and we're starting to see expansion of existing facilities. When you couple that with the real estate market here in a resort area such as this, it's a telltale sign of your economy."
Most important to the future of Glynn County's economy is the completion of a number of improvement projects under way on Jekyll Island, once one of the state's most visited vacation sites that was long known as a valued site for conventions. The island was developed for tourism in the 1950s and 1960s, with some upgrades in the 1980s, says Eric Garvey, chief communications officer for the Jekyll Island Authority (JIA), manager of the island.
"After that there wasn't much," Garvey says. "At our peak with conventions in the early 1990s, we were doing about 65 conventions a year, and that dropped down to about 25 in this last year." But there has been a turnaround with better days projected for the future. "The [new] convention center opened in May 2012, and so far it has received nothing but rave reviews from the conventions that have used it," Garvey says of the 128,000-square-foot facility. "We can do events there for up to 3,000 to 4,000 people, a bit more than in the past."
Garvey says 59 conventions have been signed for 2013. "Our sales target is to have 120 conventions per year," he says. "That's when our two new hotels are operational." Good news came from the Georgia Press Association this year with their announcement they will be returning this summer for their annual meeting.
To make sure difficult economic times did not slow development of the island's Beach Village Project, the authority used money from its tourism development fund to help developers meet lending criteria for construction costs, a solid business practice says JIA Executive Director Jones Hooks. "The effects of the recession have created a difficult lending market for hotel construction," Hooks says in an email response to questions. "By providing some assistance, we're ensuring these projects get under way sooner rather than later. We're taking the reins to accelerate movement on some critical elements of the Beach Village Project, which will create new jobs and tax revenues for both the state and local community."
Adventure
Farther south down I-95 in Camden County, two out-of-state developers have partnered on plans to build Kingsland Entertainment and Adventure Resort, a 574-acre sports-fo-cused park that will employ 800 people and could open in 2014. There was more good news when Oprah Winfrey left open the possibility she would film more episodes of her show, Lovetown USA, after producing eight episodes in 2012 at various locations around the county. The show, about how love can transform a town and its citizens, was a collaboration, with the BBC providing production technology.
About 150 towns competed for the title of Lovetown USA, but Kingsland won the right to host the series, now seen online. Eventually, every English-speaking country in the world will be able to view the show, says Tonya Rosado, executive director of the Kingsland Convention and Visitors Bureau. "Oprah chose us because we had the Southern hospitality she was looking for, and she thought we could show her what happens in a community when you focus on love."
Rosado says all the publicity isn't hurting their tourism recruiting efforts. Camden has already been chosen as the site for the construction of a Good Housekeeping Home of the Year.
"Camden County has three districts on the National Register of Historic Places – St. Marys, which is much like a small, quaint fishing village; Kingsland, on U.S. Highway 17 and is more like a 1920s town, and we just renovated our train depot there; and there is Woodbine, which, I'm told, has the only regularly scheduled bluegrass music event on the Georgia Coast. It's called the Woodbine Opry," Rosado says.
Valuable Assets
Smaller communities in Southeast Georgia are showing they can muster the assets to attract tourists in the cultural and heritage trend of the region, and Cathy Wells in Clinch County proved a nimble detective in tracking down pieces of a family history for one of the area's most famous citizens. When the historic birthplace marker was going up for actor, author, playwright and native son Ossie Davis in the Clinch County town of Cogdell, Wells, director and genealogist of the county's Huxford-Spear Genealogical Library in Homerville, got in touch with Davis' daughter, and the Hux-ford-Spear Library did a DNA test on Davis' surviving siblings.
"The DNA test results came back and, along with some research I had done on the family's history, gave us some interesting discoveries," Wells says. It turned out the Davis family was from Northeast and North Central Africa and was Jewish. The DNA tests and other research nailed that lineage down as truth. Some 200 people showed up in the Clinch County seat of Homerville (pop. 2,803) for a 2012 salute to Ossie Davis, and the experience opened another possibility for cultural and heritage tourism.
"Trying to do family histories on black families is very difficult for the years before 1870, with that being the first census year in which African-American families were counted," says Wells. The experience led Wells to begin an effort to produce more written records on those families.
"We are trying to get the word out to African-American families in Clinch and other surrounding counties," Wells says. "We want them to know how important it is to get their family history done. The other folks are gone, just like in any other family. If you don't get it all in writing, it's gone."
"I would say cultural and heritage tourism is the No 1. aspect of tourism on the Georgia coast and in Southeast Georgia," says Carey Ferrara, tourism project manager for the Georgia Department of Economic Development's tourism division on the Georgia Coast. "I think the African-American experience is really rich, and most often missed is the African American cultural and heritage tourism on the coast."