Effingham County: Banking On Location
Ready for manufacturing jobs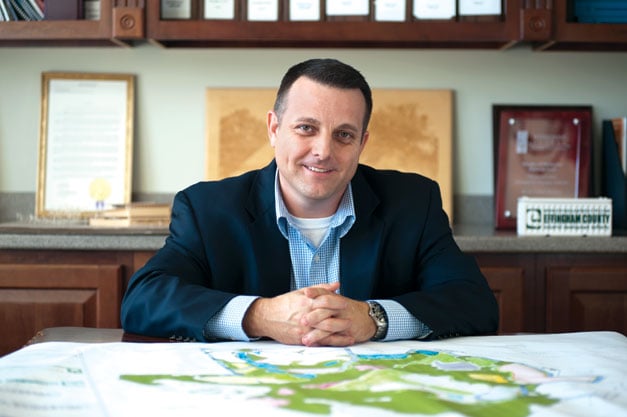 It's a well-worn theme in real estate that location is really what matters. It can also be the deciding factor for the success of a county or region as well. That's one way economic developers explain the ability of Effingham County to weather the recession and its steady progress in building an industrial base of thriving companies and jobs.
"It's tough for the rural areas of Georgia," says John Henry, CEO of the Effingham County Industrial Develop-ment Authority. "We're transitioning from being a rural community to a suburban one. So things have been a little better for us. Of course we still have the growing pains associated with that, such as building infrastructure and getting transportation corridors up to speed. Still, it's a lot better than the alternative."
Location has been a prime factor in keeping the Effingham economy going. Near Georgia's coast, the county borders Chatham County and is within an easy drive of the Port of Savannah. Two major interstate highways cut the region – I-16 and I-95 – making for easy access.
A well-regarded school system and low home prices have conspired to make Effingham a bedroom community for the Savannah metro region. During the day, most of the county's working people jump in their cars and head toward this coastal job center. Almost 30 percent of airplane builder Gulfstream Aerospace Corp.'s employees live here and commute to the sprawling plant in Savannah.
For those who want to stay behind, there are only about 9,000 jobs in Effingham. Some 40 percent of those positions are – as in many rural Georgia counties – government related. The big difference here is that out of the remainder, more than 2,000 are in manufacturing. That's an impressive number for such a small county, according to Henry.
More Industry
Growing private-sector employment here is considered vital to the health of the county. The reason is that private companies usually pay a larger portion of taxes than they actually use in services. The opposite is true when the tax base is dominated by residential development, given the need it generates for schools, roads, recreation and other services; so an unbalanced tax base can become a burdensome problem.
"We still have a big challenge ahead of us to put industry on the ground," Henry explains. "We're looking at a 60 to 75 percent commuter rate. Not necessarily that it's a bad thing. But the economic impacts that come with it can be harmful. You essentially bear the brunt of government services to the residents, and you get very little of the revenue stream back through sales tax generation."
Local economic developers hope to change that by capitalizing on the assets they already have in abundance. Besides a great location, there's also plenty of land set aside for industrial development.
In fact, they hope to lure in more companies such as the Portuguese firm Efacec, a manufacturer of industrial-size electrical transformers. In its sprawling, high-ceilinged building just off Highway 21 between Springfield and Rincon, the largest shell transformer made in the U.S. in more 20 years was recently completed. Design-ed to transmit enough electricity to power nearly 20,000 homes, it was the first of its type to be assembled here. It was so big, in fact, that it had to be broken into four pieces for transportation to its large-utility buyer.
The company is an important asset to Effingham, contributing more than 400 jobs. The net state impact of the company locating here two years ago was $23.75 million with an additional benefit to the county of about $39 million by 2017, according to estimates by the Georgia Department of Economic Development.
Efacec, along with CST Covers and Flint River Services, found its home in the Effingham County Industrial Park, which puts companies close to training programs and trained workers produced by a branch of Savannah Technical College and the Effingham County Career Academy. The Governor Treutlen Industrial Site, an 83-acre "shovel-ready" parcel within the Industrial Park, was also named a Georgia Ready for Accelerated Development (GRAD) site by Georgia Allies, a public-private partnership focused on economic development marketing.
County leaders see potential in the vast expanses of land – about 2,600 acres – known as the Research Forest, which is now going through a master-planning stage.
"It will be a mixed-use development," according to Henry, adding that it has rail access along with utilities. "It's just a phenomenal site. We're a few years out from that right now as we've got some transportation issues to address."
While the sheer size of the property could accommodate a large manufacturing tenant, Henry doesn't see much prospect of securing one. The failure of the recent regional transportation sales tax (T-SPLOST) vote – which would have earmarked funds for road improvements to the site – means the county has had to "hit the pause button" on development. Things are on hold until the transportation funding landscape gets a little clearer.
"We're just trying to figure out what our alternatives are," he says. "We may have to forsake the mega site concept and split the site up depending on what we have to do locally. If we have to provide a transportation network from local funds, then we'll have to plan it differently. Our best plan is always to leverage any federal and state dollars and provide truly adequate transportation networks rather than piecemeal one road here or there."
The county also has a large property along I-16. It isn't quite shovel-ready yet, but the planning, engineering and permitting have been completed, allowing the site to be marketed for perspective tenants.
The marketing of these sites is geared squarely toward manufacturing jobs. Despite the proximity to the port, Henry doesn't see a quest for warehousing and distribution sites. Assembly and manufacturing yield greater return on investment than warehousing and distribution, as they tend to bring higher wages for workers.
"We've got a great strategic location in the southeast that just happens to be near the port," says Henry.
The Home Front
With an economy bolstered by manufacturing and government, the county lost fewer jobs than many of its neighbors. The biggest hits came in the same places they did elsewhere – homebuilding and real estate. Much of the county's growth, along with building activity, was clustered in the southern end of the county fronting Chatham.
"We really did take a hard hit with the recession because so much of the impact came from the sudden loss of home building," says Rick Lott, executive director of the Effingham County Chamber of Commerce. "We were just one of those counties like many that were heavily invested in that type of construction. So when that came, it lasted for such a long time. We're still not out of the woods, but we're definitely seeing some signs of improvement."
While Effingham had its share of foreclosures of existing homes, much of the damage was done to new subdivisions that were trying to bring houses out of the ground. Many of those projects were stopped dead in their tracks, with a sizable number being turned over to the banks.
"Even that has stabilized, and we're seeing some movement within that industry as well," says longtime County Commission Chairman Dusty Zeigler, who retired in January. "There's activity going on in the southern end of Effingham. Building has begun to start again, so we're hopeful about construction in the county."
Hope seems to be turning into reality as the number of building permits has also started to increase. The long dormant Ramsey Landing site, which includes 231 fully developed single-family lots and 125 undeveloped acres, was recently acquired by Atlanta-based Joffe Land Companies for $4 million.
"Our monthly average building permits are as high as they were in 2006, so we seem to be climbing back out fairly quickly," says County Manager David Crawley.
Downtown Commerce
Whether this kind of activity will move into the more rural stretches of the county, where there are seldom any properties on the market, is an open question. The county seat of Springfield is the other side of Effingham. This quiet hamlet is the center of activity during the day thanks to its many government offices, as well as the area's hospital. Nurturing private business – particularly in the downtown off the four-lane highway – has proven challenging.
"There is some impact [from the recession], but we have a four-lane highway [outside] town that has seen some significant growth," observes Springfield City Manager Brett Bennett. "We are probably one of the outliers as far as if you look at percentages of the [tax] digest and how it has grown based on commercial growth. But we still face that obstacle downtown."
The four-lane is Highway 21, and it has attracted a number of businesses including attention from Savannah-based Enmark Stations, Inc., which opened a new convenience store in the city recently – along with two near Rincon.
In recent years, the city has struggled to revitalize its downtown area. With county offices located here, there is usually a substantial amount of traffic during the day, but that tends to disappear in the evening and on weekends, says Bennett.
"We have the residents who want to do a business and will step out and try it, but we find that space is somewhat limited," explains Bennett. "There are vacant buildings, but they're non-retail space establishments. So it's not an economy thing in my mind. You get less drive-through traffic, so your retail options are limited."
Drive down the long main thoroughfare in town and you'll see a variety of shops mixed among empty storefronts. These businesses are an eclectic mix, including a florist, professional offices, a printer and small engine machine shop. More recently a scattering of antiques shops have moved into town.
"I've had my eye on downtown Springfield becoming a regional center for antiques shopping," says Lott. "It's starting to come together now. People love antiquing, and where they might not drive 30 miles to come over here for an ordinary retail shop, they will come to look at antiques shops and little boutiques and things that have interesting one-of-a-kind products."
To foster downtown retail, the city government has rolled out a streetscape project to beautify the area with new street lamps and brick pavers and the placement of utilities underground. Work is also under way on renovating the long-vacant Mars Theatre for use as both a movie house and performance site for live entertainment (see sidebar on page 74).
The city has gotten its share of help from the county, which not only built a new justice center and jail, but also preserved the historic c. 1909 courthouse nearby. It became the first LEED Gold-certified historic courthouse in the state. Even while reusing old windows, heart of pine flooring and other materials, the county was able to reduce water consumption by 30 percent and energy usage by 34 percent.
"The board's position over the past four years at least has been to focus on sustainable, efficient building," explains Crawley. "They want buildings that will last, that are long lived and are efficient to operate. So it became clear through the planning process and the architectural engineering process that a lot of what we were doing would get us LEED certification."
Yet another industry that has weathered the recession is healthcare – especially Effingham Hospital and Care Center. The county-owned facility re-cently completed a $30-million expansion project that has updated its operating rooms, emergency department and administrative offices. Improving this small critical-access hospital is expected to allow it to attract more physicians to the community.
New businesses, government offices and healthcare facilities are likely to have a similar effect on Effingham's status as a place to live, work and raise a family. As more jobs arrive here, fewer people are going to be looking elsewhere for employment or places to spend their money. That is a process that will further this county's transformation from rural to suburban.
Community Snapshot
Local Leaders
John Henry
CEO
Effingham County Industrial Development Authority
912.754.3301
jahenry@effinghamcounty.com
David Crawley
Administrator
Effingham County Government
912.754.8190
dcrawley@effinghamcounty.org
Rick Lott
Executive Director
Effingham County Chamber of Commerce
912.754.3301
ricklott@effinghamcounty.com
Population (2011)
Effingham County, 52,655; Rincon, 8,906; Springfield (county seat), 2,383; Guyton, 1,957
Per Capita Income (2011)
Effingham County, $24,136
Georgia, $32,095
Unemployment (November 2012)
County, 7.1 percent
Georgia, 8.5 percent
Top Employers
Effingham County Schools, Georgia-Pacific, Effingham Health System, Georgia Power, Efacec
Sources
Effingham County Industrial Building Authority, Effingham County Chamber of Commerce, Georgia Department of Labor, U.S. Census Bureau