2013 Counties Of Excellence
Rewarding projects that revitalize an old industrial area, use technology to save money, enhance fire protection, help young people, improve healthcare and provide transit options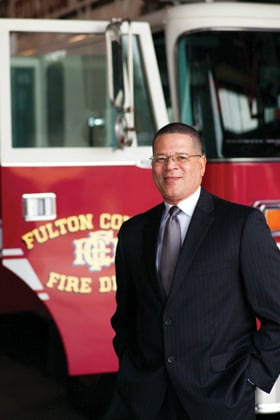 Providing good services while being re-sponsible stewards of the public's money is always challenging, especially in a tough economy. The eighth annual Georgia Counties of Excellence awards program, sponsored by the Association County Commissioners of Georgia (ACCG) in partnership with Georgia Trend, honors six projects that more than meet the challenge. Winners were determined by an independent panel of judges.
Ross King, ACCG executive director, values the transferability of the projects – the fact they can be duplicated in other counties with similar results and that they encourage regional cooperation.
But there's also a matter of recognition and pride. "These projects are important for the community," King says. "There is tremendous talent, people working under a lot of pressures – payroll cuts, furloughs. It's good to show [the public] their dollars at work."
Fulton County
Revitalizing An Industrial Area
One of the largest industrial parks east of the Mississippi, Fulton Industrial Boulevard is becoming, once again, a thriving commercial base for Fulton County as well as the region.
But a few short years ago, the area was far from thriving. After its heyday in the 1980s, the area had gone down aesthetically, says Fulton County Commission Chairman John Eaves. Businesses were leaving the area, which had become associated with drugs and prostitution.
In 2006, the Fulton Industrial Boulevard Redevelopment Initiative, a multi-agency project to support the revitalization of Fulton Industrial into a sustainable competitive business and industrial corridor, began to change that. "Since then we have been making positive steps forward," says Michelle Macauley, Fulton County's assistant director of planning and community services. "We have seen businesses coming back and businesses expanding." The corridor has its own police precinct and recently celebrated the opening of a new fire hall. The project earned Fulton a Georgia County Excellence Award in the Community Planning/Visioning category.
A major effort toward reducing crime in the area has been closing down motels along the corridor that were known to house prostitution and drug activity. But the initiative revealed some of the run-down establishments housed something more – a number of families also called them home. "No one expected that when we closed down the hotels," says Macauley. "They thought, 'We'll get rid of the prostitutes because there will be no place for them to go,' but holy cow, there were school buses pulling up."
Thanks to the involvement of Fulton County's Housing and Human Services Department, the families displaced by the hotels' closing were able to find more appropriate housing, says Macauley. "Everyone who touches this roadway has really worked together well," she says.
"I am so proud of Fulton County's commitment, along with its collaborative partners," says William "Bill" Edwards, the county's District 7 commissioner, "to put their time and expertise in to make the area as good as it should be."
Future plans for the industrial corridor include increased landscaping, which will improve the visual impact of the area from I-20. What is not planned is the introduction of residential development, which has harmed other industrials parks trying to survive a slow economy, says Macauley.
Typically when residential development moves in, industry starts to move out, she says. "We made a stand on that. We are not promoting any residential uses because industrial uses are loud and there are trucks, and people start complaining if they have to live next to them," she says. "We have really made a commitment to our industrial businesses that this is going to be an area that is business friendly and supports commercial uses that support industry."
While improvement to the industrial corridor continues, Eaves believes the refocus on the area – including the enhancement of code enforcement efforts and support for the creation of a community improvement district – have all been vital to resurrecting the area.
"Fulton Industrial Boulevard is a diamond in the rough that is on the brink of getting the attention and recognition that it deserves in terms of being an economic driver for this region," Eaves says. – MAD
Ben Hill County
Project Paperless
In the summer of 2011, Ben Hill County commissioners and staff began Project Paperless, a concerted effort to save money, time and labor by using modern technology to eliminate the sea of paper used by the county and its citizens in the daily business of governance.
The commissioners and staff knew immediately the first place to start was forms, according to county clerk Donna Lampkin. "That was the obvious answer," says Lampkin, who handles the day-to-day operations of Project Paperless. "Every day we receive requests for forms of all kinds."
The requests were coming in by phone and in person: employment forms, forms related to housing, forms for public participation, all sorts of forms. From June 2011 to October 2012, nearly 15,000 requests for forms were made to county offices, but during that period, the county had posted pdfs of the forms on its website for people to download. "That gave the taxpayers of our county a savings of $15,791.20 in materials alone," Lampkin says.
During the period June 2011 to October 2012, the commission had 68 meetings, requiring 544 meeting books with a printing cost of $10 each. That cost disappeared when the five commissioners, county manager, county attorney and county clerk were issued iPads, requiring only one book shared by all via technology when the county IT specialist uploaded the book for each meeting.
"This saved money, but it also allowed each commissioner to have full access to current meeting books and all prior meeting books that had been previously uploaded anywhere, anytime," Lampkin says.
When Project Paperless began in 2011, county commissioners and staff were hoping to see savings of perhaps 15 percent, but the savings to date have been closer to 30 percent and, it is hoped, the project has better connected the governing body with its citizens. Further benefits came with the virtual offices made available to each commissioner. "The virtual office includes commission meeting books they can refer to anytime and includes past and present meetings," Lampkin says. "They get instant access to all meetings, agendas, minutes and reference files." Project Paperless technology was paid for through Ben Hill County's Special Purpose Local Option Sales Taxes (SPLOST) and included 10 iPads and one NeatDesk scanner for document conversion.
The Ben Hill County Commission has a list of plans for widening the use of technology in the daily business of government in the community, according to the application issued for the County Excellence Awards prepared by Lampkin and signed by commission chairman Philip Jay III.
For its innovative cost-saving efforts through the use of modern technology, the Ben Hill County Commission and staff are recognized as a recipient of the Georgia County Excellence Award in the category of Organizational Efficiency/Operations. – EL
Coffee County
Increased Fire Protection
When the Coffee County government launched a needs assessment in 2008 to determine the level of fire protection for the community's building owners, the results confirmed their worst suspicion – the distances from fire station to housing concentration were too great, resulting in very low ISO ratings and leading to higher homeowner insurance costs, more severe fire damage when fires occurred and even deaths from fires.
Coffee County's ISO ratings take their name from the Insurance Services Office, a New Jersey firm that rates fire departments and their distances from homes and businesses in a specific area, information that is used by insurance companies to set premiums for homeowner policies in that area. Training and equipment are also measured by the ISO.
The Coffee County needs assessment showed the county had nine areas that lacked sufficient fire protection, with the nine identified as having far longer than acceptable response times, often with "tragic results," according to the County Excellence Award application submitted by the Coffee County Commission and signed by its vice chairman, Tom Rice.
Insurance premiums were high in those areas, and in some cases homeowners had difficulty even finding insurance companies that would consider issuing them a policy.
"We knew we had a serious problem back in 2008 when we completed our needs assessment," says Steve Carver, Coffee County fire chief. "We knew we had a public safety need, and there was a need to get the ISO rating improved."
But all that would cost money and take time. Coffee County needed nine new fire stations, fire engines and other equipment. In 2009, the Coffee County Commission voted unanimously to begin the fire protection expansion and completed it in 2011, bringing the total number of fire stations to 20, all within five miles of 98 percent of the local population and creating an average response time of five minutes, far better than the previous response time of 12 to 20 minutes.
Using a combination of paid firefighters and volunteers in new stations built on donated or greatly reduced-price land and purchasing used engines, the commission met its goal of doing more with less. The engines and equipment were paid for with proceeds from a Special Purpose Local Option Sales Tax (SPLOST). The fire protection improvements led to dramatic reductions in the prices for homeowner insurance. "Those cost reductions are saving our homeowners $1.8 million annually," Chief Carver says. "And we're not stopping here. We're going to push forward with this."
The Coffee County Commission was recognized with a Georgia County Excellence Award in Public Safety for its response to a critical need in the category with an imaginative plan resulting in the saving of money and property – and perhaps lives. – EL
Muscogee County
Helping At-Risk Kids
Just three and a half years ago, the Columbus Department of Parks and Recreation was mired in scandal and controversy, says Columbus Mayor Teresa Tomlinson. Today, with new leadership, she says, the department is being recognized for two special programs to help at-risk kids: The Princess Within and the Empty Bowl programs.
The Princess Within program, established in 2011 for girls between the ages of 6 and 13, addresses major issues – including low self-esteem, depression, weight management and peer pressure – that young girls face. The program fosters skills to increase self-esteem and create goals that will help them make good, healthy lifestyle choices. Its objective is to inspire young girls to be healthy, confident leaders in their community, school and peer groups, says Shelley Stephens, the department's community schools district supervisor.
Implemented through a partnership with the Muscogee County School District, the program has enrolled an average of 45 girls the past two years. Upon finishing the 11-month program, the girls participate in a graduation ceremony and receive certificates of completion.
"The pride in the faces of these young ladies when they come to City Council to be recognized at the conclusion of the program is priceless," says Tomlinson. "They are little angels, and after the program, they know it."
The local Empty Bowl program, which evolved from an initiative started in 1992 by the Department of Parks and Recreation's Cultural Arts section and is part of a larger international effort, has become a broad community-wide effort to fight hunger.
The department organizes groups all across the city to decorate soup bowls, says Tomlinson. "People get so creative. Local craftsmen, educators and others participate in decorating the bowls," she says. Then, in exchange for a cash donation, people can attend the department's annual Empty Bowl Brunch, which allows them to enjoy soups, breads, desserts and drinks and keep the bowl of their choice.
All of the proceeds from the Empty Bowl Brunch go to the Kids Café, a program of Feeding the Valley, the area's local food bank that provides free meals and snacks to low-income children through a variety of community locations. Kids Café programs also offer a safe, supervised place where children can get involved in educational, recreational and social activities.
"The simple soup meal becomes a community bonding effort and raises everyone's awareness of how important a warm meal is to the soul," says Tomlinson. The project won a Georgia County Excellence Award in the Health and Human Service category. – MAD
Camden County
Improving Healthcare
When Steve Howard came to Camden County as its county administrator five years ago, the county was operating in a deficit and its healthcare plan was in shambles, he says.
The employee health plan was growing faster than the departments delivering the services it existed to serve. Total costs increased by 82 percent over a three-year period, exceeding national medical trends by double digits. The employee health plan became the fastest-growing sector of the general fund budget in fiscal 2009, constituting 16 percent of the total general fund expenditures.
"We had to do something," Howard says. "We couldn't operate our health plan the way it was."
Howard turned to experts in the community as well as Camden County Support Services Director Stacy Bowick and Mary Smith, a consultant with The Cumber-land Financial Group, for help.
The first recommended change was the addition of a wellness program. For just a small investment, the county was able to use some of its existing resources – including a full-time registered nurse, who acted as a liaison between its human resources and workers comp program – to begin an onsite clinic, which initially focused on acute problems. Next, the county partnered with a local nonprofit agency called Coastal Medical Access Project in a pilot program for chronic disease management.
"By participating in that program, it showed that we really needed to be focusing on our people with chronic disease," says Bowick. "We found that 17 percent of the population was driving 40 percent of costs through chronic disease."
As the clinic grew, the county brought in new entities – including the City of St. Marys and the public service authority – to share the benefits and costs of operation. Patients can visit the clinic without a copay, and if they are prescribed medications on the clinic formulary, they receive them free of charge, too.
The next plans are to move the clinic into a building owned by the county, where a collaborative relationship with a local nonprofit agency will allow it to add mental healthcare to its offerings. Howard also hopes to bring in more entities to further drive down costs through sharing.
"We are working for the employees of the county, but we are also building collaboratives in our community all the time – the government, local doctors, local pharmacies, a lot of local people," says Smith. "Everybody has a part in this."
"Today, we are a debt-free county," says Howard. "The healthcare plan has turned around. We saved $2 million [in healthcare costs] in four years."
Camden County has created a model that can be duplicated at any level, says Bowick. "This can be replicated at the state or federal level. It's all about public agencies working together to share costs and create efficiency." The project won a Georgia County Excellence Award in the Financial Management category. – MAD
Quitman-Randolph-Stewart
Transit Options
The crippling poverty long plaguing Southwest Georgia has been carefully documented: high unemployment, widespread obesity and diabetes, a regional leader in dropout rates and teen pregnancy, substandard housing and declining populations all combine to create one of the nation's poorest areas. This is a region where not only is home ownership often a distant dream, but so is vehicle ownership, and before summer 2012 public transportation was an alien concept. People here were grounded unless they could hitch a ride with a neighbor.
"Most of them just didn't have a car, and the only public transportation in such a rural area was over on the coastal area," says Tina Rust, a planner with the River Valley Regional Commission (RVRC), an agency handling the administrative duties of a long-awaited public transportation initiative called the Pataula Reg-ional Transit System, begun in July of 2012 after three counties, Quitman, Ran-dolph and Stewart, came together to provide their 16,290 citizens with rides to jobs, clinics and shopping and for neighborly visits.
Pataula Transit seemed a natural conclusion after Richard Morris, chairman of the Georgetown-Quitman County Consolidated Gov-ernment, was joined by Ran-dolph County Commission Chairman Jimmy Bradley and Stewart County Com-mission Chairman Joe Wil-liams in broadening the transit services of Quitman County's in-county-only pub-lic transportation program. Now riders can pay a small flat fee for trips anywhere in the region, says Rust. "This gives them a means of getting to work or to a technical school, or for healthcare appointments," Rust adds.
With 18 percent of the three-county area population over the age of 65, another 17 percent without any reliable sources of transportation and 30 percent living in poverty, the Pataula Transit System seems like an incredible gift of government to the people it serves. "For the riders, it allows them to move around the region," says Rust. "Most of them, when they have healthcare needs, they go to Columbus, and now they can move more easily."
Pataula Transit is financed jointly through the Georgia Department of Transportation Section 5311 federal program and the Department of Human Services. Eighty percent of the vehicle costs are being met by the 5311 funds, with 10 percent coming from state funds and the remaining 10 percent coming from local contributions. The system is managed by the Lower Chattahoochee Regional Transportation Authority, an agency composed of members from each of the participating counties. Already, nearby counties have expressed an interest in joining together to form their own transportation systems.
For their cooperative and innovative effort in meeting a critical need in their communities and for the ease of duplication in other communities, the commissions of George-town-Quitman, Randolph and Stewart counties have re-ceived the Georgia County Excellence Award for Infrastruc-ture Development in Transportation. – EL