Newton County: New Spirit
Manufacturing and entertainment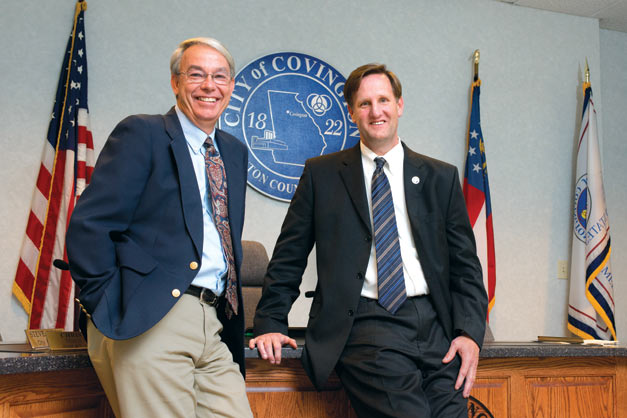 Fresh blood is revitalizing Newton County.
From the $1.3-billion deal with Baxter International, which will produce plasma-based treatments at a new manufacturing facility in Covington, to the tourism generated by the locally filmed television show The Vampire Diaries, the county is getting a much-needed transfusion.
Once one of the 10 fastest-growing counties in the country, Newton was hit hard by the economic downturn, especially in the construction sector. That resulted in one of the highest unemployment rates in Georgia and a ranking among the Top 20 most stressed U.S. counties in 2010.
"We've got these challenges, but all of a sudden now we've got a legit opportunity to turn the corner pretty quick," says Covington Mayor Ronnie Johnston. "Because of Baxter, it's kind of like getting an adrenaline shot."
The announcement in April that Baxter would move into the Stanton Springs technology park was a huge boon to several area counties, which make up the Joint Develop-ment Authority of Newton, Walton, Morgan and Jasper Counties. The four counties will share in providing services and reaping tax revenue. The deal was a culmination of efforts that began in the late 1990s, with TPA Realty Services brought on board as developer and marketer for the mixed-use park.
Baxter refers to the site as its "Covington facility," even though it is a few miles closer to Social Circle, a smaller community in Walton County.
"It's important to them, and it's a blessing to us," Johnston says. "They could have said Social Circle, they could have said Newton County, but they chose us and I believe they did that because of what we offer."
Baxter will hire about 1,200 at Stanton Springs, with the workforce expected to be made up of locals as well as an influx of newcomers.
"It is every bit our intention and our goal to recruit those executives and employees to live here in Covington," says Hunter Hall, president of the Covington-Newton County Chamber of Commerce. "With Baxter coming in and an average wage of $60,000, the trickle-down effect for us is we're in a market that's starving for retail."
The lowest per capita income ($21,583) in the northeast Georgia region – which also includes Athens and Elberton – has thwarted Newton's efforts to attract more restaurants, stores and entertainment options. Over the years, the county lost its Belk department store and its only movie theater. (One hindrance was removed in the November election: unincorporated Newton County is no longer dry, thanks to the passage of a referendum the chamber had been trying to get on the ballot for 12 years.)
Hall says that Newton County has about a $750-million annual retail leakage to neighboring counties.
"We know there's demand, but our per capita income doesn't reflect well for commercial developers," he says, "so the discretionary monies that would be associated with a development like Baxter [are] significant."
With the Deerfield, Ill.-based company establishing the area as a biosciences hub, local officials expect others to follow.
Five I-20 exits provide convenient access to Atlanta, about 30 miles away, and its international airport. The establishment of a Georgia Quick Start training center at Stanton Springs will get Baxter's workforce up to speed and can be used by other biotech companies.
The site has been cleared, with thick woods giving way to red clay. Con-struction of the Baxter facility is expected to begin in the first quarter of 2013, and commercial production should start in 2018.
"Part of what took so long for us to get that first occupant is that we were picky," says Danny Stone, Snapping Shoals EMC economic development manager and chair of the Newton County IDA. "I think that if you just see a pharmaceutical locate here, the other biotech industry folks will recognize that Covington and Newton County and the surrounding area of the region can support that with infrastructure and employees."
Stone says the arrival of Baxter "really opened a lot of eyes that we are a player, and we are still very attractive to these folks as far as the location for their business, for their executives to live, for their executives' children to go to school. Our location and close proximity to Atlanta give you the amenities of Atlanta, but still the small-town feel of living in Newton County."
Yet some residents have feared losing that rural charm as sprawl from Conyers reached Covington. The west side of the county is heavily populated with subdivisions, a product of the housing boom of the early 2000s.
Quality Of Life
"I think that's a valid concern, certainly for parts of the county," says Roger Harrison, senior vice president of economic development at the chamber. "The east side of the county is still less dense, except for the city [of Covington], and larger landowners are more resistant to growth because they don't want to see the change in the quality of life."
That's addressed in the 2050 plan, the county's trailblazing strategy to manage growth, which was set in motion well before Baxter became a factor.
Arising from the Leadership Collab-orative of the mid-2000s and guided by The Center for Community Preservation and Planning, the 2050 build-out plan drives infrastructure into designated areas of density while preserving the waterways and greenspace.
"Some of the drives that we have that are so great, the scenic byways where you see the cows and horses, we don't want that to disappear," says Keith Ellis, the newly elected chairman of the county board of commissioners and a long-time member of the Leadership Collaborative because of his role with the water and sewerage authority.
"We want to pull everybody together," he adds. "We don't want a divided Newton County. We don't want an eastern side and a western side, because right now we've been told that's the way it is."
Jurisdictions will work together, sharing the same zoning and development regulations and having a common approach to annexation, transfer of development rights, roads and farmland.
The center's co-founder and executive director, Kay Lee, calls the 2050 plan "completely revolutionary" and says it "means a saving to the taxpayer of $3.3 billion between now and 2050," although the build-out could be completed years or even decades later.
Only Carlsbad, Calif., Lee says, has a fairly similar plan that was put into play more than 30 years ago.
"When our comp plan is done, we won't have just a land plan," she says. "We will have a land plan that's coupled with [plans] for wastewater and transportation. It will be one of a kind. What you have by blending this together is the opportunity for success that's unprecedented."
Harrison says Newton's seats on both the Atlanta Regional Commission and the Northeast Georgia Regional Commission are a perfect example of the way the county now straddles rural and urban issues. "It's hard to figure out where we fit a lot of times," Harrison says, "but with the announcement of Baxter coming, we are invited to everything. That's really put us on the map."
On Location
Films and television have also made Covington a recognizable location. Last year the city trademarked the name "Hollywood of the South," but its movie history goes back more than 50 years. The first project filmed in Covington, A Man Called Peter, was nominated for a 1956 Academy Award for cinematography. It depicted the life of Peter Marshall, a former pastor of the Presbyterian church.
"They used the Methodist church, be-cause they thought it looked more Southern," says Clara Deemer, director of tourism for the chamber, "so we say, 'That's when make believe came to Covington.'"
The Dukes of Hazzard, In the Heat of the Night, The Cannonball Run, Remember the Titans, the current Denzel Washington film Flight, and even the fourth American Pie movie were all filmed in Covington.
In November, the city unveiled its "Walk of Stars" with 41 hexagonal paving stones. "We've had over 60 film productions made here, but not all of them will get pavers," Deemer says. "Some of them we don't claim, like that Run Ronnie Run! That was horrible, [people] said. We never watched it."
Location scouts know that officials will help them find what they need and won't balk if the streets need to be filled with dirt to evoke the past.
Yet no one expected the The Vampire Diaries, now in its fourth year, to become a worldwide phenomenon, attracting fans from across the globe to tour the fictional Mystic Falls, Va. (See sidebar on page 80.)
Deemer says that of 3,421 people from 34 states and 14 countries who signed in at the visitor's center in October, "I would say 90 percent of those people came because of The Vampire Diaries tours."
She says it's exciting to see 15 to 20 people with cameras walking around in tour groups. "We've never had that by these numbers before. It's amazing."
However, Deemer allows that the filming of In the Heat of the Night in the late 1980s and early 1990s actually prompted some women to pick up and move to Covington. "They liked Bubba," she says of the character played by Alan Autry.
Tourism is a key economic driver for Newton County, generating $100.1 million in direct tourist spending and $2.95 million in local county tax revenues in 2011.
The tax revenues are "the size of a large industry," Hall says. He credits that and the 22 percent of the workforce in manufacturing with giving Newton a diversified economy that made it somewhat resilient during the economic downturn in areas other than construction.
Water Supply
The ready availability of water, especially given Atlanta's water struggles, makes the county appealing to industry. After all, water and sewer are part of Newton's contribution to Stanton Springs. Baxter needs a million gallons a day, a key element to the deal, and Newton has future reservoir capacity that will provide 28 million gallons a day.
"You've got that commodity that a lot of communities don't and can't obtain," Stone says, "so I think it puts us in a very attractive position, [more] than some of the others down the road."
The county is actually running out of space in its industrial parks and is developing a new 162-acre site.
"It's tough for us to see sometimes how good we actually have it," Harrison says. "Things are still not great, but we are the envy of many counties around the state because of our successes in the past 18 months with a number of projects."
Including Baxter, he cites eight announcements of either new manufacturers locating in Newton County or expansions since late 2010.
SKC Inc., a South Korea-based company, has expanded every two years since it arrived in the mid-1990s, Harrison says. The latest expansion represents $100 million and 120 jobs over five years. In addition to its core plant making polyester film, SKC opened new plants to make film encapsulant for solar panels and to produce polyurethane foam used in car seats and as insulation for homes and refrigerators.
Tom Gray, plant manager at SKC, says the chamber has been instrumental in helping the company expand and recruit. "When we were expanding, trying to get permitting and so forth, there wasn't a lot of red tape," he says.
SKC recruits engineers from Georgia Tech, and Gray says Georgia Quick Start was a big advantage in the initial hiring process. "We have three businesses there and we've got 380 acres worth of property, and we plan to keep on reinvesting in the plant land," Gray says.
He and other leaders on the Existing Industry Council, who meet quarterly to share ideas, volunteered for the Baxter groundbreaking ceremony last year. "They'll support the area, so our employees will gain, as well as their employees will gain from us being here," he says, citing the larger tax base.
Among other expansions, Nisshinbo, a Japanese automobile brake manufacturer, added nearly 50 full-time employees and around $6 million in equipment in 2011. Bridgestone Golf doubled its output of golf balls.
Shannon Davis, director of business retention and expansion at the chamber, says that to facilitate job creation, the county is very business friendly.
"It's a one-stop shop," she says. "We make it easy for them to stay here and do business."
Davis chairs the Covington Area Employer Committee, which is composed of human resource professionals.
"They're the ones who are saying we need skilled labor coming out of the technical colleges and the high schools," she says. "Soft skills are extremely important these days because we're not seeing them anymore."
Continuing Education
Newton County has a college and career academy, "which is extremely vital to our future pipeline," Davis says. "We've targeted industries and said, 'What do you need?' OK, let's create it in the career academy.'"
Commissioner Ellis hopes to encourage a mindset among county residents of all ages that "you're never through with education; you're never through with training. A better trained workforce is going to draw some more people in, other than Baxter, too," he says. "We want to keep the momentum going for Newton County."
Other recent new industries include Vestar Technologies, a rare metal fabricator, and Amesbury Extruded Products, both located at Lochridge Industrial Park. Vestar brought more than 100 jobs and $26 million in investment while Amesbury, with 40 jobs and a $4-million investment, moved into a spec building that had been empty for years.
In addition, Pasco Sprinkler brought 60 jobs and StampTech 40 jobs and a $3 million investment.
Harrison says Newton County is trying to recruit new business and industry in food and pharmaceutical processing, call and data centers, distribution and logistics, advanced materials and processed manufacturing.
Any new growth will be by design. Johnston says the excitement and opportunities now coursing through the county have brought the 2050 plan into focus.
"You'd be talking to somebody who'd say, 'I'll probably be dead before we ever get to that,'" he says. "Now all of a sudden Baxter is coming in, and everything is now moved up. It's current. Here we go."
Commumity Snapshot
Local Leaders
Hunter Hall
President
Covington-Newton County Chamber of Commerce
770.786.7510
hhall@newtonchamber.com
Roger Harrison
Vice President of Economic Development
Covington-Newton County Chamber of Commerce
770.786.7510
oed@selectnewton.com
Ronnie Johnston
Mayor
City of Covington
770.385.2000
rjohnston@cityofcovington.org
Population (2011 estimated)
County, 100,814
Covington (county seat), 13,226; Oxford, 2,147; Porterdale, 1,442; Newborn, 701; Mansfield, 413
Median Household Income (2010)
County, $21,583
Georgia, $47,469
Unemployment (October 2012)
County, 9.5 percent
Georgia, 8.7 percent
Top Manufacturing Employers
C.R. Bard, Inc., Pactiv Corporation, General Mills Inc., SRG Global, Inc.
Sources: Covington-Newton County Chamber of Commerce, Georgia Department of Labor, U.S. Census Bureau