Partners In Education
Southwire and Carrollton High School are giving top science students a rare real-world opportunity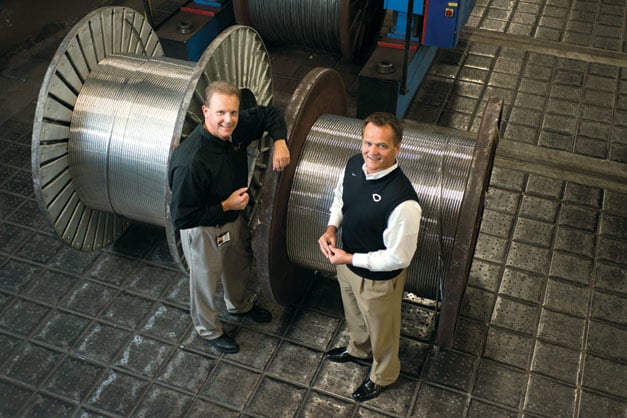 In many ways, Travis Joyce, Kelcy Newton and Carter Smith are typical high school seniors, yet the three seem more self-assured, armed with a clearly mature vocabulary and without any uncertainty about what's next for them. They are veterans of the Southwire Engineering Academy (SWEA), a partnership between the giant West Georgia wire manufacturer and Carrollton High School, a collaboration that leads students like Joyce, Newton and Smith out of the classroom and into scheduled work sessions in several of Southwire's departments.
This is hardly forced labor; the students clamor for a spot on the academy roster, with only the brightest – and perhaps luckiest – landing in one of the available slots.
Smith was part of the inaugural 2011 SWEA class, and he believes his time at Southwire is helping him make plans for the future. "It's been a wonderful experience," Smith says. "It's been great to learn what an engineer does on a day-to-day basis and apply what we learn in the classroom to a real-world environment, and to see what our careers could look like in the future."
Smith believes the Southwire experience is coaxing him in a predictable direction. "Right now I'm looking at mechanical engineering," he says. "We don't get paychecks yet, but we do get benefits like seeing what a career looks like before actually jumping into it."
Students who work in the company's engineering academy are selected from Carrollton High's STEM program, the acronym standing for science, technology, engineering and math. This academic year, 24 high achievers were selected for the Southwire Academy, up from 20 in last year's program.
"We need people who are excited about science, about math and about technology," says Carol Godfrey, a Southwire engineer and vice president of marketing and product development for the company. "The high school was doing great work with their STEM program, a big state program. So they came and said, 'Hey, we've got these accelerated students who are doing great work. Do you have something you can do with them, sort of in the robotics arena?' We don't use a ton of robotics, but we do use an awful lot of scientific thinking, a lot of mathematical thinking and engineering thinking to solve problems at the plant."
Students in the academy spend their last two high school class periods at Southwire every other day, according to Godfrey. At the end of the year, the SWEA students present the projects they completed to company executives and proud parents, as well as friends. It is a culmination of a year of work and learning, and the last lesson is displaying the confidence they've acquired in speaking to groups. "You can see that confidence and pride shine through," Godfrey says.
The academy students sign confidentiality agreements to protect what goes on behind closed doors at Southwire.
"A lot of people around here joke that Southwire is like Willy Wonka's Chocolate Factory, that you don't really get to see what's inside it because it's never really open," says Newton. "My parents are really curious about what we do at Southwire, but I'm not allowed to tell them everything we do there because of our nondisclosure agreement. They understand that Southwire as a competitive company would be nothing if all their secrets were laid out on the table for everyone to see."
The Beginning
The high school-corporate partnership began in 2011 after conversations between Dr. Kent Edwards, superintendent of Carrollton City Schools, and executives at Southwire. "We were looking to start a program that would provide an opportunity for our students to be exposed to the highest level of STEM," Edwards says, "and since they were an engineering kind of corporation and had a large number of engineers, if there were any opportunities they could see."
Edwards and the Southwire executives began "fleshing out" their ideas, and within 90 days the partnership was formed and the pilot program begun.
As the negotiatons rolled along, Edwards began to see that Southwire was prepared to go far beyond his best hopes for the collaboration. "The deal gave students far more than the Carrollton High School could have ever expected, with much larger investments in time and exposure to the company," Edwards says. "And with the highest levels of exposure to the company workers and practical hands-on applications they were willing to give our students, [it was] much like if you were to go to Auburn or Georgia Tech or any engineering school where you almost have to be a third- or fourth-year student to get that kind of exposure."
Southwire's vice president for energy manufacturing, Tom Heberling, installed the framework for the Engineering Academy. He has two employees who help guide the students and report back to him on their progress.
"To me the projects we give the students bring value to Southwire," says Heberling, a 25-year veteran who served as a co-op student while studying engineering at Auburn. "We're running at full capacity, so any time saved on the manufacturing line through their initiatives – such as when they helped eliminate waste, eliminate downtime and eliminate change-over time on a couple of lines – gives us more time in which to produce product and sell additional product."
Heberling says seeing the students make such contributions to the efficiency of the production lines gave him a "proud papa" moment. Though the Southwire Engineering Academy was never designed to be a recruiting station for the company, Heberling says the company is keeping an eye on the progress of the academy graduates as they move on to colleges and universities, which almost all of them seem to be considering.
Finding Solutions
All SWEA students in the program are surrounded by engineers who act as sounding boards and mentors. Other Southwire executives and employees were ready to help when the problem-solving teams faced a watershed moment last year as a Southwire customer unloaded a tricky dilemma before the group: How can the amount of wire left on one of those giant utility company reels be measured more efficiently out in the field?
In the past, the measurement was taken by weighing the reel and its rolled wire. Knowing the weight and length of wire on the full reel, workers could make calculations by knowing the weight of a partial reel. But a truck attempting to lay wire at a site 50 miles from the utility's storage yard scale could kill a day in the process of the round trip to find out what's left on the reel. Solving that problem is the kind of intellectual thrill the students savor.
"Last year our project was making a partial reel calculator, which allowed a customer to measure a reel of wire to determine how much wire was left on the reel," says Smith. The new calculator app is easily accessible for all South-wire customers. "Last year's app is out in the iTunes Store to help customers estimate the remaining footage for wire left on a reel," says company VP Godfrey. "Our students helped to develop it, with a lead engineer. An electrical contractor or utility company lineman can use it."
Travis Joyce is one of six SWEA students completing his second year in the program. "I didn't know what to expect at all the first year," says Joyce. "Not only was it neat to see a manufacturing process like that, but just to see something that goes on around you that you'd never get to see otherwise was exciting. As for now, I am pretty sure I'm going to go into industrial engineering. My father is actually an industrial engineer, but I really had no idea what they did. Now I do."
Joyce says he is in the process of applying to Georgia Tech, Auburn, Clemson and Mercer. "It was really neat to work alongside the engineers at Southwire and really experience what it's like to be an engineer," he says.
Daniel Jackson has had an intense interest in the progress of the first two years of the Southwire Engineering Academy and now serves on the STEM board of directors, with that organization providing the wellspring for SWEA student candidates. For Jackson, president and CEO of Carroll Tomorrow and the Carroll County Chamber of Commerce, the Southwire collaboration has linked the student experience to a tangible bottom line in economic development.
"I personally heard these students, as they were speaking to our workforce education committee, tell us they weren't sure what career paths they would follow, but they had learned so much by being around the workforce and the adults and what their expectations were for them and the teamwork required," Jackson says. "Then the students and Southwire supervisors came to speak, and I heard the Southwire executives say that after the first week or two they realized that they had underestimated the ability and the aptitude of the students and had to go back and retool."
Some estimates in data offered by Southwire credit the academy students with assisting in producing savings or bottom line improvements of $700,000, a healthy figure under any conditions.
Southwire's Tom Heberling says he has his own set of pressures while presiding over the activities of his student charges each day. "The greatest pressure I feel is making sure we're making them challenged," he says. "They do bring a fresh perspective to problem solving, and I think we're giving them the diversity they need. They get exposed to all different types of people, and that's the real world as I see it."