Douglas | Coffee County: Staying The Course
Patience, perseverance, success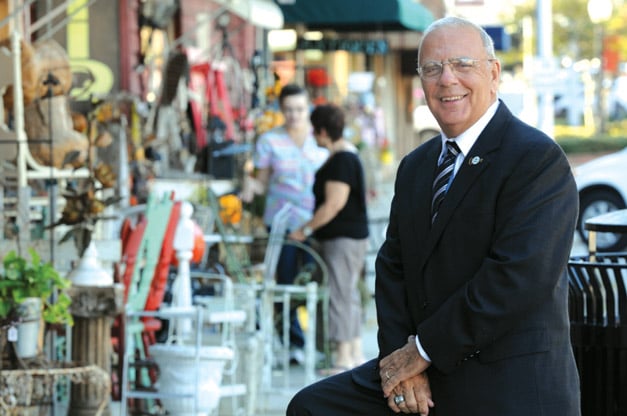 The story of one Coffee County company's resurrection, saving jobs once thought gone forever, is a study in unyielding faith and a Job-like patience by an entire community, with those who lived through it still recalling the time as a period of sadness and uncertainty capped by joy.
For Coffee County's chief economic developer, the story began with the news that hundreds of her friends, neighbors and fellow citizens would lose their jobs.
JoAnne Lewis still remembers the sinking feeling that consumed her back in 2008 when she got the phone call from the president of Pilgrim's Pride, a chicken processor and one of her community's most valued employers, telling her his company was shutting down. "My heart dropped, because I thought immediately about the 900 workers who would lose their jobs," recalls Lewis, president of the Douglas-Coffee County Chamber of Commerce & Economic Development Authority. "But never did I realize the number of jobs that would be lost on the farms around the region and in small businesses here."
The shock waves emanating from the Pilgrim's Pride shutdown in May 2009 cost Coffee County 2,200 jobs in 12 months, sending the county's unemployment rate soaring to 19.4 percent and seriously threatening at least one local bank's ability to stay afloat. Douglas National Bank (DNB) had about $150 million in total assets at the time, with almost half of that in farm loans, including those held by poultry growers who contracted with Pilgrim's Pride to deliver a steady flow of chickens.
Chicken growing houses cost about $225,000 each to build, and there were 700 of them owned by growers in a 10-county area in and around Douglas, some of them financed by DNB.
Normally a bank would have begun a wave of foreclosures, but that didn't happen, according to DNB Vice President Luke Morgan. "What we had to do was just let those loans sit on our books," Morgan says. "We didn't go out and start foreclosing on those farmers."
The poultry farmers got other compassionate breaks, as well. "The vice chairman of our development authority, Oscar Street, owns about 26 rental houses, and a lot of them had Pilgrim's Pride workers and their families living in them. He cut their rents more than half," says Lewis. "He was losing money on those houses to help support those families."
Shortly after the closing of the chicken processing plant, the community's congressman, Jack Kingston, came to Douglas to survey the damage. He left a memorable assessment of what he saw. "He said, 'This is an economic Katrina,'" says the chamber's Lewis. "And he had tears in his eyes." But the economic development team of Douglas and Coffee County refused to allow their community to be defined by the plant closing.
In 1959, the county commission had begun contributing a half-mil of collected taxes for use in economic development, but the practice had waned in recent years. With the closing of Pil-grim's Pride and the ensuing loss of jobs, however, all at the height of a punishing recession, and with the public in an anti-taxing mood, the Douglas County Commission did the only thing it could do – it increased taxes.
"It was a tax increase of $250,000 annually for economic development, specifically to fund the search to find a new chicken processor. We were throwing out the lifeline to help one of our industries," says Coffee County Com-missioner and local businessman Jimmy Kitchens. "The tax increase we passed to help Pilgrim's was supported by virtually everyone on the street." The tax increase, coupled with the bank's forbearance and compassionate landlords, added to a Chamber of Com-merce president's evangelical campaign to find a new tenant for the shuttered chicken plant, all combined to keep hope alive for the restoration of jobs. And the jobs returned.
Pilgrim's Pride locked the doors on May 15, 2009, after filing for bankruptcy; but on May 6 the following year came the announcement that those doors would be opened again by a new plant owner, Brazil JBS, a South American company most noted as the world's largest beef producer. JBS stepped in and acquired the majority of stock in the chicken processing plant, shortened its name to simply Pilgrim's and put a new board in place. Today Pilgrim's has 820 workers at the plant, and all of the 152 growers are back raising their chickens, except one who chose not to. Douglas National Bank is back in the loan business with poultry growers.
"Once we saw the plant was going to reopen, we went out and loaned more money to them to upgrade their houses," says DNB vice president Morgan. "We knew if the plant would open back up, they'd be OK."
Bank officials say their total assets today are only slightly less and blame the larger economy for the lesser figure, saying their wait-and-see attitude paid off.
More comforting words came from Rahni Phillips, Pilgrim's human resources manager. "Pilgrim's is here to stay," Phillips says, "though we've had a lot of challenges over the past three years, with the plant having been idled. We have a lot of team members who worked with us previously who have returned, though we have gone through a period of adjustments. People have been apprehensive, and rightly so."
Phillips says she is constantly asked about the stability of the company, due mainly to fewer workers being required thanks to more efficient production practices. "And that is not a workforce reduction," she says. "The worker numbers have also been reduced by attrition. We sell everything but the cluck," she says. "The demand for our product has been very good."
Staffing Increase
A quick survey of a number of industries and businesses in Douglas and Coffee County shows the local job market to be healthy, with indications of an even brighter future for job creation.
Gary Evans is the plant manager for Douglas Southwire, a division of the Carrollton-based wire producer, who says his plant's staffing is headed upward, thanks to an increase in orders. "We're making more wire every month," says Evans.
The company recently announced two expansions at its Douglas facility, representing a combined investment of $18.5 million and creating 25 new jobs.
The Douglas Southwire Plant produces industrial wire, the kind as big as a weightlifter's arm. "We also do cables for wind power and solar power [industries]," says Evans. "We make wire that somebody else puts in their product." And, he says, business is good.
"This year we started with 190 employees, we're now at 226, and we're continuing to add more." Salaries at the Douglas plant range from $12 to $16 an hour for starters to $22 an hour for experienced equipment operators, says Evans.
Another Douglas manufacturer, PCC Airfoils, is opening more high-paying engineer positions due to greater foreign demand for its products. "The large part of our business would be international engine builders that are in Asia and Europe," says Scott Smith, human resources manager for PCC, a jet engine parts manufacturer.
"As the global economy goes, so goes our business. Right now business is kind of static; it has kind of leveled off." But to Smith that seems to be a momentary lull, with two major orders expected before January and his company's hiring expected to kick upward to meet those orders. "We're looking to hire engineers, about 20, and we're constantly adding to that knowledge. In fact, we recently hired some engineers in the process and dimensional side." PCC has 120 plants scattered worldwide, and Smith says there is not a commercial airliner in the air today that doesn't use PCC parts.
Meeting Demands
Lon Gillis says his company will be adding employees to meet demands of the marketplace. "Yes, we're going to be growing our workforce, but we'll be doing it on a controlled basis," says Gillis, general manager of the local Walmart Distribution Center, believed to be the one of the oldest in the giant retailer's logistics chain. "We have about 700 workers here, and this was only the ninth or 10th such facility Walmart built, and we believe it was the first east of the Mississippi."
With the return of Pilgrim's and so many of the Douglas-Coffee County industries announcing the addition of employees or otherwise announcing plans for growth, county commission Chairman Tom Rice says his community must react to expansion plans by improving the delivery of infrastructure services. "We have work that needs to be done in that area," Rice says. "We need desperately to expand water and sewer into some of the unincorporated areas where property suitable for industrial development becomes available." Rice sees the Special Purpose Local Option Sales Tax (SPLOST) as a likely source of the revenues needed for connecting choice industrial sites in the countryside to such infrastructure lines. "The present SPLOST doesn't call for that, but the next SPLOST issue is still four or five years away and I think we can get it on that one," Rice says.
Douglas architect and developer Francis Lott has a past with economic development in his community, and he's making sure job creation is part of the future here. Lott was responsible for the first spec building built here, and he saw how having a structure to show industrial prospects led to new jobs. "This community went on to build three spec buildings, and all were occupied," Lott says. "Anybody in any community can promise a building in a cornfield, but having one there for [prospects] to look at is better because when companies get ready to move and expand they want to see a building."
To make sure such a building will always be available, Lott wrote a check for $1 million to the Community Foundation of Coffee County's Douglas-Coffee County Economic Development Fund to help drive economic development here. "I did it because I was involved in that for 20 years," he says. Lott is presently involved in the restoration of the Atrium Building, where an events center has opened to rave reviews. "We've funded a few things with that [foundation] money in this downturn, and now they're talking about using that money for a new spec building," he says, smiling at the mention of his favorite subject.
With SPLOST funding dependent on retail sales, good news keeps coming from Douglas Mayor James Dennis, who keeps his eye on the progress of downtown business owners. "We've had 12 new businesses open downtown recently," Dennis says. "And our occupancy rate there is 94 percent, with a cosmetology business coming. We're set to have a ribbon cutting for [an] outdoors business, and we just had [the] events center open downtown. We have someone working on a high-end restaurant who is renovating one of our old buildings."
Dennis is a lifelong citizen of Douglas who remembers the certain "Saturday feeling" of his boyhood that came with the weekends. "I see some of that Saturday feeling coming back, and it's coming back into consignment shops, antiques shops and malls and the boutiques we have. It's coming back into Atkinson Plaza downtown where we have a Second Saturday program. We get vendors coming downtown to show off their wares, and we get to show off our downtown."
Virginia Carson is also interested in the preservation of a certain feeling from the past, just as long as any restoration of her buildings holds true to her standard of sustainability.
"To me, the ultimate sustainability is to renovate a building and not knock it down to build a new one," she says while conducting a tour of a 1927 building with art deco features on the campus of South Georgia College, where she presides as president. The 106-year-old institution has just been given its first baccalaureate degree program, in nursing, which continues a local jobs growth trend.
"We have positions announced for additional faculty members, but we were able to field this new nursing program with the facilities we already had," she says. "So for the first time in more than a century, we have juniors in our nursing program, and most of these graduates will find employment in our region. It's important that we are an economic engine in healthcare."
Community Snapshot
Local Leaders
JoAnne Lewis
President
Douglas-Coffee County
Chamber of Commerce & Economic Development Authority
912.381.9253
jlewis@douglasga.org
James Dennis
Mayor
City of Douglas
912.381.2725
mayorjdennis@cityofdouglas.com
Tom Rice
Chairman
Coffee County Board of Commissioners
912.384.4799
tomrice4dist3@yahoo.com
Population (2010 estimates)
County, 32,332
Douglas (county seat). 11,589
Per Capita Income (2009)
County, $24,630
Georgia, $34,120
Unemployment (Preliminary, July 2012)
County, 13.6 percent
Georgia, 9.7 percent
Top Employers
Coffee County Board of Education, Walmart, Pilgrim's, Coffee Regional Medical Center, PCC Airfoils
Sources
Douglas-Coffee County Chamber of Commerce, Georgia Department of Labor, U.S. Census Bureau