Rome | Floyd County: Making Things Happen
A new distribution center and some expansions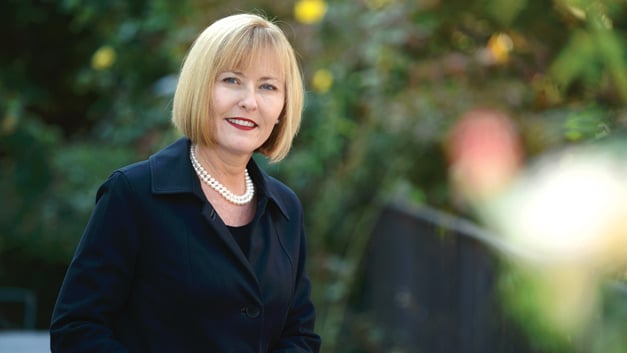 After landing a massive Lowe's regional distribution center, Floyd County officials decided a more felicitous name should describe its location: North Floyd Industrial Park became Prosperity Park.
"I think it's completely indicative of the hopes of that park," says Angie Lewis, chair of the Greater Rome Chamber of Commerce and president and CEO of Citizens First Bank. "With Lowe's going in first, and with the other land that's available out there around it, success begets success."
Lowe's, the home improvement chain, announced in September 2011 that it will create 600 jobs within three years and invest $125 million in the distribution center, which is expected to open in the spring of 2013.
"It's just a shot in the arm at this time in our economy," says Irwin Bagwell, chairman of the Floyd County Commission. "We haven't had many facilities like that open in a long time, and we're really proud of it. It's like the shining star."
Floyd County economic developers are hoping it will act as a beacon to attract other industrial prospects to the Ga. 53/Ga. 140 intersection about 10 miles northeast of Rome.
Although the Lowe's warehouse is 1.4 million square feet – 33 football fields – and covers 134 acres, there's room for neighbors. The chamber is actively marketing a nearby site of 52 acres, plus another 100 acres across the road. There is also a 40-acre tract at the Floyd County Industrial Park off US-27 South.
"We're always showing the property," Bagwell says, noting that Lowe's was drawn by the amenities the area offers, such as topnotch public and private schools and four colleges and universities within the city limits of Rome alone. "We're always looking for industrial prospects, always courting them, bringing them to town and just showing them what we have to offer."
In late September, Foss Manufac-turing Company, LLC, announced it will be expanding its manufacturing facility, a move that will create 150 new full-time jobs. The expansion represents a $16-million investment.
Al Hodge, president and CEO of the Greater Rome Chamber of Commerce, says firms involved in manufacturing and office distribution – domestic and international – are being sought. "We're working on all fronts," he says.
Tenants are also being recruited for the Berry Corporate Center and a 64-acre park on West Hermitage.
"Diversity is our key," says Heather Seckman, director of economic development for the Greater Rome Chamber of Commerce.
Bagwell says numerous upgrades and renovations at Richard B. Russell Regional Airport, including the aviation center where students from Geor-gia Northwestern Technical College learn to work on airplanes, should make the area more appealing to the industry. "We're marketing the airport for aviation-related companies as well," Seckman says.
Adds Lewis, "When those jobs hope-fully come, we've got the employee base to feed right into anybody who would want to locate here."
Enhancements
Floyd Medical Center remains the county's top employer, with 2,400 jobs. Hodge says the establishment of a third- and fourth-year education program in Rome by Georgia Health Sciences University will enhance private-sector opportunities in the medical arena and in information technology.
With unemployment continuing to be well above the state average (11.2 percent in July compared to 9.3 percent across Georgia), Floyd County has been encouraged by expansions. In January, Neaton Rome, which opened in 2001 and manufactures parts such as steering wheels for automotive companies, said it was expanding for the third time, adding 113 jobs.
Then in July, F&P Georgia, which manufactures automotive suspension systems, announced that it will add 100 jobs as part of its fifth expansion in 12 years.
"We try to put just as much focus in the community on retention of existing jobs as well as growth," Lewis says. "Those have been big wins."
Despite the economic downturn, Rome Mayor Evie McNiece says the city and county continued to pursue projects. The Lowe's distribution center was an example of making sure the "pipeline is not dry and brittle – it's vibrant and there are things in there. When this economic downturn became evident that it was going to affect cities, we are not a city that says, 'Woe is me,'" McNiece adds. "What we say is, 'Whoa, how can we turn this economic situation into an opportunity?'"
McNiece says the city's leaders and citizenry stepped up to the plate and swung as hard as a Rome Brave. "We said, 'This is the time that's going to make or break Rome,'" she says. "We're not going to stop dreaming. And that is what makes Rome different. Even though we didn't have all of the finances, we thought about different ways of continuing to go forward."
Like its namesake that wasn't built in a day, Rome is in the midst of capital improvements.
The West Third corridor smack in the heart of downtown is booming. The city bought three buildings across from Shorter College's Barron Stadium for $1.8 million and is tearing them down. A major hotel chain has expressed interest in half of the 4.4-acre site, which would be Phase 1 of the project. The other half, to be developed later, will be mixed use, with loft living spaces, condominiums, restaurants and boutiques.
Barron Stadium, which will host the Russell Athletic-National Association of Intercollegiate Athletes (NAIA) Football National Championship (on Dec. 13) for the fifth straight year, has undergone $4 million worth of sprucing up and renovations. The NAIA is made up of smaller colleges and universities across the U.S. St. Xavier University in Chicago won the 2011 championship by defeating Montana's Carroll College.
"That whole area has just undergone a tremendous transformation since the game started here," says Bob Berry, co-chair of the host committee.
The game will be held in Rome at least through 2015, prompting NAIA schools across the country to adopt the catchphrase "All Roads Lead to Rome."
"As a community, we don't really know how far and wide the publicity is that we get from this game," Berry says. "I think it's tremendous. We're on national television, CBS Sports. I refer to that as a three-hour infomercial on Rome. That's almost an incalculable benefit."
Berry says the latest figures cite an economic impact of $1.2 million a year.
Good Sports
Shorter University recently renewed its partnership with the Rome Floyd Parks and Recreation Authority to use Barron Stadium for its sporting events and commencement activities. The school also continues to contribute to upgrades and renovations to the stadium and has been instrumental in bringing other events to the facility.
A new riverwalk, boat dock and ramp to the Oostanaula River are part of the Urban Riverfront, a project with a total cost of $2.7 million, $500,000 of which was funded by a Transportation Enhancement grant. The area is adjacent to the Village Green, with its fountains, and the pedestrian bridge that links downtown with the stadium area. Plans call for pedestrians to be able to walk under the Fifth Avenue Bridge, making a safer environment, when improvements are completed within the next year.
"The folks who have been here the past couple of years for the NAIA love it because it's all walkable," McNiece says.
The stadium, which holds about 6,500, is filled to capacity for the game, which has spawned a weeklong celebration. Along with the Rome Braves and a tradition of hosting tennis tournaments – work is still being done behind the scenes on the proposed Tennis Center of Georgia at Berry College – Rome has become known "as a sports tourism destination point," McNiece says.
She says there is an "electric feel" when the NAIA teams arrive in December.
"The game has brought people in from Montana, Chicago," McNiece says, "and they love coming to what they say is a small hometown feel, but with the amenities of a larger town."
Those amenities include the ninth annual Rome International Film Festival, held this past September. Facing a shortage of sponsorship dollars, it simply cut back a day. The festival has been in existence two years longer than its counterpart in Rome, Italy.
The city also touts the Rome Area Council for the Arts and the Rome Symphony Orchestra, founded in 1921 and the oldest in the South.
"Those are the kinds of things that people from larger cities expect and are awed when they come to Rome and see that they have that same amenity and that same quality of that amenity here," McNiece says.
There are other changes afoot downtown. Citizens are excited to be getting a Publix, right across from Floyd Medical Center, and other mixed-used businesses eventually will be part of the nine-acre site.
A building torn down at the corner of Third Avenue and Broad Street will eventually be replaced by retail and condominiums, but for the next three years will be filled in and leased by the city as a parking lot.
Restaurant Scene
Broad Street could use the extra spaces. Jay Shell, owner of the popular 333 On Broad restaurant, and his business partner Jeff McGowan recently opened an establishment at 325 Broad, which brought the first microbrewery to Rome. Brewhouse Music and Grill seats 600 people compared to 240 at Shell's other restaurant. "It's the same kind of concept I'm doing at 333, just on a larger scale," he says.
Shell says restaurants are able to thrive in Rome, particularly on Broad Street, because "the Downtown Development Authority and the city have done a great job revamping downtown and making it a destination."
The restaurateurs all get along, Shell says. "One thing that I love about Broad Street is, for the most part, everything is mom-and-pop-owned or family-owned restaurants," he says. "Technically, we're all competition, but everybody here realizes that the more reasons we give people to come downtown, the better off we all are."
Shell was introduced to Rome while playing in a band and remembers thinking, "There's not a whole lot of reasons for people to stick around town. They're having to go to Chattanooga or Atlanta for this live music experience."
Though he had never been in the restaurant business – never even waited a table – he realized he could fill a niche.
"We'll bring the music to them rather than have them drive to it," says Shell, who booked a couple of national acts before the doors opened on his new place.
"We've got the quality of life that I think will keep people here," Lewis says. "We've got the incredible downtown, all the activity on Broad Street. It's a very, very dynamic community that can keep that educated workforce here. We just have to make sure that we keep the jobs, the good high-paying jobs, for them to go into."
McNiece feels that once people come to Rome and experience the city, "You want to be able to bring your family here."
To help lure people to northwest Georgia for the first time or bring them back, the Greater Rome Convention & Visitors Bureau (GRCVB) is launching a new website and rebranding. It recently won the 2012 Georgia Tourism Smackdown Challenge, a competition to outline a statewide tourism marketing campaign for next year.
The Georgia Department of Economic Develop-ment chose Rome's "Twist & Shout" video, which showed more than 100 Romans lip-synching and dancing to The Beatles tune.
With a $15,000 advertising grant, Chris Cannon, director of communications, said the GRCVB may contract with an advertising firm. "We're trying to promote Rome as a fresh and lively place that respects its history, but we're a very modern community," he says.
And it continues to transform. In West Rome, General Electric has donated 123 acres adjacent to its old plant that will be used for recreation. McNiece says it will cost about $1.25 million to turn the land into baseball fields, walking tracks and areas for picnics and retail.
"Things are happening," McNiece says. "That's what sets us apart from a lot of these cities – not just in Georgia, but across the country – that are having these crises. We're not immune to it, but we're not going to sit back and let things happen to us. We're going to be the ones to make things happen."
LOCAL FLAVOR
History-Rich: At historic Myrtle Hill Cemetery, the history of Rome is not just at your feet but also at your fingertips.
A new mobile app produced by the Greater Rome Convention and Visitors Bureau is the first free cemetery tour of its kind in the United States, says Chris Cannon, director of communications for the bureau. "It's going to rock your socks off."
Some 400 Confederate soldiers are interred in the cemetery, but there are only two Union graves, which rumor has it hold a pair of cannons instead of bodies.
First Lady Ellen Axson Wilson, who started the Rose Garden at the White House and died in 1914, is the best-known resident of the cemetery, which was founded in the 1850s and holds more than 22,000 graves on several terraces.
"Heritage tours are huge right now," Cannon says. "People are looking at our past and want to understand where we came from."
He says the app, which visits 65 sites, is more entertaining and informative than the more traditional brochure.
"A brochure can't bring a person to life like a really good story that's told verbally, and with pictures and a little bit of video," Cannon says. "And they deserve to come back, because they're the founders of our city. They made us who we are." – Karen Rosen
Community Snapshot
Local Leaders
Al Hodge
President & CEO
Greater Rome Chamber of Commerce
ahodge@romega.com
706.291.7663, ext. 304
Evie McNiece
Mayor
City of Rome
emcniece@romega.us
706.236.4400
Irwin Bagwell
Chairman
Floyd County Commission
bagwelli@floydcountyga.org
706.291.5111
Population (2011 estimated)
County, 95,989
Rome, 36,303; Cave Spring, 1,200
Median Household Income (2010)
$41,066
Unemployment (July 2012)
County, 11.2 percent
Georgia, 9.3 percent
Top Manufacturing Employers
Kellogg's, International Paper, F&P Georgia
Sources
Greater Rome Chamber of Commerce, Georgia Department of Labor, U.S. Census Bureau