Neely Young: GOP Convention Report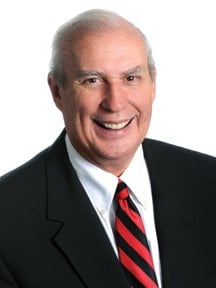 What a convention! My wife Kathy and I were invited to Tampa in August by Alec Poit-evint, who managed the National Republican Convention in his role as chairman of the Committee on Arrangements, and his wife Doreen, both Georgians from Bainbridge. We had never been to a convention, and we wanted to hear our friend, Attorney General Sam Olens, speak to the group. He was invited to address the convention by Mitt Romney, and we were proud of his being the only Georgian to be asked to speak.
There was such excitement in the air that when we first walked into the convention hall, we felt like we were going to the SEC championship game at the Georgia Dome, except, as my wife noted, the game started at 2 p.m. and lasted until midnight, and you had to go every day for four days in a row. Helping us around were friends Senator Saxby and Julianne Chambliss, Charlie Harman, plus Isakson aide Stephanie Jones.
It was hot, hot, hot, and the humidity was at 1,000 percent in Tampa. To get to the convention, we had to take a taxi from our hotel and then walk about six blocks through several security checkpoints. There were lots of police, soldiers and secret service who were patrolling the area and keeping the peace. It was so hot and muggy that columnist Dave Barry wrote that he thought he had frogs breeding in his underpants.
The convention center was packed with around 40,000 people, including 5,000 delegates, 15,000-plus press, alternate delegates, guests, lobbyists and GOP management. We came to Alec's prime time booth and saw a Who's Who of Georgia Republicans and other distinguished guests. Present there and on the floor of the convention were Congressman Phil Gingrey, former Gov. Sonny Perdue and his wife Mary, Michael Walls, Libby Kingston, Agriculture Commissioner Gary Black, State GOP Chair Sue Everhart, political consultant Heath Garrett, Congressman Tom Graves, Ginger Howard, Matt Echols, plus a host of others.
We were introduced to Mitt's sister, Jane Romney, a nice lady who asked us if we would be interested in attending a party she and her husband were planning in a few months at Longboat Key, where they hoped to raise three million dollars. I instantly reached back to feel if my billfold was secure. We politely declined.
Alec gave me credentials to go down on the floor to interview Everhart, the chair of Georgia's delegation; she told me she would not stand for reelection as GOP chair next year.
I gave Kathy some notes on impressions of delegates on the floor. All the women in the Texas delegation looked like Dallas Cowboys cheerleaders; the Wisconsin group had big chunks of cheese on their heads. Grown men were wearing stuffed elephants hats. There were painted faces, and many pins and vests touting the Republican cause. I took a picture of a beautiful "Miss Conservative," also from (you guessed it) Texas.
The highlight of the second night of the convention for us was Sam Olens's speech. He came on at 8:30 and shared the podium with Florida's Attorney General Pam Bondi. They spoke about how they opposed the Affordable Care Act, the healthcare reform bill, and brought it all the way to the U.S. Su-preme Court. It only lasted for about 14 minutes, but we were proud of Sam and he did great!
The GOP party platform is a hard- right document and includes harsh terms for illegal immigrants, including those from across the border in Mexico. It has a proposal that would pass a law making it illegal for the federal government to interfere with states that pass tough illegal immigration provisions like South Carolina, Alabama, and, sadly, Georgia.
It also takes a strong position against abortion rights, the so-named GOP's War on Women. Most of the speakers were minority representatives, including some Hispanic women governors, and Artur Davis, a former Alabama congressman, who had switched parties from Democrat to Republican.
The anti-immigration stand taken on the platform is highly objectionable to Hispanic voters, and Romney will need their support to win swing states like Florida and other parts of the country.
One headline from the convention read, "In a Switch, GOP Speakers Highlight Diversity."
Jane Romney told Convention Daily: "My brother won't ban abortion." She said, "Mitt Romney would never make abortion illegal as president. He's not going to be touching any of that."
Many GOP moderates hope Mitt Romney is trying to tell America that he would be a moderate on these issues. The whole convention's idea was based on the economy, and the Romney campaign hopes the economy focus will work in the end. It will be up to the voters in November.
As we left the convention it was still hot and humid, and I thought I heard a frog croaking as we made our way back. We had a great time!