Gainesville/Hall County: Still Growing
New business, new residents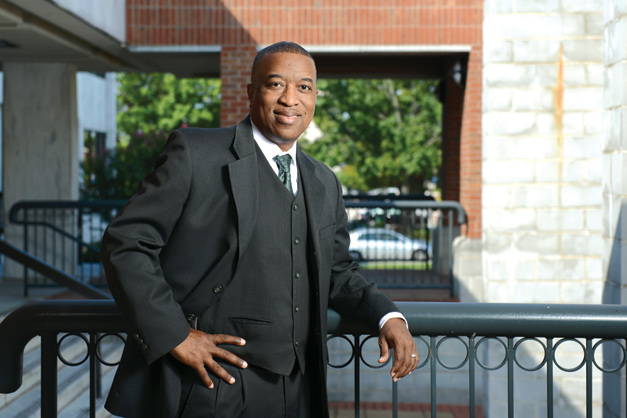 It is late morning at the King's Hawaiian football field-size bakery in the Hall County community of Oakwood, and the aroma of baking bread has tastebuds blooming and tummies rumbling. The minute-by-minute march to the lunch hour seems agonizingly slow to a visitor, but the day-shift employees are busy tending the assembly lines and ovens and packaging the faintly sweet dinner rolls that have become exceptionally popular in the Southern U.S.
This year-old Georgia plant is far from the Hilo, Hawaii bakery, where the company's signature product was born some 60 years ago. The Georgia facility is the first King's Hawaiian (KH, in employee shorthand) plant on the Atlantic side of the country, and the reasons the company gives for choosing the Gainesville site would warm the heart of any economic developer.
"Aloha, y'all," sums it up best, says KH plant manager Kevin Eckels. "The [management] team decided that we needed more manufacturing in the Southeast, where the majority of our sales took place," Eckels says, offering a simple bottom line reason for the site choice. "The charm of the people here in Gainesville and Hall County area very much mirror the aloha spirit. Aloha y'all, because they feel the Hawaiian aloha spirit is very closely aligned with the Southern charm."
Beyond the interstate schmoozing, Eckels says, there are nuts and bolts reasons KH is in Hall County. "The Quick Start program that assists companies in training their employees was a huge draw for King's Hawaiian," Eckels says. "Georgia and Hall County have surpassed all of our expectations and hopes as a great place to do business." In fact, the company has begun a third production shift and announced plans to grow further. "We're going to add another production line in about 18 months," Eckels says, citing the quality of workforce in the area as a primary reason for KH growth. "They're smart, conscientious and motivated."
Growth at just about every level has marked the recent history of Gainesville and Hall County. For instance, the 29 percent 2000 to 2010 population growth for the Gainesville-Hall Metropolitan Statistical Area (MSA) led the U.S. Census Bureau to identify the MSA as the third fastest-growing in the U.S. and the fastest-growing in Georgia at the time.
For local headcounters, it's only go-ing to get better. The county's estimated 2011 population is 183,000; Hall itself predicts a 2015 population of 307,000 by 2015, putting additional pressure on local infrastructure and services.
Gainesville has benefited from positive publicity in dozens of publications over the past 20 years, being named as one the best cities for retirement, affordable housing, quality of life, healthcare, raising a family, the practice of medicine and just about any other facet of life on earth. For Kit Dunlap, the accolades are good for business and population growth, but she says word-of-mouth and proximity can't be discounted.
"Being next to Gwinnett and Forsyth counties, with both of those growing so fast, has certainly helped," says Dun-lap, president and CEO of the Greater Hall Chamber of Commerce. "Our growth has slowed a bit, as it has everywhere, but we're still one of the 50 fastest-growing communities in the nation." Dunlap says retirees are flocking to Hall County, drawn by the laidback lifestyle around Lake Lanier. "And today's retirees are very educated, very smart and very astute," she says. "We really haven't advertised for them, but they come here from everywhere and they tell their friends what we have to offer."
Medical Campus
A history of growth and the promise of more to come led Gainesville's Northeast Georgia Health System, parent of the North Georgia Medical Center (NGHC), to announce plans for a new $185-million medical campus on 119 acres in the south end of Hall County. The hospital will open with 100 beds but is expected to more than triple that number quickly. "We're planning for growth, and we'll have the land to grow up to 350 beds over the course of time," says Carol Burrell, president and CEO of Northeast Georgia Health System. "The county has agreed to back $200 million in bonds, making the cost of financing much less."
To ease the infrastructure burdens arriving in fast-growth areas like south Hall, the county has received approval from the Georgia Environmental Protec-tion Division to more than double present maximum sewer capacity levels from 750,000 gallons per day to 1.6 million gallons of treated sewerage daily, though at present only 225,000 gallons per day is being treated.
"You want to be out ahead of growth if you can," says Hall County Administrator Randy Knighton. For instance, says Knighton, there are plans to widen Georgia Highway 347 in south Hall County to six lanes in certain heavily traveled areas near the site of the proposed hospital, which is scheduled to break ground later this year.
Gainesville and the Hall County area are noting growth in another area, the biosciences. Two years ago, Stability Biologics, LLC, was launched from a business incubator at the Featherbone Communiversity. First-year sales of the fledgling company barely passed the $1 million mark. Today the company's sales exceed $20 million, thanks to some 400 representatives around the nation.
Stability Biologics began as a manufacturer of hardware used in spinal surgery, but another facet of the company, the sale of tissue used in transplants and other medical procedures, greatly increased and is now its chief product. "The tissue comes from donors," says Tom Johnston, chief operating officer for Stability Biologics. "We have several large tissue banks that process our tissue." The AATB (American Associa-tion of Tissue Banks) and the FDA (Food and Drug Administration) regulate it all, he says.
Featherbone Communiversity is a multipurpose community center, holding classrooms and economic development offices for the University of Geor-gia, Georgia Tech, Brenau University and Lanier Technical College, the latter home to the Manufacturing Development Center (MDC) that helped get Stability Biologics off the ground. "We provided Stability Biologics with consulting on a business plan, manufacturing processes and FDA regulatory information," says Dr. Carroll Turner, director of MDC. "And once they became self-sustaining, we turned them loose to fly for themselves." Turner's MDC has assisted 12 startups on the road to success during the center's five-year history in the Featherbone building.
Center Boost
Gainesville businesses were pleased to learn of the 50-year lease on the city's Georgia Mountains Center signed by Brenau University, a private liberal arts institution, that could increase the population of the downtown area substantially and could add $40 million in economic impact to the city.
The Brenau campus adjoins the downtown area and is in walking distance of the Mountain Center, which will be converted to a healthcare graduate studies facility forecast to boost the student population from 2,800 to 5,000, with half of that increase to be in healthcare graduate studies.
The students will bring a new dynamic to the downtown area, says Ed Schrader, Brenau's president. "Many of these graduate students are married and in two-earner families, some with children," he says. "So you're not talking about 18-year-old party animals. You're talking about maybe 2,000 people with a locus in downtown Gainesville."
Schrader says he is hoping city leaders, developers and merchants will come together and develop a plan to provide additional downtown amenities such as greenspace, recreation and housing. "If they can do that, then we can capture the $40 million for the [downtown] square." Otherwise, Schra-der says, the students will be commuters. The Brenau president says his university already has a $98-million annual impact in the community.
The Brenau lease was endorsed by the City of Gainesville, owner of the 30-year-old Mountain Center, after the facility had fallen on hard times. According to Gainesville Mayor Danny Dunagan, the deal with Brenau made perfect sense. "The center had been struggling, and we were subsidizing it to the tune of $300,000 a year," Dunagan says. "With Brenau, that will attract people who want to live downtown, and we're already getting some activity on that."
Connections
With a sweep of his hand and the jab of a finger, Tim Evans could be a traffic cop or an orchestra leader. But as he identifies trail sites and greenways to be developed from abandoned rail lines and unused property, he is the economic developer outlining plans for more than 20 miles of lanes for hiking, biking, walking and jogging that will connect downtown Gainesville with Lake Lanier and the soon-to-be University of North Geor-gia, the product of the consolidation of Gainesville State College and North Georgia College & State University. "The network of trails is part of a plan to bring some of nature downtown for the enjoyment of residents and visitors," says Evans, vice president of economic development at the Greater Hall Chamber of Commerce. "This section connects our midtown area to downtown with a pedestrian bridge over the Jesse Jewell Parkway, and as we go south, heads toward the Amtrak Station and connects into about 20 miles of trails. We are going to have a very connected community."
Beyond the aesthetics of the greenery, Evans says, the trail plans are connected to economic development. "When you look at successful redevelopment in the cities of our region like Greenville, Spartanburg and Chattanooga, greenways are a big part of it."
More greenery and lots of color will soon be a part of Gainesville's city landscape as plans proceed for the completion of Smithgall Woodland Garden, a 185-acre site donated to the Atlanta Botanical Gardens by Charles and Lessie Smithgall.
"It will be a great tourist attraction for everyone from avid gardeners to parents who just want to bring their kids on an outing," says Mildred Pinnell Fockele (pronounced Folk-a-lee), the horticulture director for the Atlanta Botanical Garden and for Smithgall Woodland Garden.
Smithgall Woodland Garden will feature indigenous plants, as well as plants from all over the world. A four-acre nursery and 5,000-square-foot greenhouse are currently being used to raise a plant population for the various exhibits to be offered. "We're finalizing construction documents, looking at pricing for all of the elements [of the gardens], and our goal is to break ground in October," Fockele says. "Technically the property here in Gainesville is part of the Atlanta Botanical Garden." But that will change, she says, as Smithgall becomes a stand-alone garden.
The land was a 1999 gift from Charles and Lessie Smithgall, a respected Gainesville couple known for their generosity. Fockele, a Gainesville resident, says Smithgall Woodland Garden will have a lasting impact on life in the community. "This is 185 acres in the city of Gainesville that will be preserved as greenspace forever and ever," Fockele says. "When you look long-term at how quickly this area is growing and will continue to grow, having something like this is a real treasure."
Community Snapshot
Local Leaders
Tom Oliver
Chairman
Hall County Commission
770.967.3429
jyork@hallcounty.org
Danny Dunagan
Mayor of Gainesville
770.718.7877
dannydunagan@hotmail.com
Kit Dunlap
President and CEO
Greater Hall Chamber of Commerce
770.532.6206
kit@ghcc.com
Population (2010)
County, 180,263
Gainesville (county seat), 33,804
Per Capita Income (2009)
County, $29,038
State, $34,129
Unemployment (June)
County, 7.5 percent
State, 9.0 percent
Top Employers
Northeast Georgia Medical, Center, Fieldale Farms, Hall County School System, Pilgrim's Pride, Hall County Government
Sources
Greater Hall Chamber of Commerce, Georgia Department of Labor, U.S. Census Bureau