Reinvention And Relocation
A Q&A with NCR Chairman, CEO and President William Nuti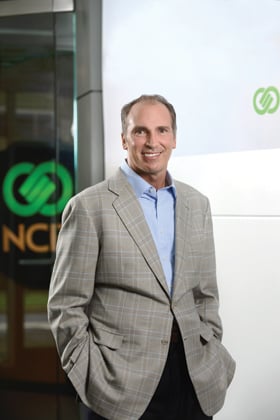 NCR Corporation, a global technology company, was founded in 1884 as the National Cash Register Company, headquartered in Ohio. It went public in 1926, was owned for a time by AT&T, then became an independent public company in 1997 primarily focused on manufacturing and selling ATMs and other equipment for business transactions.
William Nuti is chairman, CEO and president. Since he took over in 2006, he has steered NCR in a new direction – he calls it reinventing the company, a process that included a relocation of corporate headquarters to Gwinnett County (although Nuti himself is based in New York). The company has its service headquarters in Peachtree City and a manufacturing operation in Columbus.
At the end of the second quarter of 2012, NCR reported revenues of $1.41 billion, an 11 percent increase from the same quarter in 2011.
Georgia Trend's Neely Young and Susan Percy talked to Nuti in NCR's Duluth headquarters in late July. Following are edited highlights from the interview.
GT: You've talked about reinventing NCR. Tell us about that.
Nuti: The first thing I'd say is I am not a turnaround guy, and we are not turnaround people. Turnaround teams typically come in, take a bunch of costs out, generate higher earnings as a result of cost reductions and have a good few years in front of them. That is easy to do. That is non-sustainable in my opinion and has little to no value to stakeholders. It adds no value. Reinvention is very difficult, a very different mindset – one of a balanced approach to investment in terms of where you want to be in the future while recognizing you do have to build a responsible cost structure to achieve your goals along the way.
GT: Give us an idea of the scope of NCR.
Nuti: We're in financial services, we're in retail, we're in hospitality and we're in travel – four key markets. If you go to the airport today, you check in using a kiosk – you're using NCR. Delta is a big customer. They are using our travel check-in kiosks. We deliver pre- and post-sale services capability as well. We do upfront consulting, and we do implementing of software, and after sale we do both break-fix [repairing ATMs, for example] and management services for customers. Half my company is services. We wrap services around solutions.
GT: What was the company like before you began the reinvention?
Nuti: We were a company in the early part of the last decade that was making our numbers and looking very good as a result of that by cutting costs in functions and areas that delivered no value long-term. So, for example, we cut a bunch of money out of IT, a bunch of money out of HR, a bunch of money out of legal. We sold a bunch of real estate. We got out of training and development – all things you need to be investing in if you want to build a great company long-term. Most of our profits or gains in the early part of the last decade were generated as a result of this cost-reduction effort. I would call it voracious. When I arrived, we were fairly lean in terms of cost structure, but we had not invested in growth, and the company hadn't grown since 1997. On a compound annual growth basis, NCR's growth between '97 and '05 was .78 percent. So we were a company that had no future.
GT: What was the solution?
Nuti: We set out as a board of directors to reinvent NCR and take this iconic company that has been around for 128 years and rebuild it into something that is exciting, sustainable and meaningful in terms of value delivered to customers and, of course, our stakeholders.
GT: How did you start?
Nuti: We went through a number of heavy lifting exercises – a complete transformation of our manufacturing supply chain from one plant in Dundee, Scotland, to five plants around the world, four of which are now in emerging markets. Another signpost was the spinout of Teradata [a data warehousing business that became a separate company in 2007], a big courageous decision on the part of the board at the time. Who wants to run a smaller company and get rid of one of the best assets inside the company? People thought I was nuts. It ended up being a great decision. The move of headquarters was another big rock we had to move.
GT: What went into your decision to relocate to Georgia?
Nuti: We felt the talent in Georgia was outstanding. Of course, there is a large contingent of Fortune 500 companies here already. You have a great university system, in particular some [institutions] that are attractive to us like Georgia Tech, because we are a technology company, and Clayton [State University], where you have supply chain management. Beyond that, we thought the universities would turn out a terrific pool of talent. We felt this would be a great place to retain and acquire new people. Not only could we acquire for the long term, but could retain talent. It wouldn't be a place where you would see a tremendous amount of churn.
GT: What was your experience working with economic development officials here?
Nuti: We thought the public-private partnership was very solid. State and local government and business were working hand in hand. That was proven out by virtue of a number of programs we initiated with government like Quick Start, which helped us pull together very quickly the ability to bootstrap our manufacturing operations in Columbus. We received a tremendous amount of support from government, and we still do. We find the state to be a terrific partner. The tax environment is also relatively favorable, and the last consideration: The state did put together an attractive incentive program for us that was competitive at least with other states. We are "all in" in Georgia.
GT: Was it a good decision?
Nuti: It was a great decision. Infrastructure was important to us – particularly Savannah and your ports, so we can get the raw materials here in an efficient way. We have customers here as well. It's an easy place to get to. We felt it was a very solid infrastructure for the future. We were looking for a place that would be consistent with our long-term aspirations in terms of reinventing NCR.
GT: What was your re-invention strategy for the com-pany?
Nuti: A number of infrastructure things needed to be done to set the company up for long-term success, working an aggressive growth strategy: Where do we want to be in five years, 10 years, 15 years? What kind of company did we want to be? We had very good assets going into the process – a wonderful customer base in financial services and in retail; but we were mainly a hardware company. Our goal was to attack the opportunity that was in front of our customers, which is how do they change the consumer experience in a way that helps them reduce cost and improve productivity simultaneously?
GT: Why does the consumer experience need to change?
Nuti: The 18 year old of today was born in a world in '94 where they only know online retailing, only know social media, only know multi-touch screen technology, only know smart phone-based technology. So dealing with the growing consumer base – I call them digital natives – that have a very different perspective of how they connect, interact and transact their business – it's very concerning to my customers.
GT: What does this mean for NCR's big picture?
Nuti: Our mission is really to provide our customers with the next generation of productivity gains and consumer experience innovations. We have marched toward that for seven years. As a result of that, this year we'll finish with about a billion dollars in revenue in software and professional services, and that's a significant increase for our company.
GT: You've just announced your new Silver technology aimed at small businesses. Could you explain that for our readers?
Nuti: It's a mobile-based POS [point of sale] system. So as a small business or mobile business, you now have the ability [to transact your business via mobile device] through a cloud-based POS system, on the go or in the store. You have loyalty marketing capability in-store or on the go. You have business analytics to help you run your business: professional analysis, inventory analytics. You get all of that for no capital charge incoming, but for $79 a month.
GT: And this replaces a cash register?
Nuti: If you're a deli on the corner and you do a couple of hundred thousand dollars in revenue using a cash register, you can upgrade to Silver. You probably paid a couple of thousand dollars for that cash register, which does nothing except tender a transaction and hold money. It holds no data, holds no power. With Silver, I replace that cash register. I give you a cash register on an iPad. Now with every transaction you do, you're gaining more insight into your customers. I know what your likes are and your dislikes. I can ask you to come back. I can give you a promotion especially for you based on what you bought in the past. I can understand what products I need in the store on the shelf. It's like having a Tier 1 POS system, like having a Walmart POS system in a bakery shop. It's empowering small business. When you fire up the application, it's intuitive to use. You don't need training.
GT: What about the cost?
Nuti: The first 1,000 customers pay $39 for life. From 1,001 on, it's $79 a month going forward for [the] base set of applications. In the app store, we will have a number of other applications you can download over time to add to that $79. There may be a security application, an upgraded loyalty capability, maybe a fraud detection kind of application. We'll come up with a new app on a quarterly basis that customers can download and pay $5 a month, $7 a month for. So we'll increase the average revenue per situation as these applications deliver value or don't.
GT: What kind of research and education is behind your new direction?
Nuti: We have an entire team at NCR devoted to consumer experience technology, a unique group. All they do is understand how consumers interface with various technologies and how consumers move about their day, what they like to do, what they dislike. We study every consumer interface. We do 300 million transactions a day, 1.2 trillion transactions a year – and we do them securely. We do security for the biggest banks in the world. This [consumer technology] group helps us design solutions that are simple and easy.
GT: How is this changing the perception of NCR outside the company?
Nuti: I was shocked at how cool NCR has become in terms of how people think of us now. I was shocked at how concerned small startup competitors are about us coming into their space. Isn't that funny? We used to have 100 percent market share in the space 50 years ago, and we're coming into their space. I thought we were coming back into space we had.
GT: What's in the future for NCR?
Nuti: My fundamental view is software eats the world in the next several years. So you know where we're going. We are becoming a software-driven, but hardware-enabled company. We'll wrap software elegantly around our hardware, and we will deliver data center-based software applications and software systems to deliver an end-to-end experience. For example, in banks today, we deliver the payment applications that clear those checks and move them inter-bank and intra-bank. We're not just a front-end set of applications; we deliver a set of applications on the back end.
GT: What's the next step?
Nuti: We'll continue to grow in each of the verticals we serve, in terms of the core spaces we're in, so we'll continue to grow market share in financial services. But we'll move into other areas around financial services. You'll see us aggressively push into branch automation – because bank branches desperately need new technology and a new experience. You'll see us move in retail aggressively, into software-based technologies. We'll continue to move geographically into new markets around the world. We're in 120 countries, but we'll continue to move into emerging markets aggressively – Brazil, Russia, new China and other markets. We'll continue to move into other segments of these industries right down to the small businesses. We'll move into new industries as well. There are ripe opportunities in government, in healthcare.
GT: Georgia companies have a tradition of corporate citizenship. What kind of civic activities is NCR involved in?
Nuti: We have a very active giving program on a global basis. We are very socially responsible, including making sure our own products are socially responsible. In Colum-bus, we have the only brownfield manufacturing plant in the world that is LEED-certified. We have an active giving program here in the community. We know it's the right thing to do.
GT: Is it likely you yourself will ever be based in Georgia?
Nuti: Perhaps. I've moved my family over the world for many years. My son is 16 and going into the 11th grade. He's an athlete, playing on the same teams with the same guys for eight years. I made a commitment to my wife I would not move her until he graduated and was off to college. It's a family issue.