Lake Oconee: Smoother Sailing
New industry and old-fashioned ingenuity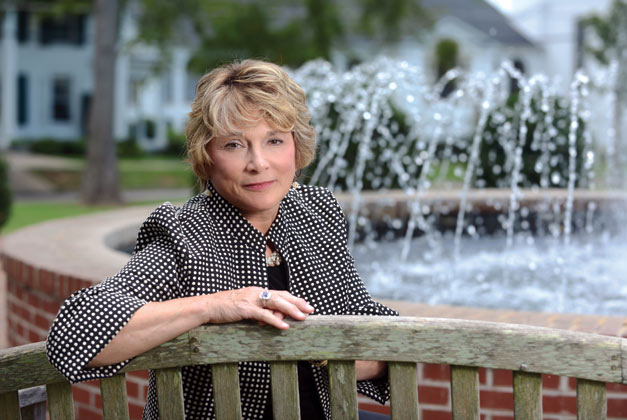 Georgia's Lake Country began taking shape in 1953 when the waters of the Oconee River were dammed to create the 15,000-acre Lake Sinclair. The local citizens who turned out on weekends to watch the water rise were anticipating a better quality of life from the electricity the dam was predicted to generate, and perhaps a few good fishing spots and swimming holes.
Even when Sinclair's sister lake, Lake Oconee, a 19,000-acre body of water, was created 26 years later, the region still remained largely rural. But with Interstate 20 connecting the Lake Country to Atlanta's suburbs and the advancing improvement of the area's secondary roads, new homes sprang up at a rate never before seen in these parts, followed by the retail stores that came soon thereafter.
And then industry executives and workers found they could live a resort lifestyle just minutes from their offices and plants. Realizing their location and natural resources, along with charming downtowns and a rich regional history, could be easily marketed, the leaders of Greene, Morgan and Putnam counties formed a marketing and promotion alliance in 1999 they called Georgia's Lake Country.
Even at that later date, there was little evidence of what was to come in the spring of 2012, when announcements came forecasting more than 2,900 new citizen arrivals for the region, accompanied by more than $1.2 billion in industrial development.
Last February, Caterpillar announced it would be opening a $200-million plant in Watkinsville, a mere 20 miles from I-20 and the heart of Lake Country. The prospect of some of the needed 1,400 Caterpillar workers being drawn from Greene, Morgan and Putnam counties has local economic developers excited. "That's an easy commute for us here," says Roddie Anne Blackwell, president of the Eatonton-Putnam Chamber of Com-merce. "We have lost hundreds of manufacturing jobs, so we're excited."
The April announcement by Baxter International, a global pharmaceutical company, includes plans to hire 1,500 workers and make a $1-billion capital investment at Stanton Springs, a regional business park supported by area counties.
In both these instances, the Lake Counties have the opportunity to benefit greatly because vendors and suppliers to Caterpillar and Baxter will be looking for nearby sites on which to locate, says Bob Hughes, president and economic development director for the Madison-Morgan County Chamber of Commerce.
"It's hard to determine right now what impact Baxter will have, other than to use the trite phrase, 'It's going to be a game-changer,'" Hughes says. "We're looking at 2018, when they reach full production. They're going to have 1,500 employees, and they'll be very, very high up the pay scale. They're going to want to live within an easy drive of the facility, and that's going to put them in Morgan, Walton and possibly down to Jasper and Newton counties. The other piece of that is that these pharmaceuticals tend to like to cluster, opening up future possibilities."
Morgan County Commission Chair Ellen Warren sees the coming of the two big employers as a stimulus for a continued reduction in local unemployment. "Our unemployment rate has dropped, and our small businesses are adding positions and expanding," Warren says. "Our unemployment has usually been around 4 percent, but during the downturn in the economy it got up to 9 percent. That was hard for me because I had friends and neighbors around me who lost jobs, and we saw some companies downsizing."
Greene, Morgan and Putnam counties all feature county seats that have found history to be the biggest lure in attracting visitors to their shops and restaurants, a key feature in the three-county marketing partnership. "I've always worked with surrounding communities in the promotion of tourism," says Ann Huff, director of Madison's Main Street program. "Visitors to our communities don't know where county lines are, and they're not interested in which county they're in."
Learning Aid
In a darkened classroom, a stream of light hits a wall screen and a three-dimensional image of a human femur takes shape through 3-D glasses worn by nursing students, then the bone comes apart as if shattered. Bone, marrow and capillaries are exposed to the students, who use the technology to better understand what happens when such a large bone is fractured. Pres-ently, only a handful of Georgia technical colleges is using the 3-D teaching platform that comes in a three-foot-tall box on wheels, and it is quickly changing the way modern generations are learning.
The technology was developed by Brigadier Gen. (U.S. Army ret.) Stewart Rodeheaver in his garage in Eatonton, seat of government for Putnam County. It is a learning program being eagerly accepted in education and commerce and one Rodeheaver created for the training of his troops.
"When I was deputy commander of First Army, we were trying to find new ways to train young soldiers," says Rodeheaver, "and I did a study on how young people are learning." What he realized is that the way people learn today is vastly different than even a few years ago. "My children and the young people we were trying to recruit and teach [are] basically three-screen learners; they learn off of a smart phone, a laptop and television, instead of books," he says. That led the retired general to create his company, Vizitech USA, in 2007, using 3-D technology to assist in teaching the modern generations.
Early independent studies have shown the program improves test scores by about 33 percent, according to Rodeheaver. So far, Rodeheaver has signed contracts with 40 Georgia middle and high schools and has recently completed programs on DNA analysis and gunshot residue for the U.S. Army Crime Lab. "We have a five-year contract with the Technical College System of Georgia," he adds. Vizitech started with one employee and now has 10. The company began without brick and mortar facilities, relying instead on virtual facilities constructed on the Internet.
Shared Interests
Education is the business of Eatonton's Vizitech, and education has become an important part of economic development for the adjoining lakeside counties of Georgia's Lake Country. The region has a history of shared interests, including the 374 miles of shoreline belonging to Lake Oconee, where the most expensive real estate in the region can be found.
In 2009, residential properties in Greene, Putnam and Morgan counties totaled more than $3 billion in assessed value, a robust figure in the middle of a recession and one that can be credited to lake area developments like Reynolds Plantation – even though high-end communities had their share of difficulties during the recession, seeing foreclosures and slumping sales. The big blow was when Reynolds Plantation was placed in receivership after failing to meet the call on a $45-million note in 2011. But locals saw last summer's announcement of the sale of Reynolds Plantation to insurance giant MetLife as an encouraging sign for the future of the posh resort and its residential properties. And the resort continues to attract visitors.
Putnam County has seen property taxes decline due to falling real estate values, according to County Commission Vice Chairman Billy Webster. "There is no doubt that virtually every one of our revenue streams is down from previous years," Webster says. " [I] talked to our chief tax assessor recently, and he said it looks like our tax digest is going to be off about 10 percent this year."
But there is a far more serious tax matter darkening Putnam County's future. "Perhaps one of the biggest impacts just now starting to hit us is the possible closure of our Plant Branch, the Georgia Power electricity-generating plant," Webster says. "It's a coal-fired plant, and the clean air rules and regulations, particularly those initiated the last couple of years, have caused Plant Branch to be unable to meet those standards unless they make major investments in cleaning up smokestack gases. And we're talking literally billions of dollars to bring it into compliance."
Plant Branch coal purchases account for about 45 cents of every tax dollar presently collected in Putnam County, Webster says. Georgia Power plans to close Units 1 and 2 in the latter half of 2013.
When Ayal Latz brought his company to Greensboro eight years ago, he was looking to own 180,000 square feet of building space instead of leasing it. At the time, he could not anticipate the recession that began in 2007 and lingered for a while and, in a way, boosted his business. Latz is president of a2b Fulfillment, a third-party logistics business that warehouses products, packages them and ships them to consumers.
"We do a lot of 'as-seen-on-TV' products," Latz says. "Companies outsource their warehousing and distribution to us so they don't have to have that infrastructure." In difficult economic times, reducing costs such as personnel, building maintenance, insurance and taxes are popular means of improving the bottom line. "Imagine sharing warehouse costs with 50 other companies," he says. "This allows companies to concentrate on marketing and selling their product while we're behind the scenes doing the packing and shipping of their orders." The fulfillment company began with one employee, Latz says, and now has 95. "Now we're doing a lot of e-commerce and are offering a contact service," he adds.
A Healthy Development
A 24-acre site on the south end of Greene County will soon house an 85,000-square-foot hospital costing $40 million-plus. The 25-bed healthcare facility will be the new, larger home for St. Mary's Good Samaritan Hospital, which is the new name for St. Joseph's at East Georgia, at the time Athens' St. Mary's Health Care Sys-tem brought it into the fold in 2011. "Coming to Greene County made a lot of sense for us," says Montez Carter, St. Mary's vice president of operations and Good Samaritan's interim president. "It allowed us to expand our regional presence." Set to open by the end of 2013, Good Samaritan will add 60 jobs to the 150 at the present Greene County facility.
Just one mile from the site of the new hospital sits what at first glance appears to be a sprawling spa nestled into a hillside, with covered paths connecting a number of buildings and dotted with manicured open spaces, some of which form natural amphi-theaters. The setting easily lures a visitor into an easy walk or a loll on the grass. In fact, walking and classes on the lawn are part of a student's life at Lake Oconee Academy, a five-year-old pre-K to sixth grade charter school programmed to give students the equipment for a college career and get them healthier in the process.
"This school is designed as much for outside learning as inside learning," says Mark Lipscomb, a Lake Oconee Academy board member. "If it's a pretty day, the amphitheaters can be used for teaching. In fact, we encourage the teachers to get outside and teach." When Greene County voters last year rejected a continuation of the Education Special Purpose Local Option Sales Tax (Education SPLOST) to help fund the cost of the academy, the Greene County Board of Education picked up the tab. Parents of students chipped in with $90,000 for an athletic field and are now working on raising the money for lights at the complex. The original cost of the school was $17 million and was funded with bonds financed through the Greene County Development Authority, signaling another kind of bond between local education and economic development.
"That gave the school board a lower interest rate on the bonds than they could have gotten otherwise," says Phil Mellor, director of the Greene County Development Authority.
Community Snapshot
Local Leaders
Dene Channell
Chairman
Greene County Board of Commissioners
dchannell@greenecountyga.gov
706.453.7716
Ellen Warren
Chair
Morgan County Board of Commissioners
ewarren@morganga.org
706.342.0725
Billy Webster
Vice Chairman
Putnam County Board of Commissioners
bwebster@putnamcountyga.us
706.485.5826
Greene County
Population (2010)
County, 16,006; Greensboro (county seat), 3,357; Siloam, 282; Union Point, 1,617; White Plains, 284
Per Capita Income (2009)
County, $36,831
Georgia, $34,179
Unemployment (May, preliminary)
County, 9.4 percent
Georgia, 8.9 percent
Top Manufacturing Employers
NIBCO Inc., Novalis Inc., a2b Fulfillment Inc., Horizon Growers of Georgia, Standridge Color Corp.
Morgan County
Population (2010)
County 17,862; Madison (county seat), 3,979; Bostwick, 365; Buckhead, 171; Rutledge, 781
Per Capita Income (2009)
County, $33,494
Georgia, $34,179
Unemployment (May, preliminary)
County, 7.7 percent
Georgia, 8.9 percent
Top Employers
Georgia-Pacific, Flambeau Inc., Amtico International, Seachem Laboratories, Sovis North America
Putnam County
Population (2010)
County, 21,216
Eatonton (county seat), 6,480
Per Capita Income (2009)
County, $33,712
Georgia, $34,179
Unemployment (May, preliminary)
County 10.2 percent
Georgia, 8.9 percent
Top Employers
Putnam County School System, Georgia Power, Haband Company, Horton Industries, Walmart
Sources
Greene County Development Authority, Putnam Development Authority, Madison-Morgan County Chamber of Commerce, Georgia Department of Labor, U.S. Census Bureau