The Bucks Stop Here
Community Improvement Districts are funded by property owners to make improvements in security, traffic, beautification and economic development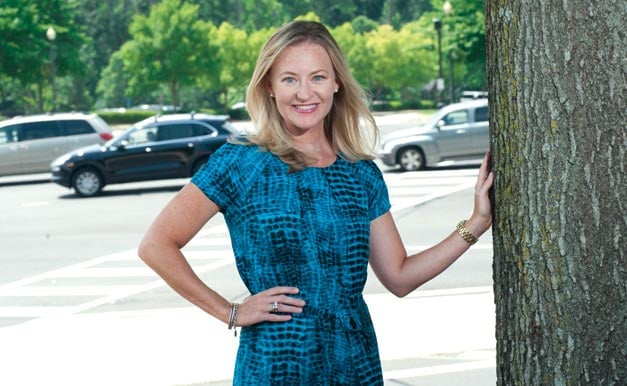 Fly-by-night operators stapling "We buy used cars for $400" signs to a DeKalb County utility pole were surprised when a man drove up and told them to stop. "There was some intense discussion," recalls Emory Morsberger. "They said, 'Who are you?' I said, 'I'm the president. You can't do that.'"
As president of the Stone Mountain Com-munity Improvement District (CID), Morsberger made getting rid of blight his first order of business when the CID was formed a little more than a year ago. He even ran off two undesirables hanging around a gas station who begged for money for "bus fare," bought $1.50 cans of malt liquor instead, and then resumed begging.
Morsberger called the Florida-based owner of the gas station, who told him selling beer a can at a time was how the operator made his money. "I explained that we're trying to get to a higher level," Morsberger says. "I'm not just a do-gooder here. I'm trying to make the value of his property and the properties around him more valuable."
Like those of most CIDs, the borders of the Stone Mountain district are easily discernible: Overgrown grass, weeds and trash scattered on the roadways suddenly give way to businesses with curb appeal.
The bucks, you might say, stop there. That's because CIDs are funded by property owners who tax themselves. The CIDs then leverage the money raised by applying for matching grants at the county, state and federal level.
"CIDs partner with other governmental entities to make things happen," Morsberger says, noting that much of the blight in his district, which also includes Tucker mailing addresses, was eliminated in three months. "As county governments have lost their financial strength, CIDs have picked up the slack on things that are needed by the owners in the CID."
That includes security, transportation initiatives, maintenance and beautification and, increasingly, planning and economic development.
Moving Parts
The new Diverging Diamond Interchange (DDI) at Ashford-Dunwoody Road and I-285, the first of its design in the state, was driven by the Perimeter CIDs, which initially put up $100,000.
"Just that commitment set the ball rolling," says Yvonne Williams, president and CEO of the Perimeter CIDs. The project was completed in two years at a cost of $5.5 million, making it an effective interim solution at a fraction of the cost of overhauling the interchange.
"This was a $170-million project sitting stagnant," Williams says. "This was one of the worst-congested interchanges in the whole state, so doing this brings out a whole opportunity to be innovative and cost-efficient."
Similar DDIs are planned at Pleasant Hill Road and I-85, driven by the Gwinnett Place CID, and at Jimmy Carter and I-85, a project of the Gwinnett Village CID.
"The main thing that CIDs can accomplish that other entities cannot is the expediting of projects," says Ann Miller Hanlon, chief operating officer of the North Fulton CID. "We push them through quickly and aggressively, especially in a down economy. At a time when other entities really have kind of taken their foot off the gas a little bit, we really are moving faster than ever."
The North Fulton CID can point to construction of the $10-million Encore Parkway Bridge, including pedestrian connections and enhancements between the Verizon Wireless Amphitheatre and North Point Mall, and the opening of the $35-million Westside Parkway in April 2012 – the culmination of 20 years of work, the last nine by the CID.
For the Encore Parkway Bridge, which is scheduled to be completed in 2014, the CID put in $4 million, the Atlanta Regional Commission granted $4 million and the city of Alpharetta kicked in $2 million. These public/private partnerships make the CIDs quasi-governmental, subject to all governmental rules in terms of annual audits, open meetings and sunshine laws, as well as formal bid processes.
There are more than a dozen CIDs in Metro Atlanta. They are authorized by local governments, and every six years, according to law, a CID's members must decide if it should be renewed. Since the first one, Cumberland CID, formed in 1988, no Metro Atlanta CID has folded.
In the spring of 2011, the Gwinnett Village CID won unanimous approval from its 600 property owners to charge ahead for another six years. "They're seeing that we're using the tax money appropriately, and they see the changes that we're doing," says Chuck Warbing-ton, executive director of the Gwinnett Village CID. "Especially in this environment of the economy, I think you're seeing the benefits that you get from CIDs."
Warbington says that planning and funding for transportation improvements have been critical for businesses. The DDI at Jimmy Carter and I-85, which will soon come online, is expected to cut congestion by close to 50 percent. Landscaping has also changed the perception in the Gwinnett Village CID, while the crime rate "has gone down in double-digits for every year for six years since we've been formed," Warbington says.
Morsberger, a redeveloper, helped start the Gwinnett Village CID, which he calls "tremendously successful." The Stone Mountain CID is the fifth in which he's been involved. "This was the fastest CID that ever came together," says Morsberger.
How It Works
According to the state constitution, a CID starts by signing up half of the district's owners worth 75 percent of the area's property value. In the case of Stone Mountain, that was 45 owners worth $180 million. And then, Morsberger says, "You drag in the other half of the owners worth 25 percent." That amounted to 43 owners representing $60 million. The owners pay an additional property tax of 5 mills, which gives the CID an annual budget of $450,000.
The newly elected Stone Mountain CID board quickly identified the long-suffering and rusted guardrails at the intersection of Mountain Industrial Boulevard and Highway 78 for immediate repair and replacement. The board opted to paint them green for uniformity, and the work was completed at no cost to the CID.
"Any time we can accomplish our mission using other people's money, we're very happy," Morsberger says.
Mast arms and traffic signal improvements are under way at a cost of about $800,000, paid for primarily by the Georgia Department of Transportation and to a lesser extent DeKalb County. Among other CID accomplishments, security patrols caught copper thieves in the act, and crews marked 36 non-working streetlights for Georgia Power to repair.
The CID members are "not in the business of fixing that pothole over there or dealing with security," Morsberger says. "That's where I come in."
By late spring, Morsberger, whose roving office consists of a car and a cell phone, had a 35-item to-do list, such as caved-in sidewalks, that he said the county "is plowing through. I'm the clearinghouse," Morsberger says. "County officials like dealing with one person who understands their system and can work with them to cover a whole bunch of issues, rather than dealing with 89 different owners."
Michael Shepherd, regulations manager at chemical distributors Deeks & Company, Inc., did not sign up voluntarily for the CID but was quickly won over. "They twisted our arm a little bit," he says. "We're all different businesses with different focuses, but we're using common resources."
He appreciates the security patrols and sharing of information, including best practices. Inspired by the CID, Deeks is focusing on beautification, adding three flagpoles and a porch and updating its sign. "It increases our property value, and it just makes it a better place to do business," Shepherd says.
David Westcott, president of Pierre Construction Group, architectural metal specialists, says the CID owners "understand that we're paying a little more, but I get positive comments about what's going on."
Trash is picked up four days a week, and the effects are long-term. "After you continue to pick it up," Westcott says, "the people who are throwing it down realize they're screwing up a good thing."
Now that the Stone Mountain CID has finished cleaning up, Morsberger says the next step is filling up, with the ultimate goal of creating 2,000 new jobs by the end of 2013.
"It doesn't do any good to have fancy landscaping and free-flowing traffic if you've got a bunch of empty buildings," he says. "The objective of a CID is to make the buildings worth more. You make them worth more if they're full.
"In the '60s and '70s, this was the economic engine of DeKalb County, and our goal is to make it that again."
Morsberger says there are 150 manufacturing and distribution buildings within the district that the Stone Mountain CID is repositioning in terms of branding and marketing to bring in high-quality owners and tenants. Noting that many former building-supply companies' facilities are now empty, he says, "We're looking at what kind of industries make sense to attract here."
Thanks to $100,000 in grants – $80,000 from the ARC and $20,000 from the Development Authority of DeKalb County – the Stone Mountain CID will develop a strategy for attracting a stronger freight and logistics presence as well as emerging industries, such as in the sustainability field. Morsberger hopes some of those 2,000 new jobs could be found at beer distribution company Eagle Rock, which has 185 employees in a 175,000-square-foot facility.
Fred Millard, vice president of operations at Eagle Rock, says the company could decide to bring employees to Stone Mountain from another location it uses in the metro area. "We'd like to be in this area, and if it continues to improve, it's very attractive for us to stay here," Millard says. "Bringing the area back, bringing more jobs in, getting other buildings full, it helps everybody's property value."
Morsberger, who is already looking into expanding the Stone Mountain CID or starting a new one nearby, says he will do all he can to help Eagle Rock grow. "If they want a bigger building, one of my goals is to get some incentives from the county and the state government to help pay for the bigger building," he says. "A CID is a money-getting machine."
More Improvements
With the Ashford-Dunwoody Road interchange off and running, Williams says the Perimeter CIDs are working on a major transportation initiative around the area's four MARTA stations, including pedestrian improvements. The CIDs, which include parts of DeKalb and Fulton counties, are also implementing innovative signalization – smart technology so traffic signals across Dunwoody and Sandy Springs talk to each other.
"That's a big deal, because it's hard to maneuver in an area that has so many different governments," Williams says, "but we do a good job of bringing them all together and centralizing our goals together and our capital investment so that we're seamless."
In North Fulton, now that the CID has completed its "big signature legacy projects," Hanlon says, "we're in our next generation of smaller projects: more branding and landscaping and way-finding. We have no shortage of things to keep us busy."
She says that the CID can put in sod and plant crepe myrtles at an intersection, "and it really is a lot of bang for your buck. I get hundreds and hundreds of compliments on the landscaping. The bigger, more expensive projects that we work on for years, they just take a longer time to see return on your investment."
The biggest project in South Fulton is the safety upgrade at Oakley Industrial Boulevard; groundbreaking was expected in July or August. The Georgia State Road and Tollway Authority, which awarded a $1.5-million grant, was one of the "diverse funding sources," says Joddie Gray, South Fulton CID administrator, for the $6-million project that spurred the creation of the CID.
Gray says CIDs are effective because they have the funding to seed priority projects in the area and attract partnerships. "I think because we are not a governmental entity, they know we're going to bring something to the table," she says, "so it's worthwhile for them to join the conversation and to be a partner with us."
Joe Allen, executive director of the Gwinnett Place CID, views his organization as "the perception changer." He says work beginning on the Diverging Diamond Interchange near the mall ties into streetscaping up and down Pleasant Hill Road, so by early next year, "You're going to have a whole new look for Gwinnett's main street."
Last year, community patrols and crews picking up trash and taking down illegal signs on all 10 miles within the CID removed 16 tons of junk from the public right of way. Allen says graffiti is covered the same day it is spotted.
"Having that clean look makes it safe and inviting," he says.