Henry County: Another Growth Spurt
Getting ready for new residents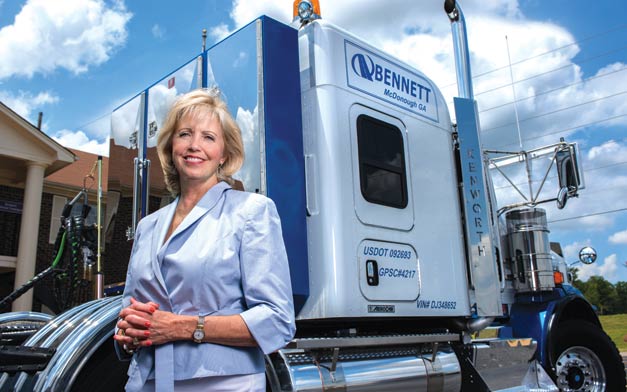 In several ways, B.J. Mathis is a pioneer of the modern age, arriving in Henry County with her husband in the early 1980s when the county's population was just 36,309 and at a time when few women had broken through the good ol' boy network of local politics that dominated Georgia at the time. Today, Henry County's population exceeds 200,000, thanks to a growth explosion in the last decade that was having far-reaching effects on the local leadership's ability to plan for the future, until a welcomed slowdown in the arrival of new residents over the past couple of years offered a respite.
"In the last few years, we've been able to complete millions of dollars in transportation improvements throughout the county, thanks to our SPLOST (Special Purpose Local Option Sales Tax) programs," says Mathis, now the chair of the Henry County Board of Commissioners, the first woman to hold that post. "The slowdown in growth has also given us the opportunity to collaborate with leaders across the county to come up with a plan to make Henry County more competitive when this economy turns around."
Everywhere across the county, leaders were expelling air like marathoners at the end of a race, gasps of exhaustion and sighs of relief after a long string of back-to-back years of growth that saw the county regularly add 10,000 new faces to the population.
And then Georgia's Office of Planning and Budget (OPB) forecast the county's 2030 population to pass the 407,000 mark, pointing to another growth spurt and prompting a whole new generation of needs in housing, healthcare, schools, roads and all the other accoutrements that must be attended to now. It's a fact well known to Henry County Superintendent of Schools Ethan Hildreth who, like other leaders here, likes to measure the growth of his constituency's needs by his time in office.
"When I first came here back in 1991, we had 14 schools," says Hildreth. "Now we have 50 schools, with 10 high schools, and we're right at 40,000 students. The Atlanta school system has 49,000. Out of 180 school systems in the state, we're the seventh largest."
And it is certain to get larger. "We're in a time when we can catch our breath due to the stagnation in our growth, in terms of buildings," Hildreth says. "We opened as many as five school buildings a year during the growth cycle. We were growing seven, eight, even nine percent a year, and we still have lots of [temporary classroom] trailers all over the place in numbers in the hundreds. We have a lot of empty land, so there is room to grow."
Hildreth says an education SPLOST passed in 2011 is expected to generate $140 million over a five-year period to build one school building and assist in the repair and maintenance of others.
Other education needs will be met on completion of a new $7.5-million higher education facility to house Southern Crescent Technical College's Henry County Center on a 25-acre tract of land adjacent to Henry County High School. That construction will begin this year. Keeping up with growth has taxed the assets of Henry County Schools at a time when revenues were declining, according to Hildreth. "We've lost over $200 million in funding in the last 10 years in Henry County," he says. "That includes austerity cuts from the state combined with the reduction in our tax digest. Our property values have lost 40 percent."
But those property taxes took a slight but appreciated turn upwards, according to Donna Tidwell, who has spent the last 20 years tracking Henry County housing trends and remembers the good old days before the housing slump hit her community.
"There was a time before 2006 when you could stand in the street here and a real estate deal would run over you," says Tidwell, president of Hometown Realty. "Starting in the year 2000 and going to the end of 2006, the average sale price for a single-family home in our county increased by 41.2 percent, from $145,823 to $205,823," she says. "From the end of 2006 to mid-2012, the average sale price of the single family home in Henry County has declined by 48.3 percent, going from $205,823 to $106,372."
The good news is the spring of 2012 saw a modest upward turn in new home sales prices. "Inventory is down significantly," Tidwell says, "and that's good news." Tidwell says more good news arrived with the published forecast for Henry County's population to pass the 407,000 mark within 18 years, and at a steady growth rate, just like the good old days.
Charles Scott has been intently study-ing population projections, reaching conclusions about how he and his hospital should prepare for the future. "The implications of that [population] growth from a healthcare standpoint are pretty clear," says Scott, president and CEO of Piedmont Henry Hospital. "We can expect a rise in the general population, and within that a rise in the population 65 and older, the segment of the population that consumes the largest amount of healthcare." Last year's merger of the Henry County hospital with Atlanta's Piedmont Healthcare was a major event for the management of Henry County's patient load, Scott says. "Yes, I would say growth was a significant factor in the merger with Piedmont," Scott says.
Plans that have been completed with partner Piedmont for improvements to better manage the anticipated growth also call for the creation of an ambulatory campus on 48 acres at the Locust Grove exit of I-75 now owned by the Henry County hospital. "And that should be completed over the next several years," Scott says.
Business Leader
Marci Taylor is explaining how her company, Bennett International Group, LLC, has grown from a one-truck freight line operating out of a trailer behind a truck stop to the 675 employees and 3,000 contractors and agents who now work for her. Taylor is president and CEO of Bennett, and she and her company have been recognized by various publications as a best-place-to-work company, a top fe-male-owned company and a number of other superlatives. But locals say forget the gender thing and the fact that she heads a trucking company.
"I think she could succeed at anything anywhere," says Kay Pippin, president of the Henry County Chamber of Commerce.
Truth is, under Taylor's leadership, the company has grown beyond the trucking of goods into a business with seven divisions of varying missions, including warehousing, distribution, supply chain management services, port services, export/import and custom brokerage services, logistics and vehicle transport services, all the while seeking to fill any voids she may spot along the paths she follows, like flowing water to low spots.
"I call us a niche company," Taylor says. "We try to find areas where we can do niche work. For instance, we had gotten in the oil field business in Texas with our freight division, and they had special needs that had to do with Hazmat materials, oil equipment, oil well mud, things like that. So we started that [Hazmat] division."
When a Georgia equipment dealer customer using Bennett's freight division asked about warehousing and other logistics services, those divisions were born. The company's freight division is also the largest hauler of government equipment and goods for the Department of Defense. "And we're the largest transporter of manufactured houses and RVs in the country," Taylor says. "In the last two or three years, that business has been extremely depressed, but we're beginning to see that business take a slow upturn. Even in this downturn, we held our own and even grew last year. I'm assuming we'll grow this year somewhere around 10 percent over last year."
Taylor credits her location as a key to her success over a 38-year career in Henry County. "We're only about a mile-and-a-quarter off I-75," she says. "Henry County's been a great location for us because we haul a lot of things north and south." With business growing at Georgia's coastal ports and plans for improvements there, Taylor's outlook is cheery. "When they get through with the [port deepening and other improvements] at the Savannah and Brunswick ports, we'll be able to move a lot of products and equipment that are high, wide and heavy."
Taylor's success with Bennett International Group is the kind of picture Bob White likes to paint. White, executive director of the Henry County Development Authority, has been hawking his county's wares under the slogan, "Discover the Power of Location," a reference to his community's proximity to Atlanta and the presence of two Interstates, I-75, with its 20-mile stretch and seven exits through Henry County, and I-675, a shortcut to the southeast side of Atlanta and its connection to I-20 and I-85.
"[There's] all that and the Norfolk Southern rail service that is approximate to our key industrial area at the I-75 and [Georgia] Highways 40, 155 and 42," says White. "That's where a large percentage of our industrial development occurs, and that's a combination of transportation options and location, location, location that are very strong for us."
Henry County's easy access to the Port of Savannah has led to a boom in the logistics and distributions industries. "And there is that other thing, a forgiving topography," White says. "We have 20 buildings in Henry County that are 400,000 square feet or larger. You have to remember this was formerly farming country. This is the farthest point north in Georgia before you get into the foothills of the mountains just north of Atlanta." That terrain, he says, has helped lead to a boom in "very large bulk industrial buildings."
In an unusual transaction last year, the Henry County Board of Commissioners purchased the Clayton County Airport and the surrounding 500 acres, which were in Henry County. The price tag was $17.7 million (Henry County paid $2.7 million, the FAA the rest), and it gave economic developer White some food for thought. "I think the purchase was one of the most important acquisitions the Henry County Board of Commissioners could have made," White says. "As we proceed through the master planning of the airport area, that is going to be a huge asset for us – not only with corporate aircraft, but we see the opportunity now to be able to recruit aviation-based companies and other industries that need proximity to a local airport."
Fan Influx
This Labor Day weekend, the small Henry County town of Hampton (pop. 6,987) will become the fifth largest city in Georgia as more than 100,000 people, enthusiastic NASCAR fans all, cram into the Atlanta Motor Speedway for the AdvoCare 500 race, the county's single biggest tourist event of the year. But it is not the only event that helps Henry County rack up $188 million a year in tourist expenditures, a significant contribution to the local economy for a suburban community, says Laura Luker, director of Tourism for the Henry County Chamber of Commerce Convention and Visitors Bureau.
"We don't have 80,000 people coming in for a convention like Atlanta might have, so that tourism figure is impressive," Luker says. "I-75 is our personal tourism gold mine. It's people coming through going to or coming from Florida. And that Hampton racetrack contributes more revenue than all the other Atlanta sports events."
"If NASCAR is our No. 1 tourist attraction, then baseball, softball and youth soccer are our number two attractions," says Luker. "I did the math, and those tournaments do about $33 million a year in local economic impact. The tournaments bring about 40,000 people a year into the community." The tournament season runs from February to July. "We may not be on the beach and we may not be Disney World, but we're definitely bringing people in," Luker says.
Another tourist attraction is Noah's Ark, an animal rescue farm featuring critters of every stripe from apes to zebras. It's become a popular stop for picnicking families.
The steady stream of visitors and new residents has kept annual retail sales in the county well above the $2.5-billion mark for the past five years, according to data collected by University of Georgia researchers.
The county's lively growth record continues to attract retailers, such as the six new stores that opened last spring at Tanger Outlet Center that historically welcomes five million shoppers or more annually.
"Even our retailers that opened just before the recession have taken hold and are flourishing," says chamber president Pippin. At South Point Mall, every store that has opened has quickly risen to the top of its chain in the Atlanta market, and all within six months.
And it's only going to get better. "It's simply our time," Pippin says, explaining her county's growth spurt. "The Southern Crescent is Atlanta's new frontier."
Community Snapshot
Local Leaders
Bob White
Executive Director, Henry County Development Authority
770.288.8000
bwhite@hcda.org
B.J. Mathis
Chair, Henry County Board of Commissioners
770.288.6001
chairmanmathis@co.henry.ga.us
Kay Pippin
President, Henry County Chamber of Commerce
770.957.8030
kpippin@henrycounty.com
Population (2010)
County, 205,266; McDonough (county seat), 22,084; Hampton, 6,987; Locust Grove, 5,402; Stockbridge, 25,636
Per Capita Income (2009)
County, $29,986
Georgia, $34,125
Unemployment (Preliminary, April 2012)
County, 8.2 percent
Georgia, 8.5 percent
Top Employers
Henry County Schools, Piedmont Henry Hospital, Henry County Government, Federal Aviation Administration, Briggs & Stratton
Sources
Henry County Development Authority, Georgia Department of Labor, U.S. Census Bureau