Augusta/Richmond County: Painting The Town Prosperous
Manufacturing, healthcare and the military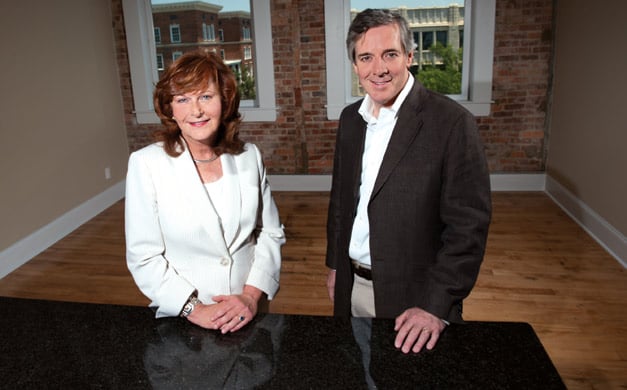 Augusta in Richmond County may be Georgia's second largest city, but it has long suffered from something of a stepchild syndrome among Georgia's other cities. Located along Interstate 20 east right before it enters South Carolina, the city hasn't gained the recognition of Macon, much less Metro Atlanta. True, this is the home of Augusta National Golf Club, which every April garners worldwide attention for the fabled Masters Golf Tournament. Yet, for many years, once the champion claimed his green jacket, attention turned elsewhere and the city faded from thought.
Nowadays, it's getting harder not to notice the many attributes of a city that boasts a well-deserved reputation for a low-cost, high quality of life. It's also become a center for healthcare excellence, with 11 regional hospitals and Georgia Health Sciences University, which has Georgia's only public medical and dental schools. Then there are the other two drivers of the local economy – the military and a burgeoning nuclear power building project nearby.
This diversity helped Augusta escape much of the economic devastation visited on other locales. It also helped recruit major manufacturing projects including Starbucks and Rockwood Color Pigments and Services.
Most of all, Augusta possesses the will to make projects work.
"We have a very aggressive political environment where our Augusta city commission is very interested in working with businesses that are interested in this area," says Augusta Metro Chamber of Commerce's President and CEO Sue Parr. "You don't recruit a project like [Starbucks] without a lot of people at the table to make sure that a business can have what they need, and certainly that involves the city of Augusta and the surrounding area to work with them."
That attitude paid major dividends when the world's most famous coffee shop announced it would be building a manufacturing plant in the newly opened Augusta Corporate Park. The facility, a $172-million project that will create up to 140 jobs, is only the company's fifth manufacturing plant in the U.S. and the first company-owned enterprise to produce its VIA Ready Brew, ingredients for Frappuccino and the company's packaged beverages.
Set on 100 acres, the 160,000-square-foot plant was made possible through a $200-million industrial bond issued from the Augusta Economic Develop-ment Authority. The funds, which the authority's executive director Walter Sprouse calls a loan that will be paid back, will help the company finance both the initial building project and an expected expansion in the near future.
"We decided to do it all at one time," says Sprouse. "They're an excellent company, very green, environmentally conscious. They're shooting for a LEED gold certification on the facility. We worked on them for a year, and they're going to be an excellent addition to Augusta's diverse manufacturing base."
Construction began this summer, and the plant is expected to open in January 2014.
"The main thing that did [it] for us was the work force," he explains, adding that officials not only looked at the available sites, reviewed demographic data and considered the incentive packages, but also spent a great deal of time talking to other companies in town.
"We don't get nervous about it," he says. "We know the manufacturers here in Augusta have a good work force and are doing very well."
Those qualities also helped attract Rockwood Holdings Inc.'s Color Pig-ments and Services division, which is opening the first new synthetic iron oxide pigments production plant in the U.S. in nearly 35 years. The $115-million plant will generate 100 new jobs in the South Augusta area. The pigments it will make are used to color products for construction, coatings, plastics and specialties.
Although few realize it, Augusta manufacturing has a truly worldwide reach. The city is home to two leading manufacturers of golf carts – E-Z-GO and Club Car. In addition, the local Procter & Gamble plant churns out the Tide laundry detergent found on grocery store shelves.
Augusta appears to be an economy that truly is firing on all cylinders.
More Power
"All of those would be game changers for a regional economy in and of themselves," observes Mayor Deke Copenhaver. "We're fortunate to have all those things happening at once. We're really feeling the headwinds of what's about to happen."
Location also helps. While construction on Georgia Power's massive Plant Vogtle nuclear plant is outside county borders, it's close enough to generate some tangible economic shock waves. The estimated $14-billion construction project to build Units 3 and 4 is expected to create about 3,500 construction jobs and more than 800 permanent positions when the plants are up and running.
Augusta is also seeing the merger of two institutions of higher learning. Earlier this year, the University System of Georgia announced that Georgia Health Sciences University and Augusta State University would merge as part of a campaign to reduce administrative costs. The system lost $1 billion in state funding in the past four years, according to state officials.
Local officials see the merger as a path to creating greater opportunities for citizens.
"People see the potential of what a major research institution in downtown Augusta can do for the city," says Copenhaver. "So there hasn't been a big backlash against it."
In addition, Augusta residents have seen many improvements in the city over the past several years, including new businesses and changes to the physical landscape. "People are seeing the city grow, and that leads to a certain expectation and excitement about what the future holds," he says. "That's help-ed them be more supportive of that merger."
The new and improved university, which will be led by GHSU's current president, Dr. Ricardo Azziz, is already thinking about additional expansion. It recently acquired a 16-acre tract on the Savannah River near downtown. While town and gown are in the process of negotiating what will ultimately occupy the site, Copenhaver sees it as an opportunity for the city. Along with proposals for a biotechnology research park, the area could also accommodate a new baseball stadium for the minor league Augusta Greenjackets team or other recreation facilities.
All the talk about private sector companies can cloud the reality of how dependent the area is on the government – specifically the mil-itary – when it comes to employment. The biggest job creator in the area is Fort Gordon. The home of the Signal Corps, the installation trains soldiers, sailors, airmen and marines in computer science and other high-tech fields. Intelligence officers re-ceive their training here before being dispatched to far-flung posts around the world. The post also houses a training facility for medical doctors, dentists and vets.
Recently it became home to one of the biggest local construction projects that nobody talks about – the new National Secur-ity Agency facility. Here in this 540,000-square-foot building, per-sonnel are monitoring communications in Europe and the Middle East to ferret out clues that could thwart any potential terrorist attack.
The spy agency has maintained personnel here since the 1990s, but with the $17.5-million addition those numbers are rising. By how many, nobody knows for sure. The Augusta Chronicle reports as many as 4,000.
Of course, nobody can forget Augusta's best known attraction – the Masters. As a private club, Augusta National doesn't release attendance figures, but the event easily fills up all hotel rooms and some private homes within a sizable radius of the city. The chamber's housing bureau, which rents out private homes to visitors, saw a rise in business over last year, according to Parr.
"That's a good indication for us in terms of the interest in visiting Augusta for the tournament," she explains.
The week also coincides with the state's Red Carpet Tour for Industry. The state-sponsored event is always a chance for the 24 executives on the tour to become acquainted with the city while also getting to see the Masters up close.
"We really use that week as an opportunity to develop the relationships that are so important to business development," says Parr.
Preservation Projects
Augusta has also done a good job of maintaining its stock of historic downtown buildings. In recent years, developers have undertaken several successful rehabs of historic structures, converting them to residential lofts and the beginnings of mixed-use retail. That development has helped draw more people downtown seeking the unique flavor of urban living.
"We're working to encourage upper-floor development for condos and lofts," says Margaret Woodard, executive director of the Downtown Development Authority of Augusta, noting that occupancy rates have reached nearly 98 percent. "We don't have enough housing inventory. That has been a tremendous effort that has really paid off."
Despite this high demand, the building of new supply has yet to take off. Inventory has simply not kept up, although interest among developers has been rising recently. What has been lacking has been condos for sale, although that, too, has seen something of a pick-up lately.
"The demand for units – overwhelmingly rental in the downtown – has never been higher," adds Paul King, owner of Rex Property and Land, who has spearheaded several historic rehab projects. "The answer to the question of 'Do people want to live in downtown Augusta?' is an overwhelming yes."
Late last year, his company cut the ribbon on the Dunbar-Howard House. Built in the 1890s, the one-time family home has been converted into 12 studio apartments – all of which were quickly rented. Over the last century, the Queen Anne Victorian had a series of owners and fell into disrepair before it was rehabbed and repurposed.
"We've got a lot of old buildings [downtown], although we've lost some real nice ones over the years," says King. "The economics of downtown Augusta are such that you can get a nice old building relatively inexpensively. It's going to cost a lot of money to fix it up right, but even then it's cheaper than new construction."
Development is still being stymied by a tight economy, in which banks will only put up about 50 percent of the cost of construction. The rest has to come from other sources. By going the historic route, a builder can qualify for substantial tax breaks and easements that can reduce the cost of construction by 40 to 50 percent, according to King.
At that point, prices are typically "disappointingly low for people who want to sell those buildings," he adds.
Earlier this year, The White's Build-ing (formerly the JB White department store) on Broad Street opened with 51 units for sale. Lately retail has been moving into the ground floor led by New Moon Café, which left its longtime corner location for a larger floor plan and more space for its bakery.
The success of that project came after something of a near-death experience. In 2009, the former department store went into foreclosure. Construc-tion had halted when the Federal Deposit Insurance Corp. seized control from the failed Haven Trust Bank. At the foreclosure auction, the single local bid was too low, so the project was passed on to a national structured sale and purchased by Rialto Capital Management, which completed the renovations.
Historic preservation has meant a new lease on life for a number of downtown Augusta's buildings, although not every structure gets saved.
"We just lost a building that we had named to our endangered list," says Erick Montgomery, executive director of Historic Augusta.
The Catholic Church of the Immac-ulate Conception and its Academy, which preservationists had hoped to save, fell to the wrecking ball after the Augusta Housing Authority pulled out of a plan to buy it. Built in 1913 by the African Missionary Fathers of the Catholic Church, the original red brick buildings had long served African-American students of all faiths.
Historic preservation is playing a role in one of downtown Augusta's biggest construction projects – the new Trade Exhibit and Event (TEE) Center. Although the building has displaced some older structures, the historic Merry Brothers Warehouse was incorporated into the design to serve as the main entrance to the facility.
Connected to the city's existing conference center, the expansion will add 38,000 square feet of column-free exhibit floor space. Seating capacity will rise to 3,400 for lectures and 1,800 for banquets.
"That will allow us to attract some conferences that have outgrown Au-gusta," says the Augusta Convention & Visitors Bureau's Katrina Selby. "These are groups that met here and loved it, but their convention has gotten larger and we didn't have the space for them. It also allows us to attract some conferences that have a trade show component along with them that we have not been able to accommodate. Now we'll have that for them as well."
In keeping with the city's drive to preserve both history and the environment, the TEE Center is shooting for LEED certification, according to Chris-tina Byrnes with tvsdesign, the firm that designed the expansion. The design is incorporating a white roofing membrane and using more daylight in the exhibit areas to reduce energy costs.
"Basically, it's a city mandate that all new construction go for LEED certification," says Byrnes. "So the city itself is trying to amplify their sustainability programs. The existing facility is actually not LEED certified yet. We're hoping that by adding the new convention center, this will push the current operations and maintenance program to become greener and hopefully the entire complex will eventually become LEED certified."
Community Snapshot
Local Leaders
Deke Copenhaver
Mayor of Augusta
706.821.1833
knixon@augustaga.gov
Susan E. Parr
President/CEO, Augusta Metro Chamber of Commerce
706.821.1300
sparr@augustagausa.com
Walter Sprouse
Executive Director, Augusta Economic Development Authority
706.821.1321
wsprouse@augustaeda.com
Population (2011)
County, 200,549
Median Household Income (2010)
County, $32,135
Unemployment (April 2012)
County, 9.9 percent
Georgia, 8.7 percent
Top Employers
U.S. Army Signal Center and Fort Gordon, Georgia Health Sciences University, E-Z-GO, Kellogg's
Sources
Augusta Economic Development Authority, U.S. Census Bureau, Georgia Department of Labor Bureau