More Than Cookies And Camping
Girl Scouts have come a long way since the organization was founded 100 years ago in Savannah. But the emphasis is still on developing potential and encouraging leadership.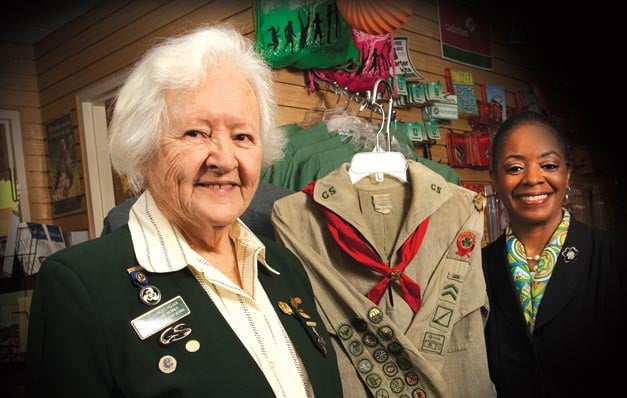 When Clementi Holder became a Girl Scout in 1930, she learned how to gather twigs and build a fire in the woods.
"Of course, you can't do that now," says Holder, 91, of Athens. "The laws are different."
Nevertheless, Girl Scouts continue to keep the fires burning, and this year the organization is celebrating the 100th anniversary of its founding in 1912 by Juliette Gordon Low in Savannah.
"This was something started by a woman in Georgia, our very own hometown hero," says Margaret Skene, CEO of the Girl Scouts of Historic Georgia, one of two councils in the state. "At a time when women rarely drove cars and they didn't have the vote, she was definitely a visionary."
Inspired after meeting Robert Baden-Powell, the British general who started the Boy Scouts and the Girl Guides, "Daisy" Low formed her own troop on March 12, 1912. The rest, as they say, is Herstory.
Girls Scouts is the largest girl-serving organization in the United States. Its membership includes 2.3 million girls from kindergarten through high school in the U.S. and 16,000 overseas, plus 890,000 adult volunteers. Combined with the Girl Guides, they form an international sisterhood of 10 million members in 145 countries.
This has been dubbed "The Year of the Girl," complete with an advocacy and fund-raising campaign titled "ToGet HerThere," which is dedicated to girls' leadership issues.
"We really hope by focusing on girls and their issues and opportunities, we can make a difference in one generation," Skene says.
Among Girl Scouts' 50 million alumnae are Hillary Clinton, Katie Couric, Martha Stewart and Dakota Fanning – who was already a movie star when she joined – as well as almost 80 percent of women in business, most female astronauts and nearly every female member of Congress.
"As much as it's changed in order to remain relevant and resonate with today's girls, much of it has stayed the same," says Marilyn W. Midyette, CEO of Girls Scouts of Greater Atlanta. "Juliette believed that girls needed to have opportunities to realize their full potential and develop leadership skills."
Low piqued the interest of girls in pursuits like metallurgy and sculpting. She covered fences so they could play basketball without people seeing them in their bloomers.
"We like to say we are more than cookies and camping," says Midyette, "although those will always be part of our fundamental elements."
Girl Scouts of Historic Georgia, based in Columbus, covers 125 counties, including two in South Carolina and one in Alabama. It has 16,000 members, about 10 percent of them adults, and oversees the historic First Headquar-ters, formerly the carriage house of Low's adult home in Savannah. Last year, members completed 100,000 hours of community service.
Girl Scouts of Greater Atlanta, headquartered in Mableton, serves approximately 41,500 girls and more than 18,000 adult members in 34 counties in the greater metropolitan Atlanta area, northwest Georgia and Polk County, Tenn. They invest more than 1.5 million hours in community service annually.
Early Days
Girl Scouts has come a long way since Low started with only 18 girls. The organization had grown to more than 200,000 when long-time Athens resident Clementi Holder – then Clementi Lacey-Baker – one day shy of her 10th birthday, joined a Louisville, Ky., troop on Oct. 10, 1930.
"It looked exciting, and I wanted to be one," she says. "It was character building; it taught you honor, independence, self-reliance. We learned to live independently in nature without disturbing it."
In 1937, when the Ohio River flooded and came within a block of her house, Holder says, "Daddy was off doing rescue work, and I used my Girl Scout skills for mother and me to survive well."
However, Holder fell one requirement short of earning the coveted Golden Eaglet award, the counterpart to the Boy Scouts' rank of Eagle Scout. It is now called the Gold Award. Even so, she went on to serve as a troop leader for various age groups and was a council board member.
Hearing Holder's story during the 100th Anniversary Celebration in Savannah in March, Anna Maria Chávez, the new CEO of Girl Scouts of the USA, decided it was about time she got that pin. The presentation came as a surprise during a meeting of the Rotary Club of Athens in April.
"If I knew all this was going to happen, I'd have brought my original uniform," Holder says.
The venue was particularly fitting since Cheryl Legette, who was proposed for membership by Holder and her late husband H. Randolph Holder, is president of the formerly all-male Rotary Club. She is the first African-American president of the Athens group.
Legette is community relations officer for Girl Scouts of Historic Georgia despite never having the opportunity to become a Girl Scout herself while growing up in California. She helps the organization form strategic partnerships and is responsible for advocacy.
Daughters Michelle, 17, and Camille, 14, are currently Girl Scouts, and Legette says, "What has been really nice is to hear them say things like, 'Mom, you've got to use your resources wisely,' or 'Mom, that's not the way Girl Scouts are.' They've taken the promise and the law to heart in the way they see the world and view other people."
Last year Girl Scouts changed some of its merit badges, with former staples such as "Food, Fibers and Farming" phased out in favor of subjects including web design, digital moviemaking and "The Science of Happiness."
"Juliette always thought Girl Scouts would evolve," Skene says. "Her comments always were, 'If you don't know what to do, ask the girls.' We now have a more sophisticated term of being girl-led, but it's still, 'Ask the girls.'"
Skene says girls want activities that are not only fun, but also meaningful. They feel strongly about the environment and about health – both physical and emotional, which includes the issues of bullying and self-esteem.
Local service projects include conducting food, clothing and toy drives; teaching English as a second language; cleaning up trash; working at senior citizens' homes; and making sure that children in underserved communities have school supplies. But Girl Scouts also look beyond their own communities. One girl assembled the components for a playground and shipped them overseas to Africa.
"If you learn leadership in Girl Scouts, you can use that in everything you do," Skene says.
Girls can join as Daisies, a group not created until the 1980s, when they reach kindergarten, then progress through Brownies, Juniors, Cadettes, Seniors and Ambassadors.
"The proof is in the pudding, how girls who stay in the program longer do better in school and as a result of that, have a better sustainable income and means to be financially independent as well," Midyette says.
Ambitious Projects
Striving to earn the prestigious Gold Award, favorably regarded on college applications, brings out the most ambitious projects. One girl tackled GPS mapping of a section of the Altamaha River, another wrote a water conservation bill and yet another brought awareness to screening for a heart defect, which wound up saving her own father.
Gold Award winner Skye Sheffield, 18, of Grayson, created a web-based project called Autism Railroad that is geared toward helping autistic children build skills and self-esteem.
Sheffield, who graduated from Atlanta's St. Pius High School and will attend Georgia Tech, publicized her project at a large train show in Atlanta. "I contacted the man in charge of it, and he gave me two free booths and free tables, chairs and electricity after I told him what I was doing," Sheffield says. "I was scared at first, because when you're in high school, you don't talk to 'the big people.' This makes you transcend earlier into the real world."
Almost from the beginning, the iconic Girl Scout cookies have helped fund programs, paid dues for troop members in lower-in-come areas and financed trips with proceeds affectionately called "cookie dough."
Nationwide, about 200 million boxes are sold each year, bringing in revenue of about $760 million.
Last year, Girl Scouts of Greater Atlanta sold 4,553,885 boxes, and Girl Scouts of His-toric Georgia sold 2,161,267.
"When you start looking at the scale of the business operation, our cookie sale is a whole lot more than cute little girls going door to door," says columnist Myra Blackmon, 61, who as a youngster was a member of one of Holder's Girl Scout troops in Athens. As an adult, she followed her mother, Eleanor Boyd Blackmon of Washington, to become president of one of Georgia's former Girl Scout councils.
When Blackmon was 30, she interviewed for a job as a stockbroker at Merrill Lynch. "They asked, 'What about Girl Scouts qualifies you to be a stockbroker?'" she says. "I said, 'I'll tell you one thing, we sell X percentage of the nation's cookies, we do it in about three weeks of every year, we have the lowest shrinkage of any sales operation anywhere and the vast majority of our sales force is under 12.' And I got the job."
While the cookie business has given Girl Scouts financial literacy, the organization is working to boost Girl Power in STEM activities – Science, Technology, Engineering and Math.
"A lot of girls show great promise, but around 4th and 5th grade start dropping out," Midyette says. "The feedback society gives is that it's no longer cool. We're very much committed to defying that statistic."
Girls have launched rockets at a technology camp at Georgia Southern, and a group calling themselves GENIUS (Girls Exploring New Ideas Using Science) went from building toy robots to creating a back-up camera for wheelchairs to help a friend.
"It's not your mama's Girl Scouts. It's 21st century Girl Scouts," Midyette says.
Meeting The Challenge
Yet with so many other extracurricular opportunities available today, girls are busy; and Girl Scouts has had to vie for their attention by becoming more accessible.
"The challenge is to keep them engaged at a level they can do that's not overwhelming," Legette says. Girls have the flexibility of either joining a troop or simply going to camps or participating in other one-time programs.
The Girl Scouts of Historic Georgia were expecting more than 1,000 girls from more than 30 states and around the world to attend the centennial Camporee at Savannah's Armstrong Atlantic State University June 25-30. Also in June, the Girl Scouts of Greater Atlanta was to hold its third Camp CEO, with 30 to 40 girls paired with an accomplished professional woman at Camp Timber Ridge in Mableton. A daylong festival called a "GirlaPalooza" will be held in November.
"Girl Scouts is a place where girls can try anything they want to try," Blackmon says. "They can fail, they can learn from their errors and they can try again. They're not getting a grade, they don't have people outside their group standing around laughing at them or poking fun at them for trying like they sometimes run into at school."
Troop leaders receive more training nowadays, but Legette says it is a challenge to find leaders in minority communities that are low-income. "My goal has always been to make Girl Scouting available to girls where they are," she says. "There are a lot of kids out there that could benefit from Girl Scouts."
A lot of times, it is a family tradition. "If mothers had a good experience, they want that for their daughters," says Skene.
Like the Boy Scouts, the Girl Scouts' motto is "Be Prepared." Blackmon says that encompasses a wide range. "We really focus on helping girls figure out what's best for them, what challenges them, what can add to their values and their ideals, and to prepare for that," she says. "A girl who aspires to be a wife and mother can get just as much out of Girl Scouts as a girl who aspires to be president."
As the 100th anniversary is celebrated this year, the spotlight is on Low. The Georgia Historical Society made her one of its 2012 honorees, as someone who has significantly influenced Georgia and American history. The society, which houses Low's papers, also produced educational materials to be used in schools.
The Mickve Israel Museum in Savannah is hosting a yearlong exhibit exploring the connection between Congregation Mickve Israel, home of Troop 5, and the Girl Scouts.
On March 10, the Talmadge Memorial Bridge in Savannah was closed and Girl Scouts young and old covered the 1.9-mile span to symbolize the link from the first century of scouting to the next.
"Girl Scouts may be one of the most powerful and far-reaching things Georgia has ever launched," Blackmon says, noting that the state is home to Martin Luther King Jr., Jimmy Carter and Coca-Cola. "Over 50 million women have been Girl Scouts, and that started in somebody's living room in Savannah, Georgia."