Kitchen Table Diplomacy
The Georgia-born and -based Friendship Force has been helping Americans exchange visits with citizens of other countries for 35 years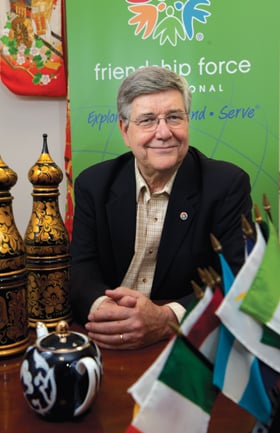 From his days as a missionary in Brazil to his time as an Atlanta minister, the late Wayne Smith held the notion that peace and harmony in the world could be achieved through the creation of one-at-a-time friendships. After hearing the 1971 inaugural address of Georgia's new governor, Jimmy Carter, Smith launched his own friendship effort and became lifelong friends with Jimmy and Rosalynn Carter, visiting the two at the White House six years later and enlisting their aid to fashion a plan from his idea.
It was early 1977 and the Carter Administra-tion was just settling in. Washington was adjusting to a flood of southern accents at the top of the power chain in the nation's capital. While the media and machinery of government awaited the Carter Administration's agenda, the first initiative the new president helped launch had little to do with the formal structure of government and a lot to do with southern hospitality.
On March 17 of that year, what came to be called The Friendship Force was officially chartered, becoming an unofficial arm of America's international diplomatic relations team. It was built on what seemed to be a fluffy idea called "Kitchen Table Diplomacy," Americans visiting foreign countries and staying in homes for a week or two and developing friendships with their hosts. Later, the hosts would come to America and stay in the homes of their visitors as the friendships grew.
No government money would be used to finance the effort. It would rely instead on corporate gifts and nonprofit grants, with travelers absorbing their own costs and buying memberships in the organization.
"Wayne Smith was one of those guys who had the incredible ability to visualize the future and assume it could be done," says George Brown, who became a Friendship Force staffer in 1983 and remained close to Smith, until the founder's death in 2004.
Early Days
Back in 1977, it didn't take long for Washington's jaded Beltway jokers to label the Friendship Force (today known as Friendship Force Inter-national or FFI, with George Brown as its president) as "pecan pie in the sky," despite its commendable statement of purpose to "provide, largely through volunteer efforts, a means by which the people of the United States and other countries can meet and develop friendships and understanding among each other," according to the official accounts in the book, The Other Side of the Mountain: Bridging the Great Divides, by Charlene Terrell.
The ultimate goal, according to the 1977 statement, was to "promote the cause of world peace." With the backing of President Jimmy Carter, First Lady Rosalynn Carter and a Who's Who list of the Georgia business community, the effort at citizen diplomacy got off the ground. But it did not soar, and in fact barely wobbled along during its first year as fund-raising efforts fell far below expectations, despite help from stalwarts like Coca-Cola, Delta and Cousins Properties. By May of 1978, Atlanta newspapers were giving the Friendship Force final rites.
Then Rosalynn Carter spearheaded an effort to reorganize the effort, and a little financial resuscitation from supporters put Friendship Force back on the up-ward path.
"We're in good shape today," says FFI president Brown. "We've got about 5,000 people a year traveling. We took a dip in 2009 with the world economy going down at the time. We have cut our Atlanta staff from 25 to 10 and are using more technology in recruitment, and we no longer use our travel agency, letting members book their own flights."
The Friendship Force was never meant to be a tourist organization, and members were reminded of that along the way; they were expected to travel light. It was generally conceded that members who boarded their return flight with armloads of touristy souvenirs would be frowned upon. The 2010 Friendship Force annual report put the worldwide membership at 18,000 people belonging to 363 clubs in 53 countries. That same year saw 282 exchanges, quite a balance sheet given the challenges of the early days.
Even with ongoing financial problems, the first exchange came in 1977 when citizens of the Atlanta area visited Newcastle Upon Tyne in England, and then Atlanta welcomed the folks from Newcastle. Buckhead attorney Robbie Dokson and his wife, Joan, were among those making the inaugural trip and who later hosted a couple from Newcastle in that initial exchange.
"The couple from Newcastle were just wonderful," Robbie Dokson recalls, when asked how their first attempt at kitchen table diplomacy went. "There was some of that, but we didn't get political; but, in my opinion, if you know people intimately and how they feel, that becomes political." The Doksons are lifelong members of the FFI, and he believes a worldwide program like it would make the planet a better place. "I think it could only be positive," he says. "You get to meet new friends, and those friendships last."
In years past, FFI participants were cautioned to avoid discussions of politics and religion because they were sensitive matters in some countries. The Friendship Force travelers were ambassadors, and those receiving travelers from other countries were the hosts. But it seems travelers and hosts have taken matters into their own hands and try to simply use good common sense in the FFI encounters.
"Nobody I've met in all the different countries I've traveled has ever asked my religion, and I don't know what theirs is," says John Wilhelm, a retired publisher's representative living in Stone Mountain with his wife, Glenda. Glenda and John, a former president at the Greater Atlanta FFI Club, have visited Russia, Georgia, Brazil, Italy, New Zealand, Northern Ireland and Japan since becoming members in 2000. Wilhelm says the travels and hosting for the Freedom Force have led him and his wife to a life-guiding opinion. "We are all more alike than different," he says.
Expansion Project
Today's Friendship Force is composed of clubs representing hundreds of communities in U.S. states and foreign lands. The number of clubs has ranged widely during the life of the program. Now FFI chief executive George Brown is presiding over a three-year club expansion project.
"We established 300 of them in 50-plus countries, and by the '90s we had about 350 to 360," Brown says. "Since then, the number of new clubs, five or six a year, has been matched by clubs dropping out. While we've done a good job of replacing ones that disappear, we haven't really grown." Under the expansion plan, FFI supporters hope to add 45 new clubs in the next three years to reach more than 400 total, and the launch has been encouraging.
"We've got 14 that are in the process of being developed this year, and we look forward to doing similar numbers in 2013 and 2014," Brown says. "In addition to getting new clubs, this will also give us a lot of new energy with our existing clubs to give them something to look forward to. A lot of new clubs will be in countries where we are al-ready established." New clubs are being pursued in East African countries of Uganda and Rwanda, he says. "And in Asia, we're going to be getting a club in Myanmar, which used to be called Burma."
Like other organizations and institutions, Friendship Force has seen its leadership age, and that is being studied, Brown says. "This is important, if not glitzy, and we'll be working with our clubs to develop new leadership training techniques, he says. "As we have the original generation of Friend-ship Force members retire from their work, we need to make sure we have a system in place for training new leaders." And the new and improved Friendship Force International will have more themed exchanges.
"Increasingly, our exchanges will have a focus," Brown says. "It might be a humanitarian mission somewhere in Africa or Asia or teacher exchanges or exchanges between people interested in wine production and tasting or hiking in New Zealand. None of these elements are new, but by really packaging them together and giving them a big push, we expect to keep the Friendship Force growing for the future."
One foreign country sharing a significant anniversary with America this year is also a neighbor that doesn't share a border. "Cuba is very interesting," says Brown. "But since the 1950s, it's been illegal for the average American to get on a plane and go to Cuba and spend money there. We deal with countries from all over the world, and people from other countries can't understand that it is an issue in the U.S. for us to travel to Cuba."
Brown says the collapse of the former Soviet Union has eased tensions between the U.S. and Cuba and opened doors and possibilities for FFI. "There are two large communist countries that the U.S. has a tremendous amount of interaction with, and that's China and Vietnam," Brown says. "Friendship Force has had programs to both those countries, as well as the former Soviet Union."
America and Cuba will observe the 50th anniversary of the Cuban Missile Crisis in October, a special moment in Georgia's history as well, for nuclear-tipped missiles flanking Robins Air Force Base in Middle Georgia and the former Turner Air Force Base in Southwest Georgia were aimed skyward during the tense October days of the crisis, which resolved itself when the Soviets agreed to remove their nuclear missiles from Cuba. This would be an ideal year to connect Georgia and Cuba in a friendlier time.
Friendship Force member Jack Cashin, founder and proprietor of Chukkar Farm, an event facility, says that, in one way or another, all Americans are connected to countries around the world. "My grandfather immigrated to America in the 1880s," he says. "The Cashin clan emanated from the Isle of Man, a small island in the middle of the Irish Sea."
A member of the FFI since its origin in 1977, Cashin has been to Belgium, Korea, Brazil, Peru, France and Russia. "If I've learned anything, it's humility," says Cashin of his FFI experiences. "I just assumed that the United States was the best in everything, and everybody else was backward and not up to our standards. I found out very quickly that we could adopt many of the mores and folkways of the other countries to benefit our country. "