Early County: A Strong Foundation
Benefactors, guns and agriculture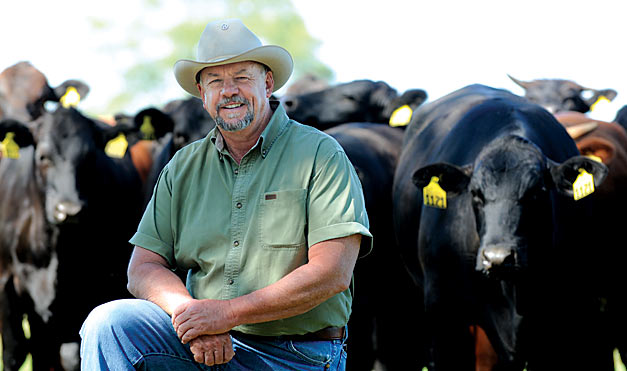 It was a tree most notable for its misshapen form, a pecan tree and member of the hickory family, an ugly tree that, had it sunk its roots anywhere else, might not have lived so long.
Some trees have burls, the knotted masses that grow inside or on the trunks and limbs or even the roots of their host and can give it an "Elephant Man" appearance. Yet such growths hold a rare and beautiful wood highly valued by artisans, carvers, furniture makers and museums.
But rarely is a whole tree a burl, and that's what started all the commotion in the late 2000s when the pecan tree growing in a ditch behind the former site of J.B. Rice Plumbing and Electrical Company was found to be that rarity, and The Blakely Burl Tree Project was born and funded by the Charles and Catherine B. Rice Foundation.
Charles grew up in Blakely and founded an Atlanta security firm, which he sold. Entering retirement, he set up the Rice Foundation and Early County 2055.
The Blakely Burl Tree Project was designed not to save the tree, but to remove it and harvest from its core and branches a gold mine of swirling grains featuring a spectrum of natural colors. News of Blakely's burl tree quickly spread, and soon a team of photographers, documentary filmmakers, wood carvers, tree harvesting experts, sawyers and even an Australian writer/woodworker showed up to record every step in the process of mining the burl tree for its valuable ore.
In the end, the burl wood of the old pecan tree was harvested by experts brought in for the job. The wood was handed over to notable woodworkers and sculptors commissioned by the Charles and Catherine B. Rice Foundation to create art objects for the Blakely Burl Tree Museum, a project in progress.
Benefactors
Most Early County locals have in one way or another been touched by the Rice Foundation and its sponsorship of Early County 2055, an initiative focused on economic development, cultural affairs and improvements in the quality of life of this farming community. Charles Rice remembers Blakely as an idyllic small town just right for a Huck Finn boyhood, but when he returned to Blakely for his mother's funeral in 2004 he noted sadly that his hometown had deteriorated. A once lively downtown had empty storefronts and crumbling infrastructure, and neighborhoods were marred by dilapidated houses. He wanted to change that.
In 2006, as news of the plans fostered by Early County 2055 began to circulate around Blakely and the rest of the county, townspeople wondered about how the initiative would change their community. Leaders here were curious about the specifics of the changes that were forecast.
"When they first came and started this process, it was a big production. I knew, with me being on the county commission, I needed to find out what they were up to," says Early County Commission Chairman Richard Ward, a local banker. "When they had all the initial meetings, I attended all of them, with maybe one or two exceptions. There were some really big ideas and plans. Some of them I don't think we'll ever do, but we have done a lot of what we talked about."
A lot of that talk was about creating new jobs, and that's been done, says Lisa Collins, director of economic development for Early County 2055, referencing a "five-year action strategy" begun in 2007.
"We're proud to announce that all of our goals have been met," says Collins. "We've been successful in bringing new jobs to Early County by convincing American International Marksmanship Academy (AIM) to locate here. In their first six months of business, AIM has created 30 direct jobs and 100 indirect jobs with over $8 million in capital investment, and they've had an economic impact in six months of over $1 million to our community."
Collins says the figures provide a sense of scale to the progress report. "You have to remember Blakely consists of around 5,000 people, with the county having about 11,000 people," she says. "That's big for Early County when you consider that is equal to about 2,600 new jobs for a city the size of Columbus. We've also been successful in attracting four new retailers with 82 new jobs." And the plans to get rid of dilapidated buildings? "Our original goal was to demolish about 35 structures," Collins says. "To date, we've demolished 236 structures. We've surpassed our goal of creating 24 new single-family homes by building 64 new single-family residences by partnering with a development company out of Atlanta."
Could it be coincidence that from 1999 to 2008 the per capita income in Early County grew by 52 percent, with the most robust growth in that category, 11 percent, coming during the year 2007 to 2008?
"I think we should give some of the credit to our local farmers," says Anthony Howard, mayor of Blakely and a local banker. "Fortunately for us our farmers are having their second good year in a row. Commodity prices are up and our ag economy is in very good shape, the best shape we've been in the last 15 years."
Land Steward
In days of yore, Will Harris would have been known as a cattle farmer or cattle rancher, but Harris is one of a new breed working the pastures and growing grounds of his storied farm. His business card calls him "Herdsman & Land Steward," a perfect description of how he conducts his day-to-day operations on the Early County farm he calls White Oak Pastures that, in one form or another, has been the land of his family since 1866.
Harris is one of the state's best-known tenders of the soil and harvesters of its bounty, looking after livestock of two and four legs, generating his own electricity through solar power. Beneath his cowboy hat, Harris wears a steely gaze as he invites a tenderfoot into the passenger-side bucket seat of his pickup truck while he climbs in behind the wheel. The two riders are separated by a console on which lies a pistol grip shotgun. Asked the purpose of the shotgun, Harris replies, "I don't like arguments." Then a pause and a wide grin from the herdsman who was named Georgia's 2011 Small Business Person of the Year by the Small Busi-ness Administration.
The first stop on a Will Harris tour of his 1,000-acre farm is at a four-acre patch of ground called a Community Supported Agriculture (CSA) garden, where he has an employee who sells subscriptions for a year's supply of vegetables for a family of four.
"Every week he will provide them with enough vegetables or whatever is growing that time of year," says Harris. And then he points out a 50,000-watt solar array near a chicken brood house. "The solar array provides about 30 percent of the power for our [processing] plants," he says. "It cost $326,000. We plan to keep adding to it and hope one day to generate all our own power."
As many as 4,000 chickens at any given moment may be roaming the open spaces of White Oak Pastures at any one time, guarded by a large, solid white Great Pyrenees dog, one of the eight who protect their flock from ground-bound predators such as coyotes, foxes, wild dogs and bobcats. A huge flock of these specially bred chickens, called Tyran-nosaurus Rex for their aggressive nature, are scratching and pecking at the ground when one of them strays away and is suddenly swept upon by a bald eagle that carries the bird to a far corner of the pasture. Harris is unruffled by the theft. "An eagle or hawk will occasionally kill one and eat it because they have to eat, too," he says. "I don't begrudge that."
Stopping at a herd of cattle, Harris explains that these animals will be processed at one of his plants, with their hides sent to a Kentucky tannery to be turned into wallets, purses, shoes and clothing. The tasty meat goes into kitchens everywhere. "We don't waste much," he says. "My hero is Dr. George Washington Carver who said, 'In nature, there is no waste.'"
What appear to be abandoned wagons used to haul cotton turn out to be chicken houses for laying hens that produce organic eggs. The hens live off the land during the day and snooze in the wagon houses at night.
White Oak Pastures' food products include beef, lamb, chicken, rabbit and Guinea hens. The farm has been featured in a number of publications for its products and agricultural practices. "Our products have done better in grocery stores than they have in food service," Harris says. Grocery sales are rising, matching a niche trend in consumer habits.
White Oak employees have opportunities to dine on the products they produce as part of a company policy that keeps turnover rates low. "We serve lunch every day except Fridays," Harris says. "They like to go into town on Fridays. Nobody makes minimum wages here, and everybody is on a bonus program. We provide not just 75 jobs, but 75 quality jobs."
At the last stop of the day, Harris points to a collection of cows. "These are my bred heifers," he says. "All of these ladies are pregnant for the first time and all will give birth in the fall." And life on the farm will begin another cycle.
Sharpshooting
A short distance away and just off U.S. Highway 27, sharpshooters are practicing on the long range at the American International Marksmanship Academy in preparation for a regional contest sponsored by the National Rifle Association on the following day. The steady crack of gunfire from the high-powered rifles is sure to become a familiar sound in the Early County countryside, according to AIM founder and CEO Marc Masoner.
"We began booking events the first of February, and we've got shotgun and long-range [events] and training [programs] pretty regular," says Masoner, a former Army Ranger and sniper. "We're working with Fort Benning and have been talking with them for a couple of months now. That is something that is going to take time, but I think we'll be able to support some of their training." A parachute drop zone has already been established at the 2,300-acre AIM facility for what is hoped will one day provide a soft landing for U.S. Army airborne troops. AIM has begun offering annual memberships to individuals and groups at $350 to $1,500, depending on the needs of its members.
Cozy little cabins have been built, food is available and novice shooters can get advice from a staff familiar with the range of firearms. The nearly mile-and-a-half sniper firing range is one of the longest anywhere.
Parked in the lot near where the shooters are practicing are cars with tags from Maryland, New Jersey, Wisconsin, Florida and many counties in Georgia. "Shooters love our range because they can get a mixture of winds and topography," Masoner says. "We've already had some of the best shooters in the world come here. We're out six months now in our bookings, and we're still taking people. We can still hold a lot of shooters." Masoner expects to have 200 employees when improvements on the huge site are finished, which he estimates to be 18 to 24 months.
Back in Blakely, providing for visitors like the rising numbers of those touring White Oak Pastures or competing on the firing ranges of AIM is much on the mind of Christie Haynes, president and CEO of the Blakely-Early County Chamber of Commerce. "Many people don't realize that Blakely is the perfect [midpoint] crossroads between Albany and Dothan and then Tallahassee and Columbus," says Haynes who, at 23, is perhaps the youngest chamber president/CEO in the state.
"So Blakely is a great place to have conferences, and we get a lot of calls at the chamber asking what kind of facilities we have for an event."
Haynes says the community has lost tourism dollars in the past, but that is about to be remedied, thanks to renovation plans for a historic building on the Blakely courthouse square. The c. 1904 Alexander Building began as a doctor's office and through the years has served as a dime store, a drugstore and a sports memorabilia shop, all the while succumbing to the usual symptoms of advancing age.
"But we're going to begin its renovation this summer," Haynes says. "We're moving our chamber office upstairs, and Early 2055 will be moving in with us." Plans call for the two-story building's downstairs space to become a conference center capable of holding up to 250 people. Funding for the facelift is coming from Blakely's First State Bank and Early County 2055.
Community Snapshot
Local Leaders
Richard Ward
Chairman
Early County Commission
229.725.4216
rward@fsbanks.com
Lisa Collins
Director of Economic Development
Early County 2055
229.724.7558
lcolllins@earlycounty2055.com
Christie Haynes
President/CEO
Blakely-Early County Chamber of Commerce
229.723.3741
christie.haynes@gmail.com
Population
(2009 estimates)
County, 11,568;
Blakely (county seat), 5,176; Arlington (part), 410; Damascus, 253; Jakin, 147
Per Capita Income
(2008)
Early County, $30,637
Georgia, $34, 849
Unemployment
(January 2012)
Early County, 8.8 percent
Georgia, 9.4 percent
Top Five Employers
Georgia-Pacific Corp., Early County Board of Education, Pioneer Community Hospital of Early, Birdsong Peanuts, Universal Blanchers
Sources
Early County 2055, U.S. Census Bureau, Georgia Department of Labor