Columbus: Appealing To Tourists
Military heritage and whitewater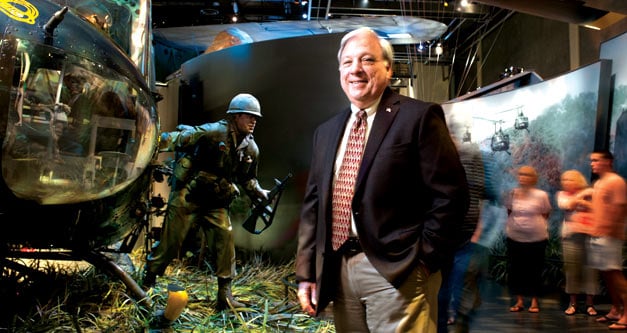 Beckoned by the iconic "Follow Me" statue that stands before the entrance to the National Infantry Museum and Soldier Center, more than one million visitors have gone through the front doors and back in time to learn the stories of his fellow infantrymen.
The signature exhibit in the three-year-old museum, which sits on the border between South Columbus and Fort Benning, is called "The Last 100 Yards." Representing eight crucial battles from the Revolutionary War through the "Desert Wars," including the landing at Omaha Beach on D-Day, the interactive diorama features life-size soldiers, authentic transports and sound effects like the rat-a-tat-tat of machine-gun fire.
"It comes from the saying in the infantry," says Ben Williams, president of the National Infantry Foundation, "that you can bomb a site or shoot artillery, but until the infantry gets boots on the ground and takes the last 100 yards of the battlefield, the battle has not been won."
The $100-million museum has gone the whole nine yards to make itself a winning tourist attraction that is generating economic development in the area.
"We're not right on the beaten path to Florida, so we've been pleased with the turnout," says Williams, whose museum won a coveted Thea Award from the Themed Entertain-ment Association in 2010 and pumps an estimated $50 million into the local economy.
The interactive exhibits include a barking drill sergeant, a World War I trench with periscope, and a glass-enclosed recreation of a Vietnamese jungle that would feel too real if not for the red "exit" sign. A World War II-era company street with seven buildings, including one used by General George S. Patton, is on the grounds.
The Army, which owns the artifacts, uses the museum as part of its history and heritage training. Graduations from Fort Benning's infantry basic training, usually twice weekly, are held on the grounds on the parade field, which is technically post property, while the museum building itself is on land deeded by the city of Columbus. Thousands of family, friends and well-wishers attend the standing-room-only events.
"It's just a huge economic activity hub," says Columbus Mayor Teresa Tomlinson. Visiting the museum, she says, "is a highly emotional experience. Everybody that leaves is in awe, and they go home, talk about it and here come more visitors."
Williams says the foundation sold two acres of land to a private investor who plans to build a Hampton Inn by early 2013, and there has been an increase in restaurants in the area. The ribbon cutting for a mixed-use development called Patriot's Walk was held in the spring.
Future plans call for a $75-million National Armor and Cavalry Museum to be built near the infantry museum, and two tanks already mark the spot. In the meantime, the infantry museum has offered one of its huge galleries for a preview exhibit.
The new museum is another offshoot of the move of The Armor School to Fort Benning as part of the Army's Base Realignment and Closure (BRAC) process. Armor and infantry are now together in the U.S. Army Maneuver Center of Excellence. The move has brought approximately 9,000 new jobs to Fort Benning and a total regional population growth of about 22,000, including soldiers, Department of Defense civilians, defense contractors and families.
"The planning process was critical and has produced excellent results," says Gary Jones, executive vice president for economic development and military affairs for the Greater Colum-bus Chamber of Commerce. "The military is evolving into an area that's continuing to grow and flourish."
Because some soldiers have not been able to sell their houses near their previous bases, their families have not yet joined them. That hasn't bolstered the Columbus housing markets, but Jones says, "Apartments in the region are anywhere from 95 to 98 percent full."
BRAC's completion in September 2011 means an additional annual impact of $1.65 billion, a huge increase over the $4.32 billion that Fort Benning was already bringing to the region, according to the chamber of commerce. Plus, $3.5 billion in construction, refurbishment and modernization of facilities is ongoing and includes plans for a new 75-bed hospital at a cost of $330 million and an 860-room lodge on the post that will cost $100 million. The current lodging will convert to administrative use, so as not to conflict with the lodging industry in Columbus.
Recruiting Companies
Jones says the economic development team is actively recruiting even more companies to enable spouses to find work.
"We have anywhere from 3,000 to 3,500 men and women in uniform who annually depart the service through Fort Benning," he says, "and we have estimates that about 70 percent of them like to stay in the region. These men and women departing the military have a good work ethic, they understand leadership, they understand management and sometimes a fact not recognized is they really understand technology.
"A tank is a technological marvel and requires extremely competent and intelligent personnel to maintain it," Jones adds. "It's just not something that goes boom in the night."
Some booms in the daytime marked the first steps toward a longtime project to bring a 2.5-mile whitewater course, one of the world's longest in an urban setting, to the area Columbus calls "uptown."
In late March, the Eagle & Phenix Dam was breached with military precision. About 1,500 people watched the destruction of the initial 50-foot section from the banks of the Chattahoochee. The explosion of a longer stretch four days later sent debris four stories high.
The first breaching, says Richard Bishop, president and CEO of Uptown Columbus, "was that benchmark day that we've been waiting for for so long. We've been working on this project for more than 10 years and probably a lot of people really didn't think it was going to happen, but when you breach the dam, there's no turning back now. Game on. We'll finish it in a little over a year, and we'll have rafters coming down the river. "
The rapids will be Class III and Class IV, challenging enough for Columbus to bid for national and international competitions.
"The dam was a huge benefit back in its day," Bishop says. "It supplied power for the mill, but it's like it's been unemployed for a lot of years and we're going to put it back to work, so that's a good thing for us."
The economic impact for the $23-million project is about $42 million, more than 700 jobs and an estimated 188,000 visitors per year.
Bishop says the benefit of having rafting in a city instead of a remote area is that "when you're actually out in the rural areas, you get out of the water and there's not a lot to do. When you get out of the water here, you can go to the [Columbus State University's Coca-Cola] Space Science Center, you can go to the infantry museum, you can tour the RiverCenter, the Springer Opera House. You can come to Broadway and rent a bike, take a 15-mile bike ride or have a nice dinner and shop in our uptown area. That's the big deal."
Tomlinson says the "Columbus Fall Line Trace," a Rails-to-Trails project, has added another 12 or 13 miles to the 25 miles of Riverwalk.
"Now we're looking at a paddle-to-pedal type tourist attraction," she says. "That's going to make Columbus unique. I think it's going to be as big of an attraction to the spectators as it's going to be to the outdoor enthusiasts. People just want to line up to watch."
Medical Update
While all of this activity will help keep residents fitter, doctors are still a hot commodity, especially in Georgia, and they could come flooding in thanks to a partnership with Mercer University.
In February, Mercer announced it will open a medical school campus in the city through a partnership with The Medical Center (part of the Columbus Regional Healthcare System) and St. Francis Hospital.
Up to 80 third- and fourth-year medical students will be placed at the new campus. Students will begin clinical rotations in Columbus this summer.
"We are excited about the potential of having some type of physical presence of a medical college in Columbus," says Mike Gaymon, president and CEO of the Greater Columbus Chamber of Commerce, "which would seem to make sense for us, and it seems to make sense for Mercer."
Although the partnership is only with the hospitals so far, Gaymon says Columbus hopes to emulate what Mercer has done in Savannah, "where there would be dedicated space and dedicated equipment and dedicated resources to the medical college. But all that is work in progress. We're excited about this first gigantic step."
Gaymon also sees economic ramifications in having students familiar with Columbus. Mercer boasts a high percentage of graduates who have remained in Georgia or returned after completing residencies.
"When you look at the amount of dollars that one doctor's office represents as far as capital investment and jobs," Gaymon says, "you start to look at that as an economic development opportunity as well as a healthcare quality of life issue."
More Manufacturing
Manufacturing continues to be a strong source of economic development activity in the region, thanks to the efforts of Becca Hardin, executive vice president for economic development at The Valley Partner-ship, a regional organization of the Greater Columbus Chamber of Commerce.
"In a very difficult global economy, we were able to maintain some momentum to have some pretty good announcements," Hardin says. "We're true believers that success breeds success, and we've got an excellent economic development team – state, locally, regionally – and we've been able to capitalize on the successes that we've had to get international publicity."
In 2011, more than 1,000 primary jobs were created in conjunction with a capital investment of more than $165 million in the Valley region.
The biggest announcement of 2011 was the expansion of Pratt & Whitney, creating 180 new manufacturing jobs in its engine overhaul facility along with a capital investment of about $20 million. That growth has prompted Hardin to place an enhanced focus on aviation, mainly repair and overhaul.
In the first part of 2012, she says, she has seen a lot of activity involving suppliers looking to be closer to the Kia Motors plant in West Point, which employs more than 3,000 people. In Feb-ruary, Kia produced its 500,000th car.
The economic development office has also started to work with NCR on its supplier network. "When you get large companies that are growing, logistically it makes sense to have their supply chain close to the main plant because of cost," Hardin says.
NCR announced in March that it would expand into a 100,000-square-foot building in Muscogee Technology Park, the area's premier business park, adding 100 more jobs.
Rick Marquardt, senior vice president for NCR Global Operations, says the partnership with Columbus has been "nothing short of fantastic" from the first day that he began scouting locations in 2009.
"Any time we've needed their help, they've been there," he says, "even from training our people with the local Quick Start Program [at Columbus Technical College], which has been just great. They've been willing to do anything we needed to do to help further our plant and find good people."
Its first phase, in Corporate Ridge Park, has about 500 employees, and the second phase will bring NCR closer to its commitment of adding 872 total jobs.
"NCR has been our greatest salesperson," Hardin says. "They've gotten international media on bringing manufacturing jobs back to the U.S., and the Columbus plant has been a benchmark model."
Expecting the defense industry to continue to ramp up in support of Fort Benning's expansion, Hardin says a new business park just inside the main security gate of Fort Benning, called Benning Technology Park, is being developed. The 80-acre Class A office complex, which would house defense contractors to support the Maneuver Center of Excellence, should be ready in 2013.
"Columbus has always been a thriving community," Mayor Tomlinson says. "It's always been a community where people were thinking innovative thoughts and pushing the envelope to do something new. I think you see [that] with the way we went after BRAC, the way we embraced it to maximize that opportunity, and the way we took advantage of the Rails-to-Trails and completed that.
"Looking at the whitewater, we've really changed the face of what the city used to be, and we've just moved forward into that next chapter."
Tomlinson says she could sense the excitement when she attended a Sculpture Walk in uptown Columbus. "You can feel that bustle and that vibrancy and that's where we are," she says. "It's just an exciting time."
Community Snapshot
Local Leaders
Mike Gaymon
President & CEO
Greater Columbus
Chamber of Commerce
706.327.1566 

mgaymon@columbusgachamber.com
Becca Hardin
Executive Vice President,
Economic Development
The Valley Partnership
Greater Columbus Chamber of Commerce
706.257.1190
bhardin@columbusgachamber.com


Teresa Tomlinson
Mayor of Columbus
706.225.3164

ttomlinson@columbusga.org


Population 

(2010)
189,885
Median Household Income
(2010)
$41,331
Unemployment
(February 2012)
Columbus, 9.0 percent
Georgia, 9.1 percent
Top Manufacturers

KIA, Johnson Controls, Kysor/Warren, NCR
Sources
U.S. Census Bureau, Bureau of Labor Statistics, Georgia Department of Labor, Greater Columbus Chamber of Commerce