Brunswick/Golden Isles: Coming Back
Good signs, better numbers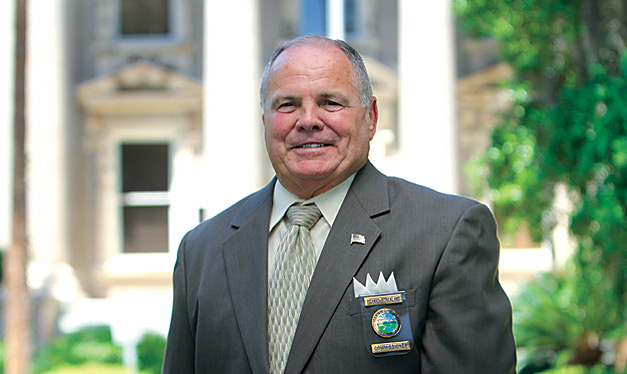 In the depth of the recent recession, it seemed that some of the luster was wearing off Brunswick and the storied Golden Isles of Glynn County: St. Simons Island, Little St. Simons, Jekyll and Sea Island. This region of Georgia's coast was hit hard by the collapse of the housing market, sending unemployment to record highs. The hard times lasted longer here than in much of the rest of the state and nation, but now this scenic area is beginning to see the glow of a recovery that may eventually become a sustained blaze.
"In terms of new job creation, 2011 was one of our best years in recent history, and obviously we take that as a positive indicator that the economy is turning," says Nathan Sparks, executive director of the Brunswick and Glynn County Development Authority.
"There is a lot of work to be done when we're hovering at 10 percent unemployment, but the signs are positive and the trends are positive."
The county added about 1,000 new jobs last year to make something of a dent in Glynn's double-digit unemployment rate. The pace of inquiries from companies seeking a spot to relocate has also picked up to levels not seen since the start of the Great Recession.
Yet the improvements are relative given the depth of the economic downturn. The official timeline for the national recession was 18 months and 24 months for Georgia, but it lasted a full 36 months on the coast. Total GDP, which fell by five percent nationally, dropped 10 percent here, according to a study by the Coastal Georgia Center for Economic Analysis and Student Research.
"We've suffered more than most communities," says the center's director, Dr. Don Mathews. "Unemployment is still a point above the state average as well."
Recruiting Success
Over the last year, Glynn County has both snared new companies and held on to expanding local industry. One big victory was keeping call center operator GSI Commerce. Recently acquired by eBay, the company moved into a 40,000-square-foot facility in north Brunswick, ramping up its workforce to handle telephone customer service for online retailers nationwide.
"The company approached us earlier last year and shared with us they had outgrown their space, and they were beginning to consider their options since their lease was due to expire," explains Sparks. "They had begun a site selection effort through a third-party consultant to identify the best new location for their operations."
After considering sites in different communities, the company chose to stay in Brunswick. That earned the community a double-barreled benefit – retaining a firm owned by a national company and a lot more workers. The company added about 750 seasonal full-time workers during the peak holiday sales seasons, with some 200 to 300 of those potentially becoming full-time positions.
"It was one of those things where we could have lost the whole thing," says Sparks. "We came out winners on both counts."
As an incentive for GSI to stay, the development authority provided a $75,000 grant from its discretionary funds to help the company pay for renovating and equipping the new facility.
GSI had been operating out of a 25,000-square-foot facility in a former outlet mall since 2007. The company leased an additional 15,000 square feet to expand into a space that once housed the administrative offices of a healthcare company. Prior to this expansion, the company's workforce of 300 people had been handling two million calls annually at the Brunswick center.
The county also scored a manufacturing win by luring Scojet, a maker of precision-machined parts for companies such as John Deere and Club Car, away from Augusta. Along with manufacturing operations, the company's corporate headquarters found a home at a four-acre site in the North Glynn Commerce Park, where it built a new 14,479-square-foot building. The company, which also owns and operates another plant in Zhaojiashan, China, relocated seven to eight people to Glynn County, with plans to eventually hire up to 50 more.
The county offered a location package that included discounted land pricing, favorable option terms and a grant from the authority's "Share the Future" discretionary incentive fund, which will be used to provide assistance with building permits and to relocate ma-chinery from the company's Augusta facility.
Synergy
In years past, the development authority had seldom gotten involved in fostering retail development in the county. That changed when Orlando, Fla.-based Darden Restaurants showed up looking for a site for the new concept it wanted to open locally. The "synergy" concept pairs an Olive Garden and Red Lobster in the same building. A common lobby feeds customers to separate dining areas, but food is prepared in a single kitchen.
"When we started looking at the numbers behind the project, we quickly realized that this was not your average restaurant situation," says Sparks. "With that in mind, we became more intrigued with the project and got to a point where we were viewing it as an economic development initiative."
The 8,700-square-foot store, which opened at the end of 2011, represents a $4.5-million investment and created about 175 full- and part-time jobs and more than 100 construction-related jobs. Only the second of its kind in the country, it's also expected to generate about $400,000 in sales tax revenues.
To smooth the move into the community, the authority arranged to take ownership of the site and provide exemption from ad valorem taxes. A lease payment will cover the local school system's share of taxes. The company was incentivized to put more money in the community with an offer of an additional year of property tax savings for every $100,000 spent with local contractors. "When you've got unemployment that is hovering around 10 percent and a lot of people who need a job," the community will be pleased to have an opportunity like this one, says Sparks.
Although it doesn't generate such large numbers of jobs compared to some other operations, the Port of Brunswick has continued to be an engine for development throughout the region. In recent years, the port has grown into the third largest importer of vehicles in the nation behind Newark, N.J., and Long Beach, Calif. Cargo moving through the port increased by more than 40 percent in 2011 over the previous year. In terms of tonnage, its annual volume for auto and machinery units increased 50.6 per-cent in FY2011.
The port's expanded capacity has made it easier for the state to attract manufacturers that need to move products in and out quickly. Caterpillar recently opened a facility near Athens that will likely make use of the port, says Sparks.
In addition, makers of wood pellets such as Georgia Biomass in Waycross are also making heavy use of the port for shipping their fuel product to buyers in Europe. To accommodate this international demand for Georgia's biomass fuels, the port authority and Canadian operator Logistec recently invested $5 million to upgrade the East River Terminal. When the project's first phase was completed this past January, the facility's new capacity tripled to one million tons annually, creating nearly 300 jobs.
A lot more jobs will have to be added to bring Glynn back to where it was pre-recession. After all, total employment dropped by 13 percent here, largely because of the housing bust, according to Mathews.
"We hit a huge housing boom here both in terms of numbers of houses going up and then the value of construction – we really took off," he says. "Home prices did also. The boom caused all kinds of people and resources to be drawn into the construction and real estate sectors. Then when the bust came, the demand for the services provided by these folks just collapsed, and where do they go?"
The economic decline that accompanied the real estate debacle harmed a wide variety of businesses, as well as local government. The county's tax digest decreased by more than 30 percent in value, prompting a round of belt tightening. So far the county has managed to avoid layoffs, furloughs and tax increases while continuing to deliver services, according to Commission Chair Richard Strickland.
"This upcoming 2013 budget year is going to be pretty tough," he explains. "We're looking at all options to see how we're going to bring in a balanced budget. All those things are on the table."
Despite the lean times, the county is getting ready to build a new $22.8-million, 610-bed detention center, which is expected to open in late 2013.
Brunswick has also had its share of budget woes. The city's general fund declined from $21 million to $15 million a year, making for some painful choices for the budget.
"This budget has been challenging to work with," says Mayor Bryan Thompson. "We have been able to work with it, but we've cut out a lot of frills."
While services have continued, some are taking longer to deliver. There has been more fixing and renovating and less buying new. Employee hours were reduced by two days a month for a couple of years until a pick-up in revenues last year. Contracts have been renegotiated to get better deals, such as a new one for municipal waste disposal that produced $150,000 in savings.
There's also been an upsurge in new business throughout the city. Not long ago, a South Carolina investor purchased two old service stations and an assortment of yellow brick buildings on Highway 17 just south of the causeway to St. Simons Island. They were quickly replaced with a Wave Beach and Surf Shop as part of a new shopping center.
Bright Spots
Two bright spots for both the city and county have been education and healthcare. Southeast Georgia Health System is the area's biggest employer and has been expanding its physical facilities rapidly to meet increased needs for medical care.
The College of Coastal Georgia (CCG) has also been on something of a building boom as it makes the transition from a two-year to a four-year college. It's invested about $70 million over the last few years in infrastructure, including on-campus housing, a major 50,000-square-foot campus student center and a health and science building, along with renovations of some existing buildings. The most recent building project is the Correll Center for Teacher Education and Learning.
"By the end of this year, every building on this campus save for one will have either gone through a significant renovation of some sort or be brand new," says CCG President Valerie Hepburn.
In a move to spur development in the city's more de-pressed areas, Brunswick has gained approval for several Opportunity Zones. Within these zones, employers can get a $3,500 tax credit for each new employee (minimum of two) or each employee who is brought in with a new company. The tax credit is for up to five years, and the life of the Opportunity Zone is 10 years.
A few years ago, the city had big plans for high-end mixed-use developments. Those plans mostly died, but some more modest efforts are now under way.
"We're starting to see it come back," declares Thompson. "A few years ago we had done some serious horse trading with the board of education for a 21-acre site that we owned that's now the new Glynn Middle School. We received three schools in exchange for that and other structures."
The city would like to convert those properties into sites for low- and middle-income housing – a pressing need in Brunswick. While high-end condos are not likely to come back anytime soon, tax credits could prompt developers to start with a more modest product.
Developers have also finished up renovation of the old Woolworth store at the intersection of Gloucester and Newcastle streets. The building now has retail and office on the first floor and a mix of residential and office condo on the second.
"It's our first condo downtown that has condos, commercial and residential space," says Matthew Hill, director of the Brunswick Downtown Development Authority. "They're rented, but there doesn't seem [to be] much interest in purchase. It's new to Brunswick, so people are a little unsure of what it is."
There could be more incentive to invest in these types of development after the city and county reach agreement on the construction of a new conference center. The two entities have been discussing the possibility of such a development on the site of the old Oglethorpe Hotel. Since the original structure was demolished in 1959, the spot has been a Holiday Inn and the county health department. The time may finally be right for moving forward on this latest project, since both governments have SPLOST funds in hand that could be applied to the construction, according to Hill.
Tourism has long been a driver of the area's economy, and lately that has been picking up as well. Visitors to the Golden Isles have been plentiful. The city of Brunswick has even become something of a cruise ship destination. Small liners that ply the Atlantic coast from Charleston to Jacksonville are stopping more frequently – up to 30 stops a year now. The ships dock at the renovated Mary Ross Waterfront Park for a 36-hour stopover. In between trips to Jekyll Island and shrimp boat cruises, many of the passengers fan out into the city.
"They're cruise ship passengers, so they can't carry anything large back," says Hill. "Most of their purchases are services-oriented – going to the pharmacy or the hair salon. On the other hand, merchants tell me that people have come here on a cruise and come back later because they liked the area."
Community Snapshot
Local Leaders
Nathan Sparks
Executive Director
Brunswick & Glynn County Development Authority
912.265.6629
snathansparks@bwkeda.com
Richard Strickland
Chairman
Glynn County Board of Commissioners
912.267.9643
rstrickland@glynncounty-ga.gov
Bryan Thompson
Mayor of Brunswick
912.270.0632
mayorthompson@gmail.com
Population
County, 79,626 (2010)
Brunswick, 15,383 (2011)
Per Capita Income
(2011)
$39,160
Unemployment Rate
(February 2012)
Glynn County, 10.3 percent
Georgia, 9.3 percent
Top Employers
Southeast Georgia Health System, Sea Island Company, Georgia-Pacific, Walmart, King & Prince Seafood, Rich Products Corporation
Sources
Brunswick and Glynn County Development Authority, Georgia Department of Labor, U.S. Census Bureau