White County: Brightening Prospects
Adding technology to tourism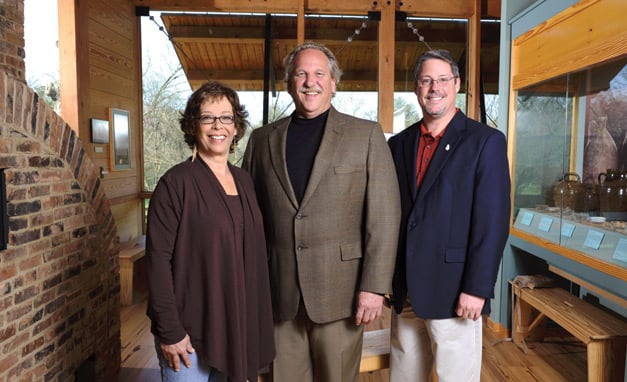 Located in the northeast corner of Georgia, White County is a study in contrasts. There are lush forests and majestic mountain vistas that call out to lovers of nature and beauty. Some visitors are charmed by Cleveland's small-town square with its well-preserved 19th-century courthouse; others walk Helen's busy Alpine-themed streets. Then there's BabyLand General – appealing to generations of children who love the handcrafted dolls made there.
Tourism has been the bread and butter of this region since lumber and asbestos mining faded away. Now White County is getting ready for another chapter in its history, as local leaders hope technology will bring a little bit of the wider outside world – and some good-paying jobs – to the county.
"A lot of things are falling in place that will put us in a good economic position not only currently, but for the future as well," says Tom O'Bryant, community and economic development director for White County.
Back in February, he and other leaders threw the switch to light up what they see as the technology for a new era of prosperity. The North Georgia Network installed the first Core Point-of-Presence (C-POP) on its high-speed fiber-optic network at White County High School in Cleveland. Funded by $42 million in federal stimulus grants, the 1,100-mile fiber-optic network will bring high-speed broadband connections to residents and businesses in eight North Georgia counties. The C-POPs are the points on the network's main 260-mile loop where service can be built out to nearby areas, running fiber optics to industrial parks and schools, as well as individual businesses and homes.
"We will now have a world-class fiber-optic network that offers the fastest broadband speeds in the world," says O'Bryant.
The Cleveland C-POP is the first of six along the network that connects back to an Internet hub in Atlanta from two directions and circles through the eight-county region. The fiber-optic core itself travels through the heart of White County, providing thousands of connection points where residents and businesses can hook onto high-speed Internet.
"We'll be able to lay the foundation for becoming a technology-based economy, and the network itself has the capacity and bandwidth for all kinds of applications for companies that require high amounts of broadband capacity," O'Bryant explains. Companies that need to move large amounts of data, including large files for industrial applications, can now do so easily – a feat that would not have been possible before construction of the network, he adds.
"As cloud computing begins to emerge, it allows us to target those companies that are looking for a gigabit [capable] network, and that's the capacity available for them to operate here," he says.
Along with this direct benefit for businesses, another economic development driver will be schools offering web-based distance learning opportunities.
Additionally, although White Coun-ty lacks its own hospital, local patients will soon be able to access the exper-tise of outside specialists through tele-medicine.
While tech companies with their high salaries are the dream of every rural county, the network is likely to be a boon to many companies, since nearly all now use technology of some kind.
"They're going to locate in a place that has this kind of access so they can compete in the global economy," says O'Bryant. "It allows us to have a piece of infrastructure that we didn't have before, and they couldn't even consider us before we had it in place."
Better outlook
White County, like the rest of the region, has been hard hit by the economic downturn of recent years. Now, after a period of belt tightening, prospects have started to brighten. The county's biggest employer has undertaken a massive expansion program to meet increased demands for its products.
Freudenberg-NOK, a maker of oil seals, is riding the upsurge in auto sales. Current employment stands at 594 – up more than 20 percent in the last year. Company officials are hiring additional engineers and even adding more hourly line workers as well.
The Cleveland operation is part of the company's Sealing Technologies division that designs and manufactures a wide variety of oil seals used in crankshafts, axles, reciprocal shocks and valve seals. A vertically integrated operation, the plant mixes and blends its own rubber and stamps its own metal cases, enabling it to custom-design products to buyer specifications. About 200 million parts are made annually for a wide variety of companies including automakers such as GM, Ford, Chrysler, Honda, Toyota and Nissan. The company also sells to other suppliers that build transmissions, shocks and axles, including Briggs & Stratton and Honda Power Equipment.
"Because they're a private company, they're able to make adjustments within the world economy and beat their competitors," says O'Bryant. "They've made large changes by upgrading to new technology and meeting the demands for those industries."
Upgrading infrastructure to help drive economic development has become the top goal for White County. In the coming year, county leaders will be seeing the beginning of a project to remedy a nagging problem – the lack of a four-lane highway to transport goods, services and people.
Earlier this year, state transportation officials formally requested bids for a new bypass around Cleveland to relieve the daily traffic jam of cars and trucks flowing into the city. A 4.6-mile, four-lane road will connect U.S. 129 at the newly built Walmart to Ga. 75 north of downtown.
"We see the proposed bypass as an economic driver for the community," says White County Commission Chair Travis Turner. "It will be good for companies that will be able to move goods and service faster through Cleveland."
Rumor has it that other retailers are likely to join Walmart on the route, spurring a business ring to the west of the city. The good news – and bad news – is that it will divert traffic away from the downtown. That could mean fewer customers for shops around the square, but it might also be a bit more pedestrian friendly. Crossing the streets around the historic courthouse can be challenging during morning and afternoon traffic jams and the peak tourist season.
Many homes and businesses got something of a price break last year when Atlanta Gas Light decided to build a $6-million, 10-mile-long natural gas pipeline from Hall County to Cleveland. An additional line is now under construction that will carry gas 12 miles from that city up to Helen. Prior to the line, heating came from propane shipped in by truck.
"We were able to take advantage of the low cost of natural gas immediately," says O'Bryant. "The line enabled companies such as poultry producer Cobb-Vantress to immediately reduce their gas expenditures. Restaurants along the way tapped on and cut gas costs by two thirds."
The county's two cities are busy preparing for growth with beefed-up infrastructure. Cleveland just expanded its wastewater system in a $3.5-million project. Helen pumped $1.5 million into an expanded wastewater system, and both towns have put about $1 million into water tanks.
"On the planning side, we just recently adopted our first bike pedestrian plan," says O'Bryant. "We're currently pursuing a 'safer routes to school' plan. We want to create a more pedestrian-oriented community around Cleveland."
Education, Training
With all the talk about the coming of world-class broadband to the area and its attraction to new industries has come a realization that trained workers will be at a premium. Some of them are likely to find the right skills at a new STEM (science, technology, engineering and mathematics) charter academy. It's being built in an alliance with nearby Lumpkin and Hall counties.
"The focus of that program is higher education and technical science oriented fields, and what's interesting is we're able to use this fiber-optic technology to help facilitate," says O'Bryant. "It's important for us because we can begin to attract companies based on our new infrastructure, but also highlight the benefits of our education system. That's important for employers and for their employees."
Education is one industry that is doing well here. Truett-McConnell College in Cleveland recently completed an $8-million expansion project, the largest in school history. The project included a new dormitory, renovation and expansion to the school's dining hall and a new wing on an administrative building. The residence hall added 173 beds, raising the school's on-campus population to 541. The project doubled the size of the dining hall. The new administration building houses Truett-McConnell's World Missions Center and a new Creation Research Center along with classrooms and a 106-seat auditorium.
White County was once called the "gateway to the mountains," and its sights have long attracted visitors. Locals have been nothing if not imaginative in giving them reasons to return again and again. Boosters in Helen, originally just a small lumber town on the Chattahoochee River, decided many years ago to adopt an Alpine theme that now permeates the bustling downtown.
Even today, tourism is one of the area's biggest industries, generating more than $50 million annually in revenue and helping maintain 540 jobs.
"Helen is a destination that most folks know about in Georgia and the surrounding states," says Jerry Brown, executive director of the Alpine Helen/White County Conven-tion and Visitors Bureau. Helen, along with the rest of White, has been experiencing a steady upsurge in visitors following the sharp drop-off when the recession hit in 2008, he adds.
While the city is an evergreen attraction, the CVB has lately taken to expanding its promotion to introduce visitors to the many other attractions in the county. There are now more stops on the wine highway, with two new wineries and tasting rooms joining longtime favorite Hab-ersham Winery, which was for many years the only game in town.
There are also more families visiting Cleveland's BabyLand General. The last Christmas season was brisk for "adoptions" of the handmade soft sculpture Cabbage Patch dolls, and 2012 is also looking good, according to BabyLand General's Margaret McLean.
"We're hoping that people will rediscover what is close to their home, such as our area coupled with Alpine Helen and Dahlonega," she says. Once families visit, "It's pretty hard for them to leave BabyLand without finding a new member of the family," she adds.
Since BabyLand moved from its cramped quarters in Cleveland to a spacious 60,000-square-foot facility on 650 acres outside town in 2009, the store has averaged about 200,000 visitors annually. People who came here with their children years ago now come back with grandchildren to relive the experience of seeing a "baby" emerge from underneath a cabbage leaf in the hospital.
That mystique has helped keep the dolls – some of which retail from $200 to $300 each – selling briskly even though there are cheaper mass-market versions available as well.
Farm Report
South of Helen, the State of Georgia is renovating the recently acquired Hardman Farm. The descendants of Lamartine Hard-man, Georgia governor from 1927 to 1931, donated the stately Italianate mansion and some 20 outbuildings on 173 acres in 2000. Since then a lack of funding has slowed the $3.5-million project, which recently won an Excellence in Restoration Award from The Georgia Trust for Historic Pres-ervation, but eventually it will be fully restored to its former glory, as it was when Hardman lived there.
Quite a bit of work remains on a property that was in a condition John Erbele, general manager of Smithgall Woods, the adjacent state park, characterizes as "genteel shabby."
"We've finished part of the entrance road and hopefully any day now we'll get a [federal transportation] grant so we [can] prepare to do phase three – the parking area, bathrooms and connecting roads to this parking area," he explains. "Then we can entertain perhaps a soft opening, although there's no real money identified for staffing. So it's a moving target."
Once the restoration is finished, visitors will get a glimpse of one of the state's more remarkable citizens. Along with his political career, Hardman was a banker, insurance broker and physician. While at medical school in Europe, he discovered a variety of innovative agricultural methods that he brought back to the state. After purchasing the property in the early 1900s, he undertook farming on a large scale.
The farm is part of the larger 6,000-acre Smithgall Woods State Park, comprising land donated by newspaper publisher Charles A. Smithgall Jr. in 1994. It includes the Lodge at Smithgall Woods and a collection of upscale cottages fronting the stream coupled with an upscale restaurant.
Throughout White County, there is a new sense of optimism that this region is on the verge of new growth as it readies itself to meet the future.
Community Snapshot
Local Leaders
Tom O'Bryant
Director
Community and Economic Development
706.865.6768
tobryant@whitecounty.net
Jerry Brown
Executive Director
Alpine Helen/White County Convention & Visitors Bureau
706.878.2181
Travis Turner
Chair
White County Commission
706.865.2235
travis.turner@whitecounty.net
Population
(2011)
White County, 27,144; Cleveland (county seat), 3,410; Helen, 510
Per Capita Income
(2010)
White County, $23,680
Georgia, $25,134
Unemployment
(December 2011)
White County, 9.4 percent
Georgia, 9.4 percent
Top Employers
Freudenberg-NOK, Cobb-Vantress, Truett McConnell College, Walmart
Sources
U.S. Census Bureau, Georgia Department of Labor, U.S. Department of Commerce, White County Community & Economic Development Office