Walton County: Successful Transition
A focus on the next steps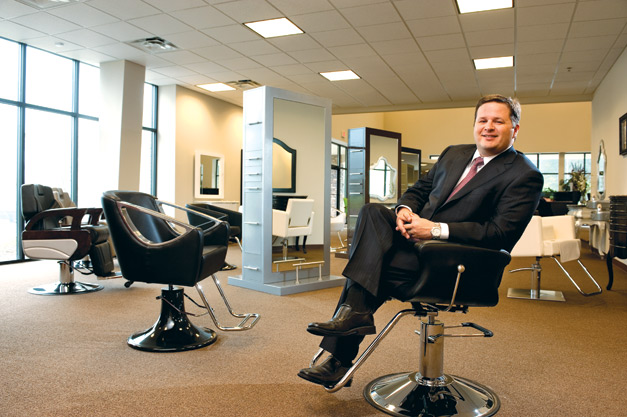 Although it is situated companionably be-tween Atlanta and Athens, Walton County has an autonomous streak that would have made its namesake proud.
More than 200 years after George Walton signed the Declaration of Independence, the county's new branding, "Stretch Out," declares there's room to grow your business and raise your family within its borders, as well as the freedom to reach for your dreams.
"We don't want to become Atlanta or Athens," says Jimmy Parker, chairman of the Walton County Chamber of Com-merce. "I think we're uniquely satisfied being Walton County.
"And being who we are, we just want to reinforce what we have here, redevelop some of our older historic downtown areas for shopping and commerce and continue to protect the quality of life that we enjoy."
Affordable land, good schools and a relaxed pace have helped Walton County's population increase from 60,687 in 2000 to 83,768 in 2010. With a 22 percent average growth pattern per decade, according to the chamber, Walton County has been one of the fastest growing counties in the nation.
Kevin Little, the chairman of the board of commissioners, has worked diligently to build successful relationships with other stakeholders in nearly 12 years on the job.
He says that in the 1990s, Walton County was caught in a rapid rural to urban transition that was a hard adjustment for residents. In the early 2000s, Little says, "by us coming together and working as one unit, then the people began to get confidence in their local leadership and the local visions that they had."
Economic development has been robust. In 2009, the Georgia Economic Developers Association presented the Deal of the Year Award to the Walton Development Author-ity, led by Executive Director Nancy J. Kinsey, for landing the $42-million, 1.5-million-square-foot General Mills ware-house distribution center in Social Circle. When it opened in 2010, it became the largest LEED Gold Indus-trial certified building in the country.
That came on the heels of the Solo Cup Distribution Center also locating to Social Circle. Says Little, "People know that if you want to move to Walton County, they've got it going. They know how to set you up and bring you here."
Last year, Minerva Beauty Inc., which makes and distributes salon equipment, moved to Monroe from Duluth, bringing about 30 jobs. Building in an industrial park owned by the development authority made its 100,000-square-foot building, which includes an 11,000-square-foot showroom, easily accessible off I-20.
"It's a different place out here. You're close enough to the city, but at the same time you're removed from all that," says Jay Rawl, president and CEO at Minerva. "It's a great place to raise a family. I grew up in Snellville; it's what Snellville was 20 years ago. A lot of people I grew up with have migrated this way as well."
Rawl chose to locate Minerva on the newer side of the park.
"My leap of faith is to help to draw other business," he says. "Unfortunately I'm not Caterpillar, but they did make the property attractive and they did a lot of what we asked. They had to bring sewer to this whole side, and you know that's not inexpensive."
Revitalization
Kinsey was hired to lead the development authority in 1994 to help encourage new business and bring more jobs. "We went from cut-and-sew and textile mills to an era that is very diversified," she says. "One of the statewide folks said, 'You guys don't have any land, and you don't have anybody to sell it.' Those became two top priorities."
The first investment was a 124-acre industrial park. A Japanese company, Unisia of Georgia, which recently merged with Hitachi Automotive Systems Ameri-cas Inc., bought 70 acres and now, in its 15th year, is considering major expansions.
The authority then bought 174 acres, and a Walmart distribution center took 124 of those. Tucker Door & Trim purchased a spec building on the site and then built another structure next door.
Kinsey, who says the development authority is fortunate to have no debt service, would like to purchase a large tract of land in Social Circle, which has utilities in place and is close to I-20.
"Our county is wonderful to work with and they support everything that we're doing, just nobody has money," she says.
Walton County owns part of the 1,500-acre four-county industrial park, which sits on I-20. If the park lands a top company, Walton County could provide nearby property for manufacturing.
"We'd love to buy some more land," says Morris Jordan, chairman of the development authority, "but in this current economic environment, it's a matter of filling the land that we have, and that would put us in position to buy more."
Jordan says the county hopes to continue to attract quality industry, especially manufacturing facilities that normally have a higher pay scale than distribution centers, "so that we've got opportunity for our kids to be able to stay in the county once they get through with school and make a living here."
Walton County achieved Georgia Certified Work Ready program status in 2010. Athens Technical College, which has a branch in Monroe, could add to its curriculum to accommodate the needs of a new business in the county. The school already has a culinary program.
Kinsey is encouraged that local companies are continuing to invest in the county through planned major expansions.
Little says bringing new jobs to the county remains a focus. "I figure in the last 24 to 36 months," he says, "we've probably brought 400 to 500 jobs to Walton County and have not had any major closing other than the economic downturn, which brought the housing market to a halt."
In Monroe, the county seat, there's excitement over the opening of the new Clearview Regional Medical Center, which will replace the Walton Regional Medical Center.
The Georgia Department of Transportation will extend Highway 138 near the hospital, "which will be another economic boon for the city," says Monroe Mayor Greg Thompson. "I see little businesses popping up all over the place, hopefully a hotel."
Monroe also received a $1.6-million Livable Centers Initiative grant from the Atlanta Regional Commission for pedestrian improvements along North Broad Street, Thompson says.
Old mills have proven popular for conversion into antique businesses, which have made Monroe a destination for treasure hunters. "There's a lot of energy around the antiques right now," says Emily Russell, the Downtown Development Authority/Main Street director. "That's something we want to continue to capitalize on."
Although downtown Monroe does have empty storefronts, Russell says a new farmer's market starting in May could help foster activity downtown every Saturday into the fall.
"We're trying to keep the morale among the downtown merchants and among the citizens of Monroe strong right now," she says.
Alas, the annual Crepe Myrtle Festi-val, which last took place in 2010, ap-pears to be too far gone to save. It once drew thousands, but Little says that after its move out of the downtown Monroe area, "It kind of just dwindled away."
Monroe still offers other annual festivals and concerts, and The Playhouse is the local venue for live theater.
Stretching Out
The Chamber's Stretch Out branding is being used in a promotional campaign inviting people to stretch their dollars inside the county.
"We did a bilingual video about the importance of buying local," says Teri Wommack, president of the chamber of commerce. She says the mascot they've dubbed "Stretch," a figure of a man reaching for the sky, in the video became "Super Stretch to save the day."
As Walton County strives to provide more reasons for its citizens to spend money close to home, Loganville could reel in a big prize: a movie theater.
City Manager Bill Jones says Logan-ville is talking with some chains and hopes to put a theater along Highway 81 at the 215-acre Walton Pond Site.
"We feel very strongly that if we can land some retail on that side, that will open up that whole corridor for Walton County," Jones says. "If we can get the first one out of the ground, then we're moving."
He says Loganville put together an economic incentive program, which includes reducing or eliminating certain fees, in December to attract businesses such as Kohl's or a LongHorn Steakhouse. "We're itching to have our first person come along and take advantage of it," he says. "We don't have the rail systems and some of the other things like Social Circle, so our claim to fame is retail."
The city with one of the world's most hospitable names, Social Circle, has plans for a sidewalk from its downtown area to its top tourist attraction, the Blue Willow Inn.
"With 250,000 people a year coming to the Blue Willow, we want to try to capture them and make it easier [for them] to come downtown," says Mayor Hal Dally.
Social Circle yearns to be a bustling town again and has plans for revitalizing its historic 1880s downtown block with more restaurants and antique stores. Future plans include development of the depot area and an Old Mill Village. Dally says that in 1850, Social Circle had five hotels and four saloons. "It was a wild west town." Now there's one restaurant with liquor by the drink. "We want to recapture some of that rail history and turn that whole depot area into a destination," Dally says.
An Opportunity Zone includes all of historic downtown. With the city's population increasing from 2,780 to 4,262 in 10 years, the demographics became more attractive for local businesses. "We had four State Farm agents fighting for the territory," Dally says. "The biggest draw we've got is our school system; that's the crown jewel. Even during the downturn, we continued to have people move in."
Social Circle is appealing to big business as well. "We've got water, sewer, gas, rail and I-20 access in the city," Dally says, "so if we can't catch them going down I-20, nobody's going to catch them."
Social Circle did catch the eye of a film company working on a documentary on six small towns in the United States with a population under 5,000. "They said that we were the most vibrant town they'd been in," Dally says.
Mike Miller, executive director of Social Circle Better Hometown, says that with a 55-and-over housing development and assisted living and nursing homes, "If you love Social Circle, you never have to leave."
Lofty Goals
The slogan "We are on the way!" describes Walnut Grove's location on some of the county's main arteries, but it aspires to be more than just a place to pass through.
Walnut Grove High School and the Walnut Grove Parkway, which paves the way for a downtown area, opened in 2009 and will be complemented in July with a new library.
But what Walnut Grove sorely needs is a sewer system. In partnership with the county, private funding is being sought.
"That will mean everything to us," says Mayor Lamar Lee. "If we go to the big boxes or big companies, that's the first thing they want. 'Do you have sewer?' And we don't have it."
He says Walnut Grove hopes to attract a grocery store and a pharmacy, which would particularly help its elderly population.
"Walnut Grove just sat here for a long many years," Lee says, "but we're beginning to get on the map now."
Little, the commission chair, agrees. "Probably in the next 10 years, you'll see Walnut Grove the fastest growing city in Walton County if we get the sewer in and get it up and going," he says.
Little says the economic slowdown did have a silver lining. "It has actually let us catch our breath a little bit on the infrastructure," he says, noting that the county fell behind in the transition from rural to urbanization.
The county has improved water lines and is working on road and intersection improvements. It has obtained permits and is buying land for Hard Labor Creek Res-ervoir in partnership with Oconee County.
Little is proud that Walton County voters approved a SPLOST in 2001 to build the county administration building, expand the jail and complete several road maintenance and parks projects. Another SPLOST project list in 2006 included two community centers, a driver's license facility, a Georgia State Patrol facility, a state-of-the art animal control facility and improvements to the county's 911 system.
The 2013 SPLOST, totaling $60 million worth of proposed projects, covers two new fire stations and a new jail – the underbelly of new growth – some roads and parks and recreation.
Walton County's investment in athletic facilities has turned it into a destination for baseball tournaments, which bring in tourism dollars 15 to 18 weekends a year.
"That's a big economic engine for Walton County," Little says. With only one small hotel in the county, most visitors have to stay in surrounding counties, so a new hotel could be in the cards.
The goal in Walton County is to stretch out without stretching itself too thin.
"The way it is now," Jordan says, "you can't stand still, because if you do, then you're just going to get run over.
"You've got to control it to the point where you're able to keep the small town feel … but moving forward all the while."
Community Snapshot
Local Leaders
Kevin W. Little
Chairman
Walton County Board of Commissioners
770.267.1301
klittle@co.walton.ga.us
Nancy J. Kinsey
Executive Director
Development Authority of Walton County
770.267.6594
nkinsey@waltondevga.org
Teri Wommack
President
Walton County Chamber of Commerce
770.267.6594
teri@waltonchamber.org
Population (2010)
County, 83,768; Monroe (county seat), 13,234; Loganville, 10,458; Social Circle, 4,262; Walnut Grove, 1,330; Between, 296; Good Hope, 274; Jersey, 137
Unemployment
(December 2011)
County, 9.8 percent
Georgia, 9.4 percent
Top Manufacturing Employers
Walmart Supply Chain, Hitachi Automotive Systems Americas, Standridge Color Corporation, Leggett & Platt Inc., General Mills, GoodYear Tire & Rubber Co., Tucker Door & Trim Corporation
Sources
Walton County Chamber of Commerce, Georgia Department of Labor, U.S. Census Bureau