Smooth Sailing
Georgia's credit unions have grown and prospered during difficult economic times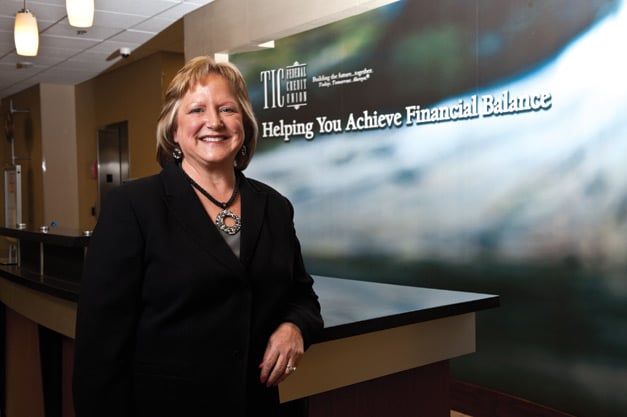 Georgia's credit unions managed to glide easily through what became difficult times for other financial institutions. Continuous expansions, membership growth and rising assets stand as testaments to conservative lending practices and a family atmosphere among the state's credit unions.
Credit union executives say a volatile stock market, waves of bank closings and, more recently, the threat of additional fees by giant American banks generated anger among the customers of those banks and brought them and their business to credit unions.
The risks for these institutions are minimized, says Mike Mercer, president/CEO of Georgia Credit Union Affiliates (GCUA), because credit unions don't lend out of their markets, making them more familiar with their customer base and their credit worthiness.
"By combining that with having strong capital going into the [economic] crisis, they've been able to weather this downturn very well," he says.
And there is that subtle difference in being a bank "customer" and a credit union "member," which implies credit union depositors and borrowers are more a part of the process.
In fact, credit unions are showing growth in almost every category of financial services, from business loans to personal checking accounts.
There are some 150 credit unions belonging to GCUA, and their combined membership tops 1.8 million, thanks to an explosion of growth in the last five years as many Georgia banks failed.
"A lot of that had to do with the fact that credit unions don't have to take much risk in their lending activities," says Mercer. "They didn't tend to get stuck with too many bad mortgage loans, and virtually none of them were involved in speculative real estate development, which was the big problem in the Atlanta metro area."
Mercer says membership has grown substantially over the past three years due to instability on Wall Street and a financial faux pas by a couple of banking giants.
In the early part of that period, new customers "were trying to get their money out of the stock market and put it someplace where they wouldn't lose it," he says. "In more recent times, the money is coming in here because the consumer advocates are telling people they ought to get with credit unions."
Further buttressing of the credit union appeal for new customers came last October, Mercer says. "[It was] then Bank of America did their checking account fee, and that just led people into a rebellion mode; so we got a lot of new business and account openings," he says, noting that new business openings since then have been higher than normal by about two to one at most credit unions.
"Wells Fargo started talking about instituting a fee for having a debit card. People got upset with the banks, and there was a movement that [was] started spontaneously on the web by a lady out on the West Coast. They created this Bank Transfer Day, and that was in November. For credit unions, that day wasn't any different than any other day. But other days since the announcement of those fees have seen higher membership growth rates for credit unions," Mercer says.
Georgia credit union executives have been forwarding comments from new customers in the wake of the bank rate hike announcements. "The description a lot of them are pas-sing on to us is that people are coming in and saying they've finally had it," he says.
Here's a look at some successful Georgia credit unions and how they have prospered in recent years.
New Markets
First, a relevant history lesson: Shortly after the Berlin Wall came down in 1989, Eastern European nations, led by Poland, began a fresh experience with democratic rule, with Polish President Lech Walesa leading the way. One of the footnotes of that moment in history had Walesa attempting to turn former Communist party members into credit union members.
"After a long time with the Soviets, they [Eastern Europeans] had no experience in everyday life with democratic organizations," says Mercer. "They used credit unions as a way to get people experienced in dealing with democratic forms of organizations." And one particular Georgia credit union developed its own Easter European strategy.
Marshall Boutwell, president and CEO of Gwinnett Federal Credit Union, has his own history with Poland through his participation in a cultural exchange program called the Georgia-Poland Partnership, which linked up executives of Polish credit unions with those of Georgia credit unions. "When I got over there, I realized consumer finance was very antiquated in Poland and the credit unions were trying to bring consumer financial services and products to the marketplace for people who had never had them," says Boutwell.
"When I got back from that trip and was more aware of what was going on in countries that were behind the Iron Curtain, I quickly came to realize we had members in our credit union, people who were working for the local school system who were brought over here by world relief organizations to get them out of the war zones, and some of them settled in Gwinnett Coun-ty." Those refugees were from Bos-nia, and they had an impact on the business model of Boutwell's credit union.
"It was back in the '90s when we were booming, and they started coming into the credit union looking to borrow money," Boutwell recalls. "They were borrowing a thousand or two thousand dollars, which is all we would lend them because they didn't have any credit history."
His Bosnian customers, he learned, were using the cash as down payments to buy cars from buy-here, pay-here dealerships and paying double-digit interest rates. "Our policies were preventing us from making car loans to those people," Boutwell says.
"So we changed the policies and turned them into guidelines, and we started reaching out to the Bosnian community." Word spread through the community that the credit union was a friendly source of financing with reasonable interest rates. Boutwell estimates Gwinnett Federal now has between 2,000 and 2,500 Bosnian members and has hired several Bosnian employees.
"That helped us with the language barrier," he says. "We became the Bosnian bank in Gwinnett County. When you see a need, finding a way to fill that need is a logical, commonsense way to do business."
Gwinnett Federal was originally a Decatur County-based credit union serving local educators. Today 60 percent of the credit union membership lives outside Gwinnett County, which has the state's most diverse population, a community where more than 100 languages and dialects are spoken.
"This is not your granddaddy's Gwinnett County, or even your daddy's Gwinnett County," Boutwell says. Riding the waves of cultural change since its founding in 1961, Gwinnett Federal has grown to 30,000 members with assets of $157 million, with recent growth in a down economy being the most impressive.
"Gwinnett Federal has grown by 100 percent over the past five years, "Boutwell says.
Military Clientele
Janet Davis keeps her eyes on foreign lands where hundreds if not thousands of her credit union members are serving in the U.S. Army and do their financial transactions by long-distance technology.
"We've been proud to serve the military since 1956,"says Davis, president and CEO of TIC Federal Credit Union, TIC being The Infantry Center at Columbus's Fort Benn-ing. "Most recently, through all the wars that have been going on, we've done a lot to help them and their families transition back and forth." It's not unusual for a TIC transaction to originate in Afghanistan or Iraq, says Davis, who tends to reference military events freely in her conversations.
"I've been with the cred-it union 30 years, and when the first Desert Storm came through, technology wasn't what it is today," she says. "I think it is so much easier on the soldiers be-cause they can look at their finances online and they can Skype their family members. The soldiers can conduct credit union transactions from a war zone. Our whole business model is purely strategically directed toward how that service member or family member wants to be served."
TIC has grown 20 percent in the past three to five years and now has $245 million in assets, thanks in large part to an expansion of the Fort Benning mission that has brought 23,000 new troops and their dependants, plus contractors and vendors.
"We now have 42,000 members worldwide," Davis says. "If you understand the economy of our region, Fort Benning is the hub. Pretty much anybody that lives, works and worships in our area is either military, civil service or retiree, and that gives us the opportunity to serve a wider global market." She says TIC has grown through the expansion of its local market into seven counties in Georgia and Alabama, with plans to soon move into Alabama's Lee County, known locally as "the backyard of Fort Benning."
"And I think because of safety and soundness, the economy has pushed a lot of people toward credit unions."
Technology Upgrade
In February, Mark Bartholomew trotted out some new technology before a focus group of 4,200 members of Georgia United Credit Union (GUCU) to see if they like the idea of depositing checks through cyberspace. They do. "The response we got was overwhelmingly positive for the product," says Bartholomew, the CIO of GUCU, which has its headquarters in Duluth with 16 branches around the state. The product is Swift Deposit, aka Remote Deposit, which Bartholomew says is perfect for a substantial portion of his credit union's membership.
"It is currently in both an iPhone and Android app that you download to your phone," says Bartholomew. "When you open up the application, you log onto your credit union account and it prompts you for the amount of the check. Then you take a picture of the check and then submit the check."
The whole process, he says, takes about 20 seconds, ideal for those on the go. "Of all the mobile products we've offered in the past, our adoption rate has been higher in the 30-45 years of age" range.
Those demographics include young families and earners approaching their peak earning period. Bartholomew says his tech team spent "months and months" testing Swift Deposit before offering it to his credit union's 115,000 members. "Our primary membership was and is educators," says Bartholomew. "We are the largest educators' credit union in Georgia." And it will get larger following GUCU's recent merger with the state employees credit union. "We're really pushing ourselves statewide," Bartholomew says. "We now have members in every county in Georgia."
Still Growing
Rick Foley presides over the largest credit union in Georgia, Delta Community Credit Union (DCCU), which boasts a membership of 240,000. The credit union with the familiar name began in 1940 when eight aircraft mechanics formed the financial institution. For decades, the credit union was a clubby little part of the Delta family.
But by 2004, Delta had added Community to its name and began reaching out for non-Delta employees, eventually adding 11 contiguous counties in the Atlanta suburbs to its service area. "We were growing some years by eight to 12 percent," says Foley, president/CEO of Delta Community Credit Union.
"It's not dramatic growth but it is steady." And that growth rate continued through difficult economic times. "This past year we had growth hanging around that eight percent level."