Albany/Dougherty County: Good Business Moves
Relocations, acquisitions, expansions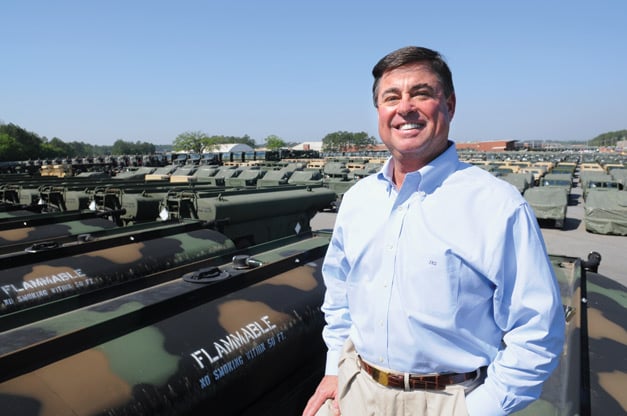 When Mark Grimaldi announced in December that his Albany-based Equinox Chemicals had acquired a 104-year-old Missouri company, Adco Cleaning Products, and was bringing it home, the move marked what seems to be just another step in a continuing growth process. "We bought this Missouri company and relocated it to Albany just for all the advantages you get having a business here in Georgia versus having a business in Missouri," says Grimaldi, the founder and CEO of homegrown Equinox Chemicals Inc.
The Adco purchase brought 46 jobs to Equinox Chemical's workforce and generated the opening of another industrial facility for the chemical research and manufacturing company. The move created a $1.5-million investment in a 60,000-square-foot building and provided economic development headlines for a company that has basked in the spotlight since opening its doors in 2003.
In 2009, Equinox was named the Albany-Dougherty Economic Development Commission's Small Industry of the Year, and in 2010 Grimaldi won the Small Business Exporter of the Year in Georgia Award from the U.S. Small Business Administration. Then came the announcement that Equinox was opening a European office, which will further expand the company's sales.
And just what does Equinox sell? "We're a very diverse company," Grimaldi says. "We've got probably a thousand different products, with just as many markets." To simplify a description of their products, begin with green. That includes eco-friendly chemicals. Then add pharmaceuticals, flavors, fragrances, cleaning products, contract research and contract manufacturing. Equinox manufactures its own products. It's all part of a plan that came with the founding of the company.
"I think all that diversity keeps our plant full and keeps us growing," Grimaldi says.
Although going into foreign markets was not a part of the company's original business plan, producing green products has always been an important element in the company's culture and its planning. "I wish I could say I was smart enough to plan everything the way it ended up. But it's been more of seizing opportunities and taking a little bit of risk in a down economy when everybody else is pulling back," he says.
Grimaldi proved he has the nature of a riverboat gambler when he reached out for financing to begin his company. "I had $1,500 in the bank, $40,000 in retirement funds and a pocket full of credit cards," he says. "We refinanced our house and just let one little project after another fund us along the way." That included a $5-million investment in the company's original building. The shoestring beginning with a handful of employees has led to a workforce of 78 operating 24/7.
Buying Spree
Chris Cannon is sitting in his office adding up the companies he's acquired since purchasing Flint Equipment Company, a John Deere dealer that also sells new and used construction, forestry, utility, compaction and mining equipment, back in 2002. "Let's see," he says, trying hard to remember all of them, or maybe doing a little leg pulling for a visitor.
"We probably bought six ag-related dealerships, three power systems-related dealerships, the Flint Power side of our company, and we bought four or five construction- and forestry-related dealerships." But this buying spree is grounded in a solid business plan, Cannon says.
"In all of the businesses we're in, over the past five years there's been a consolidation phase for economic reasons, for economy of scale reasons" says Cannon, president and CEO of Flint Equipment Holdings, the Albany-based holding company of Flint Equip-ment Company. "You are either a consolidator or a consolidatee, and we're fortunate to be a consolidator." Can-non's acquisitions, he says, represent opportunities provided by a down economy, as well as trends in the marketplace. "If you take, for instance, our construction and forestry group: Five years ago throughout the United States and Canada there were probably 120 owner groups, and now we're down to less than 50 owner groups, and that just tells you where the industry is headed."
Cannon's John Deere imprint stretches from the Carolinas across Georgia, East Alabama and North Florida and into the Caribbean. His friends like to say that when Cannon calls John Deere headquarters, Mr. Deere gets on the phone.
Cannon purchased Atlanta-based equipment company METRAC in 2010, rounding out his business plan, he says. "The Atlanta market has been hit worse than any [metropolitan area]," Cannon says. "So it was a great time to make an entry into that market. Our strategy was for our John Deere construction side of things and Flint Equipment side of things to have all the state of Georgia and all of South Carolina, and the last three acquisitions allowed us to accomplish that, with METRAC a very strategic piece of the picture."
Healthy Growth
Joel Wernick has been on quite a ride for the past 22 years, steering Phoebe Putney Memorial Hospital on an ever-faster spin through the region. Known simply as Phoebe to residents of Southwest Georgia, the grand gray lady observed her 100th anniversary in 2011, including the last two decades of the kind of aggressive growth needed to meet the healthcare demands of a Southwest Georgia region rife with poverty.
Phoebe had always wanted to grow, adding new technology, specialists and services for the region she serves, but federal regulations would not allow the board to cross county lines to extend those services or plant new facilities – that is, until 1990 when the hospital authority made a nimble move and stepped around the federal regulations. That year, the hospital's governing authority released its assets to a new nonprofit, Phoebe Putney Health Sys-tem (PPHS), which became the parent holding company that more than tripled the number of hospital employees to 5,000 and now has an annual payroll of more than $225 million.
Today, PPHS has a presence in more than 30 counties, providing more than $40 million annually for indigent care in the region. During the two-decade growth span, PPHS acquired properties, medical practices and hospitals. What was not purchased was leased or brought into the family with management contracts or by other means.
In 2007, when the Sumter Regional Hospital was evacuated then destroyed by a tornado, Phoebe took in the Americus hospital's patients and performed other services to make sure the residents of the devastated community had access to healthcare. That helping hand turned into a deal that saw the Sumter County hospital turn its assets over to Phoebe Health System and become Phoebe Sumter Medical Center, worrying some locals there.
"One of the concerns expressed in Americus was are you just going to come up here and take all our patients back to Albany?" Wernick says. "Actually, it's just the opposite. We are bringing our specialists from here to there to do those [procedures] that can be done on an outpatient basis, for instance."
Last summer when Phoebe purchased an Albany for-profit hospital, Palmyra Medical Center, from Hospital Corporation of America (HCA), some locals worried the move would lessen competition and drive prices up. The Federal Trade Commission (FTC) stepped in and tried to halt the sale. Litigation ensued, with Phoebe coming out on top in two separate appeals by the FTC. Now the FTC says it will appeal to the U.S. Supreme Court.
Phoebe is forging ahead with its plans after naming the once rival hospital Phoebe North, with plans to turn the former HCA property into a healthcare center for women and children. The explosive growth of the Phoebe brand on healthcare facilities throughout the region is just the beginning of a movement that could last well into the future, Wernick says. "The future is going to continue to be growing our primary care base [and] continue to assist hospitals in the region that might be able to benefit from our managerial expertise," he says. "So all the things that happen with mergers and consolidations are very much what we're trying to do, and that's drive down our per unit costs."
The Military
Growth is also a hallmark of the Marine Corps Logistics Base Albany (MCLB), a facility that saw its economic impact for the community jump from $718.5 million in FY10 to $1.4 billion in FY11, according to data from the Albany-Dougherty Economic Development Commission.
Since it is a military base subject to examination by Base Realignment and Closure officials (BRAC), there are no guarantees about the future of MCLB. But the base and its mission have a dedicated defender in Jeff Sinyard, Dougherty County Commission chairman, as well as a member of the Georgia Chamber of Commerce's Georgia Military Affairs Coordinating Committee (GMACC), a group fighting to keep the gates open at the state's Army, Air Force, Marine and Navy bases.
Sinyard has become a familiar face at the Pentagon since the first BRAC in 1994. "Back in '94, we went to the Fox Theatre in Atlanta to appear before the BRAC folks," Sinyard remembers. "And we literally had to go on stage and pitch our product as to why our base should not be realigned or closed."
At the moment, MCLB looks to be in good shape, say locals. Functions of the Marine depot at Barstow, Calif., came under the MCLB banner just as 2012 was beginning, and the Marine Corps budget takes up less than seven percent of the Department of Defense budget, Sinyard says. "But if you look at the $487 billion [defense budget] that's being cut over the next 10 years, you're going to see 80,000 Army troops go away and 30,000 Air Force personnel go away and 20,000 Marines go away through troop reductions."
To keep stability, even growth, at Albany's base, Sinyard has led a delegation of locals to the Pentagon each year to conduct briefings on the facility's value and point out cooperative efforts between the community and the base that have improved the lives of base personnel. This year MCLB celebrated its 60th anniversary in Albany.
Elsewhere, Georgia's cities and counties are being smothered in paperwork due to the state and federal laws requiring the papers be stored for anywhere from a few years to forever. So-called "retention schedules" set the length of time certain documents must be kept on file and available for public scrutiny. The process is especially burdensome to the state's smaller, more rural counties, a perfect description of most counties surrounding Albany.
To help these counties meet the mandates of law in documents management, an Albany nonprofit, Thronateeska Heritage Center, is set to add a $2-million, 10,000-square-foot expansion to the Fryer-Merritt House for a document repository equipped to digitize official documents for a small fee, a process that can take a roomful of papers, digitize them and store them in an area smaller than the size of a shoe box.
"In these times of budget cutbacks, it's an expensive process for many smaller governments to build a facility like we're doing," says Tommy Gregors, executive director of Thronateeska Heritage Center, a facility already known as "Albany's attic," where thousands of items from the past are stored. "There is a lot of history in the documents produced by municipal and county governments. This [repository] is going to open up a broader amount of knowledge to the public." The new building is expected to open its doors by the end of the year. The repository project is being funded by a Special Purpose Local Option Sales Tax approved by the voters in 2011. Paperwork that would make the new building an official extension of the state archives is pending approval.
Mentoring Effort
The high rates of poverty in Albany and Dougherty County are being attacked by a program designed to educate the poor through a mentoring effort called Strive2Thrive, supported by the Albany Area Chamber of Commerce.
"The idea behind Strive2Thrive is to bring people to understand there is a way out of poverty and they don't need to be dependent on others to do it," says newly elected Mayor Dorothy Hubbard, a Strive2Thrive advocate.
"For people in poverty, a lot of them are given things and a lot of them just continue to be given things. This program works to get them out of that cycle by teaching them how to budget; how to get financing and transportation." Many poor families have gone generations without ever having a banking relationship, she says. "A lot of them do not have computers, and that means no access to online banking or paying bills online"
The Albany Area chamber is also the site of a solar power project.
The solar panels were installed on the roof of the chamber building using funds supplied by the Municipal Electric Authority of Georgia (MEAG) through the Albany Water, Gas and Light Department.
"They were looking for public buildings to put the solar panels on," says Ted Clem, president of the Albany- Dougherty Economic Development Commission. "We tried to use some of the local government buildings, but none of them had the right roof for it." The panels are expected to cut the building's energy costs by about 15 percent.
And for Clem, they make a statement. "We have a higher number of days of sunshine than the rest of the country," he says. "It's good for us because it's a good way for us to demonstrate to solar companies that South Georgia is a good place to look at locating."
Community Snapshot
Local Leaders
Jeff Sinyard
Chairman
Dougherty County Commission
229.347.4233
sinyardbugman@aol.com
Ted Clem
President
Albany-Dougherty Economic Development Commission
229.434.0044
tclem@choosealbany.com
Dorothy Hubbard
Mayor of Albany
229.432.2696
stolbert@dougherty.ga.us
Population
(2009 estimates)
County, 95,859
Albany (county seat), 75,616
Unemployment
(December 2011, preliminary)
County, 11 percent
Georgia, 9.9 percent
Top Employers
Marine Corps Logistics Base Albany, Phoebe Putney Memorial Hospital, Procter & Gamble, MillerCoors, Teleperformance
Sources
Albany-Dougherty Economic Development Commission, Georgia Department of Labor, U.S. Census Bureau