Savannah: Open For Business
Talented newcomers in the mix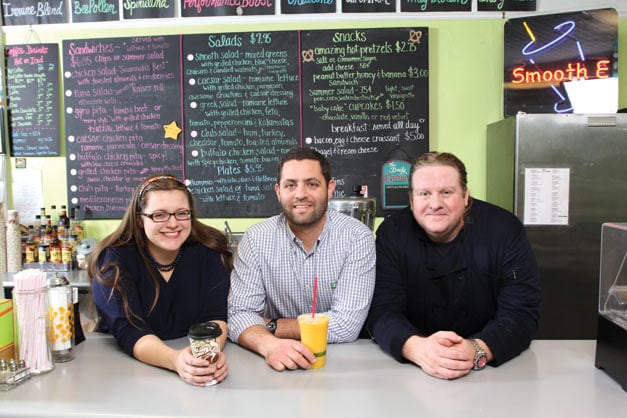 The lunch hour has ended at the Smooth Café in the historic district of downtown Savannah. Café owner Katie Koller and her manager, Gregory Cooper, are alternately visiting with a rep from the company that roasts their coffee and showing the kitchen to an inspector from the health department. It's a routine beginning for an afternoon at the smoothie shop, which sells coffee and sandwiches as well just a short walk from the Savannah River, where huge cargo ships are steadily making their way to a berth at the Port of Savannah.
Koller and Cooper opened the café after visiting Savannah on vacation. The couple admit they simply fell in love with this port city. "We were going to spend millions on a restaurant in Boston, one that we knew would create stress," says Cooper. "We felt like this was right for us, and we didn't have to change much for it to be right." The two say business has been good, chiefly because they have the only restaurant with Internet access in the historic district.
"We get all the international travelers wanting to come in and check their emails," Cooper says. "And we've even had some passengers come in off cargo ships, which I didn't know you could do," Koller says. "I've got the best commute imaginable. I come out my back door, cross the lane, turn the corner and I'm at work, 45 seconds."
A neighbor of Koller and Cooper has more than a passing interest in the location of Smooth Café. Jake Hodesh has an office on the street floor beneath the couple's apartment and just a few steps from their café. "They're very typical," says Hodesh, executive director of The Creative Coast, an organization devoted to the promotion of entrepreneurship, especially startups that use technology.
"In the last five years, that's what's redefining Savannah. Either people come here for opportunities to redefine themselves, or people who were born and raised here and moved away have come back and realized that there are a lot of opportunities here for people who want to create something new and fresh."
The Creative Coast lends a hand with business plans, financing, marketing, product development and just about anything else that can help a young, small company grow into a large one. "It's all about the talent pool," Hodesh says. "One of the challenges facing The Creative Coast board is for us to work to retain, nurture and develop that talent into small and medium-size companies that are going out and making money."
Savannah is awash in talent, in large part because of the attraction of the Savannah College of Art and Design (SCAD), an innovative setting for students with talents for creating video games and designing a wide range of software used in business and entertainment and film projects. "Nowadays anything and everything is a tech-enabled or knowledge-based business, even bakeries or insurance com-panies," Hodesh says. "I think Savannah is ready, willing and able to facilitate growth for two-, three-, or five-, 10-, and 12-person shops interspersed throughout the entire city, and ones that just rock, that are doing great, innovative, high-quality, world-class work from here."
One of Hodesh's most important duties is getting entrepreneurs in front of angels, the men and women who have the money and interest to invest in new ideas, he says. "We create as many scenarios as possible for young artists, musicians, startups, entrepreneurs, creative web developers, [and] graphic designers to help them get in front of people or organizations that will help them launch," Hodesh says.
Flying High
At a different level, some businesses have already been launched and are soaring. Gulfstream Aero-space, a Savannah signature luxury jet manufacturer, began a seven-year, $500-million expansion project in 2011 that is expected to add 1,000 jobs, and that follows a $400-million expansion completed two years ago. Com-pany officials credit Gulfstream's foreign sales with providing the impetus for the 2011 growth. While these developments sent ripples through the local job market, there were providential events in that wake, particularly at Savannah Technical College (STC), where many of the applicants for the Gulfstream jobs will be trained.
The January 2011 groundbreaking for STC's 29,152-square-foot Aviation Training Center seemed to be a warp-speed reaction to Gulfstream's expansion and hiring plans, but in fact the Aviation Center had been in the works for years to meet the needs of Gulfstream and other regional aerospace industries, according to STC President Dr. Kathy Love.
The Aviation Training Center is expected to open in 2013 and will house a 5,000-square-foot hangar, four training labs and facilities for instruction in engine and airframe construction and repair. The Gulfstream growth and attendant jobs creation is good news for Love.
"It's great to know we can help our students find jobs here when they graduate," she says. "They don't have to go somewhere else to find them." The two recent Gulfstream expansions have more dramatic implications for Bill Hubbard, president and CEO of the Savannah Area Chamber of Commerce. "Do you realize the two recent Gulfstream expansions created more jobs than the Kia plant?" he asks. "The Kia plant was great, but I think our manufacturing base diversity is overlooked sometimes."
The big employment numbers here seem to have created big ideas, and that's what Steve Weathers has. "At a board retreat the question was asked, 'What is our international strategy?' And nobody really had an answer," says Weathers, president and CEO of the Savannah Economic Development Authority.
"So we formed a leadership group, did an analysis and came to the conclusion that obtaining a license as a World Trade Center was a way to propel us to the major leagues of international opportunity. There are [more than] 300 World Trade Centers in the world, all affiliated with the association in New York, and there are 58 in this country. We are the only economic development group in the state and in the country that owns and operates our own World Trade Center." Weathers expects Savannah's World Trade Center to help boost traffic at the city's already busy port where cargo records are being set.
Port Activity
Container arrivals and departures at the Port of Savannah reached all-time records with 2.94 million Twenty-foot Equivalent Units (TEUs) in 2011, up 120,000 units from the year before. Savannah's port traffic to and from foreign countries and the community's growth in the number of foreign tourists arriving here, coupled with Gulfstream's rising foreign sales, have combined to give the city a spreading reputation for creating jobs and a growing attraction as a tourism destination, much to the delight of Joe Marinelli, president of Visit Savannah, the Savannah area convention and visitors bureau (CVB).
"In 2011, we had 11.4 million visitors," Marinelli says. "Visitors' spending for them totaled $1.8 billion." Hotel/motel tax numbers for 2011 showed a 10 percent increase over the previous year, another record for tourism spending, according to the CVB chief. The No. 1 attraction in Savannah is River Street, a waterfront collection of shops, restaurants, hotels and taverns, with a water taxi available to Hutchinson Island on the Savannah River. "And we're seeing growing popularity from the City Market area and Tybee Island, "Marinelli adds.
Marinelli reminds us that Savannah and Chatham County are bordered by islands, providing spice and interest for those who visit or live on them. Islands like Tybee, Wil-mington, Hutchinson, Wassaw and Skid-away provide the larger community and tourists with state parks, wildlife refuges, marshes and giant laboratories for the study of the flora and fauna that populate these unique habitats.
Island Living
Skidaway Island is home to the Skidaway Institute of Oceanography (SIO), a stand-alone entity of the University System of Georgia that often works in collaboration with other institutions of higher learning. It occupies a 700-acre campus about 30 minutes from downtown Savannah. The island is also home to The Landings, one of the barrier island's oldest residential communities. The institute and The Landings are neighbors, a rare juxtaposition of science and upscale living. Residences at The Landings range from a few hundred thousand dollars to $3 million, creating a kind of island village life people here seem to like.
"It's like a small town," says Bill Houghton, president of The Landings Company and a Skidaway Island resident. "We started off as a retirement community back in the 1970s," Houghton says. "And our inner-core folks are still retirees." But the proximity of the island to downtown Savannah has landed a new and growing demographic here, he says. "It's become so easy to get downtown from here that we've gotten a lot of doctors because the two big hospitals are on this side of town."
Houghton says there are about a thousand kids living on the island, which has a total population of 9,000 or 10,000, depending on whom you ask. The island's home sales have surged in recent years, due in large part to the lifestyle here.
"Sales certainly got hammered like everybody else's did a couple of years ago," says Houghton, who helps with the marketing of real estate at The Landings, where profits from sales are plowed back into community. "We effectively operate as a not-for-profit," Houghton says. Despite the sales dip at the beginning of a national housing slump several years ago, homes here are moving at an impressive rate, he says. "Sales in 2011 were up 81 percent above 2009," Houghton says. "We've rebounded pretty well."
The faculty of the Skidaway Institute counts 16 Ph.D.s among its staff. These scientists conduct independent research on a variety of marine topics, including climate change issues, barrier island erosion and marsh health. Currently, scientists are investigating the movement and interaction of fresh water and saltwater through the marshes near the Savannah River Site, a nuclear industrial complex in Aiken, S.C.
"In taking measurements, it became apparent that [a pollutant] doesn't just go in, come out and go away," says Dr. Clark Alexander, a professor and scientist at SIO. "It washes back and forth, as you might expect with the tides." Knowing what is going on in the waters of the marshes is important for a number of reasons, Alexander says. "They provide a nursery ground for a lot of commercially and recreationally important species of [sea creatures] in Georgia. "And recreational fishing is about a $2 billion a year industry in the state."
The researchers are hoping to create a mathematical model that can be used to predict just how pollutants might move through the marshes should there be future spills.
Savannah's islands are becoming more accessible to the public, with two new bridges either approved or under construction. At Skidaway, a new $22-million bridge linking the island to the mainland is under construction, and it's about time, says Chatham County Commission Chairman Pete Liakakis. "The current drawbridge is about 45 years old," says Liakakis, who has lobbied for a new bridge for decades. "In fact, they don't even make parts for it anymore. They've got about 10,000 people on the island on a daily basis, and I knew if a hurricane hit there and the old bridge malfunctioned, as it has a number of times, we could lose a lot of lives." The new bridge is expected to be ready for traffic by the end of this year. Work is expected to begin this year on a U.S. Highway 17 bridge to span the Savannah River and link Hutchinson Island to the mainland.
New Mayor
Edna Jackson has been a fixture in Savannah since her days as a civil rights activist in the 1960s. Today she is the mayor of the city after 12 years on the city council, eight of them as the mayor pro tem. She will tell you she is a booster and ambassador for the city and is proud to have witnessed the city's embrace of diversity in its population and economics. "I think one of the reasons we are seeing such an increase in our tourism is in the diversity of our community," Jackson says.
"And the diversity of the economy has helped us through the tough times. We have professionals like Steve Weathers and Joe Marinelli and their staffs to bring in jobs and tourists to Savannah." With a combined Sa-vannah city and county police force, the question of a consolidated city-county government arises, but not for long. "Too many municipalities," Jack-son says. "Besides, we're already working together."
Community Snapshot
Local Leaders
Steven Weathers
President & CEO
Savannah Economic Development Authority
912.447.9712
sweathers@seda.org
Pete Liakakis
Chairman
Chatham County Commission
912.652.7878
peteliakakis@chathamcounty.org
Jake Hodesh
Executive Director
The Creative Coast
912.447.8457
jake@thecreativecoast.org
Population
(2008)
County, 251,120
Savannah, 132,410
Per Capita Income
(2009)
County, $20,227
Georgia, $33,499
Unemployment
(November 2011)
County, 8.7 percent
Georgia, 9.3 percent
Top Employers
Gulfstream Aerospace Corporation, Georgia-Pacific, Imperial Sugar Co., JCB North America
Sources: U.S. Census Bureau, Savannah Economic Development Authority