Metro Atlanta: Ready To Take Off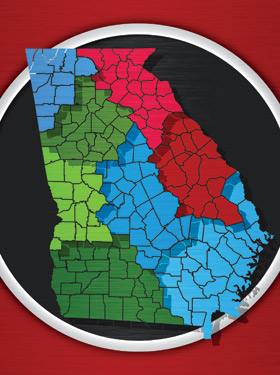 Metro Atlanta economic development specialists are encouraged by continuing expansion among existing companies and see prospects for 2012 poised for takeoff – and not just at the airport, where the long-awaited new international terminal is opening in May.
"We've seen the worst; 2012 is going to be like a new spring," says Tommy Jennings, president of the Barrow County Chamber of Commerce. "We're seeing some of those grass shoots continuing to grow with local industry that is adding jobs, and we're beginning to see the turnaround in the recession." Barrow is hindered by a lack of available buildings ranging from 150,000 to 500,000 square feet. "Everybody's got land," he says. "If you've got a building, then the 'A-ha' moment suddenly increases."
A survey of the 20 Metro Atlanta counties found clear signs of recovery.
Nick Masino, vice president of economic development at the Gwinnett Chamber of Com-merce, says his county had more than $800-million worth of project investment announcements and groundbreakings last year, compared to only one groundbreaking from 2007 to 2010. FedEx, Primerica, Ricoh and Mitsubishi announced major expansions, AMD is opening a data center worth more than $100 million "and we have more to come," Masino says. "We're working on the largest project in our history."
Hartsfield-Jackson's new Maynard H. Jackson Jr. International Terminal, which will have its entrance off I-75, has spurred $25-million worth of redevelopment just in the Mountain View area, says Grant Wainscott, director of the Clayton County Department of Eco-nomic Development. The county will focus on creating close to half a million square feet of office and retail, two to three new hotels and attractions like the National Museum of Commercial Aviation. "The next decade is going to be incredible for Clayton County – finally," Wainscott says.
Douglas County is focusing on repurposing formerly dark retail space by bringing in higher education, call centers, customer service centers and charter schools, says Cindy Pocali, executive director of the Douglasville Development Authority. A new conference center broke ground last October and should be finished this fall. "We've also been working on small business retention and expansion," Pocali says.
In Cherokee County, a survey of existing industries found that 57 percent have expansion plans for the next three years and 67 percent said their sales were increasing, says Misti Martin, executive director of the Development Authority of Cherokee County. New prospect activity was up 69 percent.
The Cherokee 75 Corporate Park, within an Opportunity Zone in southwest Cherokee, is driving a lot of activity, and the county has applied for another Opportunity Zone on the north side. "We feel like we're positioning ourselves well for the future," Martin says.
Butts County rezoned 96 acres in its Riverview Industrial Park from agricultural to industrial in January. "We're hoping to get on the radar and start getting some interest in that property as well as some others," says Laura Hale, executive director of the Butts County Development Authority.
Through Pickens County's participation in the Georgia Department of Economic Development Camera Ready program, "numerous locations have been scouted by several major motion picture companies," says Gerry Nech-vatal, director of economic development for Pickens. The nearby 300-acre Gibbs Gardens, which opened in March, should provide a tourism boost, and progress continues on the development of a rail-served industrial park to better position the county for new manufacturing opportunities.
Coweta County saw growth in new and existing companies, including MBM Foodservice, which came in with 108 new employees, and Chromalloy's expansion project adding 125 jobs. Yamaha, the largest private employer in the county (1,100) is in a multi-year process of transferring its ATV production from Japan to the Newnan facility. "I think it's a little bit of an uptick in the economy, with more projects coming to look and then more companies making decisions on expansion projects and on new locations," says Greg Wright, president of the Coweta County Development Authority.
Forsyth County ended 2011 with 1,116 new jobs and $42.7 million in new capital investment. North Georgia College and State University and Gainesville State University, which will consolidate, broke ground on a new facility. Children's Healthcare, which opened a $6.1-million urgent care center, is on the verge of building a hospital, says Randall Toussaint, vice president of economic development for the Cumming-Forsyth County Chamber of Commerce. In addition, 20 percent of recruitment projects derived from international companies.
North Fulton closed 24 deals in 2011 equaling 824,000 square feet, from relocation to expansion to lease renewals, and helped bring in 1,740 new jobs. The Atlanta Humane Society invested $10 million buying and refurbishing a vacant building in Alpharetta, and ThyssenKrupp leased some 26,000 square feet, bringing 110 jobs. "We are incredibly optimistic about the future," says Sarah LaDart, director of economic development for Progress Partners of North Fulton Atlanta. "We are continually told by some of the top commercial real estate brokers that people are looking up the 400 corridor."
"For 2012, we are launching a concerted effort to recruit new business and industry in the following areas: food processing, specialized creative and business services, distribution and logistics, and advanced materials/ process manufacturing," says Roger A. Harrison, senior vice president of economic development at the Covington/ Newton County Chamber of Commerce.
Daniel Jackson, president and CEO of the Carroll County Chamber of Commerce and Carroll Tomorrow, reports a good mix of local expansion opportunity as well as the opportunity for domestic and international companies to come into the community. "Most of our activity is industrial, and I think probably the most exciting thing is it's very diverse," he says.
DeKalb County continues to focus on international trade and "on those big drivers for growth and job creation, and that's really advanced manufacturing," says Charles Whatley, director of the Office of Economic Development. "We're still going to look at life science, but we're going to try to hone in on those firms that are really at commercialization point, not just R&D."
The streetcar line in downtown Atlanta, which began construction in January, will be an economic development tool, says A.J. Robinson, president of Central Atlanta Progress. As a participant in the national "Better Buildings Challenge" competition, Atlanta is trying to reduce energy and water consumption in downtown buildings 20 percent by 2020. Robinson says the campaign is being used to brand Atlanta "as a real sustainable community."
Nancy Kinsey, executive director of the Development Authority of Walton County, is encouraged by planned local expansions. Among them, Hitachi is contemplating another building of about 130,000 square feet.
In Rockdale County, "retention and expansion have been very good through the whole recession," says Glenn Sears, executive director of the Conyers Rockdale Economic Develop-ment Council. The county's biggest attraction has been Corrugated Supplies Co., which moved a manufacturing plant into the former Solo Cup distribution center in Rockdale last year, culminating a three-year process. Plans are to grow to 120 jobs within five years.
Paulding County launched its first economic development organization with the hiring of Jamie Gilbert as executive director in March. "Our goal is to be the most aggressive county in Georgia in regard to local incentives," he says. The organization generated 44 leads on projects that resulted in two new businesses locating to the county and creating about 80 new jobs. Paulding has identified target industries: aerospace, healthcare, advanced manufacturing and back-office operations.
David Luckie, executive director of the Griffin-Spalding Development Authority, says his county continues to emphasize light manufacturing and assembly and is still marketing The Lakes at Green Valley, a pioneering green mixed-use park.
In Fayette County, Universal En-vironmental Services announced a $60-million expansion of its Peachtree City plant, breaking ground late last year with two local firms handling the construction. Healthcare continues to be an economic driver. "Our demographics are rapidly aging, so we see that as continuing to be very strong over the next couple of years," says Virginia Gibbs, president and CEO of the Fayette County Chamber of Commerce.
Cobb County, which landed about 3,000 new jobs representing $248 million in investment at 26 locations last year, kicked off its Competitive EDGE (Economic Development for a Grow-ing Economy) in January and has changed its county incentive ordinance to be more competitive. "We're trying to really get back on the map," says Brooks Mathis, vice president of economic development for the Cobb County Chamber of Commerce. "We were lucky for a while to just be in the right place at the right time, and now, like everybody, you have to go out there and sell harder than you had to before."
More than 100 volunteers and community stakeholders in Henry County are part of an economics and education task force called E2 that is dedicated to improving the school system. The county is also one of the three largest in the state to become a Work Ready certified community. Kay Pip-pin, president of the Henry County Chamber of Commerce, says after a four-year grassroots lobbying campaign, construction will begin on the Henry County campus of Southern Crescent Technical College.
"We are definitely turning the corner," Pippin says. "I can definitely feel that things are on the uptick. We've been in this funk of this economy long enough that everybody accepts the concept that 'If it's to be, it's up to me.'"