Flexing Muscles, Tightening Belts
How Georgia's technical colleges cope with smaller budgets and larger enrollments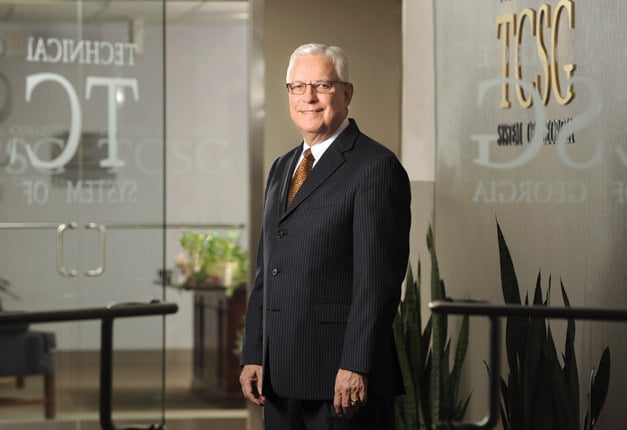 Georgia's Technical College System is one of only a few government entities that has the tools to generate revenues and the freedom to independently explore novel ways to cut costs, both important features in the down economy of the moment.
All 25 schools in the system have taken steps to serve growing demands from the students, businesses and industries that provide the tuitions and contract fees to keep the doors open. At the same time, the colleges are taking their budgets to new lows by reducing utility bills, replacing full-time faculty with part-time teachers and, in one case, growing their own food. One new effort seeks to find new revenue streams thousands of miles away.
There was a pause on the other end of the phone after Dr. Sanford Chandler was asked, "Where are you?" Then this response: "Riyadh, I think. It's hard to tell. All these hotel rooms look the same."
That common plaint of the global traveler has become familiar to Chandler. In many ways Chandler is a traveling salesman, hawking his wares in Europe and the Middle East and wherever else his leads take him.
Chandler is the assistant commissioner for Global Initiatives with the state's International Center for Technical Education, a part of the Technical College System of Georgia (TCSG). Chandler's program was started last fall, and his job is an example of how the TCSG is coping with budget cuts, dwindling scholarships, unpredictable student enrollments and other symptoms of a struggling economy. Chandler's mission is to forge paying training partnerships with foreign governments, businesses and industries to help his system generate revenues and open a few doors to foreign investments in Georgia.
"The Global Leadership Initiative was created by a committee of the state [TCSG] board," Chandler says. "Three points came from the committee: How can we enhance resources for the colleges in our system? And when we secure resources to work with other countries, then encourage the colleges to develop any new and unique programs that would be beneficial in a leadership role and assist others in the way they should go. The third one is to spotlight Georgia."
On this trip abroad, Chandler met with leaders in Germany, China and Saudi Arabia. "And Kenya called me the other day, so it looks like I'll have to go there before heading home." In Germany, Chandler met with the president of the Nuremberg Cham-ber of Commerce and visited a Siemens training facility, all the while building and strengthening international relationships.
"Here in Saudi I met with the general director of Tatweer, an organization put together here to improve education in Saudi Arabia," Chandler says. "They're interested in us submitting a proposal together as a system to create what they call Saudi-zation, and that's actually development of a middle class of workers to work in their manufacturing base here."
New Agreements
Chandler says he has reached teaching and training agreements with several colleges in Saudi Arabia. "We are working with a faculty exchange, the development of curriculum and advancing our schools as well," he says.
Georgia's technical colleges heightened the battle of the budgets back in 2009 when 15 of 33 schools were merged into seven, creating 25 campuses, and in the process chopping off $7.5 million in overhead, an amount the legislature promptly slashed from the TCSG appropriations.
Ron Jackson, commissioner of the Technical College System of Georgia, carries the burden of guiding his colleges through the most difficult economy in generations, and that includes cutting costs and increasing revenues. He sees the system's international programs as having a number of helpful parts.
"We've been in this period of [budget] adjustments, and one thing international students bring to the table is much larger tuition because it is out-of-state tuition," Jackson says. "Many of those students are focused and very committed students who we've had very good success with. And since they pay four times the tuition, we thought that expanding our footprint with international students would be productive."
Jackson says the market for skilled workers across the globe is about the same as here in Georgia. "The demand for highly skilled workers in the trades and in the medical fields and the aviation fields are not very much different from ours," he says. "That's the global economy, and that's the kind of programs we provide for those fields. And if we develop relationships in those countries through technical education, there's going to be an outgrowth also of companies that we come in contact with that we think is going to have a multi-dimensional opportunity for creating good relationships in the marketplace. " And, Jackson says, those relationships could open the way for ushering foreign companies onto Georgia sites.
Jackson says Dr. Chandler's selection for the globe-trotting job was an easy one.
"Sanford was president of [Marietta's] Chattahoochee Tech, where they've had an international center for some time. They [have] the largest international student population at any of our colleges."
Chandler was very much a part of that international growth, Jackson says.
"We think there are some possibilities for some relationships with other countries, and that's why Sanford is over in Saudi Arabia talking with some of their folks.
"While Chandler was at Chattahoochee Tech, he crafted some cooperative agreements between his school and colleges in China, South Korean, Saudi Arabia, Kenya and Jordan, so he is building on previous relationships."
Cutting Costs
Systemwide efforts to increase revenues in the TCSG are being accompanied by cost-cutting measures at the state's technical colleges, and the pursuit of federal and private grants has intensified.
Savannah Technical College (STC) has courses on the installation and maintenance of solar panels, and part of the coursework has students putting the panels into mock roofs and then taking them down at the end of the course for use by the next class. But the school used that expertise to help improve bottom-line figures.
"We've seen our budget cut about 14 percent over the last several years," says Dr. Kathy Love, president of Savannah Tech. "We know we've got to tighten our belts." And that's what led the college to use the sunny climes of Savannah for more than tans.
"We were looking for ways to lower our operating costs, and we decided to use some minor renovation and repair funds to have the students install an array of solar panels on our Industrial Technology Building. We actually saw that first month the electric bill went down by $1,600 compared to the month before," Love says. "And that was not even an entire month of solar use. We're trying to intersperse green technology, sustainability and environmental consciousness in everything we do. "
Savannah Tech was also able to snare a U.S. Department of Energy grant to install more energy-efficient lighting in some buildings. Chef Jean Vendeville has the college's culinary department growing vegetables and depositing kitchen waste in a compost pile to use as fertilizer for the department's organic and herb gardens. Savings collected from these efforts are used for maintaining what Love sees as an important balancing act at her college.
"The last few years we've had a situation where enrollment has skyrocketed and the budget was cut, so we're nowhere near where we want to be as far as our full-time faculty to part-time faculty ratio goes," Love says. "So every time we can carve out a few dollars, that's the first place we look [to invest it]. "
Like her peers throughout the TCSG, Love laments the downward slide of a once reliable revenue source, contract training, in which industries hire a technical college to conduct a specific training program. "When times are tough and sales are down, one of the first places [industries] can cut is contract training," says Love. "And during the 2011 legislative session, there were pretty substantial changes to the HOPE Scholarship and grant programs. It had to be done, and it is such a wonderful program that leaders in our state [couldn't] sit by and watch it go away because we weren't able to keep up with the demand."
At Ogeechee Tech in Statesboro, a four-day workweek and adding flex-fuel vehicles to the campus fleet has helped reduce energy costs. The school also installed energy-saving light bulbs, water-conserving plumbing and tinted widows to lower utility bills.
At Wiregrass Georgia Technical College (WGTC) in Valdosta, class sizes have increased and faculty numbers decreased, resulting in savings on salaries. "We estimate that saved about $100,000," says Wiregrass Tech Presi-dent Dr. Ray Perren. More savings came from changing the budget pro-cess to include deans and instructors, those closest to many cost points. "That alone has saved $800,000," says Perren. "Our two campuses are 67 miles apart, so instead of having faculty and staff driving that distance to and from classes, we now have a van that carries 7 seven or 8 eight people at a time, saving on travel expenses." And instead of cooling an entire building to keep computers from overheating, the school installed site-specific cooling systems for the computers. "We know we have to be the best we can be at spotting opportunities for cost cuts," Perren says.
The HOPE Effect
Changes in the HOPE Scholarship requirements have reduced the number of students eligible for tuition assistance, and that has had the effect of increasing the dropout rates in both the Technical College System and the University System. Help in stemming the rising number of dropouts has arrived in Georgia in the form of a $1-million grant from the Complete College America program, announced by Gov. Nathan Deal in January.
Noting that "less than a quarter of full-time students at two-year colleges ever graduate and only 44 percent at four-year colleges get their degree within six years, " Deal announced renewed efforts to keep students in school through a program called Complete College Georgia to see that more students are receiving their degrees or certificates.
"Yes, this is an economic development issue," says Dr. Flora Tydings, president of Athens Technical College (ATC), one of four Georgia higher learning institutions to share in the grant. "The goal is to increase Georgia graduation and retention rates, and every time we're successful in a student graduating, the state is successful because that student is then contributing to the economy, paying taxes, buying goods and services and becoming the citizen we want and need."
One of the Technical College System's most potent training programs is Quick Start, credited with being the No. 1 reason foreign countries are being drawn to the state. According to data supplied by Quick Start, in 2011 the program was responsible for $456 million in payroll revenue to the state, while delivering 168 customized workforce training projects.
That same year Quick Start worked with 16 different countries and 50 projects to help bring foreign investment to Georgia. The data from Quick Start were released in January and show Quick Start has trained 976,000 Georgians over its 45-year lifespan.
"Quick Start is the premier program we use in attracting companies," says TCSG Commissioner Jackson. "Our ability to create a workforce quickly for a company when they arrive here and keep a pipeline of employees for a long time has given us an international reputation that is pretty strong."
The Technical College System's assistant commissioner for Global Initiatives Sanford Chandler says Quick Start is well known around the world and is responsible for unsolicited recruitment testimonials. "If you look at many of these companies that have come to Georgia," he says, "they're very interested in working with us to encourage other businesses to come here, too."