Dublin/Laurens County: Solid Investments
Touting location and incentives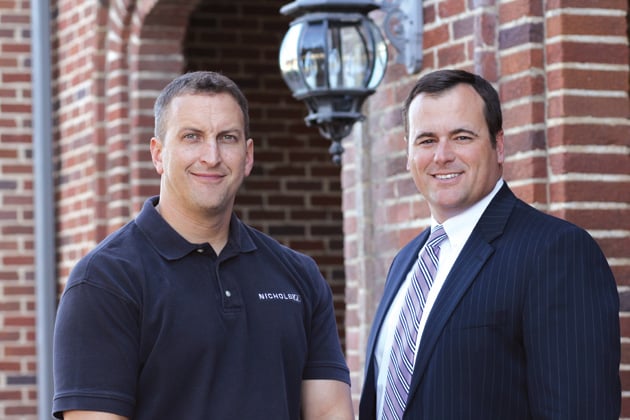 Back in 2007, word swept through Dublin that a stranger was in town, and there were suspicions that he meant business. His name was Josh Nichols, and folks learned he was bent on taking downtown buildings apart and putting them back together again, giving him some ownership in the heart of the community. In the process, a citizen of the world became a joyous citizen of Dublin.
And so begins the tale of Josh Nichols, a third-generation military brat, former Army paratrooper and state trooper who has become Dublin's most visible developer and the leader of a downtown rehabilitation effort that is bringing new life into an economic sector that even the most ardent local boosters will admit was once dying on the vine.
"Josh Nichols has taken on so many buildings and done a wonderful job of rehabbing them," says Spence Mullis, president and CEO of Morris Bank, a downtown Dublin institution for more than 50 years. Morris Bank provided the major portion of funding for Nichols' latest project, which involved purchasing the Fred Roberts Hotel and converting the building to condos. Known locally as the Fred, the building was erected in the 1920s through a chamber of commerce effort chaired by the hotel's namesake.
For Mullis, downtown investment is about more than money. "My approach has been downtown investment makes a lot of sense for economic development for the entire county," Mullis says. "When we're recruiting industry, it's good to have the variety of businesses downtown. It shows we take care of what we have." Mullis says $17 million to $20 million have been invested in the Dublin downtown area over the last several years, and those investments have proved to maintain property values there.
"Our downtown buildings have held their value a little better than those in the world at large," Mullis says. "We are finding that activity begets activity, with more people looking at living downtown." Nichols estimates he has put $5.5 million into nine downtown building rehab projects, including The Condos at The Fred Roberts Hotel, whose residential properties were scheduled to be marketed to the public in February.
For Dublin Mayor Phil Best, the new and improved face of downtown is injecting a new spirit into the community. "I think the interest in living downtown is a matter of young folks and some older folks finding that they can walk to restaurants and enjoy the low maintenance and upkeep on the apartments, and they can see they're on the cutting edge of a nice lifestyle," Best says.
Appropriately, the chairman of the board of the Downtown Development Authority (DDA), Dublin attorney Joshua Kight, has leased the front half of the second floor of the DDA building for his three-man law office.
"We started working here in December, and I have an ownership in another downtown building. Josh Nichols has been a huge part of the current revitalization that is going on," he says. "There are two aspects to the downtown revitalization: There is the historic aspect, and then there is the economic aspect. I think what he's shown is you can purchase these old buildings, renovate them to a historic character and still make money off them."
Dubliners believe there is another way to generate cash from the downtown, according to Kight. "There has certainly been a renewed interest in tourism in Dublin and Laurens County," he says. "I think there is still a lot of low-hanging fruit we can capture, as far as the tourism economy goes. Recently the City of Dublin selected the Dublin-Laurens Tourism Council to start tourism efforts. The purpose of that group is to get tourists off the interstate and into downtown Dublin."
The interstate in question is I-16, a road that connects Macon to the busy port city of Savannah via Dublin and one that plays a large role in Laurens County's annual revenues of $686 million in retail sales. I-16 has been a lure for landing distribution centers in the county, and it holds the potential for improving the number of manufacturers, according to one economic development professional here. "We're working distribution projects, but we're really seeing a lot of pure manufacturing prospects and it's really manufacturing coming back to the U.S.," says Cal Wray, president of the Dublin-Laurens County Development Author-ity. "You can hit six interstates from here in two hours."
Parks And Incentives
Wray says his community is lining up more industrial park space and some potent incentives for any business that comes knocking. "We've tried to become more aggressive on the incentive side," he says. "That's very important for businesses in this economy because economic development is so competitive."
In Laurens County, economic development is a team sport, with the local citizenry joining in by passing a Special Purpose Local Option Sales Tax (SPLOST) last March with a 90 percent favorable vote that will generate $50 million to $60 million during the life of the issue, with some $15 million of that going toward economic development.
"Any capital-intensive items can be paid for as long it is owned by the development authority," Wray says. "We can build buildings; we can acquire sites; we can provide infrastructure, all without having to go out asking for grant monies. We can leverage those funds into probably hundreds of millions of dollars."
More weapons in the Dublin-Laurens County economic development arsenal have been added with land acquisitions, Wray says. "We have a 250-acre I-16 [industrial park] site; we have 150 acres in our main 1,200-acre industrial park; we have 100 acres at the airport for aerospace-related projects with runway access. The authority has over the last 10 or 15 years acquired 550 acres of industrial sites, and in the last three months we've finalized an option on 300 additional acres and the first right of refusal on 1,800 acres." With few wetland sites on the properties, Wray says his authority can put together four 500-acre industrial development sites with minimal environmental impact.
If Wray seems fixed on manufacturing jobs, there is a good reason. Goods-producing companies in Laurens Coun-ty account for nearly one-third of the community's $12.5 million in weekly wages, according to data compiled by the Center for Agribusiness and Eco-nomic Development at the University of Georgia.
One of the county's most respected and appreciated manufacturers is YKK AP America, a producer of commercial building products, now celebrating its 20th year of doing business in Dublin. YKK has 350 employees manufacturing aluminum extruded architectural products such as windows and doors and commercial storefronts. The company invested $80 million and added 200 jobs six years ago just before the economic downturn and has recently been cautiously anticipating 2012 demand for its products.
"We've suffered just like everybody else has," says Rick Hudson, director of Human Resources for YKK's Dublin plant. "The economy has really hit us, especially in the commercial market. We've had to do some right-sizing, but we've handled most of our situations through attrition. We have utilized furloughs trying to maintain our workforce. We've just had to do a good job of cutting costs and keeping open communications with our employees." Hudson says the company is seeing some signs of improvement in their markets. "But it's still soft," he says. "We think 2012 is going to be another year of continuing to watch our costs and doing everything we can to stay competitive."
The competitive edge paid off in January when a German company announced it would locate a plant in Laurens County and make a $39-million investment. A spokesman for the company, Erdrich Umformtechnik GmbH & Co., says it plans to hire 178 employees for a metal stamping facility that will supply the auto industry with parts manufactured at the 130,000-square-foot site.
Lloyd Horadan's interest in manufacturing is directed at providing workers with skills necessary for filling jobs at manufacturers like MAGE (pronounced Mah-gay) Solar, a German company with U.S. headquarters in Dublin. "We work with them on curriculum for helping them train installers and technicians for that industry," says Horadan, president of Dublin's Oconee Fall Line Technical College (OTC). "And on the manufacturing side, graduates from our electronic program are ready to walk right in the door as entry-level employees." MAGE produces and in-stalls solar panels, and OTC is working with the company in offering higher levels of training programs for installation and maintenance technicians.
Leigh Evans's job is to make sure a qualified workforce is ready to go to work when the demand improves. As vice president of economic development for Oconee Fall Line Technical College, Evans has been guiding the unemployed, high school students and recent grads into assessment centers as part of the local Work Ready Program. At the same time, she is surveying local businesses and industries to find what skills they are looking for.
"We are working with nine companies that recognize [job skills assessment system] WorkKeys as part of the [hiring] process," Evans says. "Best Buy, Fred's, Farmers Furniture all have distribution centers here, and they are looking for basic skills, because once new workers come into a company they can be trained. In Laurens County, we've assessed 5,497 people, with a pass rate of 72 percent."
All high school students in Laurens County were given the assessment, with 91 percent of seniors passing, she says. "And that represents a huge part of the available workforce," Evans adds. "Such numbers from the Work Ready participants mean a huge timesaver for companies, and that means cost savings."
Transportation Vote
Like most of Georgia's county commissioners, Laurens County Commis-sion Chairman Buddy Adams is counting down the days to July's vote on a Transportation Special Purpose Local Option Sales Tax (TSPLOST), an issue that could trigger a wave of road and bridge infrastructure projects that not only would improve those transportation features, but also pump billions into local economies and create jobs for construction workers.
For Adams, his county's project could be a matter of life or death. "Our biggest project is a bridge across the Oconee River," says Adams. "We only have one bridge north of the Interstate, and we need a new bridge north of Dublin. That would open up the other side of the county for us, as far as getting 911 emergency vehicles from that area to our local hospitals, cutting that trip by at least 15 minutes."
As it is, he says, emergency vehicles coming from the north must travel to east Dublin and turn west on a circuitous route in order to reach Fairview Park Hospital and the Carl Vinson VA Medical Center.
There are 17 counties in the region in which Dublin lies, and the list of projects for that region proposed by each county must carry a majority of the votes in those counties in order for the special one cent tax to be imposed. It is not a sure thing, says Adams.
"We have the most projects of any region in the state," says Adams, who chaired the multi-county body drawing up the list of projects for the voters to approve. "It's going to be hard, but I think we have a chance to approve it," he says.
Transportation issues have long been a part of economic development in Laurens County, says Willie Paulk, president of the Dublin-Laurens County Chamber of Commerce.
"Of course it's very fortunate to be located on I-16 halfway between Atlanta and Savannah," Paulk says. "I-16 easily connects with I-20, I-75 and I-95. All those connections were the reason Best Buy located [a distribution center] here."
Four years ago, the area's chamber and development authority were realigned with each given separate functions, but their partnership in recruiting continues. "I'm still a part of the development au-thority, serving as executive advisor to them," Paulk says. "And the chamber is still very much involved in the recruitment of business and industry. The chamber represents the quality of life [issues] that a prospect or plant manager and his family will be looking for after they decide on a piece of dirt or a building for their plant. Then they want to talk about medical services, educational opportunities and retail availability."
The Dublin-Laurens County Chamber of Com-merce celebrated its 100th anniversary last year, and the City of Dublin will celebrate its 200th anniversary this year, giving local leaders like Paulk a reason to pause and look back over the evolution of their community. "I look at our community and our neighbors as a family," she says. "We are a big sister to all the surrounding communities as well. They look to us for work opportunities, for medical services, for educational opportunities and to come here and shop."
Community Snapshot
Local Leaders
Willie Paulk
President
Dublin-Laurens County
Chamber of Commerce
478.272.5546
wpaulk@dublin-georgia.com
Cal Wray
President
Dublin-Laurens County Development Authority
478.272.3118
cwray@dublinlaurensgeorgia.com
Jimmy Allgood
Chairman of the Board
Dublin-Laurens County Development Authority
478.272.6271
jallgood@allgoodpests.com
Population
(2008 estimates)
County, 47,848; Dublin (county seat), 17,509; Allentown (partial), 3; Cadwell, 372; Dexter, 547;
Dudley, 524; East Dublin, 2,780; Montrose, 165; Rentz, 326
Per Capita Income
(2007)
County, $26,487
Georgia, $33,499
Unemployment
(November, preliminary)
County, 12.1 percent
Georgia, 9.3 percent
Top Employers
Carl Vinson VA Medical Center, Fairview Park Hospital, YKK AP America Inc., Flexsteel Industries, Inc., SP Newsprint Company, LLC
Sources
Dublin-Laurens County Development Authority, Georgia Department of Labor, U.S. Census Bureau