2012 Counties Of Excellence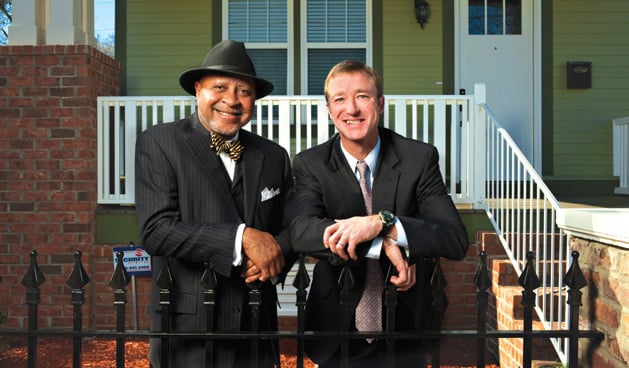 When Ross King, executive director of the Association County Com-missioners of Georgia (ACCG), began perusing submissions from across the state for the 2012 Georgia Counties of Excellence Awards, he found county officials were most interested in saving taxpayers money, which they have been doing on purpose and sometimes even accidentally. The awards program, in its seventh year, is carried out in partnership with Georgia Trend.
"We had more entries in the technology category than at any time in the program's history," King says.
In Clayton County, online fire department training programs not only cut man-hours for trainers, but also reduced fuel consumption by 60 percent, King says. A public safety award went to Camden County for a program that makes defibrillators available for public use.
All of the programs recognized by the ACCG panel of judges this year had a common denominator: They can be easily duplicated in other counties. "One of the things we focused on with the establishment of the program seven years ago was transferability, the capacity to be replicated across the state," King says.
"Another was a simple application process, making sure it wasn't so onerous as to force counties to seek outside assistance."
The applications were evaluated by a panel of outside experts. Here are the winners' stories.
Augusta/Richmond County
A once proud and prosperous African-American neighborhood in decline, characterized by weed-filled lots, empty buildings and population loss followed by a gentrification process in which the longtime residents were displaced by redevelopment. That could have been the story of Augusta's Laney Walker/Bethlehem neighborhoods, except no one has been displaced and the rebirth of the historic community is being financed in a novel way.
"We did fund the project in an innovative way," says Deke Copenhaver, mayor of Augusta-Richmond County's consolidated government. "We increased our hotel/motel room fees by one dollar a night and used those monies to invest in the neighborhood, which will be $37.5 million over a 50-year time frame." Planning on the project began in 2008. Restored houses are now being sold and rental properties leased, but no one is saying the final product will be in place quickly.
"The majority of the people who have bought here have some ties to the neighborhood and were thrilled to see what was going on and have moved back," says Chester Wheeler, director of the Augusta Housing and Community Develop-ment Department, the managing agency of the Laney Walker/Bethlehem redevelopment project.
The project is filled with historic homes spanning a period from the mid-1800s to the 1930s, and the neighborhood's location is a strong selling point, says Wheeler. "We are in close proximity to Georgia Health Sciences University, what used to be known as Georgia Medical College, and you've got seven different medical institutions around [the neighborhood]. That's 14,000 people that work in that medical environment very close to Laney Walker/Bethlehem," he says.
Copenhaver and Wheeler both believe that residential growth will be followed by commercial and retail development. The master plan for Laney Walker/Bethlehem and the early restoration work have been hailed by urban planners, historic preservationists and academics.
"The project won the [2011] Georgia Planning Associa-tion's Outstanding Plan Implementation Award and has been recognized by Harvard University's student magazine as a potential game-changer nationally in community redevelopment," Copenhaver says. Wheeler estimates about $1 million worth of houses have been sold as interest in the project continues to rise. "We sold all of the first set of houses we built," he says. "We believe we can create a live/work environment, and we are doing that close by. One gentleman bought a house there and now lives four to five blocks from where he works."
The final product includes plans to make the neighborhood a mixed-income community. "We wanted to make sure houses were selling in the neighborhood, but we also have done some rental units and duplexes because we felt like it was important to make sure that people who wanted to stay in the neighborhood are able to do so," Copenhaver says. "To the best of my knowledge we have not displaced anybody." Home ownership in the neighborhood will produce more taxes for Augusta-Richmond County, says the mayor.
"And I believe you will see commercial activity start to come in and crime to dissipate," he says. "Making that community healthier makes our whole community healthier."
For its plans to rehabilitate a once-vibrant historic neighborhood, Augusta-Richmond County was recognized by the ACCG judging panel as the recipient of the 2012 County of Excellence Award in the category of Community Plan-ning/Visioning. – EL
Camden County
In coastal Camden County, a unique public safety program was born in tragedy when 15-year-old baseball player Andrew Cohn died of sudden cardiac arrest during a game in 2010. The community grieved for the young man's family, then went to work honoring their wishes that steps be taken to see that a similar incident never occurs again.
Stuart Sullivan, one of Andrew's coaches, is a firefighter and EMT at the Camden County Fire Rescue Department. It was he who took the lead in developing what is known as the Andrew Cohn Automatic External Defibrillator (AED) Pro-ject, a program that issues the life-saving devices to church groups, sports teams and just about any group staging an event that could draw crowds.
"It's our 'Borrow An AED' program," Sullivan says. "When Andrew died we thought there ought to be a way to make AEDs more readily available to the community."
With local funds tight in a down economy, funding could have been a challenge. That's when sandwich chain Fire-house Subs in Jacksonville, Fla., stepped in and came up with about $7,000 for the purchase of five AEDs. "And that included all the associated equipment," Sullivan says.
"We distributed our first AED in November 2010 for a church event. We believe we have protected more than 25,000 people since then." The defibrillators can be checked out by anyone with a driver's license and a CPR certificate, but Sullivan says those documents are more of a formality than anything. "AEDs are so simple to use now that as soon as you turn it on or open it up, it gives you step-by-step directions on how to use it."
County Commission Chairman David Rainer and his fellow commissioners were early enthusiastic supporters of the idea. "It's one of those things you hope you never have to use, but you need to be ready if the need is there," he says.
"No additional tax money was needed, and that's always a good concept. It's almost a dirty word with taxpayers now if you tell them you want more money for a new program. But this was such a vital program with widespread support," Rainer adds. "When you can do something like this because of what happened, it just makes it so much more meaningful for our community."
The AEDs are distributed to law enforcement officers on weekends when there are no significant demands for them. "Most people attending events where the AEDs are present don't even know they're there," says firefighter Sullivan. "It's not expensive to run the program, and about the only maintenance is replacing the [shock] pads every two years."
The Andrew Cohn AED program won a public safety award from the National Association of Counties last year, and Camden County is ACCG's 2012 County of Excellence Award winner in the category of Public Safety. – EL
Cherokee County
The Cherokee County government has installed a kind of civic concierge service in the hopes of speeding along the permitting and licensing processes, earning high praise from citizens, builders and developers.
To anyone who has navigated the halls of local government in search of a building permit or help on a zoning matter, the Cherokee County Development Service Center's friendly staff would seem to move at the speed of light. "I'm not sure concierge is the proper word because we deliver the final product right then and there," says Anna Silbernagel, director of the center. "A lot of local governments have what they call a one-stop shop, but they don't process [all] the information right there."
The center is driven by a local government passionate about cutting the wait time for zoning change approvals, building permits and a wide range of documents required by citizens and especially developers. With customer satisfaction at high levels, attention has focused on streamlining the processes, says L.B. Ahrens Jr., chairman of the Cherokee County Commission.
"If we get results in two weeks, can we get that down to one week?" Ahrens says. "If it's one week, can we get that down to two days?" The ultimate goal is to process building permits, zoning applications and other procedures online and get them done in one day or less.
Instead of shuttling people from one agency to another, employees at the front desk of the Development Service Center are trained and cross-trained to process a variety of procedures in a number of county departments. "What we do is manage the process from beginning to end," says Silbernagel. "For instance, if you come in for a building permit, you will come to our counter and you will apply there and go back out with your building permit."
For commission chairman Ahrens, streamlining the permitting and licensing process is a key to future economic development. "We have a list, and it keeps getting longer, of what we call community selling points, and it includes the expansion of our general aviation runway to 5,000 feet, our hospital improvements and [the fact that] it doesn't take you forever to get a building permit," Aherns says.
"And we've invested $95 million in parks and recreation. Now with the development center, we feel like we're in a good position for economic development. The center is the overall county organization, some 1,300 people that cut across all functions, from sheriff to judges, planning to zoning, roads to bridges, and it's about complete customer satisfaction. There are two elements to that: superior customer service and continuous improvement."
For establishing a process for speedy, friendly and efficient county services, the ACCG judges named Cherokee County a 2012 County of Excellence in the category of Financial Management/Organizational Efficiency. – EL
Habersham County
Habersham County Manager Janeann Allison admits it can be difficult to align all the departments of county governments behind one goal. "It's always difficult when you are working with a lot of different people, especially different governments," she says. "But everybody had the same goal in mind, and we were able to work together and come up with some good things."
The product of Habersham County's interdepartmental cooperation and partnerships across the spectrum of local life was a public health improvement initiative called "Promoting Healthy and Active Lifestyles Through Com-munity Partnerships."
The idea was to involve more citizens and even visitors in a healthier lifestyle from childhood to the senior level. The effort is supported by the local school system, hospital and every level of county government, and it is managed by the local parks and recreation department. A regional soccer association became a player, and the board of education agreed to provide equipment, supplies and uniforms for middle school-age kids in a recreation league. "They agreed to let every kid who went out for it to make the team," Allison says.
When the lease expired at the fitness center of the local hospital, the county asked the hospital to bring equipment to its aquatic center, and a large meeting room there became a public fitness center.
"We had an aerobics program that had just died because we didn't have any support for it," Allison says. "The hospital already had aerobics equipment, and so they just moved all that to another room at the aquatic center. Now we have an aerobics program going full blast every day." The two full-size pools at the aquatic center are being used by the hospital for aquatic physical therapy. With citizens afforded more opportunities to improve their health and fitness and the county government taking a lead in the effort, an idea that healthy citizens are better citizens took root.
"I most definitely believe that," says Sonny James, chairman of the Habersham County Commission. "They have a better quality of life and are more apt to get involved in the community." James says the timing was perfect.
"I think it was a lot easier to bring together all these different levels of government than it might have been a year ago when the economy had people cutting back," James says. "Just about all our county employees have joined the physical fitness programs. And, too, we were looking for ways to combine efforts to operate cheaper, and all these partnerships have helped in that."
And there is another cost saver: "I know with our county employees, our insurance claims go down," James says. Healthier em-ployees are expected to reduce health-related work absences.
For its efforts to build a healthier community, Habersham County received the 2012 ACCG Georgia County of Excellence Award for achievement in the Health and Human Services category. – EL
Gwinnett County
Gwinnett County's Traffic Control Center (TCC), created in 2008, is a good example of technology and innovation coming together to help a community solve its traffic problems.
Not unlike power company "Smart Grid" programs that adjust power supply to real-time usage, the TCC uses cameras stationed at busy intersections and corridors to transmit live data to operators who can adjust timing of traffic signals accordingly.
"We have a preset timing system, but when incidents occur we have to deviate," says Chuck Bailey, Gwinnett County's division director for traffic engineering and planning. "This allows us when staffed during peak hours to use monitoring cameras to call 911 if we see an incident and make real-time adjustments such as increasing left-turn time and movement on side streets. It has had a real impact on congestion."
Some of the technology was acquired as early as 1996 to help deal with traffic traveling on Interstate 85 to Olympics events. The traffic center began with 85 miles of fiber-optic cable linking 400 traffic signals and 50 video cameras. It has since been upgraded to 130 cameras, 140 miles of cable and linkage to 475 signals.
Still, there are a number of two-lane thoroughfares in the county. In the absence of flush funding for road widenings or other improvements, this is an efficient alternative way to manage traffic, says Bailey. The Gwinnett Department of Transportation decreased its staff considerably between 2007 and 2009, which is significant considering the 437-square-mile county has raised more than a billion dollars for local transportation projects through Special Local Option Sales and Use Taxes since 1985, and Gwinnett has grown by about a million people since that year.
The TCC can help drivers navigate road construction projects and changes in the roadway system, such as the conversion on I-85 last year from High Occupancy Vehicle (HOV) lanes to High Occupancy Toll (HOT) lanes, which confused many Gwinnett commuters. "We were able to monitor and make adjustments on a daily basis where we knew the increased traffic was," says Bailey.
"I'm proud that Gwinnett County is doing something positive about traffic," says Charlotte Nash, chairman of the Gwinnett County Board of Commissioners. "Now we have an all-digital system that can control two-thirds of our 600-plus traffic signals to help drivers get where they are going on time."
In addition to signage, the TCC also provides the GC Smart Commute system showing live feeds of Gwinnett traffic on the Internet and partners with local public access channels so commuters can see live footage of what lies ahead and plan accordingly.
As Gwinnett works to teach other counties upgrading from the same technology it acquired in 1996, Bailey says he wants to integrate 911 emergency services into the TCC. "We're working with public safety and connectivity to 911, so they have access to the same cameras. E-911 operators are utilizing our technology more on routine calls because then they can see what they need ahead of time."
For its efforts to help citizens with their daily commute, Gwinnett County received the 2012 ACCG Georgia County of Excellence Award for achievement in the Technology category. – BY
Clayton County
Clayton County Fire and Emergency Services is honored this year for the Clayton Fire Network (CFN), a technologically innovative way to link its 14 stations with live feeds and looping training programs to save hundreds of hours of manpower each year.
"It has probably reduced our training hours by 400 percent," says Deputy Chief Jerry Russell. "It has also improved the quality of the training offered. Imagine having to give the same course 40 or 50 times a year to different units – or a five-person unit having to come back two or three times to sit through the same class to guarantee 100 percent compliance. With 370 firefighters, it was hard for trainers to stay motivated, and now the trainees have eight to 10 times the amount of training time available to them."
The Moodle technology allows Clayton to broadcast training to all its 14 stations, so firefighters and EMTs don't have to drive to headquarters to take their courses. "Our personnel are constantly going through training to reach higher levels of fire safety and emergency technical certification," says Jacque Feilke, battalion chief of public affairs. "Before the CFN, it was kind of tough to get everybody in for training, when different stations were responding to different calls."
"We saw a 30 percent reduction in diesel fuel the first year, and we've saved tens of thousands of dollars on wear and tear – those tires are not cheap, and the more we keep the trucks parked the better," says Assistant Chief Landry Merkison. "Even though we're the third smallest county in Georgia, we get 32,000 calls a year. They stay on the road a lot as it is."
"The network is not only a valuable, time-saving training tool for our fire and emergency personnel, but it is also a cost-efficient, energy-saving program. Over the next few years, its implementation will amount to thousands of dollars of savings for the county in fuel consumption," says Eldrin Bell, chairman of the Clayton County Board of Commissioners.
With counties struggling to meet budgets, the CFN has allowed Clayton to maintain its staffing levels, says Merkison. "Any savings we have in terms of general operating costs translates into personnel, which is 86 percent of our budget. That's the real return back to citizens."
The Moodle system employed by the Clayton Fire De-partment, a free web-based application that is used widely in Georgia by schools and companies to share presentations over multiple locations, offers further room for improving operations, says Merkison.
"Any time we can deploy technology that provides us the ability to maintain the same or better service at reduced cost, we will. We can only trim and cut so much before personnel gets hit, but Chief Russell has done a tremendous job of cutting us loose and letting us use our imagination so we can come back with projects like this."
For helping its fire stations have better access to training while also reducing costs, Clayton County received the 2012 ACCG Georgia County of Excellence Award for achieve-ment in the Transportation/Infrastructure Development category. – BY