Climate Of Leadership
At North Georgia College and State University, cadets and civilian students create a unique campus culture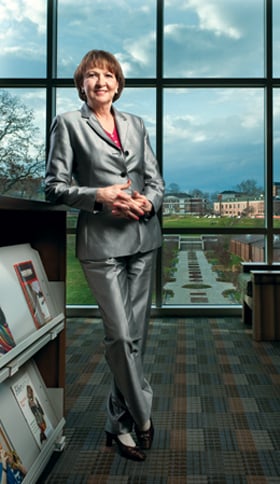 Many people know that North Georgia College and State University, founded in 1873 and located in Dahlonega, is the second oldest public university in the state. A liberal arts college, North Georgia has also maintained a military instruction presence since its inception 139 years ago. The Corps of Cadets has trained and educated hundreds of U.S. Army officers and produced 36 generals and admirals.
What most don't know is that North Georgia was also the first college in Georgia to admit and graduate a woman. And now, for the first time in its history, the university is led by a woman, President Bonita Jacobs, who also has the distinction of being the second woman to lead one of the six senior military colleges in the United States.
But Dr. Jacobs, who arrived in Dahlonega in July 2011 from her previous position as executive director of the National Institute for the Study of Transfer Students and was formerly the Vice President of Student Development at the University of North Texas, wasn't drawn to North Georgia in order to be a "first."
"I was very interested in the school for a number of reasons, chiefly high academic performance and student success," she says. "But to get here and peel back the onion and find so many more things I didn't know about; it's been fascinating."
In addition to 50 programs of study and 15 undergraduate and graduate degrees offered in the university's four schools, Business, Education, Arts and Letters, and Science and Health Professions, Jacobs was pleased to discover layer upon layer of accomplishments in surprising academic areas, like foreign language instruction and physics. In 2012, North Georgia will graduate more physics majors than Georgia Tech.
The university also cultivates a unique campus culture owing to the mixture of two, distinct student populations, the Corps and civilian students. "What that's done is to create a healthy and interesting environment where you bring the core values of the military to merge with the civilian population," she says. "You have this character building, these very strong traditions. When the cannon fires at 5 p.m. and retreat sounds, everything stops. All those traditions created this environment that nurtures students and brings them along."
It's a climate that creates leaders, both military and civilian, which is part of the university's mission as a University System of Georgia designated leadership institution. "Leadership is a strong attribute of our campus in and out of the corps," says Cadet Colonel Sergio Rolon, a senior who will receive his Army commission upon graduation. "That's what makes our campus unique. It's the legacy of our school in the same way Georgia Tech's legacy is engineering. We specialize in leadership."
His civilian counterpart, Patrick Pickens, a junior and Student Government Association president, agrees. "What makes us so special is that we're a melting pot of various types of students. You have that crucial part, the corps of cadets, which is sometimes a separate part of campus life, and yet it integrates so well with the rest of the student body.
"I think the best way to describe it is a drive that this campus has to succeed and be a leader," Pickens says. "Everyone here pushes you to be the best you can be."
North Georgia attracts quality students and keeps them; the university boasts an 81 percent retention rate. "We have been consistently working, over the last several years, to improve the student profile on campus," says Dr. Patricia Donat, Acting Vice President for Academic Affairs. "We have a highly academically qualified student body that rivals some of the leaders in the system. In terms of high school grade point average (GPA), we've been coming in third in the system behind the University of Georgia and Georgia Tech." The student profile has changed but enrollment continues to increase. In fall 2011, North Georgia had 6,067 students, up 2.7 percent from the previous year.
Active Engagement
Donat cites a number of reasons for the steady increase of students. "There are characteristics that really are a legacy of this institution. Our ability to train military leaders is something well known about the institution," she says. "Our academic excellence is recognized, and that reputation is continuing to build. We also are a good-sized campus. We haven't grown so large that we can't support the kind of active engagement of our students, so they aren't passively learning but they are active participants in the learning process. We've added increasingly competitive academic programs. We are becoming a destination school for those programs."
Programs like North Georgia's Department of Modern Languages in the School of Arts and Letters. North Georgia has quietly built a reputation as a premier institution for foreign language study, offering majors, minors, and coursework in seven modern languages: Arabic, Chinese, French, Ger-man, Korean, Russian and Spanish. And it's not just what they're teaching; it's how they're teaching it.
"We teach [the languages] differently, and that's what's gotten a great deal of attention," says Donat. "We focus on a front-loaded intensive model for language instruction." The university offers a one-month summer institute, featuring intensive language instruction and co-curricular activities in the student's study language. This is followed by a fall/spring semester study program during which the student takes only language courses. "They accelerate very quickly through that language because they're fully imbedded in the language," says Donat.
Students follow up their intensive language courses with a study abroad the following summer, resulting in a degree of proficiency in the newly acquired language rivaling top programs throughout the county.
Language studies were identified as a discipline vital to the development of North Georgia students. While other institutions backed away from language instruction, North Georgia made it a priority, believing it helps their graduates compete in a tight job market. "Our students come to their ca-reers not only with the content knowledge in their particular discipline areas, but with a language skill set and international experiences," Donat says.
The university began offering a two-track major in Chinese in fall 2011. Students can study abroad at two universities in China, where the university maintains exchange agreements, Tsing-hua University in Beijing and Liao-cheng University in Liaocheng City. The military took note of North Georgia's skill in language instruction, awarding a $720,000 grant and designation as a "flagship" university for Chinese in-struction for cadets by the National Security Education Program (NSEP) at the Department of Defense. Only two other universities received "flagship" status from NSEP in 2011, Georgia Tech and Arizona State University.
Interested North Georgia undergraduates can participate in extensive research experience. Dr. Holly Carpenter Desai, an assistant chemistry professor, was one of 29 recipients worldwide of the Young Scientist Award given by the International Union of Pure and Applied Chemistry (IUPAC). She was selected for the award based on her research in biomaterials design and engineering. Her research collaborators are her students, all undergraduates, like SGA president Pickens, who is studying chemistry/pre-med with a biology minor.
"The research we're doing has to do with a protein found in cephalopods, specifically a squid species," he says. "On a non-scientific level, we're taking this protein, which has very unique properties that give the animal the ability to camouflage itself. We're merging that protein with the protein in human skin called elastin to create a synthetic material that could be used for any number of things. Most of the research is meant to characterize the protein. The applications have more to do with bio-markers for drug delivery systems, things like that."
The low student-to-faculty ratio, currently 18 to 1, works in favor of students who are pursuing research opportunities, especially in the crucial science, technology, engineering and math (STEM) fields. Student research-ers are exposed to unique experiences outside the classroom as well. "I've gone to conferences all over the U.S. I'm going to California in March," says Pickens. "Being part of Dr. Desai's team solidified my interest because I've gotten to see science in a science environment."
Corps Values
The immersive, experiential ap-proach to learning is standard operating procedure for the 750 North Georgia students making up the Corps of Cadets. "When I came to North Georgia after I retired out of the Army, I heard these new terms like 'learning communities,'" says Colonel Tom Pal-mer, the Commandant of the Corps of Cadets. "Well, Alpha Company's been a learning community for about 130 years! If you want to see some tight kids, go to those [ROTC] companies and talk to those young folks who are working for a common goal with a common leader, that went through a common preliminary training experience when they arrived here the first day of school. That kind of camaraderie and experiential learning is always prevalent in military organizations, but it rubs off on the campus."
Palmer speaks from experience; he was a cadet at North Georgia in the early 1970s. He knows how it was, sees how it is and is impressed with the caliber of cadets populating today's Corps. "It's amazing how much more they are required to do and how much better they are than we were," he says. "The cadets who come here come because we have a 24/7 military program, and they want to do Army ROTC in a big way."
Not every cadet standing on the drill field on day one of Frog Week – a tough, six-day basic training camp held each summer – remains. Those who do must eventually make a decision whether to sign a contract with the Army or to stay in the Corps, going for a leadership minor or leadership certificate.
"Everyone in the Corps has to take ROTC classes, but not everyone in the Corps has signed a contract with the Army," says Rolon. "Some people love the Corps and stay in it strictly for the leadership opportunities they get."
North Georgia's Corps of Cadets consistently ranks among the top programs in the nation, receiving recognition from the U.S. Army and The Order of the Founders and Patriots of America. North Georgia Cadets have consistently outperformed other ROTC programs at the U.S. Army's Leadership Develop-ment and Assessment Course (LDAC), held each summer at Joint Base Lewis-McChord in the state of Washington, where 6,000 Cadets from across the country are evaluated on their leadership.
Palmer is enjoying the return to his alma mater as a faculty member. Some things remained constant; others have not. "When I was a cadet we used to talk about respect, honor and integrity and those types of values, which are now part of our core values in our mission statement," he says. "Those things are all still the same, but just about everything else has changed."
Building Boom
The ROTC drill field still anchors the center of campus, and Price Memorial Hall, topped with its gold leaf covered steeple, still stands on the hill; but many buildings have been added or renovated or are in the process of renovation. Recently completed public/private capital projects coordinated through the university's foundation include a new $23-million dining hall and the $10.6-million Chestatee Building, a combination bookstore, health services and auxiliary services building. Two suite-style cadet dorms, Patriot Hall and Liberty Hall, have been constructed, and Gail-lard Hall is being renovated to house the Corps of Cadets. A 596-bed traditional dorm, North Georgia Suites, opened in August 2010.
The last state-funded building on campus was the $22-million Library Technology Center, completed in 2008. Current state-funded projects include renovations to the Hoag Student Center, Barnes Hall, Stewart Student Success Center and Young Hall with a price tag of $16 million, including classroom upgrades in instructional technology.
As it is for every other state college and university, funding is a concern. "In every performance indicator, we're in the upper third of all the [state] institutions, whatever criteria you give," says Jacobs. "But when you get to funding, we're in the bottom third. The chancellor has already committed to setting a budget that rewards high performance. That should kick in for fiscal year 2013, but we still have 2012 to get through and there will be additional cuts this year. We have asked our alumni to step up and help, giving particularly for scholarships."
Despite funding challenges, North Georgia is committed to growing both at the main campus in Dahlonega and at a satellite campus, the University Center in Cumming, about an hour away, slated to open in fall 2012. "We're going to provide a limited number of programs there, associate of science in nursing, some selected bachelors programs and a master's in business administration," says Donat. North Georgia will continue to grow without adding to the physical plant but will bring premier higher education opportunities to the underserved Forsyth County community.
The project is a collaborative venture with long-term partner Gainesville State College, which is slated to merge with North Georgia, following a recent decision by the state Board of Regents.
President Jacobs is excited about leading North Georgia to the next level of success. "Much of the respect North Georgia receives comes from a hardworking faculty and an underlying culture catering to student success," she says. "I believe the trigger to student success here is that our faculty gets to know the students. I've talked to students, and they say, 'I believe my faculty is here to help me.' It's created an interesting culture. We don't offer as many programs as the flagship campuses, but what we do we do very well."