2012 Trendsetter Cities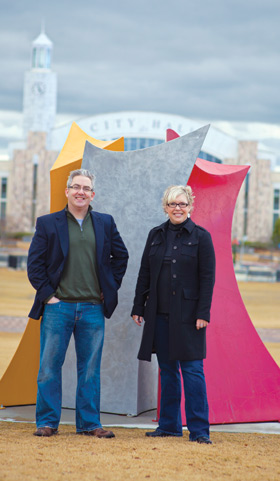 When five judges began their deliberations last fall for the 2012 Trendsetter City Awards, sponsored by the Georgia Municipal Association (GMA) and Georgia Trend, they were asked to find communities using innovative approaches to improving the quality of life for their citizens and forging effective partnerships with other governments or private entities.
"They were looking for effective and efficient use of resources," says Amy Henderson, the GMA coordinator for the application process. "And the programs and projects the judges studied had to be easily duplicated in other cities."
The judges found what they were looking for, in the form of a city call center, a program for young teens, a cross-cultural task force, a performance venue, an arts incubator and a public art display.
The panel of judges included a South Carolina municipal official, two members from the University of Georgia's Carl Vinson Institute of Government, an official of the Georgia state government and a graduate student from UGA's public administration program. Trendsetter Awards were based on several population categories. Here are the judges' selections.
Winning cities are Albany, Athens, Duluth, Greensboro, Stone Mountain and Suwanee.
Albany: Community Calling
Anyone who's ricocheted through a maze of city departments looking for help in removing an abandoned vehicle in their neighborhood or perhaps seeking to report a pothole or dead animal can admire how the city of Albany and its partners, Dougherty County and the city-owned Water, Gas and Light Commission, have simplified the process of asking for help by installing a 311 Call Center.
Since September 2009, 311 has been the telephone number citizens call to report free-roaming dogs and chickens or unkempt weed-choked lots and building code violators. The 311 idea was brought to Assistant City Manager Wes Smith a few years ago when he was put in charge of setting up the citizen service, and it was made a priority following a citizen survey a short time later.
"Frankly, we thought we were doing a pretty good job [among city departments] but thought we would ask anyway," Smith recalls. "Of the three things that came out of the survey, one of them was, 'It's hard to communicate with you.'"
That's when Smith and IT Project Manager and 311 Call Center Manager Cindy Tiernan put a laser-like focus on getting the 311 Call Center up and going.
"Calls began coming in on repairing potholes, replacing street lights, questions on early voting, building code violations and how much a marriage license cost," Tiernan says. "The idea is that if citizens or visitors to the city call in and it has anything to do with local government, we have a database between service requests and knowledge-based questions of about 2,000 [responses] and we work directly with 49 departments, and that's city, county and water, gas and light."
The 311 Call Center's annual budget is about $160,000.
If 311 operators can't answer a question from a caller, such as the amount the caller owes in property taxes, the caller is placed on hold and then connected to someone in the appropriate department who can answer the question. Key to the performance of 311 is the software that can quickly provide citizens with the answers they are seeking, Smith says. That software came after such providers were sent a request for proposal (RFP) and went through an interview process.
"In that process – and this was one of my Trendsetter concepts I brought to GMA – we negotiated with the company, QScend Technologies, [for] a format that if we asked them for a new service out of their [software] product, they could use that product broadly in their marketing and sales, and we have done that repeatedly," he says.
Albany's 311 Call Center can take calls or online contacts from citizens, route them to the appropriate city departments, and report back online with the progress of the inquiry. And citizens seem to love it. "We're averaging about 30,000 to 35,000 calls or emails a year," Smith says, while pointing out another virtue of the 311 system. "About 1,000 of the monthly calls would have normally gone to 911."
Among 311 callers, one of the hottest topics is the feral chickens that roam several areas of the city. – EL
Athens: Teens In Action
It didn't take Cathy Padgett long to figure out she needed to add a new program to the Athens-Clarke County Leisure Services menu a few years back when she began hearing from the parents of certain teens. "We were getting calls from parents looking to find summer activities for that age group from 14 to 15, where they're too old for camp and too young to work," says Padgett, public information specialist for the Leisure Services Department.
"So I thought, 'Let's create a teen camp for this age group, one where they can learn about the issues facing their community and how they can volunteer to help solve those issues through service." That's how Teens in Action (TIA) was born in the summer of 2005.
The teens do their volunteer work in the mornings and, in keeping with the traditional idea of camp, the youngsters have afternoons for fun activities such kayaking, trapeze class and climbing the ropes course at the University of Georgia. As the founder of the TIA program, Padgett also wanted to prepare the teens for the best practices of adulthood.
"I try to address what I recognize as the main issue every summer, whether it's education or poverty or the environment or just general social awareness," Padgett says. "So we would volunteer at the homeless shelter or the food bank or we would volunteer at the Athens Land Trust or the State Botanical Gardens, and a lot of times the students had never been to these sites. We are trying to open their eyes to the community."
Last summer the TIA day-camp volunteers were able to get an inside look at the political process when they helped mail out absentee ballots and took advantage of a visit from the mayor of the Athens-Clark County Unified Government, Nancy Denson.
Mayor Denson says she was touched by her meeting with the teens. "It was exciting for me to see them learning about government and responsibility and civic pride. All the things we want our citizens to know and do is being instilled in them," says Denson. And when the group discovered Denson was the first woman elected to office in Athens (to the city council 32 years ago, then to the post of tax commissioner and finally to the office of mayor) questions began to fly.
"The girls in particular asked me how I got started doing what I do," she says. "I didn't go to college as a college-age student, receiving my degree just before I was 50. Many of these young people are from disadvantaged backgrounds where college may not be in their future, but we talked about the fact that there are other ways to further your career."
Ten teens a week fan out over the community to do their morning volunteer work, then have a little afternoon fun. "We're also developing leaders in this program, as we are developing sensitivity to the community and its needs," Padgett says. – EL
Duluth: Cultural Connections
In Duluth, where Asian Americans make up a fifth of the city's 24,000-plus population, leaders turned a cultural misunderstanding into an instrument for better communications with the formation of a Korean Task Force.
The impetus was a concern that Korean-owned businesses in the city were being shut down for violating alcohol ordinances. Many Korean restaurant owners, it seems, were confused about the alcoholic drink Soju. In Korea it is considered wine; in Georgia it is considered liquor. Restaurant owners were allowing patrons to sit with a bottle of Soju in front of them, which was illegal, and were being cited for alcohol violations.
Mayor Nancy Harris, along with Jenny Wesselmann and Clayton Lee from the Korean community and Police Chief Randy Belcher, saw this as far more than just a problem of alcohol ordinances. They saw the bigger picture – a problem of communication between cultures. The task force went to work and with good results.
The city's business office soon saw the need for a training program that provides education for business owners selling alcohol. The aim of the program, which is mandatory for all merchants who want to maintain an alcoholic beverage license, is to explain legal expectations and to promote safety, health and welfare to the community. Since the training program began last year, the number of alcohol permits in Duluth has nearly doubled and the number of businesses forced to close due to alcohol violations has greatly decreased.
Another concern the task force addressed was signage among Korean establishments. The majority of the Korean stores' signs were displayed only in Korean, so that if an emergency were to occur, the police would have difficulty identifying the affected business. As a result of the task force's work, most of the stores have now added English to their signage.
The task force's vision is simple and effective. Although it was created to bridge the cultural divide between Korean-American citizens and Duluth city officials, it aims to help all cultures work together to create a healthy environment, participate in the community life and communicate without barriers.
"It has made the Koreans aware that the police are not out to harass them. Rather they are here to help," Wesselmann says. "Now relations between police and Koreans are greatly improved. Koreans feel much more a part of the community."
Two Korean-Americans have been added to the Duluth government. Chung H. Lee was appointed an associate judge and Clayton Lee was named to the city's Alcohol Review Board.
Says Mayor Harris, "Winning this award is validation that our work is needed, and we can continue making strides in weaving stronger relationships between all cultures within Duluth. Twenty percent of the population living within the city limits of Duluth are Asian Americans, and their contribution to Duluth's economic comeback is instrumental to our future." – RH
Greensboro: Festival Hall
For years the idea of having a performance venue or a concert hall or just a place where local bands could display their talents had been dancing around in the minds of Greensboro's downtown boosters. When they finally got their entertainment site, it included all of the above and was quickly named Festival Hall.
Since opening in 2010, the hall has hosted performances by Broadway legend Louise Pitre and singer John McDermott, country music stars Crystal Gayle and John Berry and internationally acclaimed actor John Lithgow. In addition to the talent arriving in Greensboro, the city has seen a long-underused building spring to life.
For nearly seven decades, the 8,000-square-foot building sat in downtown Greensboro, undergoing one transformation after another, first as a 1939 WPA multi-purpose facility, then housing county offices and later becoming an unused asset of the Greensboro Downtown Development Authority (DDA).
But it is in its present use as Festival Hall this remnant of the FDR Administration may have finally reached its best use, if for nothing else than the ingenuity with which it was created. Although the DDA long promoted the idea of the building as an entertainment and performance art venue, finding the funds for the project seemed a daunting process.
Turning the idea into reality required more partners than a sure-fire stock deal, and they were found. The DDA raised $500,000 from local contributors. A major player in the idea was Reynolds Plantation, an upscale Linger Longer golfing and residential development that put in $500,000 for the $2.5-million rehab project.
The City of Greensboro came up with a $500,000 pledge from its share of a Special Purpose Local Option Sales Tax (SPLOST), and the Oconee Performing Arts Society (OPAS) put in another $500,000, as did the OneGeorgia Authority; the deal was done.
The arrival of the Festival Hall rehab program signaled a significant moment for the community, says Greensboro Mayor Glenn Wright. "This is a milestone for our growth," Wright says. "We value our partnership with Reynolds Plantation, and it should be noted that we had pledges from our business owners and operators who also served on committees associated with the project. We will be drawing thousands of people annually into our downtown to attend events at Festival Hall, and that will bring sales and revenues."
It already is, says Gene Yaws, house manager of Festival Hall. "I've been most impressed with the support for the hall and the attendance for the events," Yaws says. "We've had local bands, and that's important to us. The demographics here are totally unique. You have downtown families that have lived here for generations, many in the same house, and then you go across I-20 and have Reynolds Plantation, and obviously there is a lot of money out there. The challenge for us has been to provide the talent and entertainment that will appeal to all these demographics." – EL
Stone Mountain: Art To The Rescue
In 2010, downtown Stone Mountain was in need of a little economic relief. And the city got it, thanks to some enterprising citizens and officials who used art to power economic development and came up with the Stone Mountain Arts Incubator – SMart, Inc.
A team made up of City Manager Barry Amos, DeKalb County Community Development Department's Director Chris Morris and some other inventive folks found that the U.S. Department of Housing and Urban Development's Economic Development Initiative funds micro-enterprises. Micro-enterprises are small businesses – too small to receive commercial bank loans – that require only a relatively small investment to get under way.
But the special twist on this program was its arts orientation. Generally, a micro-enterprise program involves a range of business types operating independently from each other, typically out of government-owned buildings.
Stone Mountain decided that participation in this program would be limited to artists: visual, performing and culinary. Furthermore, the city decided to use its abandoned downtown storefronts, rather than government buildings, to house the fledgling businesses. The close proximity of the stores allows for collaboration between artists and easy market browsing for browsers and shoppers.
Morris and David Thomas, of ART Station, a local nonprofit, agreed to manage SMart, Inc. This city-sponsored micro-enterprise initiative encourages low- to moderate-income persons to start small businesses by providing financial help as well as the educational and technical support needed to run a successful business.
Not only have these new businesses increased pedestrian traffic downtown, they are making Stone Mountain a destination for art lovers throughout Metro Atlanta. Locals mingle with tourists as they browse through a lively mix of paintings and sculpture and some offbeat designs like Susan Ryles' "Whack a Barbie" – an old gas stove where Barbie dolls named "soccer mom" and "damsel princess" pop up from the burners at her Butterfly House Studio.
Another unique aspect of SMart Inc., as it relates to micro-enterprises, is the length of the program. As long as signs of progress are being made, a participant may stay in the program for up to two years. Once the business reaches a certain level of sales, it is no longer eligible for financial assistance, but must stay in the program for the full two years, through continued attendance in educational and training programs.
Since its beginning, SMart Inc. has helped five artists create their own businesses while converting three of those empty storefronts into thriving new enterprises.
Sailor Studio showcases stunning enamel prints on copper jewelry and ornaments. Co-owner Debbie Sailor calls the educational and training courses "the best part of the program. I'm really learning more about how to operate a business. They've even helped me expand my clientele."
Stone Mountain Mayor Patricia Wheeler is thrilled with the result of SMart, Inc., which she calls "a total economic turnaround. We're really becoming an art city!" – RH
Suwanee: "Outsider" Art
Denise Brinson enjoys sitting on the patio at the local Mellow Mushroom and watching the reactions of pedestrians who stroll by pieces of outdoor art sprinkled around Suwanee. "I could see them do double-takes, and then I could see them call their friends over to look at it," says Brinson, Suwanee economic and community development manager.
There are a lot of head swivels in Suwanee now that the city has embarked on what seemed a whimsical movement to place 15 pieces of sculpture in public places, the first of which went on the pedestal last May. "Over the past three years, Suwanee has embraced public art as its unique niche by which it can further develop its community identity, embrace citizens' quality of life and creatively promote economic development," says Suwanee's GMA Trendset-ter Award application.
The idea of public art to define a city and create economic development was born during the administration of former mayor Nick Masino and furthered by current mayor Dave Williams. "Both Nick and I had jobs that required quite a bit of travel, both nationally and internationally," Williams says. "Both Nick and I agreed that great cities had great art. We created the Public Arts Commission (PAC) during my first year in office. The SculpTour is one of several projects the Public Arts Commission has undertaken." The SculpTour is an assembly of 15 pieces of sculpture that can be viewed online or in person.
Suwanee partnered with the North Gwinnett Arts Association, an organization of artists and art lovers, in the placement of art in the downtown area. Raising funds to support the purchase of art was an early challenge. "When we began our efforts about three years ago, people were saying, 'Oh my gosh, now is a horrible time to ask for money,'" says Suwanee economic developer Brinson. "And for a while we kind of believed that. We got some successes, and then we got a couple of major sponsors."
And then the PAC had $45,000 to spend on public art; the city doesn't so much buy the art as it rents it. Artists were offered $500 up front for accepted art and given another $500 at the back end when the art is removed, in this case March 2012. Citizens vote online for their favorite piece, and it is purchased by the city for the permanent collection. "It's good for us because we get cool, funky artwork, and it runs the gamut," Brinson says. – EL