The Georgia Jobs Outlook
It's a matter of training, education and timing. Logistics looks promising, but there's a demand for veterinary technicians and wildlife managers as well.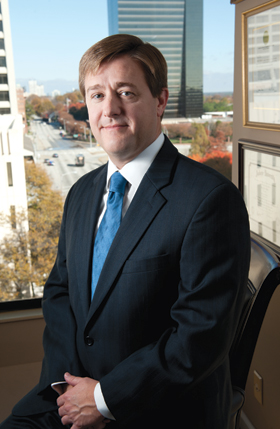 When Georgia Trend asked workforce development authorities to identify the professions and regions of the state where new jobs are developing and where the jobs of the future might be found, there was a near unanimous response on a number of fronts: The hottest of the hotspots for new jobs is in Southeast Georgia around the ports. And if the experts are to be believed, the demand for future workers will be in fields as varied as cosmetology, welding, plantation wildlife management and trucking. Logistics will continue to dominate the demand for future workers well into the future, with healthcare professionals right behind. The jobs will be there, say the pros, if candidates have the right training and/or education.
Sharon Poitevint stands in a newly built and furnished classroom on the campus of Southwest Georgia Technical College (SGTC) in Thomasville. Nestled in her arms is Juney, a 12-pound Jack Russell Terrier who seems to be fighting back a nap. Juney is a rescued dog, the survivor of a bad traffic accident that occurred eight years ago when the terrier was just a few weeks old. Poitevint is a veterinary technologist (VT) with 26 years of experience in the field, though she now works only one day a week at a local vet's clinic. The rest of her time is spent teaching in SGTC's brand new Veterinary Technology Program, a two-year course of study that, when successfully completed, will allow students to test for their Registered Veterinary Technician Certificate.
Then the newly minted VTs can step into waiting jobs, say the technical college faculty members. And how can they be so sure the jobs are waiting? It could have been the news reports that pet ownership across the U.S. is on the rise and has been for years, but it wasn't. The need for a new VT program began to trickle in a few years ago when Southwest Georgia vets were pleading for some help in their practices. Then SGTC took a survey of the vets in their service area, and "the response was overwhelming," says Dr. Bo Curles, director of the VT program at Southwest Georgia Tech.
"It showed there was definitely a shortage of trained veterinary technologists. These are jobs that have a starting salary of from $18,000 to $21,000, and that rapidly goes up with experience." VT classes began this semester with 34 students. The new veterinary program is just one example of how Georgia institutions can help fill the needs of the state's em-ployers.
Looking At Logistics
Debra Lyons is charged with the task of ensuring that when Georgia employers need workers, they can find them, even if those workers might need special skills outside the norm of average job seekers. Her company's research has revealed a corridor in Georgia where jobs are growing on the landscape faster than kudzu after a summer rain. "You can look at logistics as just around the Port of Savannah," says Lyons, vice president of community and economic development at the Atlanta office of ACT, the Iowa testing company that supplies Georgia's Work Ready program with an assessment program to measure the skills of job seekers against the skills needed for certain jobs. "We also have a superb inland port with the Hartsfield-Jackson [Atlanta International] Airport. Between Hartsfield-Jack-son and the Port of Savannah and everything that runs between those two, across I-16 and up I-75, that is a tremendous [jobs] growth corridor for the logistics industry."
Bolstering Lyons' assessment that logistics, the movement of goods, is a hot area for present and future jobs came a report from Savannah Technical College (STC) prepared by the Georgia Department of Economic Devel-opment that shows "295,000 full- and part-time jobs in Georgia are related to this logistics hub," and notes "with the possible ex-pansion of the Port of Savannah, there will be an increased need for qualified employees in the area."
To meet those needs now and later, Savannah Technical Col-lege has been awarded a Work Ready Regional Grant to assist the logistics industry in finding and training workers. A part of that effort includes the Logistics Career Pathway curriculum de-veloped for high schools, and an associate degree logistics curriculum has been developed by STC and is awaiting final approval. When completed, all these learning programs will connect into a seamless logistics education program from high school to a master's degree, and even beyond.
At Statesboro's Georgia Southern University (GSU) students in logistics studies have been able to obtain a bachelor's and master's degree in the subject, and now a Ph.D. in logistics is available, although some might wonder why the industry would need workers with a doctorate. "The whole process of logistics and supply chain have varying degrees of skill levels to make it work," says Dr. Ron Shiffler, dean of the College of Business Ad-ministration at GSU.
Shiffler says the Savannah Tech logistics program teaches students the basics for employment in logistics, the so-called worker bees. "So you've got the worker bees and then the bachelor's [degree] employees who are the next level in the food chain, supervisors and management," he says. "But there is a tremendous lack of faculty at four-year universities that can teach undergraduates and master's degree students exactly what we're teaching. We're trying to train professors who can go out and train undergraduates what we're teaching in the logistics industry."
Machinists, Welders
The Georgia Department of Labor (GDOL) is another state agency with constant and direct contact with employers.
From GDOL field reps and the executives at the companies they call on, Commissioner Mark Butler says he is hearing machinists, electricians and welders are in high demand, and will continue to be.
"Machinists who can use some of the new high-tech equipment; welders who can use advanced welding techniques; and electricians, and I'm not talking about the wire-pullers but industrial electricians, especially [from companies] down in Southeast Georgia," Butler says.
"One of the most recent contacts we had was with the Technology Association of Georgia, and they represent a lot of the IT firms around the state. They recently did a survey, and they said it showed that all of their members combined had about 5,000 job openings. It's going to be big since you're seeing some trends along this rural sourcing where IT companies are locating in more suburban and rural areas to get their costs down for software development."
Butler says he's learned the movement to rural areas is making IT companies more competitive. "As a matter of fact," he says, "we've even heard of an IT company in India interested in locating here stateside. And we've seen an uptick recently in the demand for CDLs (Commercial Drivers Licenses) for truck drivers, especially on the coast around the ports."
Butler says about half of his $450 million annual budget is devoted to vocational rehabilitation programs. "My mission is to put people in jobs," Butler says. "We're seeing progress in the Southeast part of the state and around military bases, whether you're talking about Columbus (Fort Benning), Warner Robins, around Fort Stewart and Augusta. A well-qualified workforce is going to be the No. 1 weapon in the hands of economic developers."
Mark Butler and Ron Jackson, commissioner of the Technical College System of Georgia (TCSG), often discuss their shared favorite topics, workforce development and jobs growth. For Jackson, the 25 technical colleges of the state keep in touch with local employers and let him know which training and education programs are in demand. But he also has other sources for identifying future employer needs.
"We use a group out of Georgia State University (GSU) and use some of their data on the occupational supply and demand system," he says. "It's a national assessment of the types of job openings that have grown, maybe not in total numbers but percentage-wise, and are projected to grow in the next several years." According to the GSU report, says Jackson, one feature of healthcare is tops on the list. "Home health aides are the top of the highest projected growth, with 65 percent growth between 2008 and 2018. They also show a pretty significant growth in the service industries, things like cosmetology, barbering, skin care, some food service, those kinds of things, and that's pretty well across Georgia as well."
Jackson says Georgia's "Auto Alley" near the Alabama line in West Georgia is an employment hotspot also. "There seems to always be demand for certain workers around all that development we've had with the auto industry and Kia and all their suppliers. And there are some of those trades in specialized training in aviation that is more concentrated down around the coast because of Gulfstream's location [in Savannah] where they've had some expansion with new products coming out. They've been hiring technicians."
Addressing Shortages
Back at Southwest Georgia Tech-nical College in Thomasville, the institution's president, Dr. Craig Went-worth, is making a point in describing the variety of employer demands for workers in his service area. "We've started a paralegal studies program in the [current] spring semester because we heard from one of our occupational advisory committees that there was a shortage [of qualified workers] in that area," Wentworth says. Another new program was linked to the technical college's proximity to a large number of working and hunting plantations in the area. "Over the past three years or so, we were hearing from plantation owners and managers about how they needed skilled people to work on the plantation, and we now have eight or 10 students who began their core courses in the fall and are working toward a Land Forest Wildlife Management Certificate."
The promise of more jobs in alternative energy fields is in the air along the Florida line in the southern part of the state where a biofuel plant, solar energy production and biomass energy plants have sprung up. "And, more traditionally, Georgia Power is seeing its employees aging and they need replacing, so I think we're going to have to look at programs that do involve alternative sources of power, and at the same time look to training that will be needed by companies like Georgia Power."