Columbia County: Strong Position
Housing, recreation and good schools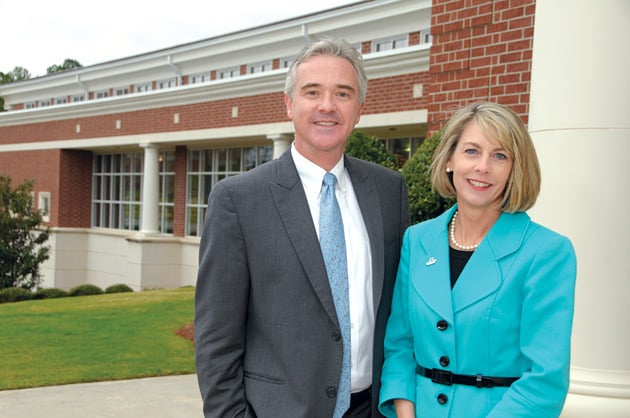 On a Friday night in late October, Lady Ante-bellum performed for a crowd of more than 4,000 from a new pavilion named after the country music trio. The concert, part of the dedication of the Evans Towne Center Park, showed the pride Columbia County has in its new $5-million, 17-acre recreational area, as well as in its Lakeside High alumni Charles Kelley and Dave Haywood.
Just like Lady Antebellum, Columbia County has been climbing the charts.
The county's population increased from 89,288 in 2000 to 124,053 in 2010, making it one of the highest growth areas in the state, says Commission Chairman Ron Cross. That's almost double the 66,031 residents in 1990.
"Columbia County has advanced so much," he says.
Cross attributes the growth in the county, which is on the banks of the Savannah River near Augusta and about 120 miles from Atlanta, to "great quality of life, a great school system."
The economic downturn, he says, "affected us very little. We have a dynamic in Columbia County that's a little different. We have some major industries, such as John Deere, Club Car, GIW Industries and Quad/Graphics, but an awful lot of our people work out of the area." Many residents work at Fort Gordon, at medical facilities in neighboring Richmond County or in the nuclear industry at Plant Vogtle in Waynesboro or the Savannah River Site in South Carolina.
"They leave the county every morning, but bring back their paycheck," Cross says. "And we have a very high family median income ($68,986 in 2009) that has helped our growth."
While affordable housing prices have appealed to young families, the county's recreational areas, including skiing, boating and fishing on Clarks Hill Lake, help attract retirees who are leery of hurricanes in Florida, Cross says. Of the 1,200 or so military personnel at Fort Gordon who do not re-enlist each year, some stay in the area, providing a good talent pool, and others return after retirement.
The Columbia County school system, which ranks as the 17th largest in the state and in the top eight percent academically, is the largest employer in the county. To accommodate the growth, it has built 10 new schools in the past 10 years. Future plans call for building several replacement schools instead of renovating older structures.
Aided by a robust SPLOST program consistently voted in by its citizens, in the last decade Columbia County also has built a library (which includes a performing arts theater), a courthouse, an animal control facility and health department building that centralized three departments, an office for the Georgia Highway Patrol and an addition to Building C at the County Complex.
The county is also using SPLOST money to widen Washington Road for about a five-mile stretch rather than waiting on DOT money to fund it. Water, sewer and recreation improvements, including the new park, have also come from SPLOST.
Broadband Pioneer
Most of Columbia County is unincorporated. Only Grovetown and Har-lem are cities, while county seat Ap-pling and the more heavily populated Evans and Martinez are not.
"We are basically a city without the name of a city, because we furnish all of the primary services," Cross says.
Columbia County is a state pioneer in a broadband initiative, securing a federal stimulus grant of $13.4 million and matching with several million in cash and in-kind to run a 220-mile fiber-optic network across the county. Private companies will provide "last mile" service.
"That's going to be as viable as having water and sewer in the ground," says Troy Post, executive director of the Development Authority of Columbia County. "Some forward-thinking people in the county offices recognized that because of the number of residents who moved into the area, it might further be an attraction for the service and retail sector, as well as technology companies."
The county is also building an exhibition center in the western part of the county, the "Gateway" area near Grovetown. The center will accommodate conferences and meetings that require more space than the Savannah Rapids facility or library can deliver. The YMCA also plans to put a fitness center there.
"Columbia County used to be the bedroom community. Nobody worked in Columbia County," says Tammy Shepherd, President and CEO of the Columbia County Chamber of Com-merce. "Yes, this region has a great quality of life, but the focus has definitely changed into a very business-driven community."
As the population has soared, stores and restaurants have also proliferated, including the third Super Walmart in the county, which opened in late 2009.
By officially crossing the 100,000 population threshold, the county is now more attractive to high-end retail and dining establishments. The wealth of the area, one of the highest among Georgia counties, is another selling point.
The people of Columbia County "are begging for more retail," Shepherd says. "We are primed for more upscale retail and also more food and beverage."
Cross notes that in 2004, his first year in office, a study "determined that only about 48 percent of our disposable income was staying within the county because we didn't have the shopping facilities. Since that time we've improved that up to about 64 percent, but the state average is 72 percent."
In addition to its desire for retail, Shepherd says the booming Grovetown area also is clamoring for more professionals, including accountants, doctors, lawyers and insurance agents.
Grovetown, which has 11,000-plus residents, sits at the backdoor of Fort Gordon, which continues to expand, and is also convenient to major industries including John Deere Commercial Products, GIW Industries and Serta.
"Martinez and Evans had about filled up, and I guess Grovetown was the next area really to grow," says Mayor George James.
James says more than 200 new homes were built in Grovetown in 2011, which has been steadily growing since the mid 1990s, but really took off in 2006 and 2007. He adds that the city made sure its infrastructure was sound to handle the growth, spending more than $1 million on water lines and a bigger water tower.
"We went from about a 250,000-gallon to a 750,000-gallon tank," he says. "We said as long as we're doing it, we may as well go ahead and do it."
Fort Gordon told James to expect more expansion, so the DOT helped by putting a turn lane at one of the gates to help with traffic.
"Some mornings, especially if the gate has some security, we get traffic backed up all the way into town," James says. "You think, 'Man, what happened to Grovetown?' It's like a little metropolis going on. Once traffic goes through, we're back to the little community feel we had."
Harlem, on the other hand, is trying to bring in more traffic. The city of about 2,600 has completed a revitalization of its downtown area, including sidewalks and streetlights, which took three to four years and cost about $1.5 million.
The city is also converting the old Ford dealership into a new public safety building for $1.7 million. "It's a great example of our philosophy to preserve historic properties and use them in a way that would be fitting," says Mayor Bobby Culpepper.
Harlem also purchased the Columbia Theater, spending $200,000 so far for a new roof and a marquee, and is building a façade of the old depot along the railroad track with an initial $200,000 from the DOT. "Sadly, we allowed our historic depot to be torn down," Culpepper says, "but we do have pictures of it."
Tourists Welcome
The depot, to be used as an amphitheater and for farmers markets, would complement the local Laurel and Hardy Museum, which is a visitor magnet.
Tourism has long been a staple of Columbia County, which has begun discussions about combining tourism, sports events and entertainment into one new division.
Stacie Adkins, Columbia County recreation and events manager, said the county has about 40 to 45 events a year, from concerts to a kids' indoor matinee movie in the summer.
The county will host the NCAA Division II soccer tournament in 2012 and 2013 and recently hosted the Peach Belt conference championships in soccer and cross-country.
Wildwood Park is home to the International Disc Golf Center and the Professional Disc Golf Association, which puts on several tournaments a year, and the county has hosted many baseball and fishing tournaments, including ESPN Bassmasters.
"We want more concerts, and we're trying to get away from just doing two big festivals a year, Columbus Day and Fourth of July," Adkins says. "I really want to do a spring jazz festival."
She says probably 80 percent of the non-sporting events will be held at the new Evans Towne Center Park.
"One of our biggest challenges is getting the word out about recreation and events," Adkins says.
That's not a problem with the school system, which has grown by about 2,000 students in the past four years to 23,700.
"With the economy being the way that it is, we've been able to maintain and grow academically as well as meet the needs of the community as it grows population-wise," says Superintendent Charles R. Nagle. "Our biggest problem right now is growing without the funding."
He says the number of teachers has decreased from 1,803 in 2007 to 1,638 in 2011-12, so the county received a waiver from the state for larger class sizes, three students above the limit. The county receives $92 million from the state, down from about $104 million in 2007. Although Nagle believes $120 million to $125 million would be more in line with its current needs, the county did not have to furlough this year.
He also says the county is proud to hire and pay for local paraprofessionals in every first- and second-grade classroom.
Most of the school construction has been in the Grovetown area, which opened the latest new high school.
"I don't know if they love us or hate us," James says. "Every time you turn around, our schools are getting full and we have to do something else."
Nagle says every school under construction has been worked into the budget. "At the end of this year, 2012, this school system will be totally debt free," he says. "It's a tremendous statement for this community and the support that we have."
Looking Ahead
The Chamber of Commerce is trying to build a bridge between its business members and schools through the Workforce and Education program. "It's being proactive for the future," Shepherd says. It not only identifies what types of jobs are available, but also makes sure the schools are teaching "real-world material," including soft skills like communications and problem solving.
The businesses are also made aware that schools partner with the chamber on 27 career pathways like graphics design and a culinary program.
Unemployment is 7.6 percent in Columbia County, well off the state average of 10.3 percent. The diverse economy within Columbia County has helped prevent it from having higher unemployment and more foreclosures and allowed a more stable economy, Post says.
Rather than more industries moving into the county, "We've seen existing local companies find ways to remain viable and hopefully increase their market share," he says. "That's been more important to us."
Pump manufacturer GIW Industries, which is heavily tied to the commodities market, has experienced growth despite the economic downturn and enjoyed a record-breaking year in 2008.
Formerly known as Georgia Iron Works, the company employs 500-plus people at its Grovetown site and has plans for expansion next year.
"Since 2006, the trend has been positive," says Charlie Stone, vice president of sales and marketing for GIW Industries. "The export market is what is driving the business."
Stone says revenue has tripled in 10 years from $50 million to $150 million. North American sales used to account for 75 percent of the business, but the split with the international export market is now closer to 50-50, especially with strong demand in developing economies like China, Brazil, India and Chile.
The golf industry is in a "state of flux" due to the economy's impact on leisure activities, says Club Car President and CEO Marc Dufour.
Most golf cars, or carts, are leased, he says. "Most will just extend the lease instead of buying new cars," he says. "We've not seen a huge decrease, but our income-to-order rate is less than we had hoped. We're watching very carefully. Customers are being very cautious. If things start to solidify, this could be a blip, but right now we are seeing some uncertainty."
He says Club Car, with about 1,000 employees, remains very committed to Columbia County.
John Deere Commercial Products, which recently celebrated its 20th year in the county, has benefited from Department of Agriculture incentives that spurred new tractor sales, Post says.
Wisconsin company Quad/Graphics acquired Columbia County's catalogue printing firm, keeping hundreds of jobs local. Meanwhile, software company TaxSlayer.com is so successful it is moving into a five-story building and has become the title sponsor of the Gator Bowl.
Post says the county is doing a feasibility study on starting a business accelerator and is making an opportunity zone application in an area near Martinez to stimulate additional commercial investment.
One challenge for the development authority is that Columbia County is considered too wealthy, putting it at a disadvantage against counties that can make better use of the state's tax credit program.
"I'd rather be where we are than most of the others," Cross says.
County leaders have also talked for the past five or six years about whether they want to continue growing.
"The only problem," Cross says, "is how do you tell somebody they can't come into the county?"
COMMUNITY SNAPSHOT
Local Leaders
Ron Cross
Chairman
Columbia County Board
of Commissioners
706.868.3379
commissioners@
columbiacountyga.gov
Tammy Shepherd
President and CEO
Columbia County
Chamber of Commerce
706.651.0018
tammy@columbiacountychamber.com
Troy Post
Executive Director
Development Authority of
Columbia County
706.312.1371
Population
(2010)
County, 124,053; Martinez CDP, 35,795; Evans CDP, 29,011; Grovetown, 11,216; Harlem, 2,666
Median Household Income
(2009)
$68,986
Unemployment
(September 2011)
County, 7.6 percent
Georgia, 10.3 percent
Top Manufacturing Employers
Club Car, Quad/Graphics,
GIW Industries, John Deere Commercial Products
Sources
Columbia County Chamber of
Commerce, Georgia Department
of Labor, U.S. Census Bureau