Southwest Georgia: Ready For Revitalization
New investments and green initiatives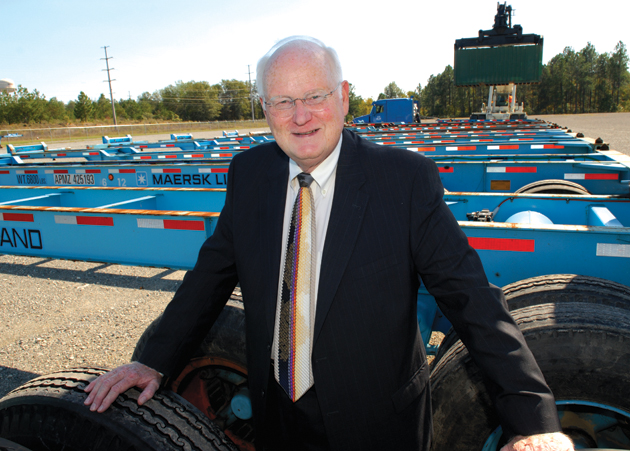 Southwest Georgia is poised for seismic economic developments to roll across the landscape from Interstate 75 to the Alabama state line, with rumbles of promise already under way in Crisp County where an inland port has begun shipping cargo destined for foreign shores via the Port of Savannah.
Meanwhile, the less prosperous western counties are watching for Pentagon final approval of a plan to expand the borders of Fort Benning deep into the largely rural region, which could signal the creation of thousands of jobs.
In September, the first shipment from the Cordele Intermodal Services (CIS) facility hit the road for the Port of Savannah, marking a dream-come-true moment for its chief architect, Bruce Drennan, executive director of the Cordele-Crisp County Industrial Development Council.
"It's like when you were in college studying for finals and when you finish them you say, 'OK, that's it. What's the next project?'" Truth is, there are plenty of projects waiting to begin doing business with the CIS. "The CIS manages the facility," Drennan says. "And they have 15 or 20 different companies they are talking with. The first shipment was a container of kaolin clay from Sumter County, and that is to be followed by a shipment of cotton to the port in Savannah coming from Union Compress in Crisp County."
Drennan says early orders for the CIS facility are weighted toward agriculture products. For instance, another order coming from Vega Biofuels is set to send containers to Europe. "They use the limbs, bark and other remnants left behind by timber companies when they harvest trees," he says. "Vega is currently working on leasing a building here."
Using an inland port like CIS makes solid business sense, adds Drennan. "Right now when a company needs a container to ship their products, they have to have one brought from Savannah. That's about 230 or 240 miles, and they have to pay to have it delivered." With trucking costs at $3.50 a mile or more, there are substantial savings for a shipper using the CIS facility, he says. "We will have the empty containers here for them," he adds.
A Georgia Tech study estimates 3,000 to 5,000 new jobs will come to the region within the next five years, according to Drennan. "We're looking at, within three years, 25,000 to 50,000 containers a year," Drennan says. The anticipated job growth will put a strain on locals, but plans to handle a flood of new residents are under way. "The community has been behind this, doing a lot of planning for what the impact will be," Drennan says. "One example is the school system. You look at 2,000 or 3,000 people moving here over the next five years, that's going to have a big impact on our school system. They're building a new school now, to be ready for the 2012 school year."
New Investment
In Early County, 75 miles to the west on the Alabama border, locals celebrated the arrival of the American Inter-national Marksmanship Academy (AIM) at a June groundbreaking ceremony. The AIM was touted as "the community's largest economic development event in nearly 50 years," according to Lisa Collins, director of economic development for Early County 2055, a nonprofit funded by Atlanta's Rice Foundation.
"The investment will total $73 million and create 400 new jobs at the build-out, which is expected to take 36 months," says Collins. "One of the reasons the company chose Early County as its headquarters is because of the proximity to military bases, such as Fort Benning and Fort Rucker [in] Alabama, which will benefit from the new training facility," Collins says in a press release.
The AIM facility is located on 2,300 acres and includes a 1,000-meter firing range, a rarity for the area. Training will be offered in a variety of firearms for military personnel, law enforcement and security officers. In addition, the AIM amenities will be open to the public and civilian organizations for training, safety programs and marksmanship contests. "This new facility in Early County will be an asset for Fort Benning," Collins says. "Early County looks to become a south anchor community for Fort Benning as they move and expand their border."
Those repeated references to Benning are grounded in an Army decision to begin a hunt for 82,800 acres of land in Southwest Georgia and Southeast Alabama for the expansion of the Columbus base, according to an April 2010 article in The Bayonet, an official publication of Fort Benning's Public Affairs Office.
"To put it in perspective, to do heavy maneuver training takes a swath of square terrain … and when you try to lay that out for the 3rd HBCT (Heavy Brigade Combat Team) and wrap it around other impact areas on post, it just doesn't fit," says Col. Terry Sellers, a Fort Benning spokesman quoted in The Bayonet article.
The reported timeline for completion of the study is 15 to 18 months, but Collins is hoping for a go-ahead from the Army by the end of the year. Early County's seat of government, Blakely, is connected to Columbus by U.S. Highway 27, and it passes through two of the Georgia counties mentioned as possible Benning expansion sites, including Chatta-hoochee and Stewart, leaving Collins to believe the highway will be expanded to four lanes and could become a stream of commerce for the region.
The Georgia Department of Transportation (GDOT) has already announced a 40-mile stretch of 27 will be widened to four lanes between Cuthbert and Blakely, and the city has begun a $2-million gateway project to draw tourists into Early County. Blakely planners are using $800,000 in GDOT Transportation Enhancement program funds to build the gateway. U.S. 27 is being christened the Martha Berry Scenic Hometown Highway, with attendant enticements for tourists to use the road. "We'll have a brand and a website, and we'll have a points [of interest] map that we're putting together now," says Collins, a member of the Georgia U.S. Highway 27 Association, a promotional group representing 21 Georgia counties along the western border with Alabama.
Some Optimism
At the end of last summer, the Thomasville-Thomas County Chamber of Commerce hosted a regular monthly luncheon for its Existing Industry Committee, a group with about 20 members representing local education, banking, retail sales, manufacturing, government and services of all stripes. And at the end of the 90-minute session, the group was all smiles.
"What we get in these meetings is a pretty darn good feel for our local economic and employment situation," says Don Sims, president of the chamber. "And that feel was a good one. As we heard, businesses and industries here are all doing well, and the community is optimistic about the future."
Sims regularly measures the progress of his local industries and says even in the roughest patches of the current economy, they have grown. "When you have 122 industries, as we do, and they're taking on five, 10, 15 people, you get a significant increase in employment," Sims says. "Cases in point are two local boiler companies. Cleaver-Brooks, which moved their headquarters down here from Milwaukee, adding about 60 jobs, and then they came back with another 40 good jobs in their headquarters. Another of our local industries, Hurst Boiler & Welding Company, has done well during the recession. You know, if your company needs a boiler to operate, it's not something you can just plan on buying when the economy gets better."
Thomasville's Cibis Steel, best known for providing the steel infrastructure of Atlanta's Olympic Stadium, was the successful bidder on the $100-million North Tower at the city's Archbold Memorial Hospital, and that comes on the heels of the recently finished oncology center at that health facility.
"Right now we have a $3.3-million expansion at our library under way," Sims says. "And we're doing a $5-million restoration project at our 1858 courthouse, and we completed a $12.5-million new addition at Southwest Georgia Technical College. The interesting thing about all this construction is that these projects were years in the making, but they culminated at a time when it was especially meaningful for us to have all those jobs."
Green Initiatives
For Andrea Schruijer (pronounced Shryer), there are times when just two jobs can carry real weight in the economic development process. "This year we announced Wiregrass Solar, LLC, which created two jobs and represented a $1.5-million capital investment," says Schruijer, executive director of the Valdosta-Lowndes County Industrial Authority. "This investment represents a partnership between the City of Valdosta and the company. We leased them two acres of land on which to erect their solar panels." The larger numbers are in the future.
"This is a green initiative we're doing for the community, more than a large job creation," Schruijer says. "The Georgia Public Service Commission is really working toward growing the solar power usage for the state. This facility will generate energy for consumers and businesses." The system will produce 350,000 kilowatt hours of electricity annually, making it one of Georgia's largest solar energy facilities, according to information provided by the industrial authority.
Another Southwest Georgia alternative energy producer sprang to life earlier this year when Albany's Marine Corps Logistics Base (MCLB) partnered with Chevron Energy Solutions and Dougherty County to create the Navy's first landfill gas cogeneration plant. Under the 20-year agreement, the county will sell landfill gas produced at a local site to MCLB, which in turn will use it to power a 1.9 megawatt generator, bringing the base's renewable energy use to 19 percent of its needs, far exceeding government mandates.
The partnership taking garbage to gas is projected to save the Marine base more than $1.1 million in annual utility costs. For Ted Clem, what's good at MCLB Albany is good for the host community. "In our economic development plans, the Marine base has a central role," says Clem, president of the Albany-Dougherty Economic Development Commis-sion. "One of our core strategies is to grow the work that takes place at the base, and part of that was our success last year in helping to locate offices here for BAE systems, General Dynamics, SAIT and others, all defense contractors." Defense contractors have long had workers at the base, but the presence of new contracting offices and program managers forecast expectations of growing business in the future, according to Clem.
The 2,400 civilian employees and 600 Marines combine to create a $645-million annual economic impact for the region, good news for Clem and his counterpart in neighboring Lee County, Winston Oxford. "We are part of the Albany Metropolitan Area [MSA], and the Albany MSA has the second highest retail pull factor in the state," says Oxford, executive director of the Lee County Chamber of Commerce and Development Authority.
"What that means is more people come to the Albany MSA to shop than leave it to shop elsewhere. You hardly realize when you leave Dougherty County and enter Lee County because the two counties are so connected." Oxford sees the combined populations of the two counties, 132,033, as a strong lure for retailers, and his county has taken steps to make sure they have what they need when they arrive. "Lee County, especially over the past six or seven years, has invested strongly in infrastructure, including water and sewer, in all our viable commercial corridors," Oxford says, after ticking off a long list of new stores in his community.
Tifton's most productive infrastructure feature is Interstate 75, long valued for its retail sales contributions from tourists to the local economy; but now the highway is being discovered by another business sector. "We're seeing a tremendous amount of activity across the board, in manufacturing, warehousing and distribution, in retail and commercial, too," says Brian Marlowe, president/CEO of the Tifton-Tift Coun-ty Chamber of Commerce. "We had five [new industry] announcements in 10 months this year that together will bring 430 new jobs to the community. We have one investor who is building 650,000 square feet of warehouse space, with about 100,000 square feet now under roof. That'll be an investment of $13 million to $15 million."
Strong Impact
Economic developers in neighboring Colquitt County have found a tough economy softened by an old ally, agriculture. "Agriculture had a $480-million impact here last year," says Darrell Moore, president of the Moultrie-Colquitt County Cham-ber of Commerce and the Devel-opment Authority. "People have to have food, and that's a constant year-in and year-out. So I think our food-related industries are more recession-resistant than most others. For instance, we worked with Lauri Jo's Southern Style Canning to secure financing to build a new 4,100-square-foot kitch-en and retail store, and that's 10 new jobs." Thirty new jobs accompanied the expansion of a local produce packing shed, and a local dairy added 10 jobs with the start of a second shift of workers, Moore says.
More good news on the agriculture front came from the olive orchards of Lanier County when three tons of olives were harvested and shipped to Texas for processing into oil. The September event marked the first commercial shipment of olives from Georgia in more than 200 years.
The olive becomes Georgia's newest agriculture product, and growers say the oil produced can be among the finest on the market. Orchard owners believe South Georgia will have 500 acres of olive trees producing 1,800 tons of product within the next five years.
Community Snapshot
Local Leaders
Bruce Drennan
Executive Director
Cordele-Crisp County
Industrial Development Council
229.273.9570
brucedrennan@crispidc.com
Andrea Schruijer
Executive Director
Valdosta-Lowndes County
Industrial Authority
229.259.9972
aschruijer@industrialauthority.com
Don Sims
President
Thomasville-Thomas County
Chamber of Commerce
229.226.9600
dsims@rose.net
Population
(2010, projections)
Crisp County, 22,215
Dougherty County, 95,986
Lowndes County, 108,542
Thomas County, 46,188
Tift County, 43,421
Per Capita Income
(2008)
Georgia, $34,849
Crisp County, $26,341
Dougherty County, $28,732
Lowndes County, $29,884
Thomas County, $32,693
Tift County, $27,082
Unemployment
(July 2011, preliminary)
Georgia, 10.4 percent
Crisp County, 13.8 percent
Dougherty County, 12.0 percent
Lowndes County, 9.5 percent
Thomas County, 8.9 percent
Tift County, 12.3 percent
Source
Georgia Department of Labor, individual county agencies