Jasper/Pickens County: From Marble To Manufacturing
Looking for new ways to grow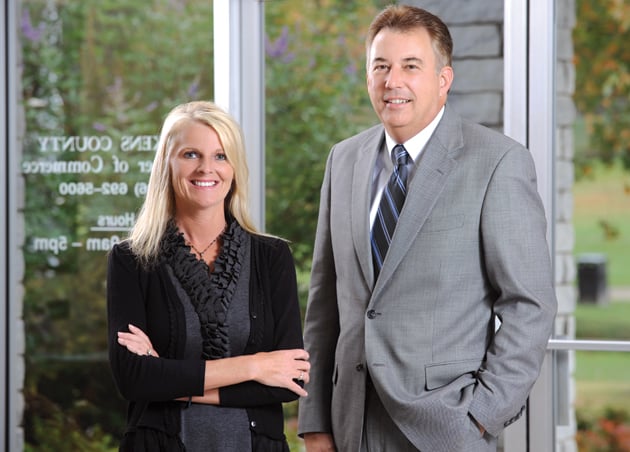 Georgia marble from Pickens County has been used to beautify buildings such as the U.S. Capitol, customize countertops, mark graves and – in a pulverized form – keep chewing gum from sticking to its wrapper.
But the "Marble Capital of Georgia" wants to be known for providing more than just a pretty façade. It is working diligently to recruit new manufacturing industries to northwest Georgia and to promote tourism.
Located about an hour north of Atlanta along Georgia Highway 515, Pickens County is the gateway to the Blue Ridge Mountains.
"Our economic development initiative stalled for many years here, and I'm most proud of the fact that we have reinvigorated it," says Mike Denson, chairman of the Pickens County Economic Development Council. "We were so heavily dependent on residential construction – and I don't see that coming back – so we've got to develop jobs on our own.
"I don't know if we'll grab any Lockheeds," he adds, "but we've got a huge potential for developing, 30-, 40-, 50-, 100-person manufacturing firms."
The key is spreading the word. In 2008, the county and city joined forces to hire Gerry Nechvatal as the Community Economic Development Director with the Pickens County Chamber of Commerce.
"We're starting to see results," Denson says. He credits local officials "on board 100 percent in the effort of trying to draw people in as opposed to sitting here waiting for someone to land on us."
The creation of the Marble Valley Sustainable Opportunity Zone persuaded Polycor, the Quebec-based company that bought Georgia Marble in 2003, to bring a new industry to Tate. It moved its newly acquired business, Vetrazzo, from California into unused space in the Georgia Marble plant.
Manufacturing began in August 2010 of Vetrazzo's environmentally responsible product – composed mainly of recycled glass – that is used mostly for countertops. Vetrazzo occupies 12,000 square feet in the 67,000-plus-square-foot Georgia Marble plant and has 13 full-time and seven temporary employees.
"It's an interesting dichotomy to have the past with the future," says Brand Manager Mary Warner.
With such close proximity to marble, Wagner says that the company is exploring the use of marble chips for a product similar to its current one and is also looking into mosaics.
Vetrazzo's goal moving into next year is to develop a cost-effective, sustainable surfacing material to be used for flooring, Warner says, adding that the company expects to double its earnings in 2012. "Plans are to invest in new equipment, and we are hoping the sales and marketing campaign of 2011 will generate more sales, allowing us to increase workforce," she says.
State tax breaks provided through the 406-acre Marble Valley Sustainable Opportunity Zone could help Pickens County attract other corporations, some of which have visited the area for well-organized tours. Rail service is another selling point.
"We are not on a major interstate, but companies that require rail service have very limited options in north Georgia," Nechvatal says, "so we believe that this will open up an opportunity for us to be competitive for industrial projects. "
Growth has also come from the expansion of existing companies. Lex-ington Precision, which makes rubber parts for the automobile industry, increased its workforce from 140 to 150 three years ago to about 200 today.
"We experienced our share of struggles when manufacturing in general and then the economy turned down," says Matt Ledford, operations manager, "but we weathered the storm. Since early 2009, we've experienced nothing but growth."
Besides taking on new business within its existing customer base, Lexington Precision acquired market share from companies that didn't survive. "We're kind of the last man standing," Ledford says. "We're projecting 5 percent growth over the next few years."
Strong Workforce
Lexington Precision is one of the local leaders with the Georgia Certified Work Ready Program, which tells companies that qualified employees are ready to enter the workforce. It also has a strong partnership with Chattahoochee Technical College, which has about 670 students on its Appalachian campus in Pickens County.
Jonathan Warner, the director of economic development for Chattahoochee Technical College, says the school tries "to maintain a good pulse on what's happening with local industry" so it can provide continuing education programs and customized training programs for their needs.
Warner says as the economy starts to improve, there is demand in the areas of management and supervisory development. Job profilers have also determined that knowledge and skills are needed for jobs in industrial maintenance and as production technicians and welders. "We bring industry and education together in a meaningful way," he says.
Royston LLC is another company with no tie to the marble industry, but which was attracted to Pickens County in 1981 because of the railroad and the availability of large tracts of land.
Royston makes modular metal cabinetry and has about 200 employees at its 200,000-square-foot Jasper plant, which sits on 150 acres.
"We're actually having the best year we've ever had," says Bonnie Padgett, marketing manager, who expects sales to hit $120 million in 2011. "We've just continued strong growth."
Royston provides cabinetry and/or belted and non-belted checkouts for 14 of the top 20 major grocers in the U.S. and for stores like Walmart, Target and 7-Eleven.
Padgett says two shifts are working and the second is not completely full, so there is more capacity.
Anticipated new technology from Italy will allow Royston to get even more orders out, she says.
"We spend a lot of time and energy trying to grow steadily so we can keep more folks on," Padgett says. "A lot of folks have been there 10, 20, 30 years."
They stay for the company's benefits, as well as the quality of life in Pickens County.
Up To Speed
Sole Commissioner Robert Jones, who runs the county's day-to-day operations, says Pickens has worked hard to get up to speed in its emergency services, such as EMS and 911.
It launched a full-time fire department about three years ago and now has 11 paid employees. "Everybody was trying to survive in this economy, so it was hard to take your volunteer firefighter out of a paying job to come out and fight a fire, even though that's what he'd like to do," Jones says.
The county also has greatly expanded its recreational opportunities. A $1.9-million, 30,000-square-foot community center, which recently opened at Roper Park, features two gyms and an indoor walking track. There are three new trails into the Burnt Mountain Preserve.
The county donated land next to the community center for a Boys and Girls Club, which is near the halfway mark of a capital campaign to raise $2 million.
Water is no longer a big issue in the county, thanks to the installation of two new water tanks in the past two-and-a-half years, but Jones says sewer "is still something that we're working strongly to get. It's a long drawn-out process to get a sewer system up and going."
The county is trying to partner with a couple of private communities that already have a system.
Jones says that in February 2010, the county's sales tax revenues started climbing again, thanks to two new gas stations on Highway 515. However, citizens were disappointed that they "did not see a great spike" with the opening of a Walmart in August 2010.
Downtown will get a lift with an $11-million to $14-million renovation of the old courthouse, which will be put out to bid by the end of the year. Citizens voted to keep the 1940s marble building intact and unobtrusively build onto the back of it. That addition, which replaces a current annex, will not be made of marble. "Even though we're the marble capital, it's too expensive," Jones says.
Work on extra parking facilities, which will cost about $400,000, has already begun.
"We've got a lot going on in Pickens County," Jones says.
But there's always room for more.
Strategic Location
Nearly equidistant from Atlanta, Rome, Dalton, Gainesville and Chattanooga, "we are strategically located as far as any future growth would be concerned," says John Weaver, mayor of Jasper since 1992.
"My concern is that north Georgia has been penalized through the OneGeorgia initiative from the state."
Weaver says Pickens County and Jasper are "as bad off as any county and city" in terms of unemployment, with many people who worked in construction not counted among the unemployed.
"I'm not trying to hurt anybody's feelings, but I think all of Georgia should be treated the same," he says.
Weaver adds that Pickens County once was considered a poor county in the Appalachian Mountains, but the Bent Tree and Big Canoe retirement/recreation communities have given it a higher per capita income "that skews everything" and "has placed us in a predicament with the OneGeorgia concept."
Weaver also says that the state Department of Transportation has made it difficult to develop along Highway 515, which he points out was named "Appalachian Development Highway" when it opened in 1985-86. (The portion that runs through Pickens County, the Zell Miller Mountain Parkway, opened in 1991.)
"They say I can't put utilities on a federally funded road," he says. "I can't parallel 515; I have to 'backdoor' nearly every project, which is very expensive. They should change the name of the road to Appalachian Obstruction Highway."
The movie news from the state is more encouraging. Pickens County has been designated one of Georgia's Camera Ready communities. Nechvatal says a major production company visited earlier this summer, but had not yet selected a location. A small film was being shot in the county, which he says receives two or three requests a month for further information.
"We want to gain exposure as a good place for production, and we certainly like the tourism aspect that this can generate," Nechvatal says. "One advantage perhaps of a rural community is we have a lot of very interesting buildings and locations that lend themselves well to the entertainment industry."
Nechvatal says the opening of Gibbs Gardens, just a half-mile south of the county line in nearby Cherokee County in March 2012 "will create a lot of traffic in our community that we can take advantage of to increase visitors to our small businesses."
Another attraction is the new Moto Mountain ATV Park in western Pickens County. Along with 73 miles of ATV trails, the park also features zip lines and sky cabins, which sit on stilts and afford good views of the mountains.
About two years ago, the Sports Car Club of America approached local officials about reviving the Burnt Mountain Hill Climb from the 1950s, in which sports car drivers made one-mile time trials up the mountain. But hopes were dashed last year by an 11th-hour addition to a bill in the state legislature. Time ran out before the bill, which would close county and city roads for events sanctioned by a local governing authority, could come up for another vote. It had passed in an earlier incarnation.
That idea is now on the back burner as Pickens County looks to the rails to drive tourism.
"We are exploring the feasibility of creating a tourism venue that would include a scenic railway that would provide access to the marble quarries and tie in the history of the area, as well as include historic buildings such as the Tate Mansion," Nechvatal says.
The mansion is known for its pink marble, with each side of the home built in a different style, and is a popular site for weddings.
Another high point is the track itself, which has one of the only switchbacks east of the Mississippi River and "is very appealing to rail fans," Nechvatal says.
He is also working to promote the quaint mountain setting as a dining destination, designed to draw people on the 515/575 corridor from as far south as Cobb County.
One of the featured restaurants is the Appalachia Grill, which celebrated its 20th year in business. Krissy Fitts, who has owned the Marble Hill establishment with her husband Jason for five years, says during the economic downturn guests "would come in and say, 'Don't leave, don't leave, we've been coming here since 1992; you've got to stay.'"
"That really kept us through that bad time," she adds. "This summer we really noticed a change, a lot more people traveling, and it just feels like people are getting out more."
Restaurants in downtown Jasper haven't had the same kind of longevity. "They would come and go very quickly," says Amber Fountain, a partner in the restaurant 61 Main. "If you have places that can open up and stay open, people from Atlanta and Blue Ridge can get familiar with them. That brings them into downtown to stay longer, and they can see new businesses that are opening."
Fountain says the biggest form of advertising for 61 Main has been word of mouth, but Nechvatal has tried to help by organizing a billboard on Highway 515. There are 16 small businesses on the sign, each paying $100 a month for a year.
Downtown Jasper "is coming back slowly," says Denise Duncan, executive president of the Pickens County Chamber of Commerce. "As far as businesses opening up, it's hard to count them because they don't stay open.
"We have plenty of vacant buildings," Duncan says. "There's one eyesore on Main Street that everybody wants to fill."
That's the former Napa Auto Parts building, painted a bright blue which, Duncan says, at least makes it useful as a landmark. She says she doesn't care what business moves in "as long as it brings traffic to our downtown."
Nechvatal has plans to dress up the windows of the blue building with old toys as part of Jasper's Christmas decorations, when carolers in period costumes will roam the streets. There have been several dances this year to also bring residents downtown.
The decline in real estate prices could help draw newcomers to the area. The housing market, including Big Canoe and Bent Tree, is starting to rebound, Nechvatal says. "Some of the real estate agents right now actually have been complaining that selling houses is starting to get in the way of their other activities," he says, citing an agent who organized the Jasper Art Fest last April, "which is a very good problem to have."
Community Snapshot
Local Leaders
Robert Jones
Sole Commissioner
Pickens County
rjones@pickenscountyga.gov
706.253.8817
Gerry Nechvatal
Community Economic Development Director
Pickens County
Chamber of Commerce
economicdevelopment@
pickenschamber.com
706.692.5600
John Weaver
Mayor
City of Jasper
jweaver@jasper-ga.us
706.692.9100
Population
(2010)
County, 29,431; Jasper, 3,684; Nelson*, 1,314; Talking Rock, 64
Median Household Income
(2009)
$50,790
Unemployment
(July 2011)
County, 9.2 percent
Georgia, 10.2 percent
Top Manufacturing Employers
Lexington Precision, Royston LLC, Imerys Performance Minerals, Polycor, J.M. Huber Corp.
Sources
Pickens County Chamber of Commerce, Georgia Department of Labor, U.S. Census Bureau
*Nelson straddles Pickens and Cherokee