Jackson County: Logistics And Renewal
Taking advantage of location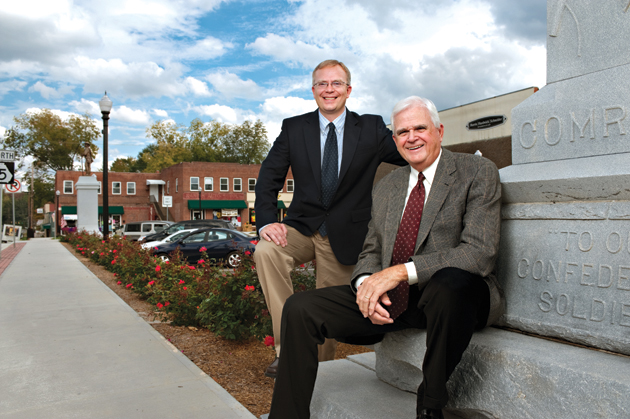 Drive north on Interstate 85, and as the sprawl of Atlanta starts to fall away, the traffic thins and you find yourself in Jackson County. At some 60 miles northeast of the city, it is on the exurban edge of the Metro Area – at once increasingly urban, but still firmly rural.
This is a place where small-town life still thrives and you can drive long stretches of country roads without passing another car. Increasingly, it is also the place to be for companies that want to deploy their goods and services regionally or even farther afield through Hartsfield-Jackson Atlanta International Airport. While growth here has slowed, just as it has everywhere else, a steady stream of prospects is once again appearing – representatives of companies looking for a strategic location to expand.
"In 2010 we saw four new industries locate in Jackson that created 750 new jobs for us," says Jackson County Area Chamber of Commerce President and CEO Shane Short. "Despite the downturn in the economy, both last year and 2011 have not been too bad overall for us."
"Not bad" is a common expression here these days. Over the past decade, population growth surged as the county grew from 42,000 in 2000 to somewhere around 65,000 today. In those years, the county got busy building new roads and infrastructure to accommodate the people and cars that filled narrow country roads. Industrial parks – 12 in all – sprang up as companies recognized that Jackson's location on I-85 was a good place if you wanted to reach customers to the south in Atlanta or to the north in Charlotte and beyond. Logistics and warehousing became a growth industry.
It also accounted for many of the new economic development announcements in the past year. Systemax, which owns electronics retailers Circuit City, Comp-USA and TigerDirect.com, opened a major distribution facility in Jefferson. The facility, which employs about 400 new workers, also includes a 40,000-square-foot retail center, giving local shoppers a good excuse to buy that flat screen TV locally rather than driving south to the Mall of Georgia in Gwinnett.
Safelite Group, a provider of aftermarket car windshields and windows, opened a 357,000-square-foot facility in Braselton. The distribution center is the firm's largest and replaces another facility in Enfield, N.C. It serves customers east of the Mississippi.
Dayton Superior Corp., a Dayton, Ohio-based concrete construction pro-ducts manufacturer, invested $15 million in a 192,000-square-foot facility in Braselton that serves as its primary manufacturing and distribution center in the Southeast. The new factory and distribution warehouse brought about 140 jobs to the area.
TranSouth Logistics took possession of 190,000-square-foot building, creating 50 jobs. Lion Apparel, another Dayton, Ohio-based company that makes uniforms for the armed services, located its distribution facility in Jackson. From there, the company serves military bases and personnel throughout the Southeast.
Jackson County is nothing if not diverse. Four of its eight cities straddle county borders and one, Braselton, stretches into four different counties. The west has absorbed most of the population increase, leaving about 80 percent of the county unincorporated. Jackson is still largely agricultural, says County Commission Chairman Hun-ter Bicknell.
"Our largest industry is still tied to agriculture because of the poultry and cattle industries," he explains. "How-ever, for the western side of the county, we are primarily a logistics headquarters and secondly manufacturing. We've got a considerable amount of manufacturing in the county. That's where a lot of the more recent interest among industries seems to be."
About half of the new economic development projects in the county have been light manufacturing, with food processing companies taking the lead, according to Short.
Mayfield Dairy has been in the county for almost two decades along with a variety of other food-related firms such as Wayne Farms, which produces chicken.
Existing companies are also expanding as the economy picks up. QuikTrip, which operates convenience stores throughout the region, recently ex-panded its warehouse facility by 40,000 square feet.
However, all the news is not good in a time of widespread economic uncertainty. Clark Steel recently announced it was merging two of its Georgia facilities into a single operation. Jackson came out on the short end of the deal, learning that the local Pendergrass plant would be shut down. During the depths of the recession two years ago, the Caterpillar plant closed. It followed the shutdown of Louisiana-Pacific near Commerce.
"We've had no major closings in the last year," says Short, asserting that the worst appears to be over. "Things have continued to work for us although not at the pace we would have liked."
He notes that smaller companies are also starting to add back workers and expand operations to meet increased demand from customers.
Population Growth
While people are no longer moving here at quite the rate they were previously, there is still growth. The county's population rose by 3.5 percent last year, according to Short.
Most newcomers are setting up residence on the western side of Jackson, which has long absorbed the brunt of Metro Atlanta's sprawl. Here the town of Braselton is the first stop for people and companies. Sitting along I-85, its boundaries extend into Barrow, Hall and Gwinnett, as well as Jackson County. In 2000 the town had just 1,205 residents, but by last year that number had grown to more than 7,500. That rapid growth has slowed since the recession, according to Town Manager Jennifer Dees.
"I can remember when we were issuing multiple building permits per day, and we're actually the lead story in one of the local papers this week because we issued five building permits last month," says Dees. "That's a sign of the times – five in a day used to be a slow day."
Prior to the recession, Jackson County authorized a $45-million bond issue for transportation. Those efforts are continuing today in the Braselton area. The county is in the midst of a major road project to widen and connect Zion Church Road as a new section of State Route 124, according to Bicknell.
The city is best known as the home of winery Chateau Elan – actually one exit south of Jackson in Gwinnett. Keeping up with growth has long been a concern for both Braselton and Jackson County.
"The town leaders started recognizing that in the late '90s and early 2000s and started planning for the growth," says Dees. "We have our own water and sewer infrastructure, and we've upgraded our plant twice since the '90s. We have our own water system. We explored and located alternative water sources."
Amidst the slowdown, the city has attracted a new Publix-anchored shopping center along with a smattering of other retail. Since retail follows rooftops, the openings are an indicator that people are still finding good reasons to live here. Many have come for affordable housing, but for others it's just a good place to live.
"We've also seen a lot of people moving in from out of state," says Dees, the town manager. "That has a lot to do with our location. We're equal distance from Atlanta and Lake Lanier, Athens and South Carolina, and we're right on I-85. We've seen a trend of people moving here, and then their family follows them."
Another good indicator of popularity is Northeast Georgia Medical Center's fight to build a new medical center campus on the western side of the city. The Gainesville-based hospital announced plans to construct a 100-bed hospital here four years ago. The effort hit a snag when Barrow Regional Medical Center went to court and convinced a judge to overturn state approval for the new hospital.
This decision was subsequently overturned by an appeals court, which rejected Barrow's assertion that it would create "unfair competition" and possible "financial ruin" for the 56-bed facility just 11 miles away on Ga. 53. The fight then moved to the Georgia Supreme Court, which ruled late last year that construction could proceed. With an opening two to three years away, Northeast Georgia Medical is continuing work on the River Place campus where a medical office building houses an urgent care center, an outpatient imaging center, outpatient lab, rehabilitation services and physician offices.
Community Orientation
Jackson leaders are well aware that one of the prime attractions is a lifestyle that harkens back to an earlier, more community-oriented time. Most cities have made efforts to restore their downtown areas. Braselton set up a tax allocation district (TAD) in its downtown to help finance roadwork and other improvements. The plan uses property taxes to help finance those improvements and is starting to show results.
Dees says there is a need for more buildings in the downtown area to accommodate new retail. The town set up a citizens' advisory committee a few years ago to help figure out why the area had never developed at the same pace as other areas of town. The resulting suggestions included new streetscapes, a town green and incentives for mixed-use development.
Farther north along the interstate, the county seat of Jefferson is very much the prototypical small town. A busy crossroads is marked by wide sidewalks with benches and trees. Brightly colored murals adorn several of the historic buildings that date from the early 1900s when the town was rebuilt after a devastating fire. Along the main thoroughfare, a new antiques shop has opened – a giant wooden seahorse fills the front window, drawing attention to a wide-ranging collection of period furniture inside. Tables and chairs sit outside a restaurant, now that the city council has approved sidewalk dining.
An ambitious $1-million streetscape project has helped turn the compact downtown area into a walkable and retail friendly oasis, says Jefferson Mayor Jim Joiner.
"We just got through with renovation of the downtown area," he explains. "You would have to really know what it looked like prior to this event to know how much things have changed."
City Manager John Ward adds, "It was a vast sea of asphalt with very little green at all."
Like so many small towns in Georgia, the area became a place you passed through on your way to somewhere else. When strip malls opened on the edge of the city, downtown businesses could not compete and folded. The one thing that did slow people down was the roadway surrounding the Civil War memorial sculpture, creating something of a roundabout for traffic.
A former mayor wanted to remove the oval so that cars could speed through faster. When the city council balked, he drove to town with his tractor and dug up the area himself. That straightened out the road despite the protests, according to Joiner.
Since then there has been a greater appreciation for the historic nature of the town and the role historic charm can play in economic development. There are now six designated historic districts including the downtown. "The mayor and council have put in place a really good set of historic preservation ordinances that we try to get everyone to adhere to," says Beth Laughinghouse, director of Main Street Jefferson. "Jefferson has six historic districts. We're encouraging people to remodel their building and take it back to the way it looked. We have programs that help them to do that."
Among projects likely to get under way as the economy improves is the demolition of a small '60s-era motel. The property owner has pledged to construct a new building.
"The exciting thing for me about the downtown streetscape project is that we have honored our past but we have brought back a lot of those features," says Ward. "Things such as walkability and safety and parking that's easy to get in and out [of]. We've prepared our downtown for the future."
That future includes a healthy dose of the past. Jefferson is best known as the place where Crawford W. Long first used ether in 1842 as an anesthesia in surgery. The museum honoring this achievement sits on the square near the spot where the surgery was performed.
In October the town unveiled a life-sized bronze soldier to replace the 1911 marble statue that was destroyed in 1940. Work is also under way on restoring the old courthouse that sits just off the town square. Originally built in 1879, it remained in use until 2004 when a new courthouse was opened elsewhere in Jefferson. The Jackson County Historic Courthouse Restor-ation Commitee plans to keep the building's 1908 look; that was when major additions were made to the original structure. A brick addition added in the '60s was demolished in 2009 to enhance the earlier look.
While western Jackson seems to be ambling toward economic recovery, there is still pain throughout this region. "As far as the economy goes, we're just sitting here hurting like everybody else," says Commerce Ma-yor Charles Hardy.
One of the biggest blows came when the Louisiana-Pacific plant closed in 2008. Beyond the job losses it produced, the company was the city's biggest customer for natural gas. That produced a million-dollar loss in profits that was soon followed by a production slowdown at the second largest customer, Huber Engineered Woods LLC, which saw demand for wood products evaporate with the construction industry collapse.
"They [Huber] were running three shifts back in 2006 and 2007," says Hardy. "Now they're back to one shift and are trying to put on a second shift now. That's what hurt us. We lost our gas customers."
Those losses led to budget cuts and furlough days the first year, but the city has since recovered. More recently, officials have been able to embark on a $500,000 sidewalk project to connect downtown with the city's schools. A $2.5-million library is also under construction.
While the growth has not been as dramatic as the western county's, Commerce has seen its population increase from 5,292 in 2000 to 6,544 in 2010. That kind of progress seems likely to continue as the economy improves and Jackson County once more takes its place as an alternative to the more congested Metro Atlanta area.
Community Snapshot
Local Leaders
Shane Short
Jackson County Area
Chamber of Commerce
President and CEO
706.387.0300
shane@jacksoncountyga.com
Hunter Bicknell
Chairman
Jackson County Commission
678.522.0940
Jim Joiner
Mayor
City of Jefferson
706.367.5121
Population
(2010)
County, 60,485; Jefferson
(county seat), 23,033;
Braselton, 7,511; Commerce, 6,544;
Maysville, 4,875; Nicholson, 5,494; West Jackson, 17,165
Median Household Income
(2009)
$50,591
Unemployment
(August 2011)
County, 10.4 percent
Georgia, 10.4 percent
Top Employers
Wayne Farms, LLC; Jackson County School System; Gruma Corp.; Systemax, Inc.; Northridge Medical Center; Baker & Taylor, Inc.
Sources
Jackson County Area Chamber of Commerce, U.S. Census Bureau, Georgia Department of Labor