Deal Of The Year
Three communities rack up impressive successes in a difficult economy.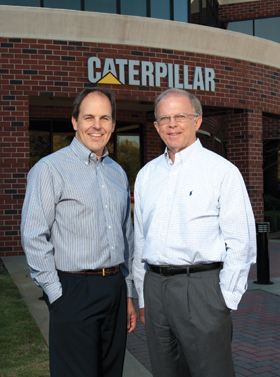 For the first time, Georgia Trend highlights winners of the Georgia Economic Developers Association (GEDA) Deal of the Year awards.
The awards, established in 2007, recognize achievement in locating or expanding new business, says the Valdosta-Lowndes County Industrial Authority's Executive Director, Andrea Schruijer, who is GEDA awards chair.
This year's awards reflect a statewide trend of working with existing companies that are expanding their presence, she says, a necessary focus during tough economic times.
"It shows how significant their economic impact is. People have had to be more creative than they've been in the past with their existing industries," Schruijer says
Deal of the Year awards are given in three different population categories: more than 100,000; 50,001-100,000; and 50,000 and under. The winning communities and agencies are Cartersville-Bartow County Department of Economic Development; Griffin-Spalding Develop-ment Authority; and the Barnesville-Lamar County Industrial Development Authority.
Applications are judged by an independent group of site selection consultants who make recommendations to the GEDA board.
GEDA Chairman Bob White, who is Henry County Development Authority executive director, says, "Every expansion or location project is important," especially in a tough economy, "but the awards program gives us the opportuity to look at projects across the state and select those that were exceptional – the best of the best – and to acknowledge the creativity."
Here are the stories of the winning projects and the agencies and individuals who successfully brought them in.
Cartersville-Bartow County Department of Economic Development
In June 2010, Melinda Lemmon learned executives of a valued corporate citizen, Toyo Tire North American Manufacturing Inc., were thinking of expanding operations at the company's plant in Bartow County. Nothing unusual in that, she says.
"This is at least the third expansion Toyo has had since locating here in 2006," says Lemmon, executive director of the Cartersville-Bartow County Department of Economic Development. But this expansion had the kind of significance that comes with a $910-million capital investment and the potential to add 470 new well-paying jobs. "One of the biggest challenges to a successful expansion was putting all the moving parts of the deal together," Lemmon says. "We've always had a strong relationship with Toyo, but one of the first things you want to do is just listen to company executives and their needs."
One of the needs was the matter of the $910-million cost of the expansion. That came through new industrial development bonds (IDBs) arranged by the Department of Economic Development. "We wound up having a simplistic solution by way of the IDBs and a simple memorandum of understanding," Lemmon says. "By the end of December 2010, we closed on the development bonds, and that spelled out the growth plans over the next several years, and hopefully the market will continue to support that conservative growth plan."
Toyo's growth plan would boost the company's workforce from 700 to 1,370. "The changes in the growth plan were all welcomed," Lemmon says. "But they required new signatures, and that came at a signing ceremony following the [2011] legislative session and featured the new governor, Nathan Deal."
The impact of the Toyo expansion will spread throughout the community, growing business for the tire company's vendors. Plus, taxes from the presence of the Japanese company will rise to $9.4 million annually, with an attendant increase in the use of locally supplied utilities. Toyo is also a valued customer of the Port of Savannah.
Expansion deals are always smoother when community and company have a long-standing relationship, Lemmon says. "We've had a continuous dialogue with Toyo executives," she says. "And when the expansion talk began, we were able to sit down with them and have a serious conversation about the expansion and the needs and challenges that presented."
For paving the way to new jobs and significant capital investment for the community through its work on the Toyo expansion, the Cartersville-Bartow County Department of Economic Development was recognized by the Georgia Economic De-velopers Association as having the Deal of the Year for communities with population of over 100,000.
Griffin-Spalding Development Authority
Last year, when the consulting firm of Ernst & Young brought a deal code-named Project Rose to David Luckie, executive director of the Griffin-Spalding Develop-ment Authority (GSDA), the biggest mystery was the identity of the competitors vying for the deal. "We knew Project Rose was to be a competitive project with at least two neighboring states and Georgia in the competition," Luckie says.
It didn't take long for Luckie to discover Project Rose was the expansion of Griffin's Caterpillar (CAT) plant, a corporate citizen in Spalding County since 1998. The company assembles giant generators, the kind seen on the backs of trailers pulled by 18-wheelers.
The CAT expansion would mean a capital investment of $120 million that would create 206 new jobs and preserve 600 existing jobs. "We thought we had a lot of jobs at risk and a lot of existing capital investment, meaning property taxes, at risk, so this was very important for us," Luckie says.
Moreso, he adds, because the community had earlier lost NACOM, a manufacturer of electronic components for automobiles that moved its business offshore, costing Spalding County 1,100 jobs and $100 million of its tax base. "We were informed that CAT was changing the way they do business by not searching for new locations for projects," Luckie says. "They were evaluating their existing locations around the world for future projects." Trouble was CAT had sites all over the world.
"Working with the state closely on this project proved to be very beneficial as usual," says Luckie, in his GEDA application summary. "The GSDA usually has more flexibility in offering incentives when we own the land for a build-to-suit. In this case, it was an equipment-driven project, and we did not own the land so our incentive offering was slightly limited."
But he had access to Georgia's Quick Start program, a training incentive Caterpillar had used years ago, and one the company had praised.
"No other state could match Quick Start," says Luckie. And CAT had a successful history of efficiently producing the giant generators at the Griffin facility. "The main obstacle in this project was the aggressiveness of the neighboring states in their state incentives, " Luckie says.
In the end, with the leadership of the Griffin and Spalding County governments aligned behind incentives, Project Rose landed where it began. "It's really a process of elimination and not so much a process of selection," Luckie says. "What we always tell our board is, 'We've not been eliminated so far.'" And Project Rose is safely home in Griffin.
For its efforts in coordinating state and local incentives and marshalling and offering programs appealing to industry, the Georgia Economic Developers Association bestowed its 2010 Deal of the Year Award for communities of populations of between 50,001 to 100,000 to the Griffin-Spalding Development Authority.
Barnesville-Lamar County Industrial Development Authority
A Victorian mystery writer could hardly come up with a better book title than "The Consequences of the Failed Chinese Project," and it's also a fitting description of the economic development story that began back in 2008 in Lamar County when Piedmont Green Power (PGP), a biomass project by Rollcast Energy, came calling with a plan to build a 53-megawatt power plant to be fueled by biomass.
The project promised a $200-million capital investment. The community agreed to provide a site with all infrastructure in place, as well as a discounted water rate on gray water the plant planned to use, about 1.2 million gallons a day. A road was promised and other site work offered.
"We basically had to build an industrial park for this site alone," says Missy Kendrick, executive director of the Barnes-ville-Lamar County Industrial Development Authority. "We worked on this project for three years, but meanwhile we had been working with a Chinese company that had purchased some property across the road and had gotten some grant funds to put some infrastructure in place for the Chinese project. Then the Chinese project got tabled because their market basically went away – what they made went in new houses – and when the housing market bottomed out, they decided to wait."
And so the granting agencies were no longer interested in providing funds for a company that wasn't ready to build. Piedmont Green Power, however, was in the neighborhood and could find a good use for the money. Yet asking granting agencies to make a funding variance in mid-flight is a bit like waiting to hit the lottery, but that did not deter Kendrick, who didn't mind asking.
"Some of our granting agencies allowed us to transfer the grant funds to provide the infrastructure for PGP, she says. "And for others [providing grants], we had to go back and reapply. But it all worked out and, fortunately, we were able to provide what we had committed for to Piedmont Power."
Piedmont Green Power is creating some 200-plus jobs during the construction phase of the project, with 27 permanent jobs coming when the plant goes operational. Those jobs will carry salaries averaging more than $1,000 a week, but the PGP plant will pay about $2.3 million in taxes annually. "This is not just about jobs, but there is a positive effect here for our citizens," Kendrick says. "We like to say that economic development may not cut your taxes, but it can certainly keep your taxes from going up."
Kendrick credits community economic development volunteers for much of the effort in keeping the PGP project on track. Some of them went to Michigan to view a similar project and to make sure it would be a good fit for the community.
"I don't think there is anything out of their reach," she says of the volunteers. "Whether it's putting in the hours, contributing funding or going to Washington, because we had a congressional allocation for this project as well."
For overcoming challenges that could have halted or delayed the Piedmont Green Power project, the Barnesville-Lamar County Industrial Development Authority was recognized by the Georgia Economic Developers Association for their Deal of the Year for communities with a population of 50,000 or under.