Washington/Wilkes County: History With A Future
Adapting, creating, revitalizing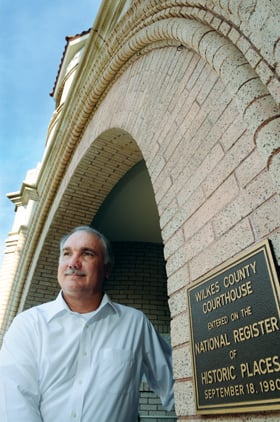 Showing a visitor around the Wilkes County Court-house in downtown Washington, Sam Moore finds himself standing on the trap door of the old gallows adjacent to the jail. Like just about everything else in this county, the gallows have a history, as does the building housing it. The gallows and jail were installed in 1911, eight years after the courthouse was built. Moore, 57, grew up in the jail, where his father was a deputy and then sheriff, a total of 46 years wearing a badge.
"I played here as a boy, and my mother cooked for the prisoners," Moore says. Historic markers at the courthouse claim there was a hanging here, but Moore says his family denied it and there are even suggestions there was never a hanging at all at the jail. Hangings in Georgia were discontinued when the electric chair became the means of execution following World War I.
Moore's long association with the courthouse and jail continues today as he carries out his duties as the chairman of the Wilkes County Commission. There was a time when county officials and local economic developers considered turning the old jail and its gallows into a tourist attraction, but the demand for space for county offices and the patchwork of repairs on the jail over the years took that idea off the table. But today the architecture of the courthouse is attraction enough to lure tourists.
Described by one publication as Richardsonian Roman-esque and by some locals as Flemish, the courthouse may certainly lay claim to having an architectural style unlike any other in the state. The 1903 building is undergoing a $2.5-million renovation and modernization project. "We just need the room, and the last upgrade was in 1989," Moore says. "Technology has changed a lot since then. We are taking care to preserve the architectural look as best we can. We have brought the windows, for instance, back in line with the original look." He expects the renovations to be finished in a few months.
The courthouse provides a nice counterpoint to some new business activity in the county.
Tim Swindall stands before a silver coffin in an empty room a few miles from the downtown site of the county courthouse. Swindall is dressed in a suit and tie, though it is a sweltering afternoon. For Swindall, his attire is the uniform of the day for the undertaker, though he is not one. Swindall is the president and CEO of Lazarus Manu-facturing, Inc., a casket maker. The plant is just starting up production of its products, with a goal of eventually turning out 3,000 caskets a month. The company came to Wilkes County because it was ideally located for Lazarus' marketing plans.
"Our initial market target is the state of Georgia, state of Alabama, state of South Carolina, the panhandle of Florida and southern Tennessee," Swindall says. "And the metropolitan area of Atlanta is very important to us."
Paper Trail
Washington's Paper Pak Industries (PPI) is a classic example of a resourceful industry that stays alive by adapting to the shifts in competition and creating new markets. The company has been in Washington for more than 20 years and currently makes an item with which every meat-eating grocery shopper is familiar: the absorbent pads that line the bottom of the Styrofoam trays holding steaks, chicken or other meats.
The company began 50 years ago making the tissue paper used in packaging furniture, but the arrival of Styrofoam peanuts and bubble wrap forced PPI to move into the absorbent paper business. The company has now introduced an antibiotic pad to its product line, one that helps keep meats from spoiling – good news for the local economy.
"Right now we're running 24/7, and the people we have are probably getting more overtime than they want," says Marlon Archer, plant manager for PPI. The recent arrival of new equipment will double the plant's output and add about 20 new jobs to the current payroll of 75, putting the facility back to the pre-layoff level of four years ago before the economy turned south, according to Archer.
PPI also manufactures a portable system used by emergency medical technicians to carry injured people and by the military to carry wounded soldiers. Called APLS (pronounced apples), for Absorbent Patient Litter System, it can be folded and carried in a backpack. Homeland Security just placed a large order for the APLS products, which now are made only at PPI's West Coast plant. But should the Wilkes County facility begin production of that item, more jobs would land at the Georgia plant.
Some 25 new jobs were added last summer at another Wilkes County manufacturer, Hollander Home Fa-shions, a plant in the Tignall community that turns out pillows, comforters and other bedding for giant retailers like Walmart and also fills orders for higher-end chains like Bed Bath & Beyond. The new hires bring the total workforce at Hollander to 126 and resulted from rising orders from customers.
"We've seen an upward trend in sales over the past four months, especially with the Walmarts of the world and the Sam's Clubs," says plant manager Herb Jones. "Even though the economic situation is a little challenging for a lot of markets, we have seen very little impact from that." Jones says he easily found his workers right in his own backyard. "The workforce here has a culture of teamwork and is very willing to change; it's very adaptable," Jones says. "I've worked with some high-end companies, and I would put the workforce of Wilkes County up against any of them."
Revitalization
It isn't often a city's mayor and its chief economic developer would want a visitor to see the worst of crime-ridden and drug-plagued neighborhoods in the community, but there is a point to be made by a visit to a place like Washington's Rusher Street, says David Jenkins, economic director of the Washington Wilkes Payroll Development Authority.
"Rusher Street was known locally as Crack Street because there was a lot of drugs there," Jenkins says. "When they did the drug bust here, it took two school buses to tote them all off, and this was the biggest concentration of dilapidated houses in the county. That was addressed in our Southwest Washington Urban Redevelopment Plan."
The community found partners in Atlanta and Washington, D.C., for their community improvement plans, and soon the money began arriving. "We were awarded $800,000 from the Department of Community Affairs for property acquisition; clearing of dilapidated structures; the relocation of folks; and the installation of new infrastructure," says Jenkins.
"When we fix this, it will be very hard to identify the worst housing in our community," says Willie Burns, mayor of Washington. "It was very complicated because we had to purchase the properties and go through a phase of legal-eagle steps to make this project work. To get the landowners to go along was amazing because the city has control of the properties."
Another $378,000 arrived in the form of a Community Development Block Grant for another declining area of the city, the Norman Street neighborhood. "They have a lot of vacant lots, but they're oddly shaped and not the right size [for commercial buildings]," says Jenkins, the economic developer. "So we'll buy those and make them available for housing construction. And they'll [residents] be paying property taxes, having their family there and building the American Dream. They'll be going to the bank for financing their homes, so they have to have good credit." For many of the new homeowners, the occasion marks the first time they've ever dealt with a bank, Jenkins says.
When it's all done on the two troubled streets, he says, there will be 30 new homeowners. "And this program is structured for homeowners, not renting," Mayor Burns says.
The Southside improvements fit into a much larger plan for growth. "All of this is in an Opportunity Zone, where tax breaks will go to businesses that are creating two or more jobs," Burns says.
"Our [high school] graduation rates are high, and our crime rate is low," he says. "What we want to do is get those who graduate to stay here or go off to school and get a degree and then come back here."
To accommodate residential and industrial growth, Burns says, "We're retrofitting two city water plants with a zero-percent [interest] $8.5-million loan from GEFA [Georgia Environmental Finance Authority], and we were able to get a half-million dollar grant to do those upgrades. We want to be known as one of those communities that have enough water to face the challenges of the future for when there is an industry that needs that kind of water. Then, if Atlanta wants some water and can run a pipe in here, we'll sell them some water."
Winning Projects
Last summer, when construction was under way on three retail projects along a major thoroughfare in Washington, none had the familiar "Financing By…" signs out front, a fact that had to give locals in the know a chuckle. The signs weren't needed because the projects were being funded by the husband and wife team of James and Margaret Jones, winners of $130 million in a 2005 Georgia Lottery drawing.
The two entrepreneurs are building an indoor/outdoor flea market, a 1950s-style diner and an automobile museum to house their 80-plus period cars. James Jones says he's not built for an idle retirement, and building and watching over his enterprises will fill his time nicely. "You can't sit around and do nothing," James says. "You've got to have something to do; I've always said that, and I've always done that. I'm going to slow my pace down, but I'll still get up every morning about 6 and most times I'm here about 8:30," he says, pointing to the construction site of his new businesses.
Jones estimates his nearly block-long collection of businesses will employ up to 30 people. The Joneses' 82 autos include a showroom-fresh 1955 Packard Clipper, a modernized 1939 Ford, a few muscle cars from the '60s and '70s and a work-in-progress 1942 Cadillac hearse. "I have people calling me two or three times a week trying to sell me a car, and I tell them right now I don't think I want one," he says.
Driving around the Wilkes County site of Callaway Plantation, economic developer David Jenkins is pointing out a few structures on the plantation, including the circa 1785 log cabin of an early settler and the 1869 Greek Re-vivial manor house containing original doors, mantels and plaster and examples of period furniture. Nearby sits another home in Federalist Plainstyle that was built in the 1790s.
Wilkes County enjoys the distinction of having the first community in the nation to be officially named for George Washington, thanks to an act of the legislature passed during the Revolutionary War, and the county was listed in the state's constitution as the first in the state, according to Jenkins. Jenkins also mentions the five historic districts and the more than 450 historically significant homes and other structures in making the case for a new effort in capturing the historic tourism market. "Those 400-something structures are in the City of Washington, and that study identifying them was completed in 1998," Jenkins says. "The county is having a similar survey done right now in the unincorporated areas.
"Because the county and its seat of government were born so early in the state's timeline of settlement, both have a lot of history to offer those who are interested in eras featuring slavery, the Revolution and the Civil War," Jenkins says. "And we'll be looking at ways to turn our unique history into tourist attractions."
Community Snapshot
Local Leaders
Sam Moore
Chairman
Wilkes County Board of Commissioners
706.678.2511
wilkescoboc@yanoo.com
Willie Burns
Mayor
City of Washington
706.678.3277
mayor@washingtonwilkes.org
David Jenkins
Economic Development Director
Washington Wilkes Payroll Development Authority
706.678.9578
wwpda@washingtonwilkes.org
Population
(2009, estimated)
County, 10,269; Washington
(county seat), 4,006; Rayle, 133; Tignall, 615
Per Capita Income
(2008)
County, $29,435
Georgia, $34,849
Unemployment
(July, 2011, preliminary)
County, 12.3 percent
Georgia,10.4 percent
Top Employers
CSRA Private Duty, Hollander Home Fashions, McDonald's, Berry Plastics, Wills Memorial Hospital
Sources:
Washington Wilkes Payroll Development Authority,
Georgia Department of Labor,
U.S. Census Bureau