Rome/Floyd County: School Ties
Emphasis on education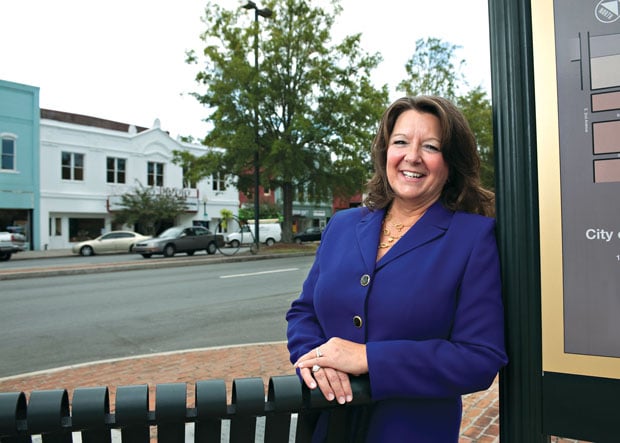 Just as the Etowah and Oostanaula rivers flow together to form the mighty Coosa, school spirit courses throughout Floyd County and converges on Rome. This emphasis on education carries significant economic impact to the region, complements its top-flight medical centers and helps attract new companies to northwest Georgia.
Remarkably, for a city with only about 36,000 people, Rome has four institutions of higher learning: Berry College, Shorter University, Georgia Highlands College (GHC) and Georgia Northwestern Technical College (GNTC). Georgia Health Sciences University (formerly the Medical College of Georgia), recently began a residency program for third- and fourth-year students in Rome, with the long-range goal of establishing a residential campus.
Each college has its own niche, and although their enrollments are not large enough to dominate the city, they help define it.
"It's a college town; it really is," says Dr. Craig Mc-Daniel, president of GNTC. "We don't have 35,000 students like the University of Georgia, but you've got some bright, engaging kids and they work in the businesses all over the community."
They also shop there, as do the faculty and staff employed by the colleges.
McDaniel estimates that GNTC, with an enrollment of about 2,600 students in Floyd County, has an economic impact of more than $135 million (a figure that encompasses all five of its campuses).
Berry had an economic impact of $105.7 million for fiscal year 2007, according to the Georgia Independent College Association. The same group found that Shorter (which also has three Metro Atlanta campuses) had an impact of $88.54 million. This year Berry enrolled more than 1,900 students, and Shorter has more than 1,500 – a record enrollment – on its Rome campus.
GHC, which has two campuses in Rome for an enrollment of 1,500 to 1,600 students (plus four other campuses in the state), provided an economic impact of $110.7 million during fiscal year 2010, according to a Board of Regents study.
"Education from a per capita standpoint is a huge industry here," says Randy Pierce, president of GHC. "We all try to work very closely together."
The colleges are just one facet of the focus on learning in Floyd County. Rome, the county seat, also boasts the renowned Darlington School, a private day and boarding school for pre-K through high school. The small city of Cave Spring is the home of the Georgia School for the Deaf.
The city and county also pride themselves on two public school systems, which are ranked in the Top 15 in the state, and the Floyd County Schools College & Career Academy, a charter school that stresses math and science.
The educational excellence contributes to the quality of life in Rome and is a chief selling point to businesses looking for a place to locate. "What industry is going to want to come to a community where the schools continue to underperform?" says Heather Seckman, director of economic development for the Greater Rome Chamber of Commerce.
The availability of an educated workforce is another asset.
"Given the kinds of students that we produce and the assets that we bring," says Berry College President Stephen R. Briggs, "we would love to attract some businesses that would like to locate to a place with a high quality of life, good educational system and a lot of really interesting and productive young people that could work with them."
New Player
Enter Lowe's. Floyd County pulled off a major coup in early September by attracting a Lowe's distribution center to the North Floyd Industrial Park at the intersection of Ga. 53 and Ga. 140.
"The state economic developers said this is the biggest project in the state of Georgia at this time," says Evie McNiece, the first female mayor of Rome. "It's our big jewel."
The retail giant says the 1.5-million-square-foot center, which takes up 140 acres of a 375-acre site, could employ as many as 600 people within three years.
A package of incentives includes up to $125 million in bond financing, as well as a property tax abatement. The center could open for business as early as the first quarter of 2013.
Seckman says Lowe's was swayed by "just the sheer fact they were receiving incentives. It helped offset the costs."
McNiece says she's most proud of the spirit of cooperation that resonates here. "The representatives of Lowe's said they had not seen the level of cooperation and coordination as they had witnessed in this community," she says.
Even though the governments are separate, she adds, "We don't have that bickering between city and county."
Neither do the schools, which peacefully coexist. That's mainly because each has a different mission, and also because the presidents, plus the Darlington School headmaster, meet monthly to discuss ways they can help each other. They also collaborate on a yearly technology symposium.
"We all see ourselves as partners with the Rome community," says Shorter President Donald Dowless. "We want to be good neighbors."
The colleges have helped stabilize the economy. "In 2008 and 2009 when companies were laying people off, a lot of those employees went back to school and developed new skills to make themselves more employable," Seckman says.
Berry College and Shorter University are both private, four-year liberal arts schools. In keeping with its founding as a school for poor rural students, Berry provides students with work experience on or off campus; 85 percent of the student body have jobs ranging from working in administrative offices to making cheese in the dairy.
Despite the economic downturn, Berry has fulfilled long-range building plans, including $55 million for residence hall renovations.
Shorter, which changed its name from "College" to "University" in 2010 to reflect its growth, is strengthening its outreach as a Christian institution. With Dowless at the helm, it has adopted a new motto, "Transforming Lives Through Christ."
On October 19, Shorter celebrated the 100th anniversary of its campus "on the Hill," its home after outgrowing its downtown Rome digs. Dowless will be inaugurated as Shorter's 19th president on November 11.
Despite being in the midst of a reaccreditation process, Shorter has started a new master of arts in teaching program. It also is finishing its library addition.
From Two To Four
In May, the Board of Regents of the University System of Georgia allowed Georgia Highlands College to change from a two-year college to a limited-mission four-year institution. Based on a feasibility study to assess interest and need, its first four-year degree will be in nursing.
"We do have some requirements in terms of admissions requirements," Pierce says, "but generally speaking we are the most open of all the institutions in the university system."
At GNTC, the focus is on skills and workforce development, McDaniel says.
About a third of the enrollment is in the allied health program, and the school has a strong relationship with Floyd Medical Center – the county's largest employer – Redmond Regional Medical Center and the Hardin and Coosa Clinics.
The technical school also has a very good relationship with the high schools. "We're getting more kids out of high schools who are making the technical college their first choice now," McDaniel says.
Darlington School, although not a college, is Rome's fifth major school. It has 190 residential students from all over the world who pay a combined $5.5 million in tuition.
"We are an alternative to the other school systems," says Headmaster Tom Whitworth. "Some people moving here, such as Southeastern Mills or Pirelli Tires, may be interested in a different kind of educational environment for their kids. It's a good opportunity for the chamber to offer another great school system."
The economic impact of Darling-ton's resident students in the community is estimated at $2.8 million.
"The international students really add vibrancy and add to the cosmopolitan nature," says Al Hodge, president and CEO of the Greater Rome Chamber of Commerce.
When the parents of Darlington students visit and take them into town, they spend a total of $400,000 a year, Whitworth says.
Rome now has even more restaurants to enjoy.
"The big trend that I see this year is we just continue to grow in restaurants," says Ann Arnold, director of the Downtown Development Authority. After just one restaurant opening in 2010, there have been four in 2011, bringing the total in Rome to about 16.
Arnold notes that since she began her job 12 years ago, "This is more restaurant activity than we've had any single year."
A Mellow Mushroom franchise brought in 50 jobs. The Partridge Restaurant, established in 1933, is under new ownership that is keeping the name and revamping. The city is also working on a restaurant and a coffee shop that will open before the end of the year.
Rome's downtown has been revitalized around a stadium that once was a candidate for demolition. A plaza is the latest phase in the $3.5 million in renovations and improvements to Barron Stadium, site of the Russell Athletic-NAIA Football National Champion-ship game through at least 2015.
Shorter partnered with the City of Rome and Floyd County to develop the bid that brought the game to Rome in 2008. After rain caused the first game to be a muddy mess, the city agreed to replace the grass field with artificial turf. A new electronic scoreboard was also installed.
"The politics of the matter was that the stadium was going to be torn down and a new one built on the outskirts of town," says Bob Berry, co-chair of the host committee. "That would free up this property for commercial development."
The game was a success, filling the stadium to its capacity of 5,500 and providing a direct economic impact of more than $1.5 million each year, according to the Greater Rome Con-vention and Visitors Bureau. Spectators crossed the walking bridge to downtown, providing tremendous benefits to the merchants.
"When the powers that be saw that synergy with downtown," Berry says, "they rethought that decision not only not to move it, but [decided] to keep it and improve it."
A SPLOST package has funded the sprucing up, including laying down a quality track that will attract big meets. Rome High School and Shorter also use the stadium.
"Rome has really kind of latched onto this idea of sports tourism, or bringing in sporting events," says Berry, who is no relation to Berry founder Martha. "They are fun events, but also huge economic drivers. When the NAIA is here, we fill up most of the hotels for three nights around Christmas."
The game is televised by CBS Sports. "It's like a three-hour infomercial for Rome," Berry says. "You can't buy that kind of publicity."
He adds that hosting a college national championship game is a good thing to have on a city's resume. "It's easier to attract these events than it is one large manufacturing plant," Berry says.
Expansions Welcome
Most recent corporate investment in Floyd County has come through expansion, the chamber's Seckman says. Petz Enterprises, the tax software preparer that arrived in May, has already expanded into a new facility and is expecting to employ up to 90 people.
Southeastern Mills, one of the county's oldest companies, has continued to grow, with an unexpected bonus. "The neat thing about this," Seckman says, "is Thermal Seal Ducts was working with Southeastern Mills on one of their expansions, and they fell in love with the community."
Thermal Seal Duct Systems moved into an existing facility that had been vacant for a while and was employing 40 people by May. Profile Extrusion Company has added 15 jobs, while Source Medical Solution's Therapy Billing Services Division added 10. United Medical Response has boosted the economy 20 initial jobs.
"We are working with several companies who are looking at our industrial sites, and we hope we can be talking about them very soon," Seckman adds.
Berry's Briggs says that Rome has the complete package to bring in new business. "The hospitals attract people, the downtown is very nice – they're keeping it vibrant and alive so it also attracts people. The colleges and universities attract people and add more tourism."
He says about 7,000 people a year visit Martha Berry's home, Oak Hill, and 10,000 visit the campus alone. Another 10,000 visit the Chick-fil-A WinShape Foundation retreat facility, which is also on the Berry campus.
"Overall, the traveling public continues to visit Rome and Floyd County for a variety of reasons," says Lisa Smith, executive director of the Greater Rome CVB. "We work to attract new markets to our area and look for product development options that will reinforce what is currently in place, even in this tough economy. With cooperative government leadership and partnerships, this is a much easier task to accomplish."
In Cave Spring, a welcome center opened earlier this year to promote tourism and activities in the community. To house the center, the Downtown Development Authority purchased a historic property known as Asbury House, which is located at the traffic light on Ga. 411, right in the middle of town.
"We've had a lot of favorable comments from people about its presence there," says Cave Spring Mayor Rob Ware. "They like having a spot where people can find out a little about Cave Spring and its history and get some information about things to see in the community."
The major employer in the city is the Georgia School for the Deaf. "So much of the history of Cave Spring is intertwined with the school," Ware says.
The relationship is special because many residents and business owners in Cave Spring can communicate with sign language.
Rome's bonds with its schools are just as strong. "I think part of the long-term health of the economy, the renewal of talent in Rome, is in large part due to the students who come here year after year and fall in love – not only with Berry, but [they] come to like the town," Briggs says. "We're very much interested in the sorts of things that will invigorate and make it in the future a great place to come to go to school."
Community Snapshot
Local Leaders
Al Hodge
President & CEO
Greater Rome Chamber of Commerce
ahodge@romega.com
706.291.7663, ext. 304
Evie McNiece
Mayor
City of Rome
evie323@comcast.net
706.237.6070
Rob Ware
Mayor
City of Cave Spring
info@cityofcavespring.com
706.777.3382
Population
(2009, 2010)
County, 96,317;
Rome, 36,031; Cave Spring, 1,200
Median Household Income
(2009)
$39,682
Unemployment
(July 2011)
County, 11 percent
Georgia, 10.1 percent
Top Manufacturing Employers
Kellogg's, Temple-Inland, Mohawk
Sources
Greater Rome Chamber of
Commerce, Georgia Department
of Labor, U.S. Census Bureau