Business Casual: Back To Basics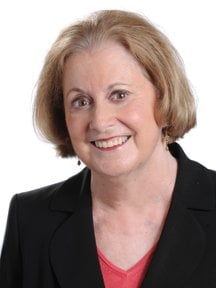 While I was watching the puzzled face my little grandson made the first time his mom offered him pureed apricots mixed in with his applesauce – not quite a frown, but definitely not a smile – he was watching me scramble to catch the small baby-cereal bits that he dropped. I was trying, without much success, to grab them before they hit the floor.
Of course, the baby was much better at making faces than I was at intercepting cereal. But, truth be told, I was a little distracted, remembering a few short years ago when I was the one offering pureed produce and his mom was the one making the faces from her high chair.
The sweetly adventuresome introduction of new tastes and textures is a parent-and-child rite of passage that occurs in kitchens all over the world every day: Moms offer wholesome but unfamiliar foods, with bright smiles and promises ("You'll like this"), and babies respond with suspicion, curiosity, trust – and camera-worthy faces. It takes a few tries, lots of encouragement and a fair amount of spilled orange goo; but sooner or later, baby and apricots make the connection. Cereal finds its way from high chair tray to mouth. Then it's on to green peas or yellow squash.
At least that's the way it should work. But it doesn't always. There are parents who are not able to provide carefully planned and prepared fruits and vegetables for their babies, nor nutritious meals for their older children.
In America, one out of four children faces hunger on a regular basis. In Georgia, 22.5 percent of all children are considered "food insecure," a chillingly prosaic term that means hungry or likely to be hungry on any given day. That's up from 19.1 percent a year ago, according to Feeding America "Hunger in America" reports.
In all, some 49 million Americans are food insecure, and 16 million of them are children; Latino and African-American children are affected in disproportionately high ratios.
Astonishingly, it is as easy to locate child hunger statistics as it is to find four-star restaurants. The stats are closely tied to poverty and an economy that is especially cruel to those who are just hanging on, living paycheck to paycheck – or, increasingly, no-paycheck to no-paycheck.
New Census Bureau information indicates that the national poverty rate jumped from 12.5 percent in 2007 to 15.1 percent in 2010, meaning 46.2 million Americans are poor. In Georgia, the poverty rate increased at an even higher rate, from 13.1 percent in 2006 and 2007 to 18.5 percent in 2009 and 2010.
That's a lot of Georgians – and a lot of children — who cannot count on being able to have enough to eat. It seems particularly unjust because it's unnecessary. There is no food shortage in our country or our state; there is easily enough to go around.
But there is some good news. Hunger is a problem that can be alleviated. Individuals can do something. It's not like war or pestilence, things that make you seethe with helpless frustration. There is direct action to be taken.
The starting point is pretty straightforward: You help provide food to the people who need it. In Georgia, this is easy.
We have a fine network of food banks – seven of them, including the flagship Atlanta Community Food Bank, founded in 1979, which distributes more than 24 million pounds of food each year. The banks are affiliated with community nonprofit groups that help disburse donations and get food quickly and efficiently to people who need something to eat.
The food banks, which are part of the national Feeding America network, formerly America's Second Harvest, accept monetary donations or non-perishable food items – as much or as little as you can offer.
You can hand over canned goods, knowing they will end up in the kitchens of people who will use them, perhaps for dinner the very night they receive them. Or you can write a check, knowing that the money will be used for food, not excessive overhead costs.
Especially around the holidays, many retailers sponsor collection efforts for local food banks. You can buy a few extra cans of food and put them directly into collection bins.
It's easy, it's important, and it makes a difference.