2011 Best Places To Work In Georgia
Employees value meaningful work, a pleasant atmosphere, congenial co-workers and companies that provide good benefits.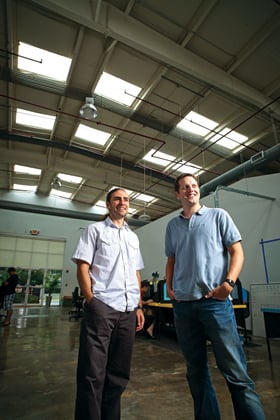 For the sixth year, we invited Georgia Trend readers to nominate their companies for our annual Best Places To Work roster and tell us what makes their employers the best.
Our readers tell us they especially like the opportunity to do work that is important and to have a say in how that work is done. They give high marks to working environments that nurture and encourage them – and bosses who trust them. And they are surprisingly tolerant of downsizing measures.
During a tough economic time, workers especially appreciate companies that are generous with benefits – offering wellness incentives, educational opportunities and good health insurance coverage.
From employee nominations submitted via our website, Georgia Trend's editorial staff selected 15 companies whose employees consider them the best. They are listed in alphabetical order.
Athens First Bank & Trust – Downtown
Athens
Joe Hill, Branch Manager
Employees at the downtown location of Athens First Bank & Trust, a part of Synovus, say their corporate culture encourages them to use initiative at work and in their off-hours. "I guess what I like is that you don't have someone breathing down your neck telling you what to do [or] how to plan your day," says Joe Hill, branch manager. "I have a good deal of freedom in how I approach developing business and accomplishing the goals that are set for us."
Myung Cogan, vice president and director of marketing and communications, admits she is the kind of person who gets personal rewards from helping others, as evidenced by her service on three Athens nonprofit boards, and in the real world of profit-motivated banking. In both cases she brings her expertise in marketing and communications to work. "The company's policies have given me the opportunity to become even more engaged and more involved." – EL
Aurora Theatre
Lawrenceville
Anthony Rodriguez
Producing Artistic Director
When A Chorus Line set a new record for ticket sales, Marketing Director Al Stilo sent a group email jokingly urging staffers to "break out the bubbly."
"One of my co-workers promptly got some champagne and flutes, though, and we drank a toast at midday on a Tuesday," Stilo says. "We try to invest those moments with significance."
The troupers have much to celebrate. Now Gwinnett's largest performing arts organization, Aurora outgrew the dry-goods store where it started in 1996 and moved into a world-class, two-venue complex with classrooms to accommodate its eclectic programming of more than 300 annual events, which include Broadway mainstays and contemporary plays, free music concerts, dance nights, stand-up comedy, ghost tours, Teatro del Sol (Spanish-language productions) and arts education.
Aurora Academy offers classes for pre-schoolers and adults and provides $10,000 in assistance for students to attend summer camp. "Everybody's voice is given credence here," says Stilo. – CD
Blue Sombrero
Atlanta
Erik Stadler, Founder & CEO
Think of them as your team's administrative "ringer." This frisky firm of 23 employees combines athletic expertise with IT know-how to develop web design for youth sports groups.
"We help leagues and organizations build sites for online registration, announcements of schedules and fees, and communication tools for email blasts," says Stadler, an Atlanta native who launched the company in 2002 after a career in professional soccer.
"Sombrero," he explains, is a tricky soccer move, and "blue" honors the flag of Uruguay, his father's birthplace. "We still have roots in soccer, but we work with every sport and Boys and Girls Clubs in 45 states," he says.
The corporate culture at the company's new location at The Stove Works is decidedly casual, brags Benton Carper, director of support: "We wear T-shirts and flip-flops and play intense games of P.I.G. on our Nerf basketball hoop and our vintage Foosball table – to maintain our competitive drive!" – CD
Carroll EMC
Carrollton
Chip Jenkins, President & CEO
In the predawn darkness of Mother's Day in 2008, Carroll County was hit by a quick succession of tornadoes, damaging property and downing power lines and providing a stormy test for the training and resolve of the employees of Carroll EMC, the county's power supplier.
"We still talk about that Mother's Day storm," says Chip Jenkins, president and CEO of the utility. "We all had plans, and then the tornadoes came and brought our employees from their homes, and that brought us all together with a singularity of mission to get the lights back on, which we did. That event brought us together and taught us we can get it done in a situation like that."
It also validated a small company's culture built on the free flow of ideas and suggestions up and down the chain of command, says Jenkins. "I have small group meetings with employees from across a broad section of the company each month," Jenkins says. "We get great ideas and suggestions, and we implement them." – EL
Cherokee County Fire Department and EMS
Canton
Ray Gunnin, Fire Chief
Even more incentive for kids to dream of becoming firefighters: the morale at Cherokee County's 21 stations for fire and emergency medical services. The system, in a hotspot of metro growth, has almost doubled its staff in recent years to 265 employees, covering a population of 225,000 across 400 square miles.
So camaraderie, always a matter of life and death, has intensified. "What makes this organization the best is the bottom-up, values-based approach to leadership and training," says Eddie Robinson, chief of training. "From the chief of the department down to the station officers, we all understand that our mission comes first – dealing with people who are having the worst day of their lives – and to accomplish this, we have to take care of our own people, too."
The employees maintain a relief fund to help each other during "hard times." Adds administrative assistant Kathy Lawson, "The feeling of 'family' here is beyond anything I have ever experienced." – CD
C4 Planning Solutions
Blythe
James Fennell
Founder and President
James Fennell, founder and president of C4 Planning Solutions, an Augusta-area federal defense IT contractor, has a simple approach to his benefit package for company workers. "If you can't take care of your people, your competitors will," Fennell says.
Part of C4's company culture is evident after work hours. "I get our employees together as an extended family periodically so we can just talk," he says. "After hours, you form much more meaningful bonds." In addition, C4 offers what Fennell says is a strongly competitive health plan.
"I thought the ethical thing to do was to try and take care of them to the extent I would want to be taken care of as an employee," he says. C4 has 119 employees at the Augusta site, with others in nine countries around the world, including Iraq and Afghanistan.
"I'd say 50 percent of those employees are veterans," says C4 CFO Gary Youtsey. "We actively recruit veterans because they know the military customs and courtesies. They also know how to respond to combat situations." – EL
East Baker Historical Society
Newton
David Milliner
Managing Director
With 3,637 citizens, Baker County is one of the smallest counties in Georgia. A national magazine once called the chief industry here "hardscrabble farming," so resources of any kind are scarce. That may be why the organizers of the East Baker Historical Society are especially proud of their enterprise in an old school building once set for demolition.
"Our organization started as an effort to save a school to which our kids could go," says David Milliner, managing director of the society. The building sits on the 10-acre site of a former prisoner-of-war camp that housed German prisoners during World War II. It has become a popular meeting place. There is a public garden and a commercial kitchen.
"We also offer food product development and marketing expertise for aspiring entrepreneurs," Milliner says. Betty Edmonds, a retired teacher, attended school in the building and now works there in an afterschool learning program. "If we have any benefits, it is knowing we saved this school and returned it to usefulness in our community," Edmonds says. – EL
Griffin Fire Department
Griffin
Chief Tommy Jones
Griffin Fire Chief Tommy Jones believes that encouraging personal growth strengthens the entire outfit and could mean a boost up the organizational ladder. John Hamilton knows it to be true. Both men have dispelled the notion that firefighters spend their downtime at work playing checkers or browsing through fishing magazines. "We've built a very good library of works on leadership and self-development," says Jones. "We've also introduced our men to Dave Ramsey's The Total Money Makeover."
Jones believes good money management at home reduces stress there and in the workplace. He also urges the fire department employees to pursue educational opportunities, and they are. "I got my associate's [degree] from West Georgia Technical College," says John Hamilton who, not coincidentally, re-cently received a promotion to captain and operations officer. "I'm currently beginning my bachelor's degree at Clayton State University." – EL
Ignition, Inc.
Atlanta
Susan Driscoll, CEO
Mark Driscoll, Chairman
Ignition, Inc. is an Atlanta-based marketing company with an impressive client list and a whimsical approach to workplace culture for its 50 Atlanta employees. "We serve lunch for our [At-lanta] team on Mondays, Wednesdays and Fridays," says Susan Driscoll, a founding partner of Ignition, with husband Mark "Dill" Driscoll, who keeps the Atlanta team fed while Susan works from the family farm in South Georgia.
The small company does event-specific marketing, among other things, and is also a global presence wherever clients like Coca-Cola or Delta need them. And when they're needed, their employee numbers can swell to 3,500. "We did the marketing for Coca-Cola in the Olympics and the Olympic torch relays," says Susan Driscoll. "Now we're working on [the 2014] World Cup." Duties include distribution of promotional items and hosting social events for clients.
Monthly life study programs complement the thrice-weekly lunches, and employees are encouraged to have fun at work and in their work. "We conduct our business like a family business," says Driscoll. – EL
J.P. Turner
Atlanta
Tim McAfee, CEO & Co-founder
If they quickly embrace the wellness offerings of Atlanta investment firm J.P. Turner, new employees may soon notice they have a slimmer profile, feel better and are always up for a 5K run.
J.P Turner CEO and Co-founder Tim McAfee believes a healthy employee is a happy employee – and a better producer. So the company still has ice cream socials, but without the ice cream. "We sponsor yoga classes once a week," he adds. "This year we're incorporating wellness classes in our environment because whether [it's] office-related stress or home-related stress, people's ability to stay healthy and deal with that is important to them and to us." It's all part of a corporate plan for staff and execs to be a healthy family, McAfee says.
In August, employees came together for several weeks to train for Atlanta's Labor Day 5K run. McAfee is proud of the fact that his employees ran the race as a group. – EL
Lockheed Martin
Marietta
Shan Cooper
VP & General Manager
Adrian Rivera, 40, saw his career at Lockheed Martin's Marietta plant soar after he took advantage of the company's Education Reimbursement Pro-gram for employees. "I used it to get my master's degree in aeronautical science, with a concentration in maintenance management," Rivera says. "And that led to a promotion from a supervisor level to a manager's level," he says, attributing his rise in the ranks to his company-sponsored master's de-gree.
No doubt Rivera found another employee benefit helpful while pursuing his master's: Lockheed's practice of giving employees every other Friday off. The biggest fan of the three-day weekend benefit is Shan Cooper, vice president and general manager at the Lockheed plant. "I use it for personal appointments and to run errands," Cooper says.
Lockheed's most notable product is the C-130 Hercules, a familiar sight in the skies over disaster areas.
"We all know our C-130 is a product that could save someone's life," Cooper says, "and we're all very proud when we see it on TV." – EL
Newell Rubbermaid
Atlanta
Michael Polk, President & CEO
Atlanta's Newell Rubbermaid has about 22,000 employees spread across the globe, and the company's headquarters is in Atlanta, where 1,100 employees enjoy benefits packages with excellent healthcare plans, wellness programs, on-site flu shots, a state-of-the-art fitness center, backup child and elder care, teleworking options and an adoption assistance program. Benefits are offered to same- and opposite-sex domestic partners. The company encourages volunteerism and home and work balance.
"One of our five values as a company is called Bring What Matters to Work," says Mike Rickheim, vice president of global talent acquisition, engagement and inclusion. "Basically what that really speaks to is an employee's ability to come to work, be who they are and try to blend what they do here with what they do with their families or in their hobbies. That's one company benefit I'd say I'm most proud of." – EL
NIIT Technologies
Dunwoody
Lalit Dhingra, President
They proudly refer to themselves as NIITians. "I do not think Google employees call themselves 'Googlians,'" says Shailendra Jaisingha, senior manager of recruitment for this training and software services company. "Our company's vision statement says NIIT is people, and its growth is derivative of the growth of each one of us. We know how to celebrate and cherish our successes and learn from our setbacks."
The Atlanta office, founded in 1991, is the U.S. headquarters and affiliate of the India-based global giant, whose Hole-in-the-Wall education initiative served as inspiration for Q&A, the book movie blockbuster Slumdog Millionaire was based on. NIIT, which employs 5,000 globally and 50 in Atlanta, emphasizes assessments and continuing education, offering employees more than 3,500 free, skill-strengthening courses. NIIT recent-ly launched a joint venture with Morris Communications in Augusta, which will add another 115 jobs to that area.
"We have grown by more than 30 percent in the past year," says Dheeraj Bhardwaj, head of human resources. – CD
Shaw Industries
Dalton
Vance Bell, CEO
This spring, when tornadoes devastated North Georgia, Shaw donated $50,000 to Red Cross relief; gift cards for local teachers to purchase school supplies; and financial and emotional support to any of its 25,000 associates who were affected.
"I lost my home on April 27," says contract administrator Eric Taylor. "My immediate supervisor and director came to visit me at this most difficult time in my life, and their genuine concern reflects the company we work for. With Shaw's help, we were able to get back on our feet and continue with our lives."
The company also lends a hand in joyful milestones, notes Mollie Surratt in marketing. "I feel so blessed to have a 13-week maternity leave and a human resources plan for work so that everyone feels comfortable with my leave," she says. Committed to sustainability, Shaw also reigns as the country's largest recycler of post-consumer carpet. – CD
Tanner Health System
Carrollton
Loy Howard, President & CEO
Loy Howard has a produce stand in his hospital, a clear signal that a healthy diet has value in Tanner Medical Center/Carrollton. Howard is the president and CEO of Tanner Health System, a four-hospital chain in West Georgia, and he is a firm believer in connections between good health, productivity among his 2,600 employees and the bottom line.
"We do have a farmer's market in the hospital every week during the growing season," Howard says. "That's so our employees can take home some fresh vegetables. We concentrate on keeping them from getting sick. We have a very good health benefit program with extremely good coverage." Employees get counseling to stop smoking and lose weight. "Wellness is a very, very important component of a happy employee," he says.
Tanner employees also enjoy family days at Six Flags and Braves games, and they are recognized in a program called Caught in the Act of Caring; hospital workers who take a little extra effort on behalf of patients receive gas gift cards or other small rewards. "It's all about a culture that lets employees know they're valued," Howard says. – EL