Good Sports
Private schools are winning big on the playing fields.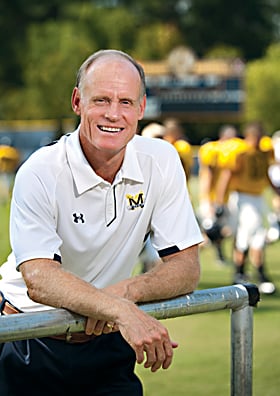 From the Golden Isles of Georgia to the red carpet at the 2011 ESPY Awards in Los Angeles, Morgan Brian has been recognized as the best female high school soccer player in the nation.
Never mind that Brian hails from St. Simons Island, a community known more for resorts than sports. Or that her private school, Frederica Academy, has only 127 students in its high school and plays in Georgia's smaller competitive league. Brian beat out nominees from California, New York and Texas to be named the Gatorade High School Female Athlete of the Year.
The Gatorade award celebrates not only athletic excellence – Brian was captain of the U.S. Soccer under-17 national team – but also academic achievement (3.81 GPA) and exemplary character. Brian, who was class president, also is co-founder and a lead fund raiser for the Many Hearts One Goal Foundation to benefit Haitian female soccer players affected by the devastating earthquake.
Her achievement is only the latest evidence that Georgia's private schools are winning big on the athletic fields as well as in the academic arena.
Brian, who is now competing for the University of Vir-ginia and the U.S. under-20 national team, scored 71 goals last season, as many as six per game.
"That's a staggering thing to think about, especially when you consider it was no mystery who she was," says Charlie Morgan, soccer coach and athletic director at Frederica. "It's not like she snuck up on people. They tried to do all sorts of crazy things to stop her from scoring – put two or three players on her the whole time – but whatever they did, it didn't work."
The Lady Knights were unstoppable en route to their fourth straight state championship and seventh in women's soccer. The Class AA school, which has about 330 students from pre-K to 12th grade, competes against other private schools under the auspices of the Georgia Independent School Association (GISA). About 80 of the GISA's 161 members play in its sports league, about 40 compete in the Georgia High School Association (GHSA) and the rest are grammar schools.
With smaller enrollments than public schools, some private schools boast 80-90 percent participation by students in at least one sport, including many multi-sport athletes. Programs often feature no tryouts and no cuts to encourage students to pursue a well-rounded school experience. They learn teamwork and time management while staying physically active.
"In the South, people send their kids to private school for two reasons mainly," says Robert Slocum, athletic director and football coach at Mount de Sales Academy in Macon. "First, being the quality of education their kid is going to receive – college prep – and second, for the opportunity for their kids to participate in athletics. We all know how important athletics are as far as teaching life lessons outside the classroom."
Private schools with an enrollment of at least 150 in their high school are eligible to play in the GHSA. About 50 schools have joined the 400-plus member league for increased competition and publicity, higher gate revenues, easier travel and more visibility to college coaches offering scholarships.
During the 2010-2011 school year, private schools won about one-third of the possible GHSA titles across all sports (not counting literary and one-act play categories). Private schools won a team title in every sport except football, cheerleading, gymnastics, riflery, boys' lacrosse, wrestling and fast-pitch softball.
In competition for the Regions Director's Cup, awarded by the Georgia Athletic Directors Association (GADA) to the top school in each GHSA classification, Atlanta's Marist School won for the 12th time in a row – the first in Class AAA and the last 11 in AAAA. Marist is the only private school in AAAA.
St. Pius X won its third straight in AAA, Westminster won for the 11th time in 12 years in AA and Wesleyan won its fourth straight in A. In AAAAA, Brookwood, a public school, won for only the second time in school history. No private schools compete in the state's largest class.
Bob Stinchcomb, athletic director at the Darlington School in Rome and president of the GADA, says private schools excel in the Director's Cup standings because they "offer many more sports and opportunities to rack up many points." Only scores from the top eight sports are counted.
"The rural schools in South Georgia, it frustrates them to see it," Stinchcomb adds. "They say, 'I never get a chance to compete for the state title, because of Wesleyan, Lovett, Greater Atlanta Christian or Marist. I can never win a state title and that's not fair.' A lot of schools can't win a state title, but you can win your region and go as far as you can in your region."
Public schools argue that private schools have an advantage because they can draw from a pool outside their county, while public schools are limited. Private schools counter that they are at a disadvantage because of limited admission, stiff academic requirements and tuition.
Recruiting is not allowed, nor are schools allowed to offer athletic scholarships.
Playing Up
Marist has made winning state championships a habit, even if one of its mottos is "Hidden and Unknown." In 2008, the War Eagles won nine state titles and were runners-up for two more. In 2009-2010, all 21 varsity teams at Marist advanced to the state playoffs. And that was six years after Sports Illustrated ranked it among the Top 15 high school programs in the nation.
"This is the campus that never sleeps," says Tommy Marshall, director of athletics. "We have 70 teams, 108 coaches and staff and about 81 percent of our student body participates in athletics."
Marist, whose 77-acre campus is in north Atlanta, has succeeded while playing against mostly public schools and in a classification two rungs higher than its enrollment dictates. Although the War Eagles could compete in Class AA based on their 770 high school students, they played in AAA, then switched to AAAA during a reclassification.
"Marist traditionally has always played up," Marshall says. "A lot of it has to do with rivalries and travel time. We compete against our neighbors. We live in the community and play with them."
Marist followed Tucker, Dunwoody and Chamblee into Class AAAA.
Proving that they don't just win "country club" sports like golf and tennis, last year the War Eagles won the AAAA championship in baseball, one of the "big three" sports along with football and basketball.
Marist, which has an annual tuition of $15,850, begins accepting students in seventh grade and has no feeder schools. The school attracts students through summer camps, which host about 2,000 kids.
"It's amazing how many of our players go on to play in college. When they came in as seventh graders or ninth graders, we had no idea who they were," Marshall says.
Marshall, like other athletic directors, worries that the trend of specialization among today's youth will deplete Marist's talent pool. This is particularly a problem in smaller schools competing against larger ones.
"It's just harder because it's a numbers game," Marshall says. "They're all going to personal trainers who are saying, 'If you want to get this scholarship, you've got to play this year-round.' All our athletic success has been based on the multi-sport athlete, but you're seeing specialization sink its teeth into a lot of our programs."
Athletes also risk injury or burnout if they specialize. Among Marist's athletes who have gone on to college and the pros, many played multiple sports.
The Centennial Center on the Marist campus houses the gym and trophy cases for every sport, going back to the early 1900s. The tennis case is full to bursting. The football case has some room, though. The War Eagles won their last state title in 2003.
But some things never change. Marist has run the wishbone for more than 30 years, and four coaches have been at the school for at least three decades.
"When your program's the same year after year after year, doing the same thing in seventh grade, eighth, ninth grade, there's a continuity involved," Marshall says.
When Marist hosted last season's baseball playoffs, parents wanted to put a "Marist Baseball" banner across the outfield fence. The coach refused on the grounds it went against the school's blue-collar ethic.
"We can't change a lot of people's minds [about private schools]," Mar-shall says, "but we can in the people we compete against with how we treat them and how we compete.
"Our motto here is to win with modesty and lose with dignity, so we try to preach that to our kids," he adds. "We want to have a great balance of academics, athletics and spiritual emphasis."
Classification Concerns
Success breeds success, but it can also cause offense. The domination by Wesleyan of Class A – including a rare football victory in 2008 – prompted an outcry that is expected to create a massive classification overhaul prior to the 2012-13 school year. Public schools, mostly in rural areas, protested that the Peachtree Corners school has an unfair advantage in the state's smallest classification.
"Clearly there is resentment," says Marc Khedouri, the Wesleyan athletic director.
Only a handful of private schools have ever won a state championship in football and Wesleyan was just the third, after Savannah Country Day and Darlington, to win one in Class A.
In 2008, the Wolves accomplished a rare calendar sweep. The private Christian school won basketball and baseball titles in Class AA, earning the school the title of No. 1 program in Georgia, according to Sports Illustrated. Then after a reclassification, the Wolves dropped down to Class A and won the football title.
From 2001-08, the GHSA had a "multiplier rule" in which private school students were multiplied by 1.5 to determine the school's classification. The rule had been championed by former Georgia Speaker of the House Tom Murphy, but was eliminated after he left office.
That allowed Wesleyan, which has about 450 students, to go to class A, where 33 of the 41 private schools that play football competed last year. Under the multiplier, an estimated 40 percent of football-playing private schools, including Westminster, would have been pushed into higher classifications to compete against public schools with larger enrollments.
Khedouri stresses that Wesleyan also won the Directors Cup as an AA school, but dropped down to A out of safety concerns.
"In basketball you only need five players, so it's not a huge deal," he says, "but in sports where you need 50 or 60, it becomes a safety issue when you look at the size differential in contact sports between an A player and a AA player."
Strong coaching and top-notch athletic fields have contributed to the program's success, Khedouri says. "Our football field and baseball field have both been national fields of the year," he says. "We have an unbelievable grounds crew. You wouldn't look at it and say it looks appreciably different from Turner Field.
"Our fields are incredibly unique and set us apart."
In the gym, Wesleyan also achieved a GHSA basketball first when the boys and girls squads won in the same year twice in a row. The girls' team, under the leadership of Jan Azar, won its first state championship in 2002, and seven of eight from 2004-11. The Lady Wolves are on the road to eclipsing Taylor County's 10 titles and becoming the most successful program in history.
"We're not doing it with transfers," said Khedouri, who estimates that the girls' basketball team has had half a dozen transfers in Azar's 13 years.
In boys' swimming, there is only one competition for athletes in Classes A though AAAA. Wesleyan won that, too.
"We think we're the smallest school ever to win it," Khedouri says. "It was a really good group of swimmers who dedicated themselves and in middle school decided they wanted to win a state championship. Only one or two were year-round swimmers; the vast majority of them were multi-sport athletes."
In the midst of such success, Khedouri doesn't want the school's goals to get lost in the shuffle. "The main thing about us is we want to further our Christian mission through our athletic program," he says. "If we are successful, we regard that as a good thing, but it is not the main thing. We hope people will choose us for what kind of place we are rather than what kind of athletic program we have."
Friday Football
Football has arrived at St. Simons Island, and not just on TV. After a two-year study, Frederica decided to start a pigskin program, with a preliminary budget of $175,000-$250,000 achieved through fund raising. "We didn't want to add something just to add something," says Morgan, the athletic director. "We wanted to make sure we added value."
Frederica will play some games this season, then start region play in 2012-13.
"We haven't necessarily had a sport that would be your go-to sport here," Morgan says. "Soccer is successful, basketball is successful, but there's nothing that creates the excitement that a Friday night football game creates."
The interest also was there among the students. Morgan says that 86 to 90 percent of Frederica's middle school and upper school kids play at least one sport. They have no tryouts and no cuts, boosting their self-esteem. "The whole premise of our athletic department is not winning and losing," he says. "We want the kids to be out there; we want them to participate. We want them to be part of something bigger than themselves."
He adds, "One of the benefits of being a small school is you always want your classmates to feel good about themselves."
Frederica, which has 127 students in its high school, won the GISA's Michael Drake Award for athletic excellence in Class AA; Westwood of Camilla won in Class A and Mount de Sales in Class AAA.
About 85 percent of Frederica's students come from St. Simons Island. The school, which has an annual tuition of $15,300, has been actively adding diversity to its student body. "Any time you deal with a private school like us, you deal with stereotypes that we're a country club school of spoiled little rich kids, and your parents have to be multimillionaires," Morgan says. "We're trying to dispel those rumors. We have a huge financial aid program, all need-based, that anybody can apply for."
The ultimate goal, Frederica says in its promotional materials, is "fielding a competitive athletics program without sacrificing anything from the academic realm. It is our belief that the best student-athletes will be attracted to Frederica Academy because we can offer them the best of both the athletic and academic worlds."
The athletes, Morgan says, "understand why they're there. On buses, the lights are on and kids are studying. They know exactly what they have to do. Playing athletics is not an excuse to not have your work done."
And the Knights do spend plenty of time on buses, driving to compete against teams in South Carolina and Florida. "We get to live on this beautiful island," Morgan says, "but when we travel, we truly travel. A short trip is two hours away, and we have five-hour trips."
A few years ago, Frederica looked into joining the GHSA. But Morgan says it didn't solve any travel issues since the region would have stretched from Central Georgia to Augusta.
The school was also hesitant to jump leagues for another reason. "We enjoy the fact that our teams can go out and our kids know, whatever sport it is, if they play as well as they can they have a chance to win that game," Morgan says. "It doesn't mean they always will, but some sports in GHSA, just because of the sheer numbers, we probably wouldn't be very competitive in. That would take the enjoyment of high school sports out of the equation for some of our kids."