Gainesville/Hall County: Keeping It Up
Adding jobs and a new hospital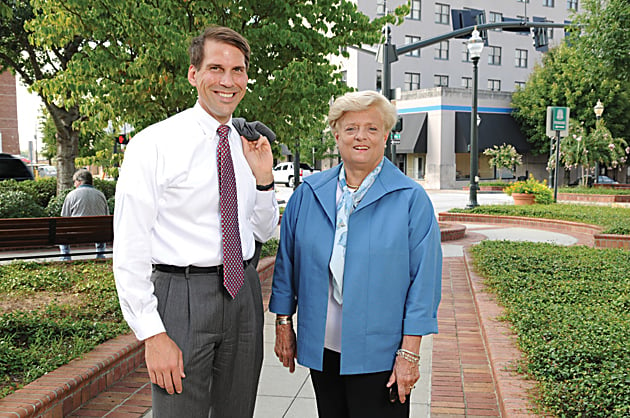 When Gainesville economic developer Tim Evans an-nounced last summer that 34 new and expanded businesses created 1,140 new jobs and nearly $250 million in capital investment during 2010-2011, it must have seemed like the good old days were back. The announcement from Evans, the Greater Hall Chamber of Commerce vice president for economic development, accompanied Gainesville's selection by newgeography.com as one of the top 100 American cities for job growth in 2011.
At about the same time, AARP named Gainesville as one of the top three affordable retirement spots, citing the local tax rates, cost of living, housing costs and other quality of life issues that had appeal to retirees. The community was still celebrating a 2010 announcement that the local hospital, Northeast Georgia Regional Medical Center (NGMC) had won approval of a Certificate of Need (CON) to build a new $200-million hospital in fast-growing South Hall County after a nearly five-year legal battle.
Just as 2011 was beginning, two of Hall County's favorite sons, Gov. Nathan Deal and Lt. Gov. Casey Cagle, took their oaths of office – Cagle for his second term.
These are lively times in Hall County, but to Frank Norton, Jr., 2011 is simply a logical step in a trend that began six years ago.
"Before the economic downturn, we saw more than a million square feet of new retail space built in South Hall County," says Norton, president of the Norton Agency, a real estate firm, and publisher of the Norton Report, a twice-monthly newsletter tracking residential and commercial real estate trends in North Georgia. "Be-tween 2005 and 2007, we saw a new Walmart, a new Home Depot, two new Kroger[-anchored] shopping centers, a Publix[-anchored] shopping center, all of which helped solidify retail in South Hall, capturing those consumers who previously went to Gwinnett County to shop. While new retail development has slowed, that growth has strengthened the South Hall diversity in the center of a population of about 100,000 people."
Nothing here occurs in a vacuum; ideas and events radiate throughout the community, brushing everyone with consequences.
Russell Vandiver remembers a time in 1987 when he was vice president for economic development at Gainesville's Lanier Technical College helping a German company, North America ZF, train workers for its then brand-new Hall County manufacturing facility. Today, Vandiver is again assisting ZF in finding workers for a new venture in a new plant in Gainesville, ZF Wind Power, where gearboxes for wind turbines will be made.
"This has sort of put Hall County on the map as far as renewable energy-related is concerned," says Vandiver, now the president of Lanier Tech. "And I've seen a lot of projections where the wind power [industry] is going to be a lot more long lasting than some of the other new energy flavors of the week. It's pretty hot right now, and we just don't know how big this is going to get."
The existing ZF plant will continue making gearboxes for off-highway equipment like front-end and backhoe loaders, as well as axle drives for the Mercedes plant in Tuscaloosa, Ala., and General Motors. "We manufacture quite extensively for the automotive field, but the wind turbine gearbox is a new venture for us," says Elizabeth Umberson, president of the Commercial Vehicle and Special Driveline Technology Division of North America ZF. Umberson expects the new plant to be in production by January. About 100 employees are on-site now as equipment is being installed. Another 150 employees will be added as the plant moves toward full production schedules.
Learning Center
At Hall County's Featherbone Com-muniversity, a kind of intellectual community center, nurses-in-training from Brenau University's nursing school are practicing treatments for a wide range of reactions and symptoms that can accompany a sudden medical emergency or a clash of medicines in the human body. Only these nurses are tending to humanoid patient simulators that are controlled by computers in a glass-fronted room. These human simulators can emulate nosebleeds, heart attacks, symptoms of shock, even childbirth, plus a wide array of other functions and malfunctions of the human body. Brenau has placed two full simulators and one partial simulator at Featherbone and is now raising the funds to purchase another one, and that could be about $120,000. Brenau lays claim to having more of the simulator teaching aids in one place than any nursing school in the Georgia.
There aren't many places in the country like Featherbone, housed in an old manufacturing plant created by local civic leader and businessman Gus Whalen. There may be many similar former manufacturing facilities in North Georgia sitting idle, "but they didn't have an owner like Gus Whalen," says Brenau President Dr. Ed Schrader.
"Gus was able to engage people of substance in this community to become his partners in Featherbone," Schrader says. "They put together a pool of investment that allowed the purchase and incorporation of the facility with the idea of providing some sort of low-rent facility, but I don't think they had any idea what that community-oriented facility was going to be." Featherbone is occupied by Brenau, Lanier Tech, an entrepreneur incubator and the Interactive Neighborhood for Kids, a pintsize village teaching kids about banking, shopping and other things adults need to know about living and life in the average town.
Featherbone has two dance studios and a practice facility for Brenau's theater program, but the nursing program has been perhaps the most fortunate beneficiary. The nursing school was out of space and limited to 100 students at landlocked Brenau, but the move to Featherbone quadrupled the learning space and jumped nursing enrollment to 400, Schrader says. With an estimated annual economic impact of $100 million on Northeast Georgia, Brenau University is an important source of income and jobs for locals.
Carol Burell has more than a passing interest in the well-being of Breanu's nursing program, and she recorded a personal milestone in 2011 when she was named President and CEO of Northeast Georgia Health System, Inc. (NGHC), the parent of Northeast Georgia Regional Medical Center, Inc. Burrell helped her hospital obtain the Certificate of Need approval to allow for the construction of a South Hall County campus in Braselton.
"Our market share goes into the Gwinnett County area, and Barrow County and Jackson County," Burrell says. "If you look on a map and drop down and see the locations for other hospitals, there is just this big glaring hole where a hospital is needed for that area." The new hospital's formal name is Northeast Georgia Regional Medical Center Braselton, and it will serve the healthcare needs of the southern end of the Gainesville facility's service area and provide a huge economic engine for that region. "We anticipate there will be around 2,500 or so staff folks," Burrell says.
"But the economic engine, if you think about it, is not only the hospital itself but all the physicians' offices that will come to that area and the jobs that will be generated as a result of the hospital. We haven't defined all that yet, but we are really looking at this as a healthcare destination, and we do want this hospital to be fully integrated into that community."
The architect, general contractor and project manager have been selected for the $200-million project, which will be funded by a Hall County bond issue to be repaid through operating cash, she says.
Transportation Needs
When county officials from throughout Northeast Georgia began their discussions on road improvement needs for the region as a preamble to a strategy for the Transportation Special Pur-pose Local Option Sales Tax slated for a vote in 2012, Hall County Commission Chairman Tom Oliver had a revelation.
"Interestingly, we have some roads north of Gainesville that lead up into the mountains, and we're finding out a fair amount of those more rural counties want us to widen or four-lane [roads] so they can get to our hospital; they consider our hospital to be their hospital, too," Oliver says. "And we're delighted they want to come here for their medical needs."
Another road improvement need is becoming apparent in the south end of Hall County where more than half the local populace lives; this one, too, is connected to healthcare. "We're going to need to four-lane [Georgia] Highway 347 because we're building a new hospital in that area," Oliver says, referring to Northeast Georgia Regional Medical Center Braselton.
Earlier this year when local employer IMS Gear Georgia needed a little assistance in installing a new production line, the Gainesville City Council did not hesitate to vote unanimously for approving a $5-million revenue bond for IMS, a company manufacturing small gears that go into automobile production.
The German-based company has 15 years as a Gainesville corporate citizen, and its jobs are highly prized here, says the city's mayor, Ruth Bruner. "We know IMS is a good fit for our community," Bruner says. "So, it wasn't like there was a lot of handwringing over this. We have a long history in economic development of bringing in companies and businesses and having good results when we go to the well to make sure those businesses can be successful."
Improvements on the landscape of Gainesville's downtown area will continue to add jobs while beautifying the city, says Tim Evans, vice president of economic development with the chamber. "There is a new pedestrian bridge spanning [main artery] Jesse Jewell Parkway," Evans says. The bridge is being built by developers to link a soon-to-be new hotel with the nearby Georgia Mountain Center. "That will make the center more attractive for conventions," Evans says.
New walking trails and greenspace are going in along a former CSX rail line purchased by the city. The jewels in the downtown crown are two new nine-story office buildings and a 200-room hotel, all within the Midtown Oppor-tunity Zone, a state designation that allows new qualifying businesses $3,500 worth of tax credits for each new job for two or more employees. The new hotel and office buildings will stimulate new businesses in the downtown, Evans says, "especially restaurants and shops. "
Making A Point
One of the more unusual but popular summertime events in Northeast Georgia this year was the public shredding of a bowling ball by a Gainesville company out to make a point.
"We can shred just about anything," says Megan Martin, director of sales and marketing for American Security Shredding, Inc., a Gainesville company that shreds documents and sells the resulting shreds for re-use. A part of the company's marketing plan is to show their clients and prospects that shredding saves trees.
"We issue them a certificate of destruction saying that everything has been destroyed properly," Martin says. "And we also issue them a recycling certificate telling them they shredded X pounds and that equals X amount of time and that equals X amount of trees."
David Mills, American's vice president and COO, estimated his 2011 paper shredding and sales of the shreds to paper products manufacturers would have saved about 20,000 trees by October. And there appears to be no letup in the demand.
During the busy summer months this year, American was shredding about 280,000 pounds of paper a month; the shredding industry estimates that every ton of paper shredded saves 17 trees.
"Right now recycled paper is the highest I've ever seen it, and I've been doing this for 11 years." Mills says. "Some of that has to with foreign demand," he says. "It's like with the problems in Japan where paper mills have shut down. For example, [shredded] sorted office [paper] is going for $300 a ton right now, and January three years ago it was $75 a ton."
"July and January are busy months because people's year-ends are coming up," Martin says. That means it's time to shred documents from the previous year.
Lasting Legacy
2011 marks the 15th anniversary of Hall County's participation in the the 1996 Atlanta Olympics. The Olympic Committee selected Lake Lanier for flatwater canoeing and kayaking events, and it's still a popular venue for the sports.
"The lasting legacy for me is that the infrastructure that was put down for the '96 Olympic Games is still being used, and in a big way with national and international events," says Kit Dunlap, president/CEO of the Greater Hall Chamber of Commerce.
"The pride is still here in our community for our ability to host an Olympic venue and be exposed to the world. We got rave reviews, and when the Olympic discussion began we didn't know what flatwater canoe and kayak racing competition was. We'd never even heard of it."
"Today, you have young people competing here," Dunlap says. "Some of them try out for the Olympic team. We now have local clubs with young folks who are learning how to row and canoe and kayak. That alone is worth so much to this community."Local Leaders
Community Snapshot
Local Leaders
Kit Dunlap
President/CEO
Greater Hall Chamber of Commerce
770.532.6206
kit@ghcc.com
Tim Evans
Vice President for Economic Development
Greater Hall Chamber of Commerce
770.532.6202
tim@ghcc.com
Tom Oliver
Chairman
Hall County Board of Commissioners
770.535.8288, ext.1
toliver@hallcounty.org
Population
(2009 estimates)
County, 187,743
Gainesville (county seat), 35,750
Per Capita Income
(2008)
County, $30,195
Georgia, $34,849
Unemployment
(June 2011)
County, 9.0 percent
Georgia, 10.5 percent
Top Employers
Northeast Georgia Medical Center, Fieldale Farms, Hall County School System, Pilgrim's Pride, Hall County Government
Sources
Greater Hall Chamber of Commerce, Georgia Department of Labor,
U.S. Census Bureau