Athens/Clarke County: The Beat Goes On
Banking on music and preservation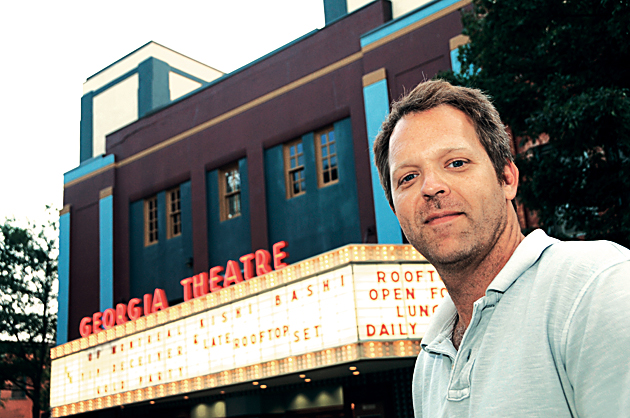 Athens bands have become as much a part of the community's culture as the mighty Georgia Bulldogs. This musical clout was brought to bear recently to help preserve a massive historic landmark in the midst of a tough economy. The Georgia Theatre's resurrection and re-opening in August is a testament to the city's community spirit and a sign of bigger things ahead for the Classic City.
It also underscores the key role music and entertainment play in the economic life of the state's best-known college town.
Originally a YMCA built in 1889, the Georgia Theatre sits right in the middle of downtown Athens, across from one of its coolest bars, The Globe. (Esquire named it one of the Best Bars in America in 2007.) Around one corner is the 40 Watt Club and the Caledonia; around the other corner is Wuxtry Records and The Grill. The theater's location and its pedigree, like Atlanta's Fox Theatre, make it irreplaceable, which means owner Wilmot Greene faced an enormous challenge when the theater was gutted by fire in 2009. It was a difficult decision to redo instead of rebuild – the cost of historic preservation is astronomical compared to a nightclub construction budget.
But theaters have outlasted many courthouses as the oldest downtown landmarks throughout Georgia, and to generations of UGA students, the Georgia Theatre is hallowed ground. Now relaunched with help from The Georgia Trust for Historic Preservation, it has doubled in capacity and stands to be a huge shot in the arm for the city's economy.
"The Georgia Theatre is the crown jewel of the Athens music scene," says Matt Forshee, President/CEO of the Athens-Clarke Economic Development Foundation. "It is also a focal point for so many people who come to Athens, because it's so central to folks' memories. Its resurgence has brought a focus on Athens as a hub of creative music. And when you start to look at jobs and how to grow the economy, the jobs of the future are based on the creative class."
The Georgia Theatre, a cinema house for 100 years, also became a music venue in 1989. It was popular with many of the local "jam bands" of the period, including Widespread Panic, Allgood Music Company, Downright and Northern Lights. Wilmot Greene was there in the beginning, and his heart never left.
"I was a sophomore when I was in Northern Lights in 1989, and we played at the theater a lot," says Greene. "Years later, in 2004, I was in Charlotte working as a cartographer and came down for AthFest Music Festival. I ran into the owner, whose name was Duck, out front all stressed out – and I said, sell it to me. He said okay, just don't fire anybody and don't mess with it. I said I just want to clean it up."
It was an impulsive move and not without challenges. "Two months later, I was like, ouch, all these fixes," says Greene. He became a good handyman, and over the course of the next five years he broadened the programming, putting all his profits back into improving the theater. Then it all went up in flames. (The cause of the fire is undetermined but Greene believes it was probably electrical.)
"It was a crazy position to be in," says Greene. "We knew we were going to need help, but we couldn't just take people's money." The outpouring of support was substantial, and several benefit shows were staged, including one by The B-52s at The Classic Center.
"The first couple of benefits were pretty straightforward – the money went to our employees who were out of work. Then it became clear that we were in really desperate need. The cleanup alone cost a couple of hundred grand. To keep the walls from coming down, we had to use structural steel."
A desperate Greene considered forming a nonprofit of his own, but lacked the experience and connections. "I knew that if we had to answer to a committee, we were dead." He was then approached by Mark McDonald, president and CEO of the nonprofit The Georgia Trust. "He had it all laid out – very no nonsense," says Greene. "He was like, of course it's historic, of course it needs to be rebuilt – it was awesome. That was the day when we really realized we could do it."
Top Talent
The theater celebrated its re-opening in August with a two-week schedule of performances that encompassed a deliberately wide variety of artists.
"Georgia Theatre has been the heart of downtown for 122 years and a continuous music venue since 1989," says Greene, although it hosted its first live musical shows in 1978.
"It's always been a place where people could see a lot of different kinds of music, so that's what we set out to do with our grand opening – 11 different genres represented over two weeks."
He picked up-and-comer Madeline and local favorites The Glands for opening night; the schedule also included superstars like Big Boi and Chuck Leavell. "We wanted to make it as local as possible as well as varied. We just wanted to please everybody, which is impossible – but we love that people get real emotional about music. Real emotional. We got ragged on Twitter really hard for our opening schedule.
"But it's like college football, and that's why this story has resonated so much – people are passionate about music, their college memories and their downtowns. When people were falling in love, this is the music they listened to – it's an emotion."
With so many UGA students and alumni having an emotional stake in the theater, "It's a landmark not just for downtown, but for all of Georgia," says Athens Downtown Development Authority Executive Director Kathryn Lookofsky.
"We raised $220,000 through private donations, about five percent of total project cost," says Greene. "But business is built on margins, and that's a good margin," he adds. "If we had to borrow any more we couldn't have done it, so that 5 percent made the whole project possible."
Georgia Theatre is still taking donations, Greene says. Donors can fork over $100 for a plaque on the wall of history. There is no limit to the donations the theater can take until it is debt free, and Greene stresses that the donations are restricted to the historic preservation aspect of the construction – which he guesses is somewhere between 40 to 60 percent of $4 million.
"The reason we take it is that we could have rebuilt for much less and still have had a functioning music venue. But that would have meant ignoring the historic aspects. Designing around the exterior was a construction nightmare – it's amazing how they were able to pull that off. One contractor said it was like Jenga from hell!"
The redone and improved Georgia Theatre features a new entrance lobby and a big new balcony, but many of the original touches – such as the original stained glass, warped by the fire – are incorporated. "The balcony is a lot bigger, which is where we gained capacity." This is likely to increase ticket prices. "We're interested to see if Athens can support higher ticket priced shows, but I think they can," Greene says. The shows will be held earlier, which doubles the potential ticket-buying audience, he says.
The new theater also features a rooftop restaurant with a menu by White Tiger Gourmet owner/barbecue expert Ken Manring, open from 11:30 a.m. until 2 a.m. With all the new improvements, Greene emphasizes that this Georgia Theatre incarnation will be a profitable one.
"Almost all my employees are back, and more hires are expected," says Greene. "We're back to 75 but we might eventually have around 100 part-time employees. It will also be nice to have more parking."
In this regard timing was on his side; the city was already building a 540-space mixed-use parking deck right behind his venue. More parking is great for attendance, but Greene was worried about his fragile venue. Ini-tially, he says, "I was a bit concerned about the construction process, so I had met with the architects of the deck [Batson-Cook of Atlanta] beforehand," he says. "I actually liked them, so after the fire, I hired them to rebuild the Theatre."
The block now has more continuity, says the DDA's Lookofsky, and more retail, giving the theater a sort of mini-mall effect. Waffle House, Mama Goldberg's Deli (an Auburn, Ala., institution), Fuzzy's Taco Shop and Yoforia will be opening in the ground level of the parking deck; Flight, a tapas bar, opened on Lumpkin last year. The top floor of the deck will be used by offices, with local company Partner Software among the first tenants. In all, some 300 to 400 jobs have been created in the $16-million project.
Brew Crew
Georgia Theatre benefited from a number of innovative fund-raising promotions, such as Terrapin Brewery's Georgia Theatre Sessions – four different beers released over the course of last year. Athens businesses have a way of looking out for each other.
It's a mutual admiration society, says Julia Weckback, marketing director of Terrapin Brewery. "We've had a lot of support in Athens," she says. The brewery tours are especially popular.
"We relocated here from Atlanta four years ago. Owners Brian "Spike" Buckowski and John Cochran had wanted to be in Athens from the inception – and we thought the first tour would draw a couple hundred or so," says Weckback. "Instead we had 1,500 show up, and some nights have drawn 800 or more."
The success of the tours reflects a broader success for the brewery, which gets its name from a Grateful Dead album. Terrapin recently surpassed microbrewery status to become a regional brewery, which requires sales of more than 15,000 barrels per year. Terrapin sales topped 18,000 last year. "We've been growing like crazy," says Weckback.
Regional status indicates that the industry itself is growing, but Terrapin is unique in its product mix. "We produced 20 different beers last year, including collaborations," says Weck-back. Buckowski, she says, "has a lot of directions he wants to go." Dustin Watts, VP of sales and marketing, drives that creativity. "People like to have something new."
The popularity of Terrapin reveals a built-in crowd of locals and students to support the local economy – a "buy Athens" movement without any campaign. That audience will continue to enhance Athens as a tourist destination, says Hannah Smith, communications manager of the Athens Conven-tion and Visitors Bureau.
"I definitely think that Georgia Theatre reopening will reinvigorate tourism," says Smith. "There is a lot of action in that part of downtown." There is also a lot of synergy to build on among the venues, restaurants and CVB-sponsored events that are gathering momentum, such as AthFest.
With celebrating the city's music community in mind, the AthFest Music Festival, which this June included Jim White, Chickasaw Mud Puppies and Guadalcanal Diary, began in 1997 and supports year-round after-school and in-school music education programs. "AthFest has done so well that they have started an Athfest Half Marathon in the fall," says Smith. "Our second one is coming up October 23. They maxed out their registration in just their first year, so we think that is a great fit for Athens."
Other signs indicate an economy on the rebound. A new French restaurant, Etienne Brasserie, opened on Broad Street this summer to great reviews, says Smith, but what really has the town jumping is a new Steak 'n Shake planned on Broad between downtown and Five Points. "There was a lot of excitement when that was announced," says Smith.
The Classic Center has a great schedule this fall, including David Sedaris this month, and is beginning its own expansion. "When we are finished in spring of 2013, we will have doubled the size of the exhibition hall, and we will have closed in the courtyard that is currently between theater and exhibit hall to serve as new pre-function space," says Smith.
Healthy Developments
There's news on the local healthcare front as well: UGA is also part of Georgia Health Sciences University's plans to create more doctors in Georgia. There are 40 students in this year's GHSU/UGA class in Athens.
St. Mary's Hospital and Athens Regional Medical Center are both growing in the same area. Athens Regional recently welcomed its first new President and CEO in 29 years, Jamey Thaw, and St. Mary's is growing its network of affiliated physician groups, most recently Athens Internal Medicine Associates.
"Athens Technical College has opened a new medical and life sciences technician training facility," says Matt Forshee, "and last year Biotest, a bioplasma collection facility, opened a space right across from the chamber with around 50 employees."
Although Athens is abuzz with new construction and nightlife activity, it could sure do with a good season of football, adds the CVB's Smith. "That really makes a difference in our fall numbers. If people are excited, they want to make it a whole weekend, and that's really meaningful to restaurants and retailers," says Smith. "I really hope that we see a lot of victories this year."
"We're seeing lot of positive momentum on many fronts," says Forshee. "It's still a rough economy – there's a lot of people who would like things to be better – but we're moving in the right direction. In the next six months we will see some exciting developments."
Community Snapshot
Local Leaders
Nancy Denson
Mayor of Athens
706.613.3010
Matt Forshee
President/CEO
Athens-Clarke County Economic Development Foundation
mforshee@athensbusiness.org
Doc Eldridge
President
Athens-Clarke County
Chamber of Commerce
doc@athensga.com
Population
(2010)
116,714
Unemployment
(July 2011)
County, 8.2 percent
Georgia, 10.4 percent
Median Household Income
(2009)
County, $33,727
Georgia, $47,469
Top Employers
Athens Regional Medical Center, Pilgrim's Pride, St. Mary's Hospital, Gold Kist, Inc., Merial Limited, Inc.
Sources
Georgia Department of Labor, U.S. Census Bureau, U.S. Department of Agricuture