2011 Family Business Awards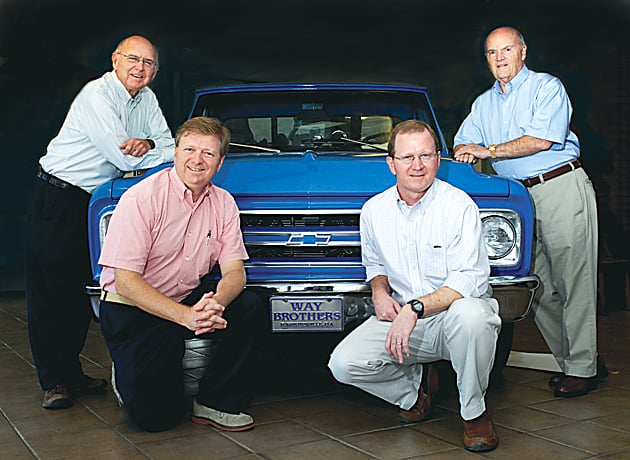 Combining business and family may not be the easiest path to follow, but for those who do it well, the rewards are tremendous.
This year's winners of the 2011 Family Business Awards are reaping those rewards. The winners were selected by the Cox Family Enterprise Center at Kenne-saw State University; the recognition program is sponsored by the Center and Georgia Trend.
Awards are given in large, medium and small business categories; the Century Award goes to a family business that has been in existence for more than 100 years.
Kauffman Tire, Inc., headquartered in Ellenwood and celebrating its 75th anniversary, is this year's large business winner. Augusta's Blanchard & Calhoun, one of the largest independent real estate companies in the country, is the medium-sized business winner; Way Brothers Automotive, Inc., in Hawkinsville is the top small business.
The Big Store in Tifton is a landmark retail establishment selling men's and women's clothing and shoes; it is this year's Century Award winner.
This year's winners remain equally focused on the family and business aspects of their enterprises. Philip Perlis describes The Big Store as "a combination of love, luck and fortitude."
"There are tremendous rewards in perpetuating something that your family created and giving family members an opportunity to be masters of their own destiny," says Blanchard & Calhoun's Tommy Blanchard.
"We're more focused on customer service today than we have ever been in our history," says Kauffman Tire's John Kauffmann. "Giving back to the com-munity is an ongoing process, and there are opportunities to give back every day," says Way Brothers' Ram-sey Way Sr.
Large Business
Kauffman Tire
Atlanta
For most family-owned businesses, keeping "family" and "business" as separate as possible is key. Otherwise, issues and problems at work can spill over into the home, threatening relationships between family members who work together, often in stressful and highly competitive environments.
John and Mark Kauffman and Tom Money, the leaders of Kauffman Tire, Inc., the winner of the 2011 Cox Family Enterprise Center Family Business of the Year Award (large business category), agree with this principle wholeheartedly. However, when it's just the three of them standing around the barbecue grill at a family gathering, "We're probably not talking about the burgers," Mark chuckles.
Kauffman Tire is a third-generation family-owned business that was originally started by Harry Kauffman as a single Texaco station in Wooster, Ohio, in 1936. Harry's son, John, assumed leadership of the business in 1969 and began its expansion, moving the headquarters to Atlanta in 1975. John's son, Mark, is now responsible for day-to-day operations as president, while Tom Money, John Kauffman's son-in-law, is the COO.
Kauffman Tire, celebrating its 75th anniversary this year, has grown to become one of the largest independent tire dealers in the country with 48 retail stores, 13 wholesale distribution centers, four commercial centers, an e-commerce site (www.treadepot.com) and 860 employees.
Chairman and CEO John Kauffman says the consumer tire business is more competitive than ever and that customer service is usually the key differentiator between tire businesses. "We're more focused on customer service today than we have ever been in our history," he says, citing store cleanliness and knowledgeable and friendly employees as two critical areas.
The company is also entering a new partnership with Coca-Cola to offer all customers free Coca-Cola products while they wait, in addition to water and coffee. "One of the last things most people want to do is go buy tires, so we're trying to make an unpleasant situation as pleasant an experience as possible."
Kauffman Tire instituted its "Fix a Flat Tire for Free" program a few years ago: Kauffman stores will fix any flat tire for no charge, regardless of where it was purchased. "It costs us at least $400,000 a year in revenue, but it's one of the best advertising tools we have," says John.
"We're being more selective in our hiring to make sure we hire people who are customer focused," Mark adds. "We'd rather hire for attitude than aptitude – if someone has a good attitude, we'll train them to do the job."
Kauffman Tire operates under a set of core values that includes a commitment to employees that stores will never be open on Sundays, holidays or evenings. "We desire for all of our associates to have a quality work-life balance," says Mark.
Another one of Kauffman Tire's core values is a commitment to giving back to the communities it serves and being a positive leader for change in its industry. The company has had an ongoing partnership with Junior Achievement, and it partners with Children's Healthcare of Atlanta by sponsoring various fund raisers. "We don't do this to draw attention to the company," says John. "We do it to give back to the communities that have blessed us and to help others in need."
The company is also on the forefront of positive change in its industry. It follows the most stringent environmental protection standards with regard to discarded tires and automotive fluids, and it replaced the lead weights that are commonly used for wheel balancing with a new environmentally friendly steel version.
Kauffman Tire has always planned its growth carefully and strategically, its leaders say. With an emphasis on employee development and solidification of its corporate infrastructure, it has positioned itself to add between five and 10 new locations per year in 2011 and 2012. – Don Sadler
Medium-Sized Business
Blanchard & Calhoun
Augusta
When buying a home, most people need assistance in three main areas: finding the right house, securing a mortgage and insuring the home. Nearly a century ago, George C. Blanchard co-founded a business in Augusta to help homebuyers in each of these areas.
Today, Blanchard & Calhoun Real Estate, the winner of the 2011 Cox Family Enterprise Center Family Business of the Year Award (medium-sized business category), is one of the largest independent real estate companies in the country. The company offers services in residential and commercial real estate, property management and development, and relocation assistance.
In addition, mortgages are provided through Augusta Mortgage Co., and all types of personal and commercial insurance are offered through Blanchard & Calhoun Insurance Agency, Inc. Combined, the three businesses have 78 employees, and another 179 licensed real estate agents work for Blanchard & Calhoun Real Estate as independent contractors.
Blanchard & Calhoun is a fourth-generation family-owned business, currently operated by CEO and President Thomas (Tommy) Blanchard, Jr., the grandson of founder George Blanchard. Tommy's son, Thomas (Tom) Blanchard III, is the company's executive vice president, and his daughter, Carey Blanchard Daniel, is the marketing director.
Tommy Blanchard says that their intention is to remain a family business indefinitely, with the hope of passing the company down to the fifth generation of the family one day. "There are tremendous rewards in perpetuating something that your family created and giving family members an opportunity to be masters of their own destiny and succeed at running a company," he says. His daughter Carey concurs: "Keeping the business in the family, as opposed to outsiders buying and running the company, is one of our biggest rewards."
Blanchard & Calhoun views the comprehensive real estate, mortgage and insurance services offered from a "family of businesses" concept, and they market themselves from this perspective. "All three of these disciplines are at the heart of our family of businesses," says Tom. "We don't focus on any one of these areas more or less than the others."
While Tommy, Tom and Carey may carry the family name, they are quick to emphasize that a key to Blanchard & Calhoun's success for nearly a century has been the company's ongoing commitment to treating all employees like they are part of the family.
"There are a lot more non-family employees in the company than there are of us, so we strive to treat everybody the same," says Tommy. "Our non-family employees have the same opportunities to contribute to and lead the company as do family employees," Carey adds.
Family involvement in the business is "full-time and constant – we are a very close family, and we enjoy working together," Tommy says. But with this comes the potential for a blurring of the lines between work and family. Tom says this makes it important to have strong relationships based on things other than work. "Also, Dad has established the '7 o'clock rule' – we're not supposed to talk about work at home after 7 p.m.!"
Community involvement and giving back have been a big part of the corporate culture and values since the company's beginning. Blanchard & Calhoun contributes to more than 50 different community charities and organizations each year. "We encourage our employees to get actively involved in the community, whether it's through charities or civic organizations, so we want to support their time and energy by contributing financially to as many of these as we can," says Tommy.
"Blanchard & Calhoun has been integral in the development of the Augusta area for more than 90 years," Carey adds, "so supporting the community in this way kind of brings everything full circle." – Don Sadler
Small-Sized Business
Way Brothers Automotive
Hawkinsville
The Way family of Hawkinsville, owners of two automobile dealerships, have discovered that good family lore and stories can come from children as well as their parents, like the time some years ago when then-nine-year-old Marshall Way sold a car to a browsing couple, and earned the title of "born salesman."
The event occurred one night when Marshall was kicking around outside while his father, Hatcher Way, finished a little work inside the family-owned General Motors dealership. Young Marshall came upon a couple looking at cars and volunteered to fetch them the keys so they could take a closer look. The couple said they had to leave but would be back the next morning. "He went home that night and told his father he had to be up early the next morning because that couple were coming back to talk about that car, and he had to be there to meet them," says Ramsey "Bub" Way, Marshall's grandfather and the Way family patriarch.
"The next morning the sale was completed on the spot, with a little help from dad Hatcher, who took care of the paperwork. That piece of teamwork exemplifies a core principle of the Way business model. "We call it decision by consensus," says the senior Ramsey. "Any kind of decision we have involving the dealership also involves the people we count on to make it work. We don't move on it without bringing them into the picture and getting their thoughts. That also gives them a sense of ownership."
Making employees and customers feel the warmth of a family atmosphere has led the Way family to many successes in business, with yet another coming from The Cox Family Enter-prise Center's 2011 award for small family business of the year.
The Way family has had a presence in Middle Georgia since the 1700s, and in 1933 Way Brothers opened a Dodge and Plymouth dealership in Hawkinsville. Over the years, it became a General Motors dealership selling Chevrolet, Buick and GMC products, with a Ford dealership on the same grounds and a parts and service facility in a nearby building. Today there are four Way family members employed as part of a combined staff of 29.
Marshall, now 17, does odd jobs around the showroom and maintenance area and is the fourth generation of Ways to work in the family dealership. One son, Ramsey Jr., and his wife, Charlotte, have the law firm of Way and Way and handle the company's legal affairs. The success of the Ways has helped mold them into generous supporters of local and regional charities, a giving-back process that comes naturally, says Ramsey senior.
"A business like this is the first place folks come to when they're looking for support of some community project, and we're always glad we can help," he says. "Giving back to the community is an ongoing process, and there are opportunities to give back every day."
The elder Ramsey has served in leadership roles for organizations as varied as the University of Georgia Arch Foundation, the Georgia Auto-mobile Dealers Association and the local chamber of commerce. Son Hatcher has led efforts to raise funds for police equipment and provide scholarships for local students.
Tenacity is also another family trait, says Ramsey senior. "Things are not always smooth running a business, " he says. "There are bumps in the road, and anytime we have a problem with, say, a defective automobile, I have never turned that problem loose until I got it resolved." – Ed Lightsey
Century Award Winner
The Big Store
Tifton
It is midmorning on a Saturday in downtown Tifton, and traffic is picking up on the streets and sidewalks of the retail district. At the Big Store, a 101-year-old landmark family business selling men's and women's clothing and shoes, Philip and Susan Perlis are admiring the two-year-old grandchild of a former employee as customers browse the aisles.
Locals who enter The Big Store are likely to swap stories and family news with the Perlises before beginning their shopping. This is the picture of smalltime business in small town America, with a bit of history hanging in the air.
Philip Perlis is the descendent of one of thousands of the Russian Jewish families that migrated to America in the late 19th and early 20th century, many settling in South Georgia. In addition to passing DNA from generation to generation, the early Perlis families established traditions and business practices cherished and used by the modern generation, things like sharing a family meal regularly and the view of employees as extensions of the family.
"I would sit at the table with my grandparents and parents and aunts and uncles and cousins and listen to all the stories, and that was part of the education we received," says Philip, who owns The Big Store with his wife, Susan. With a history of dogged determination, devotion to family and community and classic business practices, Tifton's The Big Store is the 2011 recipient of the Cox Century Award from the Cox Family Enterprise Center at Kennesaw State University.
Susan Perlis was aware the family business came with the marriage, and that was fine with her. "I knew it was pretty much a family business, and all the women have worked in the business in the past," she says.
"I was in fashion as a [college] major, but that was before I met Phil, so I worked in the business before we ever met." Susan runs the ladies' department, while Philip looks after the general operation of the business. There was a time when the family branched out into real estate, truck stops, oil and parts distribution and other investments, but the Perlises ultimately returned to the core retail business.
"I knew nothing about the oil business, and I didn't know anything about the truck stop business," Philip says.
"I wanted to focus on what I knew and was most comfortable with."
Those old-fashioned personal and business values have sustained The Big Store even with the arrival of internet and catalogue shopping and the boom of the big-box stores.
"It's a combination of luck, love and fortitude," Philip says. "We try to keep our biggest assets in focus: family, employees, which are an extension of our family, and our credit. You open the store every day at the same time; you make a deposit every day, no matter how large or how small."
Susan finishes Phil's thought: "You always try to have a family member present and on the floor to be a part of what's going on every day." There are 22 employees in I. Perlis & Sons, the corporate parent of The Big Store, where Philip says the customer is king.
"We speak to every customer who walks through the door, overseeing what is purchased," he says. "We note what is brought back and what alterations look like, and we take pride in every garment and the shoes that go in and out of here."
Customers are often friends from school or civic groups, or a growing number of shoppers from out of town whose parents or even grandparents shopped at The Big Store, Philip says, as he greets yet another proud grandmother toting a prospective future customer. – Ed Lightsey