Sandersville/Washington County: Better Days
From kaolin to the future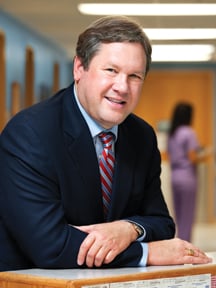 Gary Haynes was one of the lucky ones who quickly found work when he lost his job in Washington County's kaolin industry. After 24 years in the kaolin mines, Haynes had risen to the well-paying position of operations manager, but in 2008 he was let go, one of 2,500 workers in the county who joined the unemployment lines between 1995 and 2010, according to data from the Georgia Department of Labor (DOL).
Kaolin is clay used in just about everything imaginable, but especially in the production of ceramics and as a coating in paper products. It is also used in tires, pharmaceuticals and plastics. It is plentiful in East Central Georgia's Washington County.
The kaolin mining workers who held on to their jobs saw average wages drop by more than $300 a week between 2005 and 2010, the year unemployment here topped 15 percent, according to DOL statistics. Meanwhile, Haynes found work in training and construction before landing a position at Oconee Fall Line Technical College in Sandersville as an instructor in mine safety. "I was kind of burned out from working in the kaolin industry anyway," Haynes says. "But I was able to put my experience in the kaolin industry to work for me."
Even with the job losses suffered in the industry and prospects for new hiring dim, Haynes should stay busy. Under federal laws, kaolin workers – new or experienced – must take his course before being hired, and once a year thereafter as a continuing education requirement. In a way, Haynes is still beholden to the kaolin mines for a paycheck.
A visitor walking around downtown Sandersville, which is the Washington County seat of government, or dropping by any of the other six municipalities in the county, can easily find a lode of former or present kaolin industry workers. Sandersville Mayor Jimmy Andrews spent 42 years in a kaolin mine lab before retiring four years ago, giving him plenty of time to watch the decline in demand for the clay and the resulting rise in unemployment here.
"It all began back in about '95," Andrews says. "They had a very fine grade of clay down in Brazil, and it was very close to the top of the ground and easy to get out of the ground, and labor is cheap down there; all that [combined] to hurt our export market." The internet and use of electronic documents forced a decline in the demand for paper, resulting in the closing of several paper mills and a downturn in the demand for kaolin. "Our unemployment got to 17 percent at one point, but it's down to about 14 percent now," he says.
Coming Back
Theo McDonald is sitting in his SUV parked between two of the newer buildings in the Sandersville-Washington County Research and Industrial Park. His passenger is quizzing him about the buildings which, as it turned out, had far more meaning than the jobs held by the 100 or so local workers inside them.
"Look, "says McDonald, a retired Army officer and now executive director of the Development Authority of Washington County. "We've been pummeled and knocked down, but we're off the canvas and swinging back."
The newer of the two buildings is the University System of Georgia's (USG) Shared Services Center (SSC), a 21,000-square-foot facility now handling the payroll for some 40,000 employees of the system. Inside the two-story SSC, Becky Prince, the center's assistant director – and, yes, she worked in the kaolin industry for 25 years – is explaining that this payroll and benefit center handles all but the research institutions of the USG, because the research universities receive funding from grants and a variety of other sources that don't fit snugly into the business model.
Some 38 employees are manning their stations at the SSC, and there is the possibility their numbers will soon grow if other financial functions of the university system are added to present duties. "We have the infrastructure and space to grow," says Prince. "And we have a lengthy waiting list of job applicants."
Later, McDonald, the economic devel-oper, is asked just how Sandersville landed the University System Center. "We made them an offer they couldn't refuse," he says, giving his best Marlon Brando impression.
When word got out that the USG was looking for a place to consolidate some system-wide financial functions, Sandersville (pop. 6,097) joined a half-dozen larger Georgia cities in the competition for providing a site. No other community was willing to match Sandersville's offer, says McDonald.
"Our offer was five years of absolutely free rent, and not only is the rent free, there are no utility costs and no maintenance costs, and that's the reason we landed it, no doubt about it."
The arrival of the USG building and staff meant more than just new jobs, McDonald says. "It's also about the prestige along with the jobs, and that was very important to this community," he says. The $3.7 million necessary for construction of the SSC building was provided by the governments of Sandersville and Washington County, as was the $8.5 million used in 2007 to construct a manufacturing facility for Trojan Battery Company. "They opened in 2007 and began operating and hiring employees and then lost an account with a golf cart company in Augusta and then closed the doors," McDonald says. "We lost 50 or 60 jobs at that time. But they say they'll return, and they are still paying the rent."
Another industrial park resident, Lamson Pipe, has enjoyed better days since being purchased by a Tennessee company, AD Technologies, and recently added about 30 employees to its workforce.
"Optimism mixed with apprehension and realism will keep you on your toes," McDonald says, uttering a sentiment familiar to all economic developers, with the final chorus most meaningful. "This economic development, if things aren't just right, can be very, very difficult."
Healthcare Leader
Washington County native Jimmy Childre went into business in Sanders-ville as the local Ford dealer when he was 25 years old, and since that time he has become a successful auto dealer while furthering his education with postgraduate studies at Duke and Cambridge universities.
During his time as businessman and student, he served as chairman of the board at Washington County Regional Medical Center (WCNC), a hospital that saw its CEOs leaving almost as fast as they were arriving before and during Childre's time on the board. Once, while on a study mission to China, Childre received a call from a fellow board member informing him that the hospital's CEO and CFO had resigned the night before.
"I thought this is really becoming unbearable to me, and I couldn't wait to get off the board," Childre remembers. "Coming to board meetings was actually a distraction from my time in my studies and to my work."
But then Childre became interested in the nonprofit business model of the hospital and in the business of healthcare in general, finally incorporating those subjects into more postgraduate work. Childre used the Washington County hospital as a model for his studies in nonprofit business at Cambridge and for studying companion subjects in healthcare management at Duke. He graduated the two programs a few months apart, and with master's degrees in hand returned to Sandersville to finish his board chairmanship at the hospital and get back to managing his Ford dealership – or at least that's what he thought he would do. But the hospital board thought he had the perfect credentials to be their next CEO. Childre resisted the idea, but finally agreed to take that post and keep his chairmanship.
"The day I came [to the hospital as CEO] I made one statement to the staff – and they were surprised I showed up as the third CEO in about eight months – and I'm sure they thought, 'The real CEOs didn't work so now we've got the Ford dealer. What did we do to deserve this?'
"The first statement I made was, 'First, the bad news: I'm not a hospital administrator. Now the good news: I'm not a hospital administrator.'" After asking his staff to help him establish a new culture at the hospital, Childre began working on his vision of the turnaround. Coaxing information technology experts with whom he had studied at the Duke MBA program to do pro bono work, Washington County Regional made an important first step. "We're about to put an IT system in this organization wall-to-wall, including electronic records, that we developed from scratch."
Childre has guided the hospital to significant moments over the past decade. In 2009 the hospital ended its fiscal year with the lowest operating loss and the highest net income in 10 years. Since assuming his second role at the hospital, Childre has been named Washington County Man of the Year, and word has slipped out that he is using the changes he implemented in a study of the possibility of replicating his business model at other small, rural hospitals. "I think there is a tremendous demand for a new business model in community hospitals, because so many are suffering financially and so many are on the brink of going out of business."
More assistance with healthcare challenges in the community is coming from the University of Georgia (UGA) College of Public Health. UGA faculty member Laura Gillman is working in Washington County to identify those challenges and assist in finding solutions to them through the university's Archway Partnership program.
"We find medical students who have a strong interest in rural medicine and give them the opportunity to come here while they are in medical school to do clinical rotations they are required to do," says Gillman, currently the only Archway health professional in the state.
Gillman and local supporters formed the Archway – AHEC Rural Medical Scholars Program to raise money in the quest to bring doctors to rural areas like Washington County. The Archway program has also assisted in a number of other community efforts to provide greater access to healthcare providers and programs, in addition to a number of quality of life improvements and economic development efforts.
Brighter Days
Despite the beating taken by the kaolin industry and the attendant rise in unemployment, many local leaders and businesses are seeing brighter days and predicting more in the future.
"Our business has been fairly consistent over the past three or four years, and even before the recession we were pretty steady," says Steven West, plant manager for American Railcar Indus-tries (ARI) in Sandersville. "We've had at least one expansion project a year for the last four or five years." That's good news from a rail car repair facility built here to serve the kaolin industry's clay hauling railroad cars.
"We tailored our business for them because they are our first priority. But as we expanded our shop and other services in our company, we knew we had to go outside the kaolin market as well, if we were going to grow." By targeting other industries using the Norfolk Southern railroad, ARI broadened its maintenance and repair business and has grown from 18 to 57 employees with a few more expected to come aboard this year.
Ben Tarbutton III, vice president of his family-owned Sandersville Rail-road, is seeing bits of good news in the kaolin industry, an economic sector he and his family have watched for decades. "The kaolin industry has now stabilized," says Tarbutton, who is also chairman of the University System's Board of Regents. "Everybody now, I think, is getting used to the new normal in the kaolin industry, in terms of employment locally and also the volumes which the companies are now producing."
Washington County has been selected as the site of a $2-billion-plus coal-fired energy plant promising 1,600 well-paying construction jobs and 128 permanent jobs, but legal action by environmental groups has slowed the permitting process, resulting in uncertainty about a groundbreaking date.
The Washington County plant would provide electricity for six electric cooperatives, says Dean Alford, president and CEO of Allied Energy Services, a participant in the project. "We looked at 12 sites across the state, and Washington County was chosen for several reasons. It had 1,200 acres of dry ground; No. 2, it is right next to a 500-kilovolt electric transmission line, and the site is right next to a railroad," Alford says.
Ree Garrett, president of the Wash-ington County Chamber of Commerce, is seeing a number of her business members adding jobs and is optimistic that more will do the same, but there's an "if."
"A lot of our businesses are expanding," she says. "And we have some other [developments] in the works that we can't talk about. I think as bad as things are right now, if we can just get over this hump, and get these [coal-fired plant] permits approved and through the court system, I think that would be a tremendous help to us and we could be on our way to better days."
The county is poised to take a few giant steps in the addition of transportation corridors that could boost the local and regional economies. Central to that progress is completion of the Fall Line Freeway, a 215-mile, four-lane highway connecting Augusta with Columbus and passing through Washington County.
"The Fall Line highway is also important for us because it will connect Washington County to two interstates [16 and 75]," says Washington County Commission Chairman Horace Daniel.
Locals are depending on a multi-county vote in November 2012 to establish a regional Transportation Special Purpose Local Option Sales Tax (T-SPLOST) to fund the last 30 miles of the highway in the Sandersville-Augusta area.
"I think the highway can be finished by 2020," Daniel says. If that happens, there is the possibility the Fall Line Freeway could later be linked with the long-discussed Interstate 14, designed to connect Augusta to Natchez, Miss., or to Interstate 49 in Louisiana. Such transportation improvements could boost tourism and logistics industries and open new economic development possibilities for the region surrounding and including Washington County, according to experts.
"No doubt, the Fall Line is important to us, now and for the future," says Daniel.
Community Snapshot
Local Leaders
Theo McDonald
Executive Director
Development Authority of Washington County
478.552.3288
tmcdonald@sandersville.net
Jimmy Andrews
Mayor of Sandersville
478.552.2525
jandrews@sandersville.net
Ree Garrett
President
Washington County
Chamber of Commerce
478.552.3288
rgarrett@washingtoncountyga.com
Population
(2009)
County, 20,879; Sandersville (county seat), 6,097; Davisboro, 1,911; Deepstep, 128; Harrison, 471; Oconee, 285;
Riddleville, 120; Tennile, 1,439
Per Capita Income
(2008)
County, $29,435
Georgia, $34,849
Unemployment
(May 2011, preliminary)
County, 14.2 percent
Georgia, 9.8 percent
Top Employers
Washington County Board of Education, Washington County Regional Medical Center, Thiele Kaolin Company, Walmart, Howard Sheppard, Inc.
Sources
Washington County Chamber of Commerce, Development Authority
of Washington County, Georgia Department of Labor, U.S. Census Bureau